Are you looking for the best places for lunch in Lausanne? From informal fusion cuisine and healthy options to an authentic Italian experience and traditional, local dishes here are my top recommendations:
Le Pointu – this popular all-day spot serves delicious lunch dishes in an informal but service-oriented environment. The base of the lunch concept here is "la tartine", a slice of good quality bread topped with seasonal products in original combinations served with a salad or the soup of the day.
The Lacustre – one more hidden foodie gem located at a spectacular setting just by the lake, The Lacustre is a great place for an easy, delicious lunch including burgers, wood fire stone oven pizzas, tacos and more. During summer, its terrace is a highlight. Plus, they serve delicious sweet and savoury pancakes on their weekend brunch.
Luigia -that's the no.1 place to go in Lausanne for pizza as it consistently ranks as the top choice among the local foodies I interview. It's my favourite so far as well. Located in an old cinema building, the theatrical interior is impressive, the Italian service is super-friendly and the food is just delicious. Apart from the pizza, there is also pasta, gnocchi, salads, meat and fish dishes and many great desserts.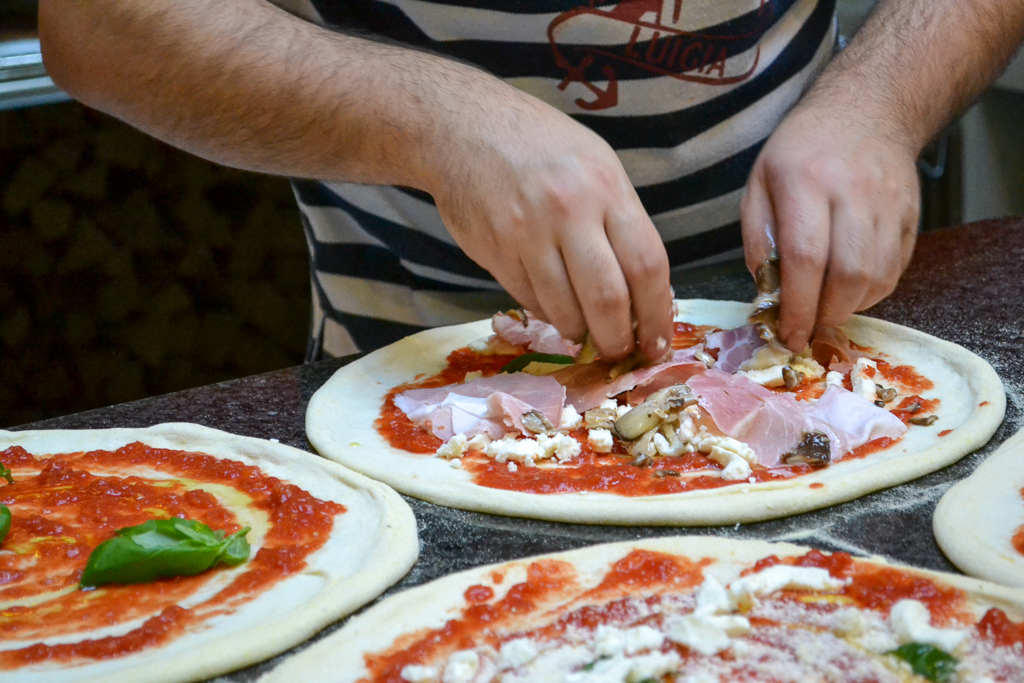 Culture Café – hidden on the 1st floor of FNAC, this café offers a small but satisfactory lunch menu with "all in one" dishes which embrace vegetarian, healthy and meaty cuisine. Their bowls are colourful and tasty at the same time – the vegetarian one is very popular as is their meatballs.
Al Sacco – just below the train station, Al Sacco offers healthy lunch options including delicious sandwiches (their slow fermentation process bread is delivered every morning from a local artisan baker in Prilly), salads and pies (both savoury and sweet). Seating is limited but take-away is a popular option here. Plus, you can pre-order online and eliminate waiting time.
Amici – this popular, family-run Italian restaurant offers authentic recipes from southern Italy and is ideal for a memorable weekday lunch. The menu, intentionally small and thus fresh, consists of four entrees, four pasta dishes, a risotto and a few more options for meat and fish. You cannot leave without tasting the tiramisu or any other of their desserts.
Blackbird Downtown Diner – this feel-good all-day hangout takes no reservations but worth the waiting if any. For lunch, there are many options featuring salads, superfood hotboxes, burgers, curries and sandwiches. Some of my favorites include the chicken super club, the vegan superfood salad with quinoa and avocado and a berry blast juice.
Street Kitchen Café – this tiny, cosy café serves lunch dishes with explosive taste. Inspired by Moroccan, Asian and worldwide cuisines, there is a mix of cold and hot bowls with different flavour profiles. The menu changes often except for some popular ones that remain unchanged such as the "Asian Persuasion", a beef noodle bowl with kimchi. They also offer giant sandwiches with sourdough bread, which is my favourite in town so far.
Brasserie de Montbenon – an impressive restaurant with equally impressive views of the lake which serves comfort food such as cordon bleu, vol-au-vent and ravioli with ricotta cheese and spinach. The single-origin chocolate tart and the profiteroles with the hot chocolate sauce could be a good reason to skip lunch altogether.
If the weather is nice, you want to sit on their terrace.
L'Assise – this yoga and meditation studio also serves a healthy, delicious lunch featuring salads, soups and tartines. The space is limited so your best bet is to reserve a table in advance or order your lunch for takeaway.
Loxton – the newest restaurant from the team of "Le Pointu" restaurant, serves modern, brasserie-style food in a warm environment. Dishes such as the "loxton burger" and "le green curry" feature on the menu always while there is also a weekly menu which you can check on their website.
Globus – one of my favourite places to go when it's dark and cloudy outside as it makes me feel happy with all the top-quality food products it offers. Plus, there are many options for a quick lunch such as soups, sandwiches, salads and a fun sushi bar.
Café de Grancy – this brasserie below the train station is a favourite among locals where you can try some traditional dishes such as Hachis Parmentier, various tartares and also a few pasta, fish and meat dishes.
Tibits – this vegetarian institution has recently opened at the train station of Lausanne and offers a buffet with countless options to choose from. You can pop in any time of the day; the seating space is ample and they only take reservations for groups of 6 or more persons.
Balzac – known for its specialty hot chocolate, Balzac also offers a small lunch menu to be enjoyed on spot or for takeaway. A daily menu and a few salads are on offer, prepared with passion from the friendly owner of this place.
Pancs – a great choice for a quick lunch consisting of internationally inspired pancakes with delicious, fresh ingredients. I love their halloumi pancake which consists of halloumi cheese, pepper, tomatoes, spinach and yoghurt. They also have many sweet options.
Le Montriond – this cute, repurposed building found at Parc Milan is a great spot to enjoy lunch at its terrace. Salads, soups, croque-monsieur in various versions and burgers feature on the menu while there are small bites available all day long.
Toms Café Olympic museum – the varied menu of the Olympic Museum's café is one of the most fun I have ever seen. Tell me what would you rather have for lunch, the Mexico (beef empanadas and Mexican salad) or the duathlon one (pesto risotto, tomatoes confit and parmesan wafers)? I would go back every day just for the spectacular views.
Have you tried any of them? Which is your favourite?
For more tips on where to eat and drink in Lausanne plus a 4-day foodie itinerary, check out my
ebook – The Curated Foodie Guide to Lausanne!