The first time I read about Le Petit Sécheron, a unique farm in Lully was from an Instagram post from the founders of the Happy Maple. The post mentioned that the farm was doubling as a community space, with events such as yoga taking place on its premises. It didn't take more than that to gain my interest, and soon I was on the phone talking with Christel Petit who runs the farm together with her husband, Kaunda.
After our discussion with Christel, I was even more intrigued about this little farm – I saved the address and visited the place with my family a few weeks after.
Le Petit Sécheron is a holistic farm: a unique place where you can go and collect your vegetables directly from the people who grow them, meet them, talk with them and feel gratitude for their business philosophy and the community space they have created. This made me very happy because it reaffirmed that, yes, it is still possible in our fast-paced world to slow down, do things differently, and know the producers who grow your food even if you live in a city.
The boys had a blast picking cherries straight into a big basket on their own and running around on the open farm. I haven't managed to join a yoga event yet, but it's on my plans. Christel also organises activities for schools and camps for kids during holidays – places are limited and tend to fill up quickly, so keep an eye on that if you are interested.
In a nutshell
Le Petit Sécheron is a holistic farm in Lully run by Christel Petit and her husband, Kaunda.
They grow vegetables, fruits and sell their own wine along with a few other products from local producers.
The space doubles as a community space hosting various events such as yoga & brunch, and kids' camps.
It's a 4th generation farm and has always been a family business.
You can subscribe to receive your basket at home or go directly to the farm and collect your vegetables & fruits (according to the opening hours)
Christel was generous with her time and replied to my numerous questions so you can learn more about this unique farm in Lully and its founders, only a few minutes away from Lausanne. Get your cup of herbal tea or coffee, find a cosy spot and keep on reading:
Can you tell us a few words about the team behind Le Petit Sécheron?
Le Petit Sécheron is a family farm and has always been. I am the fifth generation of Petit managing it and working the land. My husband Kaunda played a huge role in us moving back to Switzerland from New York to take this on and preserve the family legacy when my father passed. We are constantly thinking about ways to anchor the business and grow it into the holistic farm and lifestyle brand of our dreams. Our son Jaxon is always up for a challenge and wants to help along at all times. I feel it is also important to mention that my family (siblings and mother) are immense support as we all wish to see the farm flourish into this beautiful place we will all call home again in 2023.
I am currently working on the farm full time, we have a part-time employee for the market garden along with partners for the kids' activities and yoga brunches. We have support from the local community and the family. My husband is currently working outside the farm to sustain the growth of the business and family. The goal is to have him join as soon as business allows.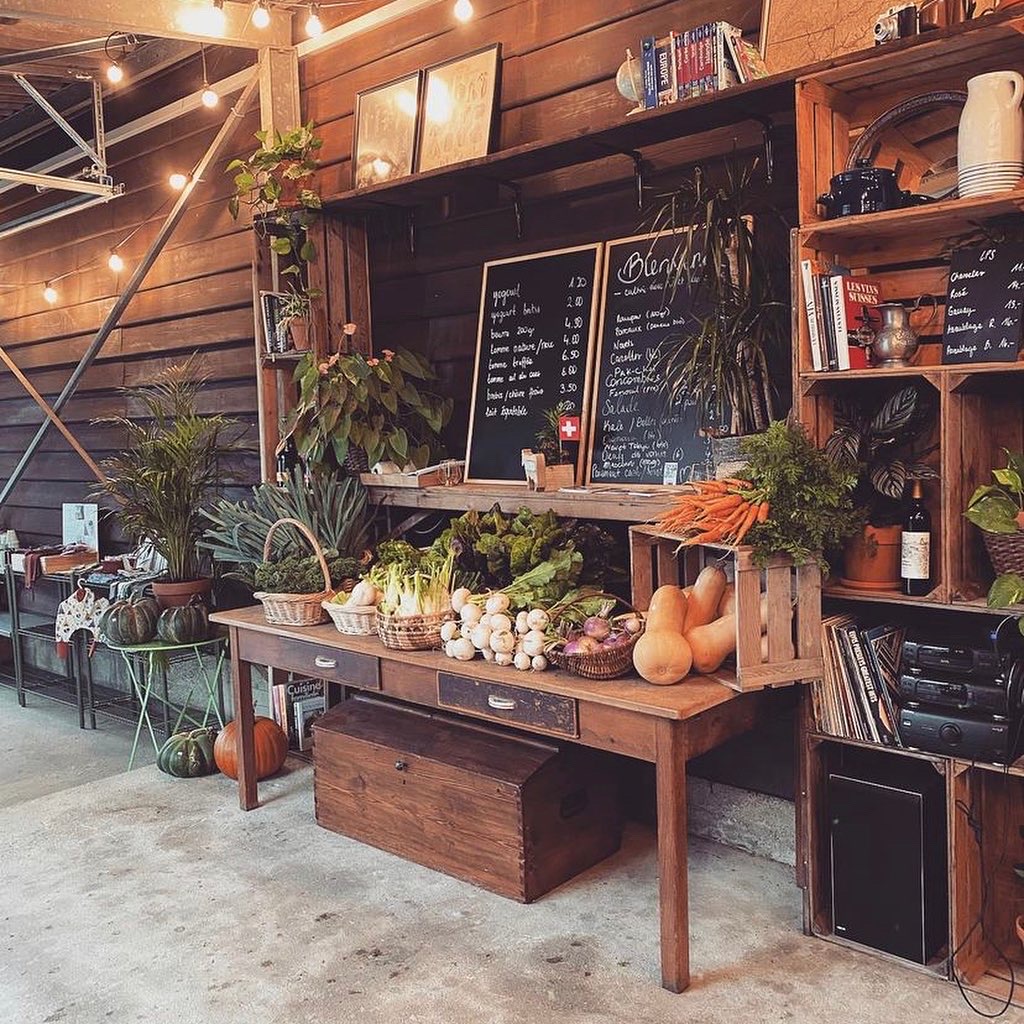 Why is it called "Le Petit Sécheron"?
We live on Sécheron Street in Lully, which is also the little "quartier" of town. My father always said that we were "Le Domaine du Sécheron", it's how our wine was presented actually. Petit is our last name, and it fits well with our intention to preserve the small farm and actually plays on those words inspired by boutique hotels vs large chains (from my past life!).
When did you start the farm, and why?
I never saw the possibility of me taking over the farm until later in life. I think that my professional experience and my travels showed me what a gem this was and the endless opportunities it offered.
We moved back to Switzerland in 2017, and I went back to school for an agro degree that allowed me to take on the farm. We had our son in 2019 and I officially took over the farm in 2020.
I was always playing with the idea of having a sacred place to gather and host. Food, movement, healing and personal development have been a real passion for many years now. It just made sense to bind this with the farm and the existing family business.
Which are your values & philosophy when it comes to growing food?
I think that the first value that leads our project of growing food is the same one of our entrepreneurial life – be a student and learn.
We didn't follow the traditional path of ag school so we feel freer about the practices we explore. We are constantly learning and experimenting!
We try to work with nature as much as possible, growing organically (without having the proper label just yet). We would like to remain small-ish to be able to employ humans rather than resort to buying machines. Although some machines are awesome! Try loading up 50 wheelbarrows of compost to make your permanent beds! Not always fun but a nice workout for sure!
Our motto is to know your farmer and buy locally to avoid packaging and travel as much as possible. It's the best way to get the freshest and most nutritious food as well.
We also encourage our customers to join our CSA program and get a weekly share of our harvest all season. It allows the farmers to anticipate sales better and avoid food waste. It allows members to get a feel of what it's like to grow food and be a part of a working farm by coming to the market gardens a couple of times a season to learn more about their food and what it takes to grow it.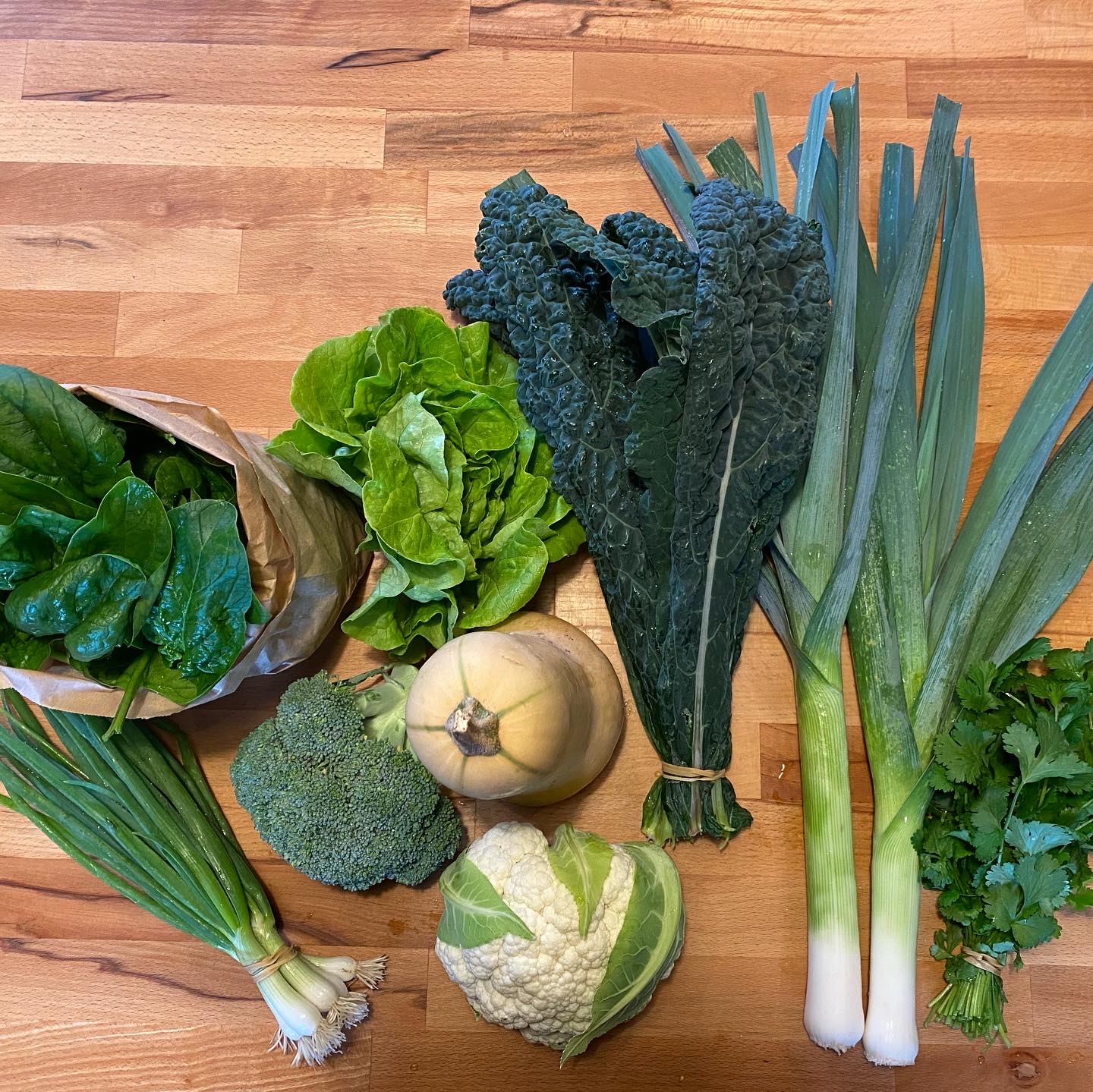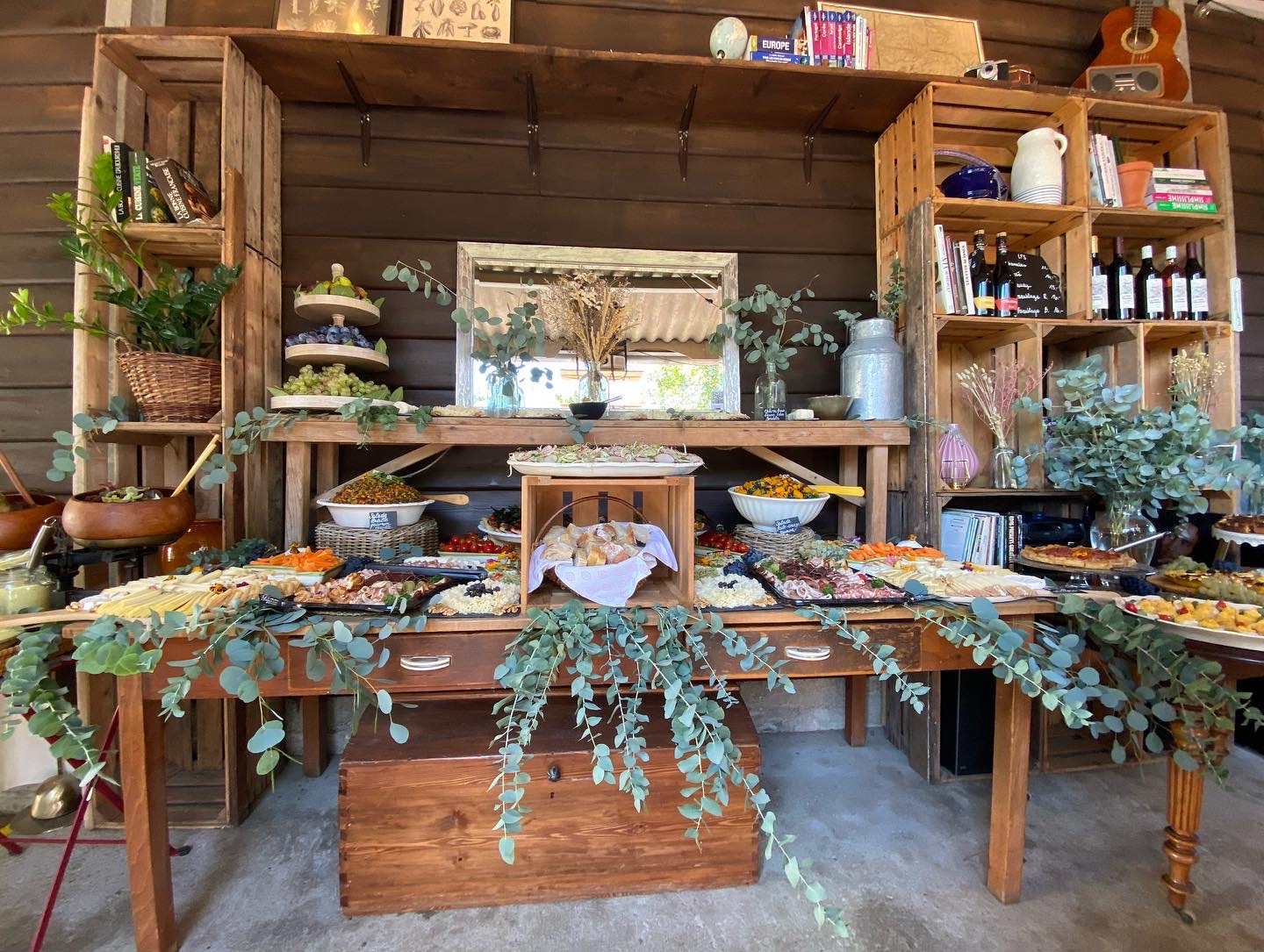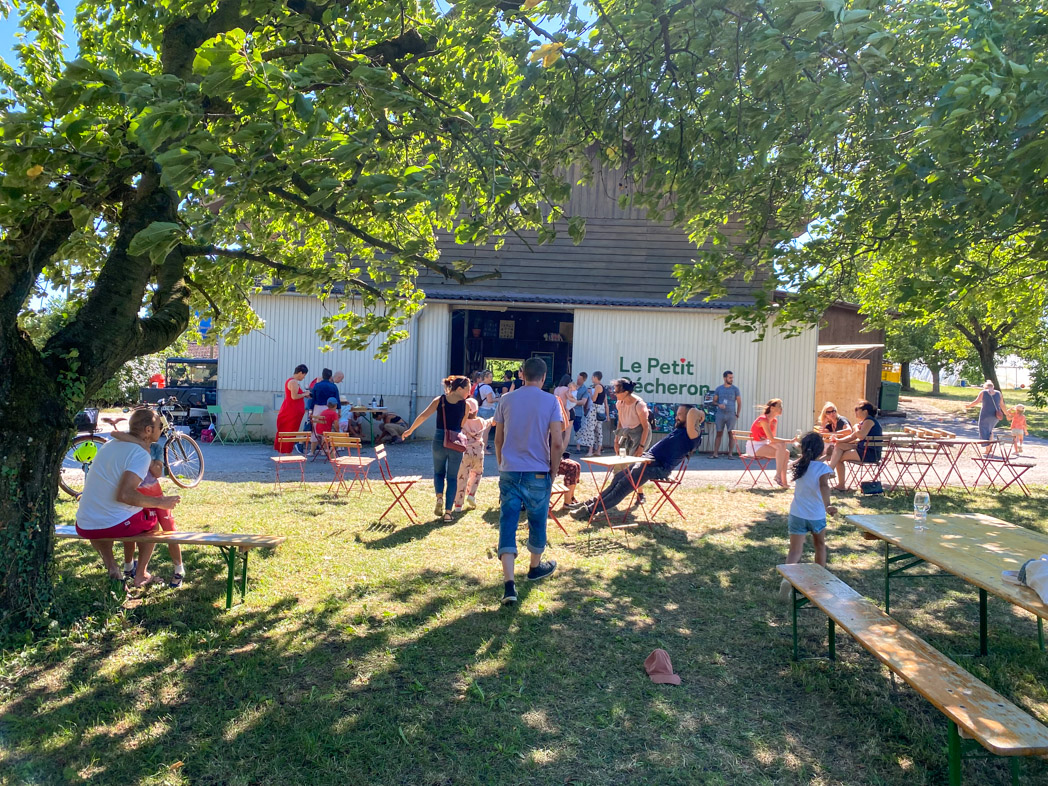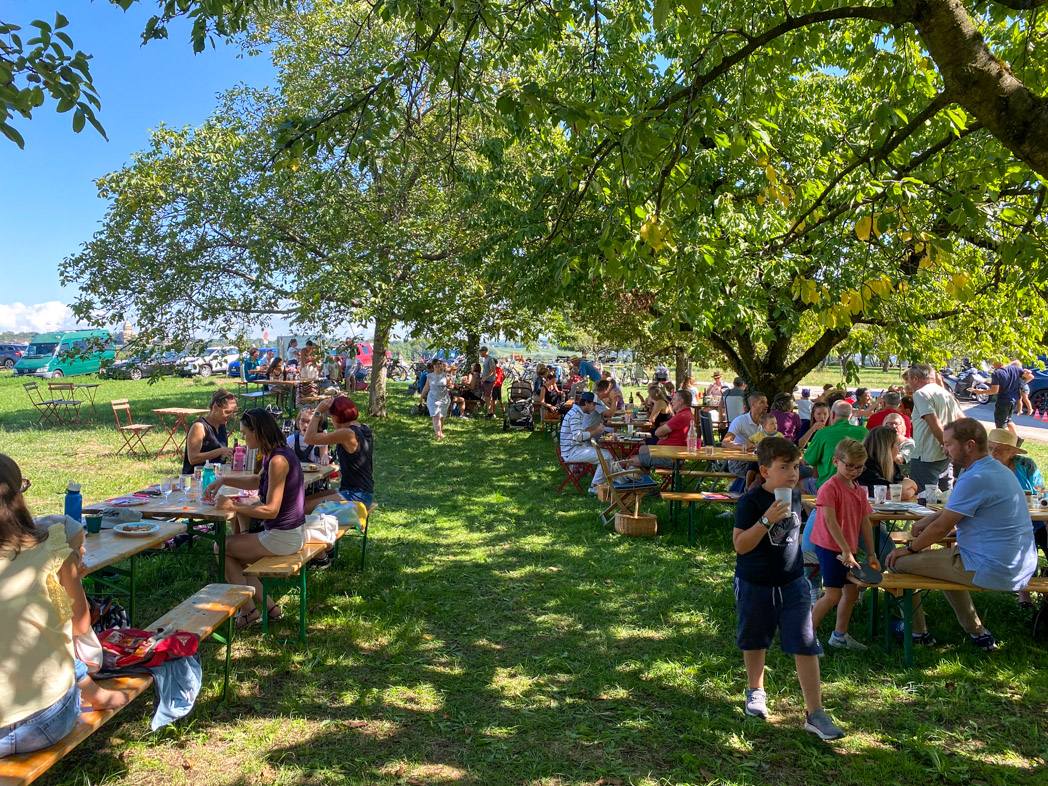 What kind of products do you currently cultivate?
We grow a wide variety of veggies from April to November. We also have fruit trees (cherries, apples, and a few more that should give fruit in a year or two, as well as walnut trees for oil. We own a vineyard and sell our wines as well in partnership with a local grower.
During our phone conversation, you mentioned that your vision for "Le Petit Sécheron" is to be more than just a production farm. Can you tell us a few words about this?
I have described it a bit in the previous questions but our wish is to make it a place for people to come to. From the community-supported agriculture portion to the other activities that agritourism can offer (classes, events linked to food, health and education).
We now host local schools for activities and have wonderful farm camps over the school vacation.
On the healing portion, we host regular yoga brunches and hope to develop more once we have a proper indoor space.
According to you, why is it important for someone to know where the food he/she consumes comes from?
I strongly believe that connecting with your food and how it's grown is a crucial part of health. The type of foods that we use to nourish our bodies have an impact on our physical and mental health and a better understanding of where it comes from and how it's grown adds a sense of consciousness around it. Secondly, with the current climate crisis we are living in, it is our responsibility to better understand what we consume and how we can do our part.
Could you tell us a few words about the events and the ateliers for kids that you are hosting?
We now host local schools for activities and have wonderful farm camps over the school vacation. We teach them about gardening, soil health, biodiversity, cooking activities with fresh products, some arts and crafts, animals from the neighbouring farm and more.
On the healing portion, we host regular yoga brunches and hope to develop more once we have a proper indoor space.
I wish to blend yoga and consciousness on the farm for kids also and add a barefoot path for example.
We hope to host more ateliers and events next season around food, healing and education.
How can someone reserve a "panier", a basket from you?
We would love to have you a part of our panier program! Visit our website and hit the link to sign up. All the information is available on the site. Don't hesitate to reach out directly if you have any questions.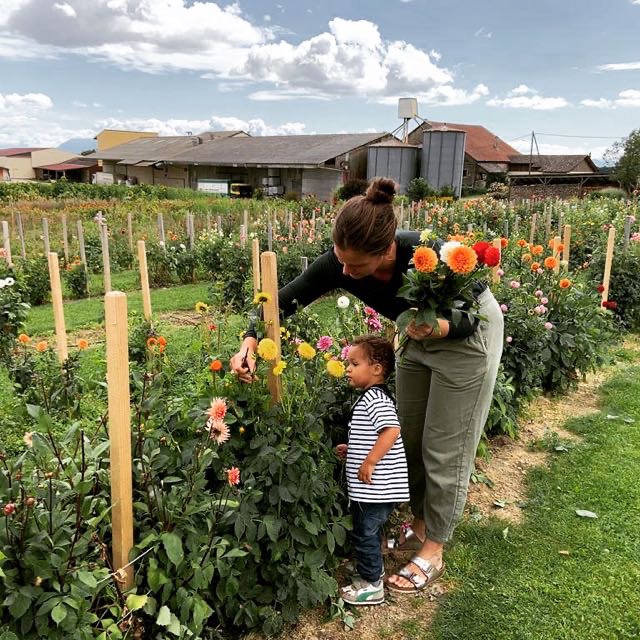 Thank you, dear Christel, for your insights! Hope your little farm prospers and makes a true difference in our world and our children's future.
Photo Copyrights: All photos are kindly provided by Christel unless otherwise mentioned.
Address
Chemin du Sécheron 5
1132 Lully, Vaud Suisse
Opening hours
Friday, 16h00 -19h00
Saturday, 09h00 – 13h00
(always a good idea to double-check the opening hours directly with the farm before you visit)
Read more articles here:
Travel & food guide to Sithonia, Halkidiki
Insider's Guide – Syros for families by Betty Chatzisavvidou 
Family holidays in Preveza, Greece – What to do
Inspiration Column – Caroline Bishop, author, editor & journalist in Switzerland
Are you visiting Lausanne soon and want to know which are the best places to explore with your young kids? Are you new to the city and eager to discover its charms with your family? Check out my ebook – 48 hours in Lausanne, A Guide for Families with Young Kids which consists of a 2-day itinerary and practical tips on local life.