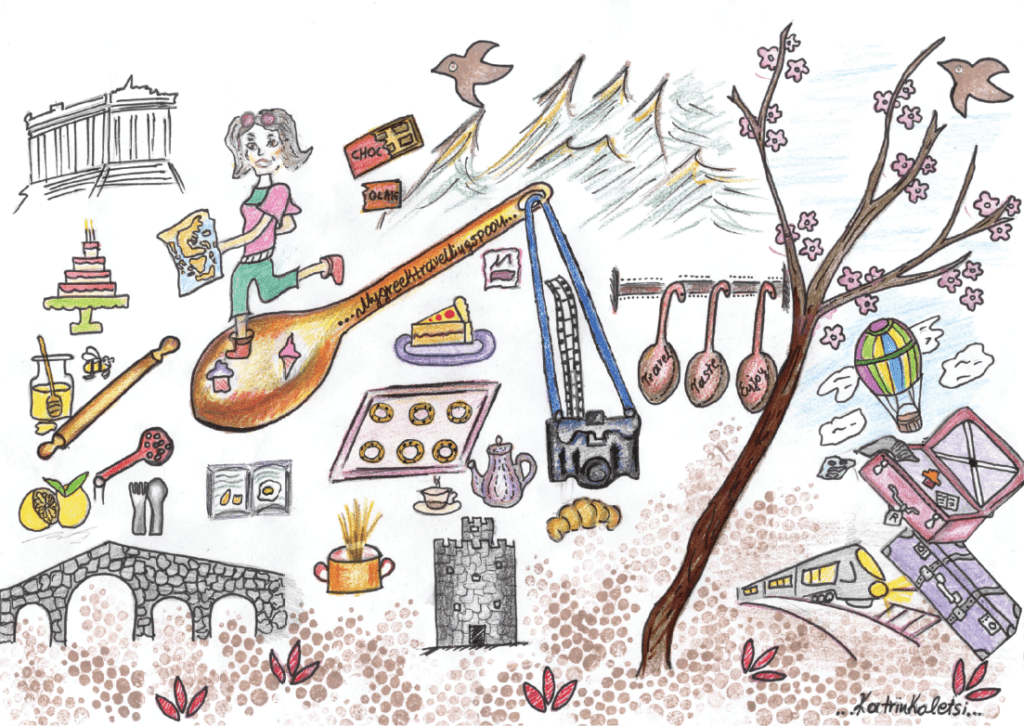 Welcome to my blog lovely people! Salut! Γεια χαρά!
This is a dream come true for me; no idea why it took me so long but now, here we are.
I am Greek world-citizen currently exploring the delicious country of Switzerland. I made a promise to myself not to leave before tasting every single chocolate bar. So here I am, almost 6 years after, trying hard to finish this never-ending project.
Here are some of my favorite things:
Print magazines and books: I just love the smell of paper and the sound of a real page turning over
The smell of oregano
Clear blue skies
Inspiring people and stories
A damn good cappuccino or flat white
Bright yellow anoraks
Talking to my self; not in my head, really talking to myself. Yes, while in public spaces and yes, they look at me weirdly.
Dark chocolate, raspberry and mocha ice cream on a cone
Rainbows
Sunsets, the moon, and starry skies
Mantra: "Everything is as it should be"
Actress: Meg Ryan
Film: Léon- The Professional
Travel could be my middle name. Give me a map and I am hooked. Not that I know how to read it, but hey, it's so much fun getting lost. Give me a travel-themed notebook and you are instantly my best friend. Tell me you are thinking of going to Paris or London for the weekend and next thing you know, I am on the internet checking train tickets, AirBnb apartments and all the latest offers and experiences that are out there. No, I am not coming with you; I am just eager to create the perfect itinerary for you so that you get to enjoy your time fully. But now that you mentioned it, maybe I should check the tickets for me as well, hm. Even if I don't come this time, I am so excited for you! Because I am determined that our world would be a better place if everyone would be able to travel more.
That's one of the main goals of this blog: to make you travel more and more consciously.
Travelling has subsequently made me love food. When I was young, I wasn't interested in food at all. There were days that I couldn't even remember if I had lunch already or not. When I was a student, I survived eating takeaway sandwiches, pasta and maybe eggs. Seriously. This changed completely over the last years and food markets are now one of the highlights of every trip I take. I love meeting food producers and hearing about their stories, how they grow their produce, where does everything originate. Food is such an important factor of our wellbeing and yet, we tend to underestimate it. My luggage when I return from Greece is half full with extra virgin olive oil, oregano, fine herbs and wild mountain tea. Eating is a healing process and my goal through this blog is to promote a healthier lifestyle. And yes, fine dark chocolate is part of this equation.
On this blog, you will read posts about "How to prepare for a Motorbike Roadtrip" or "Thessaloniki, a guide for girls". You get the picture.
Minimalism is also becoming a way of life for me, slowly but steadily, so keep your eyes open for minimalism-related content as well.
Don't know where to start? Read this and this. Oh and this one, please! Wanna stay connected? Subscribe to my newsletter. I like to send freebies and useful tips to my tribe!
And here is my social media, don't be shy, come and say hi!
Forever Grateful to:
The designer Nikos Tasioulas, the developer Antonis Makridis, the illustrator Katerina Koletsi and the proofreader Ioanna Vasiliou for their invaluable help.
My husband, Thanos and my sister, Eriketti, for their unconditional support.
My baby boy, Marios who made me believe that I am capable of miracles!
Photo Credits
All photos are mine except if mentioned otherwise