There are a few places where you feel that only locals know about them. And if you are lucky enough to stumble upon one of them, then you are in for a real treat.
Amici, an Italian restaurant which opened in October 2014, is definitely one of them. Offering 45 places only, it's usually fully booked both for lunch and for dinner.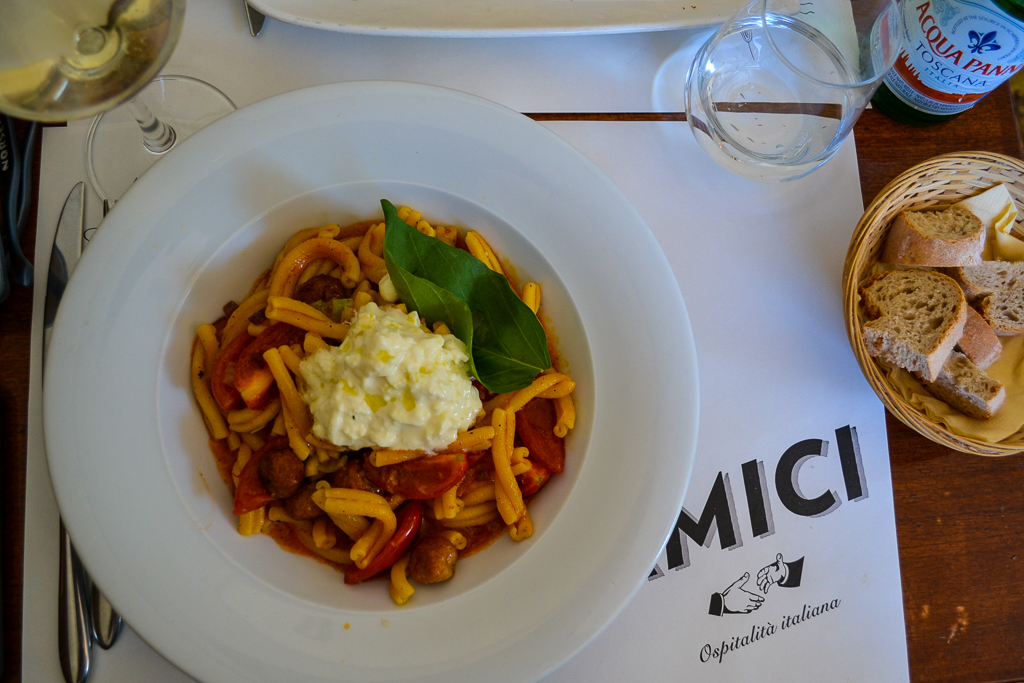 Once you enter this little corner of the world, you feel as if you are teleported to Italy. There is a pleasant buzz, Italian accents and barely known kinds of pasta and recipes featuring on the menu, all of which make you feel there is something special about this place.
It's no wonder that Amici restaurant is consistently among the top choice when I ask local foodies for their favourite gourmet experiences around town.
That's why I was thirsty to know more about the people who are Amici's soul.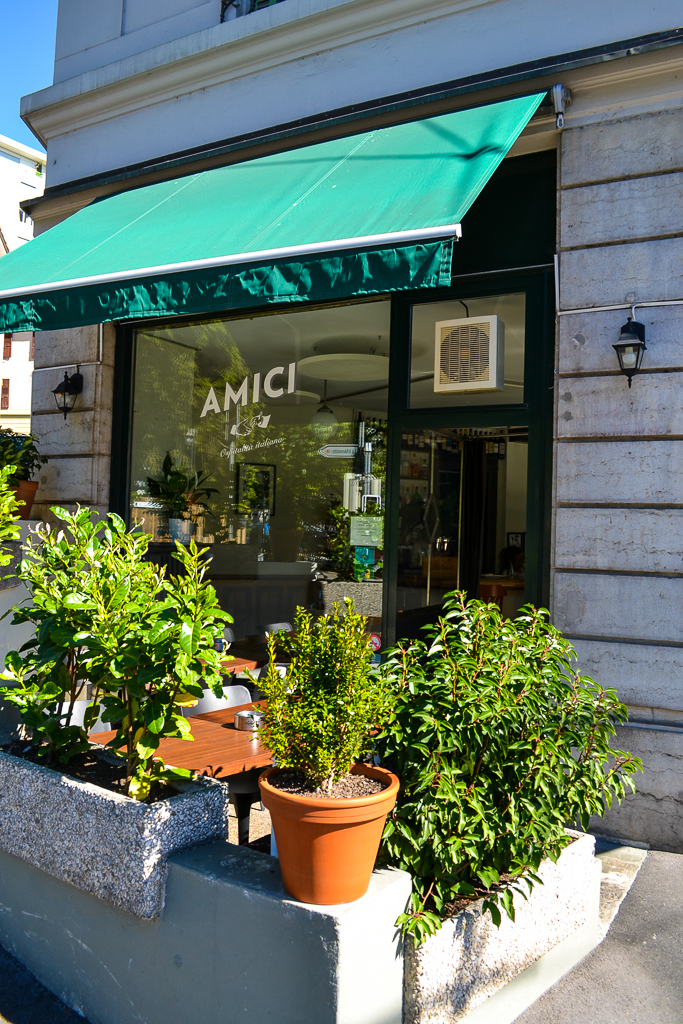 The team
Behind this family-run restaurant is a couple: Francesco Limardo hailing from South Calabria in Italy and Nicole Limardo from Basel. Francesco studied Hospitality Management (Ecole Hotelier) in Calabria, Italy and then arrived in Switzerland in 2001 where he worked in various places in order to learn the language: Zermatt, Berne -where he met Nicole, his wife- and then Lausanne.
"I always had this dream of opening a small restaurant, with a family atmosphere, which would enable us to cook everything on the spot thanks to its size," says Francesco.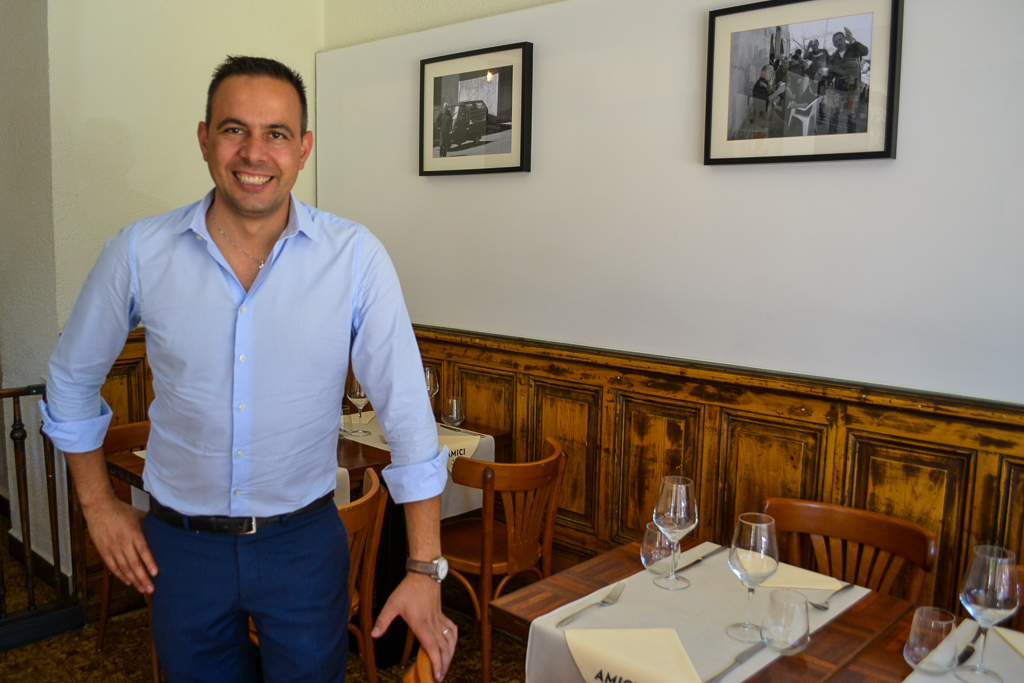 When they saw this place where "Café des Amis" was previously located, they immediately fell in love and thought it was a cute little corner which they could turn into something really nice so they started building their culinary adventure.
Just as Francesco's dream was, Amici restaurant is being run by a family team:the waitress, Antonella,  is Francesco's niece from his brother and her boyfriend helps in the kitchen. The other waiter who is also called Francesco comes from the same village in Calabria. The Chef de Cuisine Carlo comes from Sardinia and the other cook, Vincenzo (the newest member of the team who started only a few months ago) is also from Calabria. Most of the members of the team know each other for many years and have been together since the beginning so there is a sense of familiarity among them.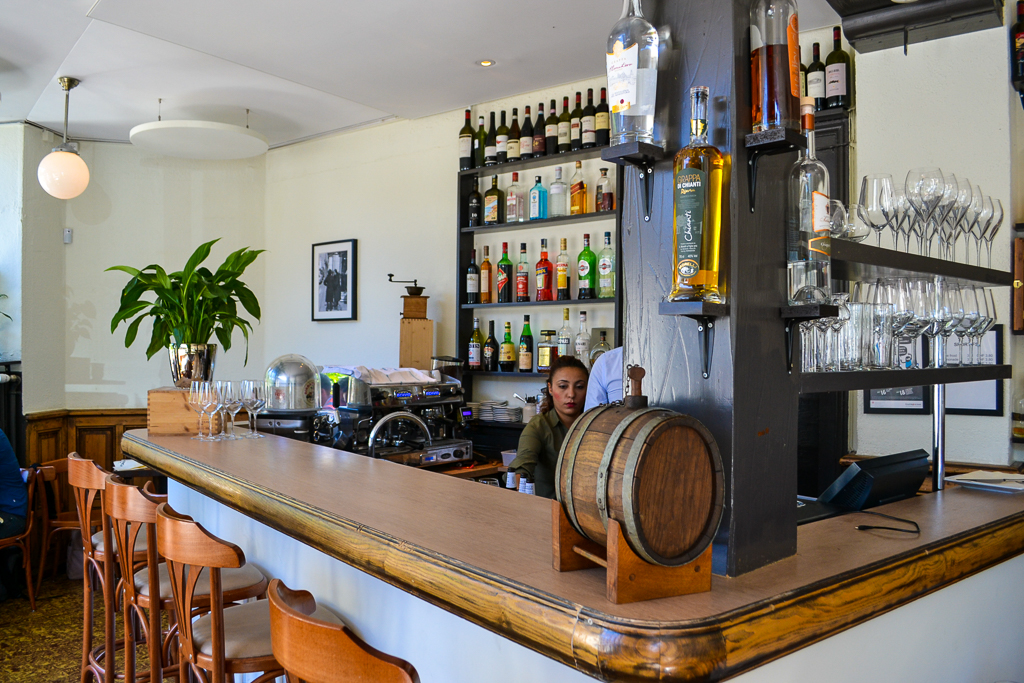 What's on offer – cuisine from Southern Italy
Their specialities are based in the Mediterranean cuisine of Southern Italy, Calabria, Sicily, Puglia but also from Sardinia where the Chef de Cuisine comes from. The recipes featuring on the menu hail from all these regions but also from other parts of Italy.
As Francesco says "We rely on recipes that were often created by our grandmothers or even great grandmothers. We give importance to cooking with fresh seasonal products and we always try to introduce products that are not very well known such as the prickly pear to our customers. Also, we use products in different ways. For example, we use pistachio not as a nut accompanying the aperitif but as an essential ingredient to some dishes. We also create many dishes with sea specialities such as Gould's razor shell (les couteaux de mer), sea bears (les oursons de mer), wild prawns, octopus and of course the sea bass."
Fresh products such as the round, violet eggplants from Sicily with which they have created a vegetarian dish with stracciatella di buratta at Amici, are sourced directly from the south of Italy.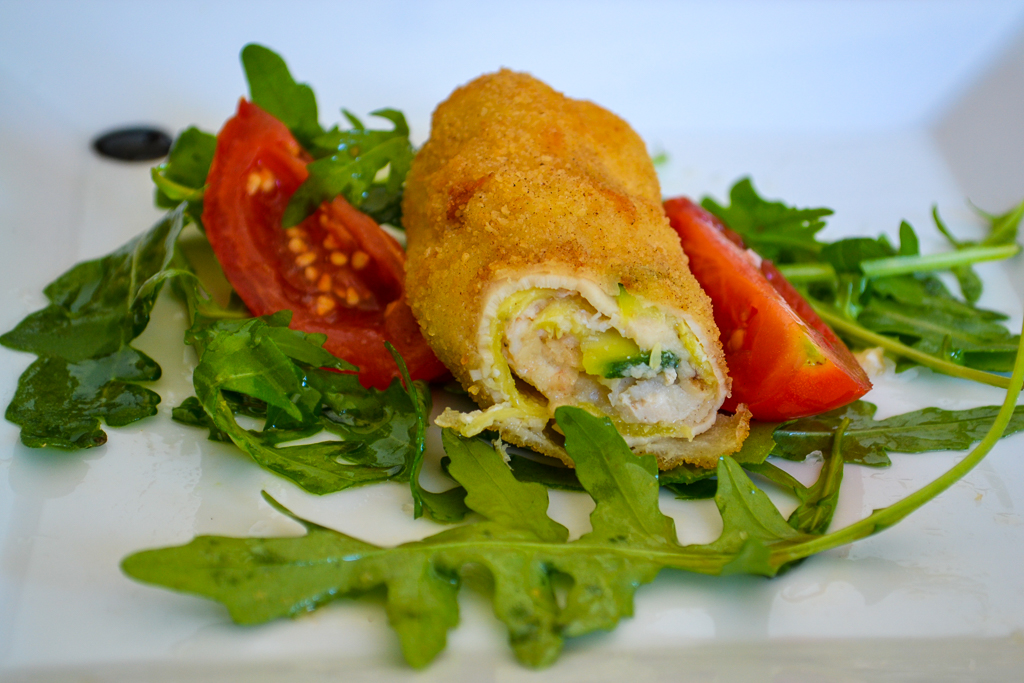 Philosophy of cooking
Great attention to the raw products is the essential base here.
"We choose quality products and sometimes we prefer to pay a little more to ensure the best quality. This has been always our concept," says Fransesco.
They also cook with products that are in season every time and that's the reason why their menu changes often. The menu is intentionally small with four entrees, four pasta dishes, a risotto and a few more options for meat and fish. This allows them to cook everything fresh and, on the spot. There is nothing pre-cooked here.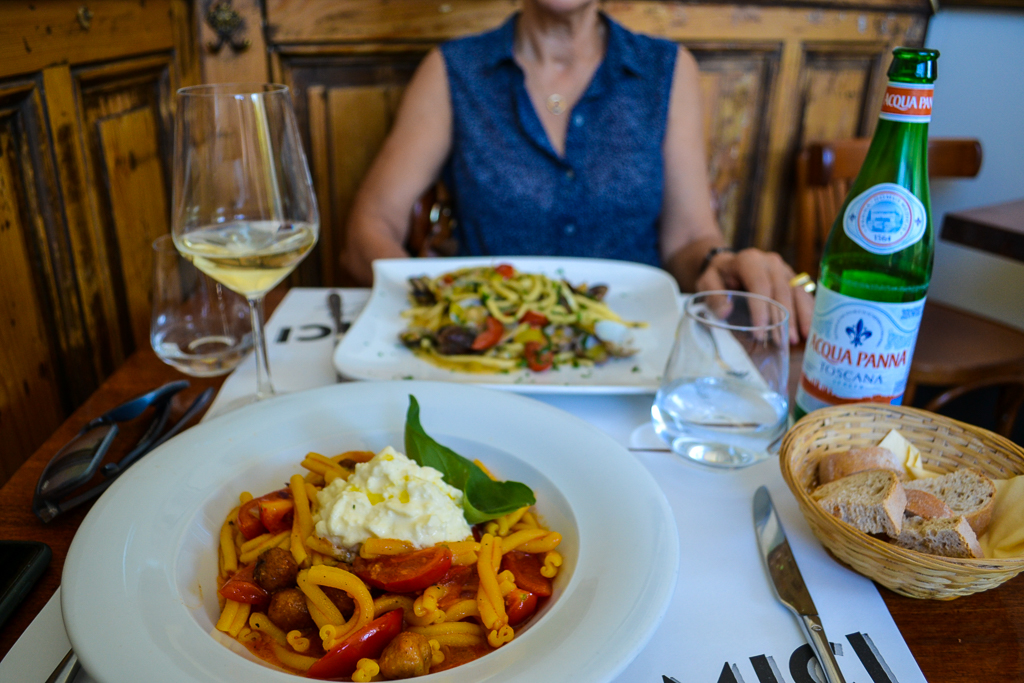 "Seasonal products, freshly made, small menu: the base and the essential of our kitchen. This is our philosophy and we are always going to continue like this," Fransesco tells me and then adds "Even if a dish is very popular with our customers, we change it. It might re-appear next year when it's the season again."
In a way, you could say that they are educating their customers about the importance of seasonality when it comes to food.
However, there are some things that are always on the menu: the tiramisu, the pannacotta and the cannoli siciliani.
In fact, Fransesco is the one preparing the tiramisu every day for the next day. As fresh as it can get. Tiramisu is my choice every single time but the cannoli siciliani is on my "to try next time" list for sure.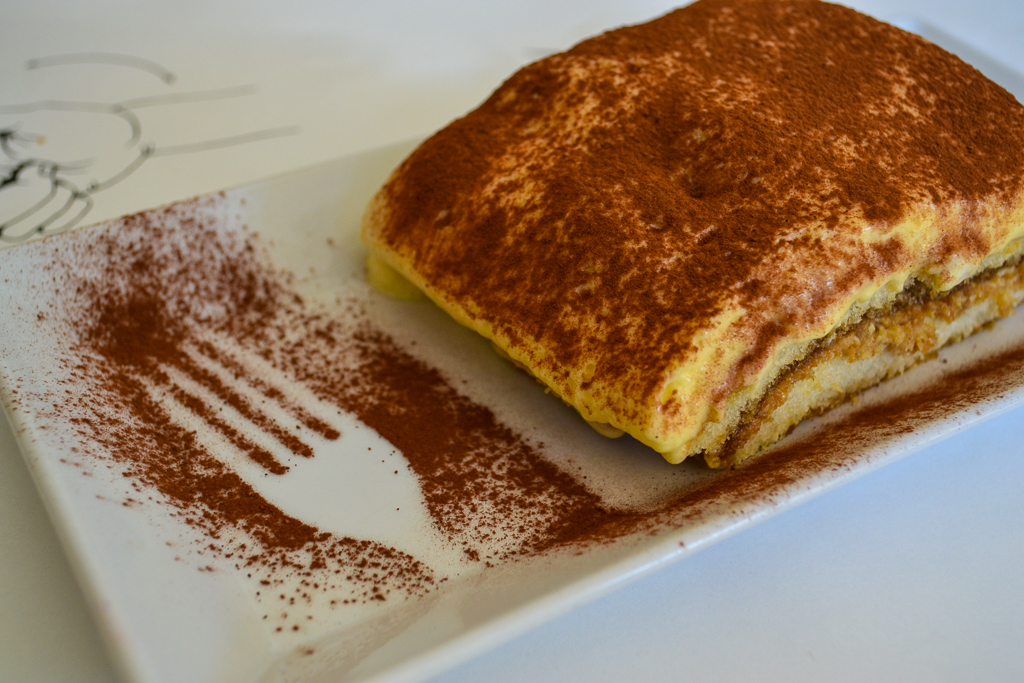 Some of Fransesco's current favourite dishes and ingredients are a typical dish of fresh pasta originating from Calabria, called "fileja" in Italian. At Amici, they serve it with sausage stew with wild fennel from Calabria, simmered in tomato sauce, small slices of eggplant and smoked cheese from Calabria's mountain;
Also, the macarocini, fresh pasta with swordfish flavoured with Ndjua sauce, a traditional sauce from Calabria that gives a slightly spicy taste.
The atmosphere
The interior décor is classic and minimal allowing the homemade food to come in focus. On the walls, photographs of real Italian grandmothers underline the restaurant's main philosophy.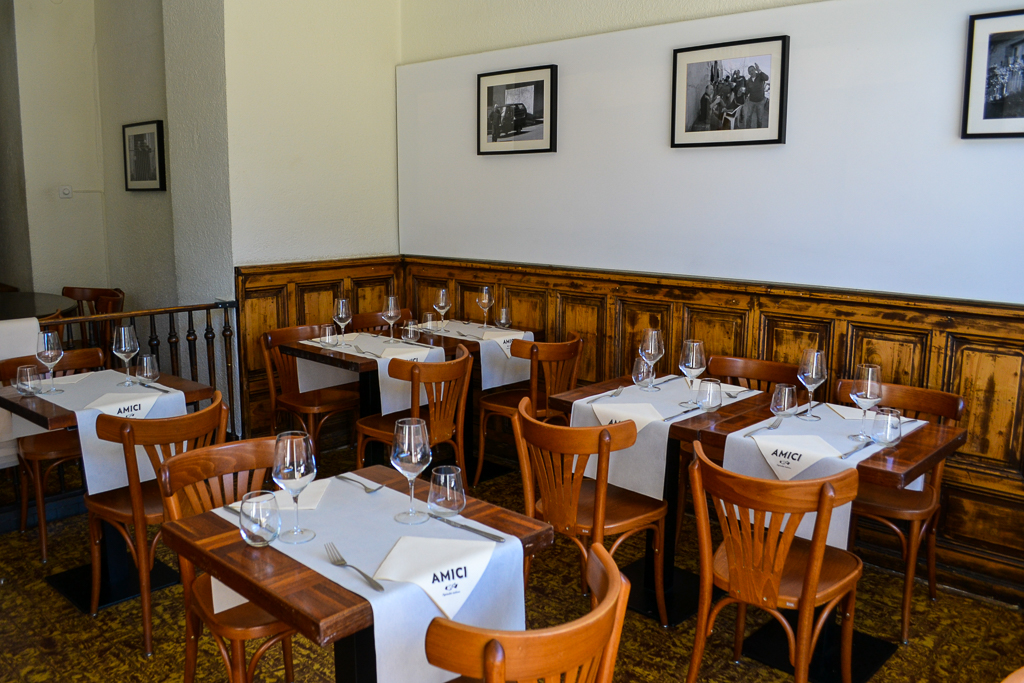 "We created this family space, so that the moment our customers open the door, they feel welcome to our house as if they were friends visiting us at home. I want our guests to feel at home, to feel comfortable and come to the restaurant to have a good time. At the same time, my aim is to make them feel like they are in Italy," Franscesco says.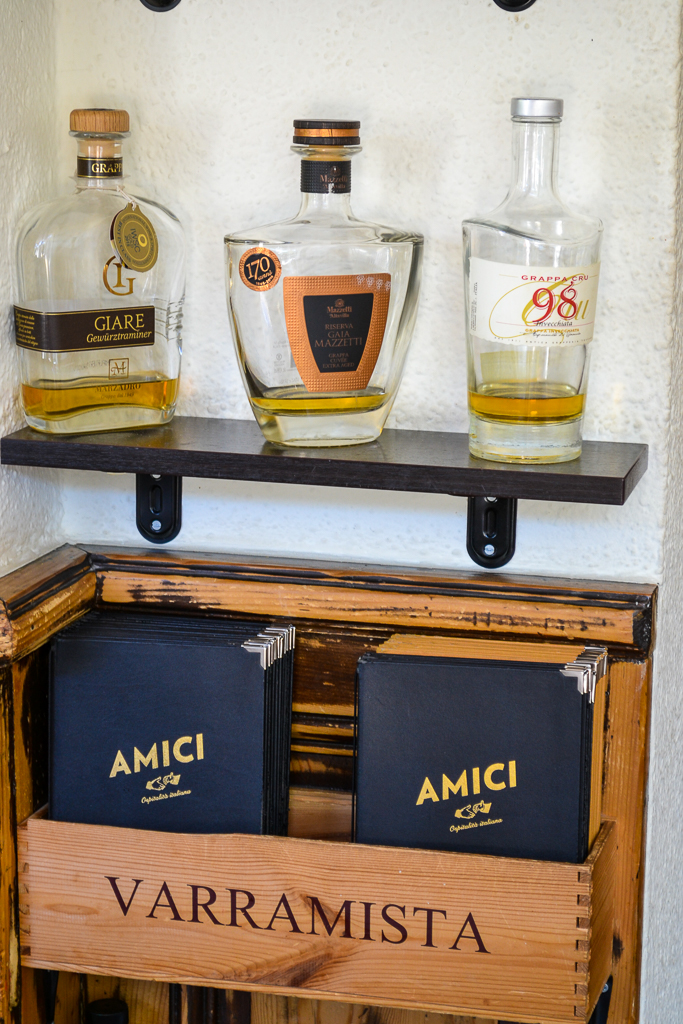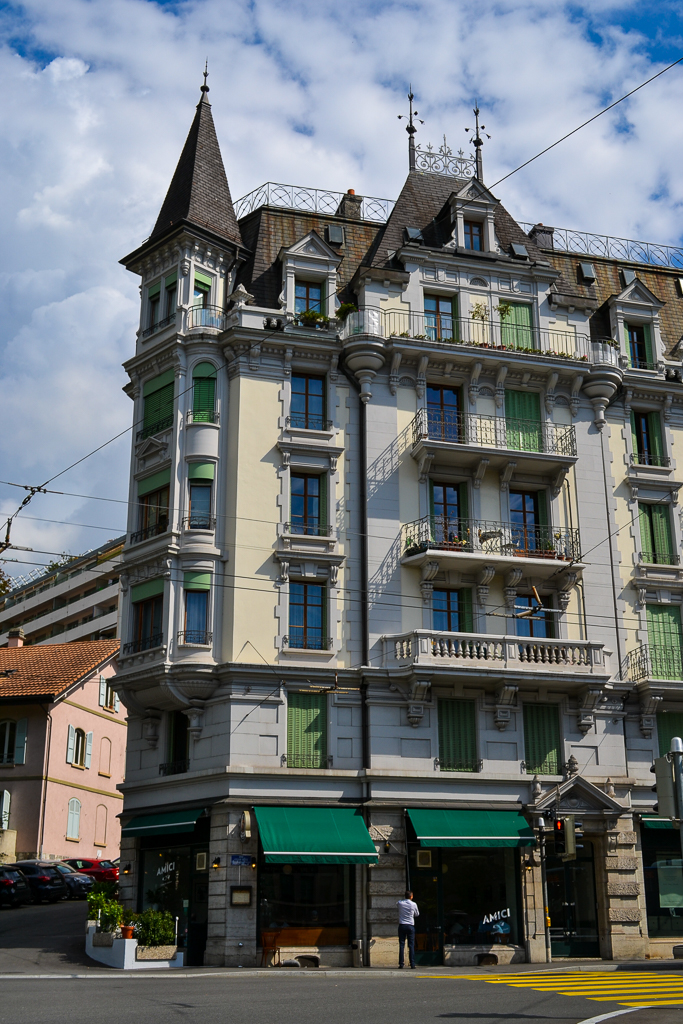 Do you want to know Franscesco's favourite foodie addresses in Lausanne and the region? Here they are:
"I like the restaurant Le Cinq for its high gastronomy, but also the Café des Artisans. Recently, I also had an excellent meal at the Restaurant du Theatre. When we go out to eat as a family with our sons, I prefer to go to Watergate next to the lake during summertime and at Luigia, where they also have a kids' cinema, to eat a good pizza when the weather is not so good."
Have you been to Amici restaurant yet? What's your favourite dish on their menu? Are you a tiramisu or a panna cotta kind of girl? Let us know down below!
Amici
Rue Dr. César-Roux 5, 1005 Lausanne
If you want to support my creative work, you can buy me a virtual coffee right here ! Thank you!
For more tips on where to eat and drink in Lausanne, check out my ebook – The Curated Foodie Guide to Lausanne!