Ever since I watched the documentary "The social dilemma" on Netflix a few months ago, I've been very sceptical of social media and whether I should continue using these platforms or not. On the flip side, internet and social media have enabled me to connect with many wonderful people that I might have not met otherwise.
One of them is Veronica Palaiokrassa. I had been reading for Veronica and her creative work for a few years now from my friend Ioanna Serafeimidou and last summer, I watched her live on a social media platform. I felt a connection.
But it wasn't until after a few months when Veronica mentioned in a comment that she is launching the "Miracle Morning Experience" in Thessaloniki, that we set up a virtual coffee date to meet and chat. It was an effortless discussion and I learned a lot about her work and life. What struck me was that I felt peaceful during and after our chat.
For Christmas, I received a wonderful box from Veronica with several treats, including homemade Christmas granola and handpicked cynorrhodon (rosehip) from her village, Livadi. And her lovely Christmas ornaments found a place on my office board, to remind me every day of the Christmas magic.
I haven't met Veronica in real life yet but I know that this time will come. Until then, we did an interview and discussed about "Rountes Fountes", her creative workshop and the "Miracle Morning Experience" which is her new project. We also discussed life in Thessaloniki, motherhood, travelling and more. Take your cup of coffee or tea and read on.
Would you suggest a song to hear while reading your interview?
I would suggest "The train leaves at 8:00" by Mikis Theodorakis, Milva remix.
How would you introduce yourself in a paragraph?
I would introduce myself as a serial entrepreneur and a lifelong experimenter. I have a passion for working in various different fields and starting new projects from scratch. I am an architect working in small and big projects in Greece and abroad and I own and run a real estate company abroad. At the same time, I operate Rountes Fountes my creative company as I like to refer to. Rountes Fountes designs and produces stationery products and crafts items as well as organizing purpose varied workshops for meal preparation, art de la table, healthy eating and journaling.
One of my latest favorite projects is the Miracle Morning Experience. It has been over three years that I practice the Miracle Morning routine every day experiencing less stress, feeling more centered, focused, happier and more excited about my life. I strongly believe that people flooded with wellness have the power to realize their full potential and spread inspiration.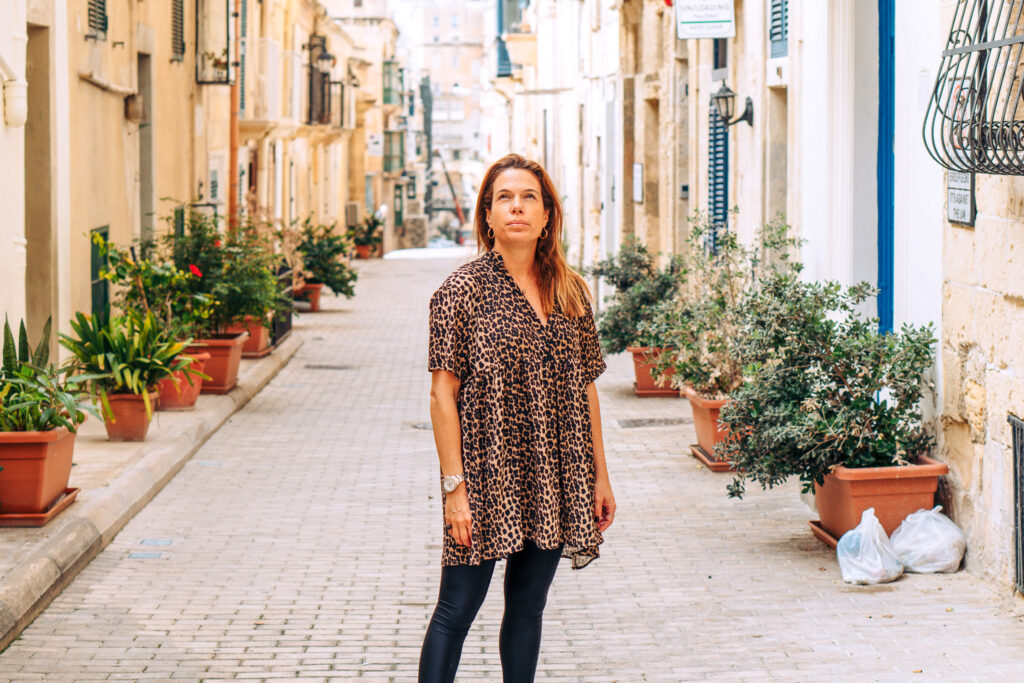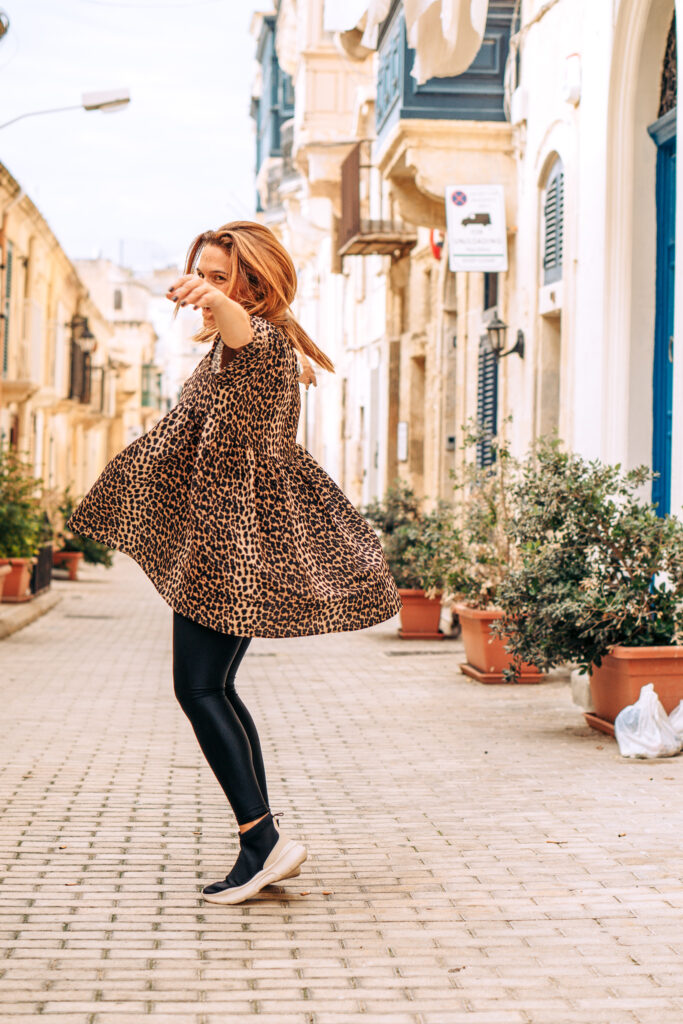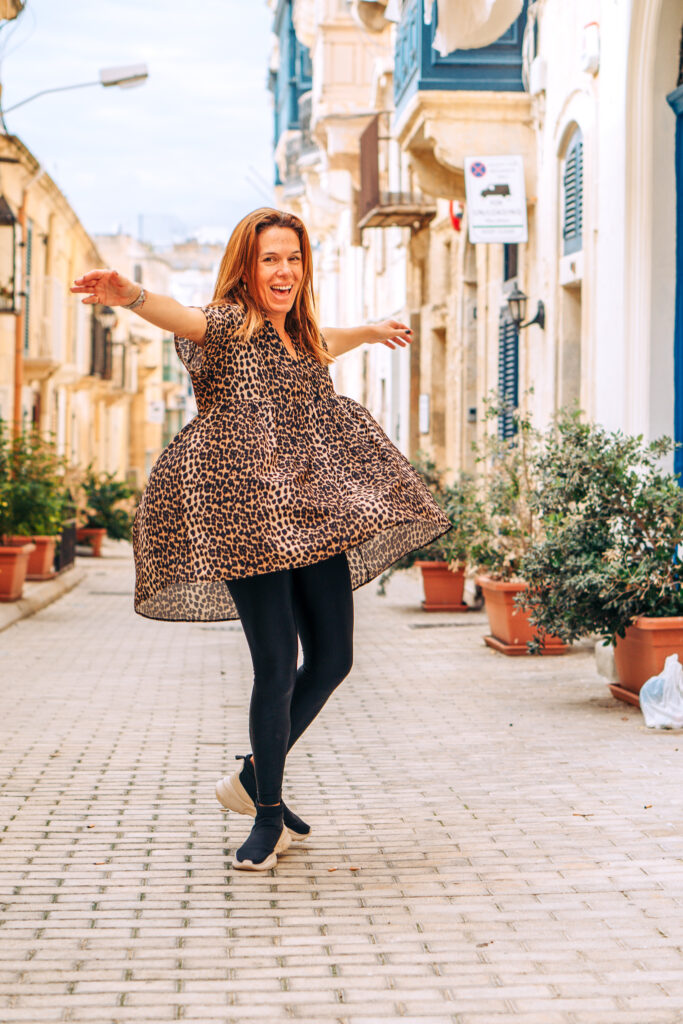 Rountes Fountes and creative projects
When/why did you start your blog "Rountes Fountes"? What kind of topics do you cover?
I started my blog Rountes Fountes in 2019. I always thought that I am not good at writing and I always admired reading people that have this gift. On the other hand, I strongly felt the need to write, to keep a journal of my thoughts, my habits, our family trips, and my crafts. Whatever makes me happy and joyful. It was a challenge for me to choose bravery over the fear of not being good enough. The topics I cover are my crafts, my thoughts, our family trips and cooking. I feel joy exchanging thoughts and inspiration with other bloggers that I admire and follow. Being part of a bigger community full of creative and inspiring people opens up my horizon.
Could you tell us a few words about your "Well Camp Journal" and how it came into life? Any plans on launching it in English as well?
The "Well Camp Journal" was inspired by my two kids, Angelina and Panagiotis. It all started when they first went at summer camp, I was worried about how they would feel being away from home having no phone contact at all for the first 10 days. I created a handmade journal full of notes to them, stickers, love messages, self-care reminders and game pages. When they came back, my daughter Angelina told me that the journal was like a friend to her, a friend to whom she could trust how her day was and talk to about her experiences. She even mentioned that she loved the ritual of writing in bed before she slept, it was her connection to home. Her feedback along with guidance from Panagiotis on what he would expect from a journal like this was the beginning of designing the " Well Camp Journal". It is a kid's summer camp journal with a daily interactive calendar, crafts and games pages, storytelling pages and emotions-emoji stickers. All feelings are accepted! It is a surprise gift to your child that you can add in his/her summer camp bag with a letter from you in the specially designed letterbox. It gives your kid the chance to keep his/her summer camp memories alive and treasure them when he/she will grow older. My plans include launching it in English as well.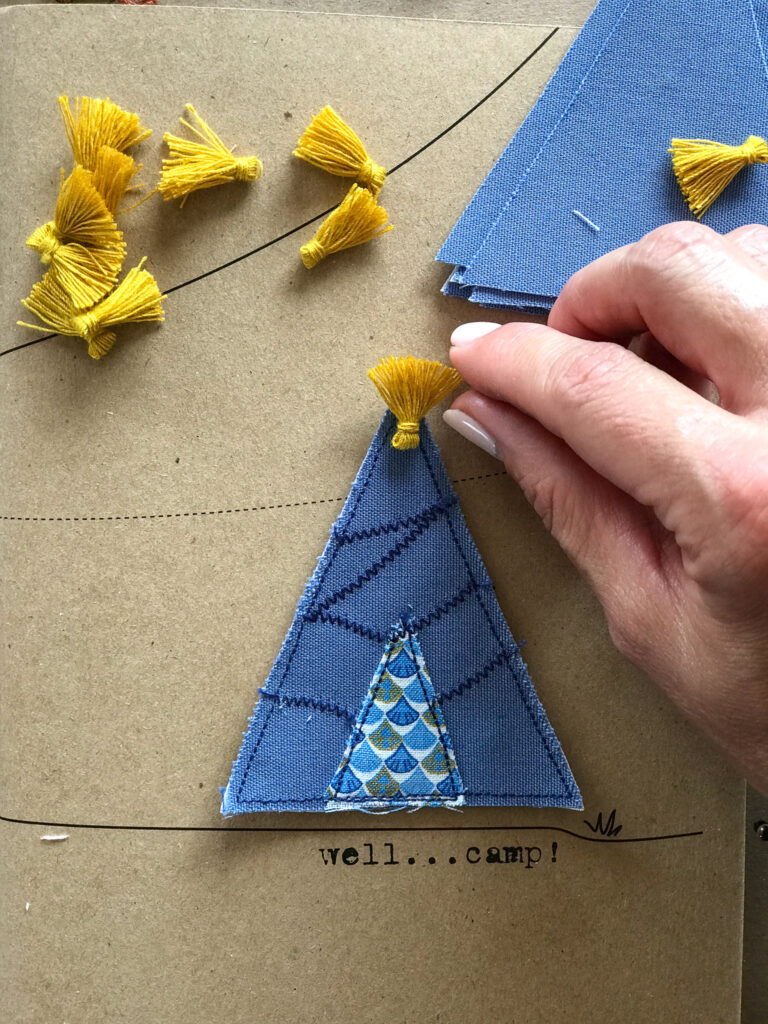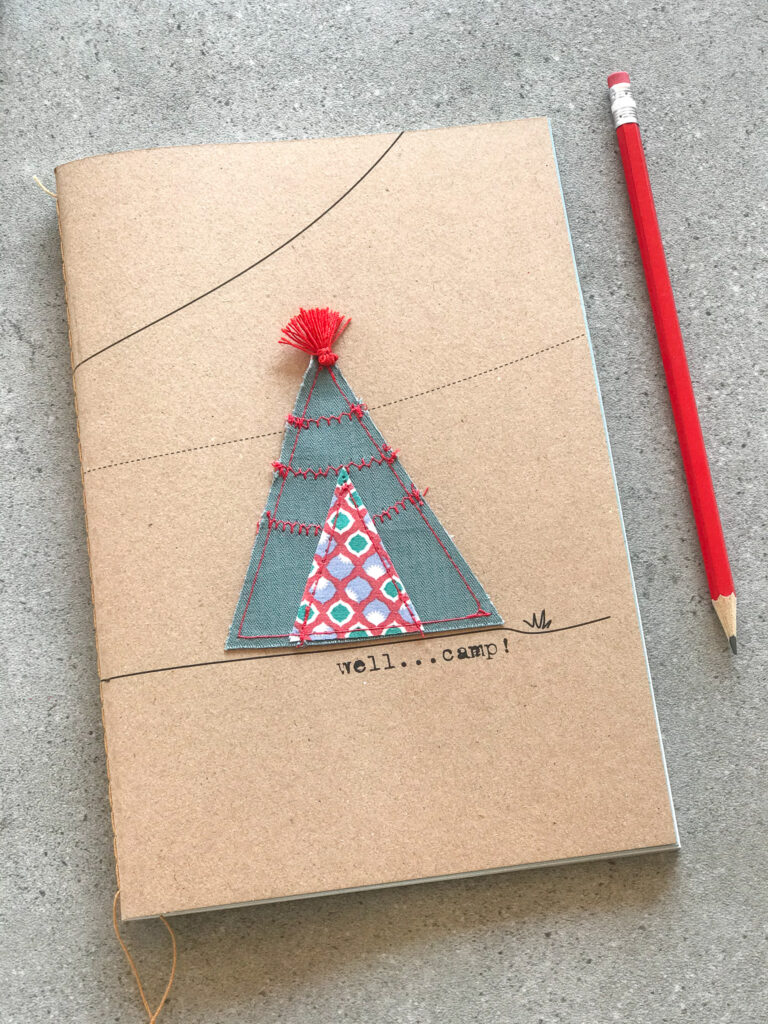 Do you create on-demand objects?
Sure, and I have already created on-demand objects. It gives me a thrill as I love experimenting with new ideas.
What do you love most about creative projects and crafts?
The fact that when I work with my hands every other thought or worry goes away. It is my way of focusing on the present and the outcome of the project.  The whole procedure from capturing the idea to making draughts on paper and finally produce a crafts object gives me joy and fulfilment. The journey and the storytelling behind the idea of each craft are what I love most about creative projects and the crafts.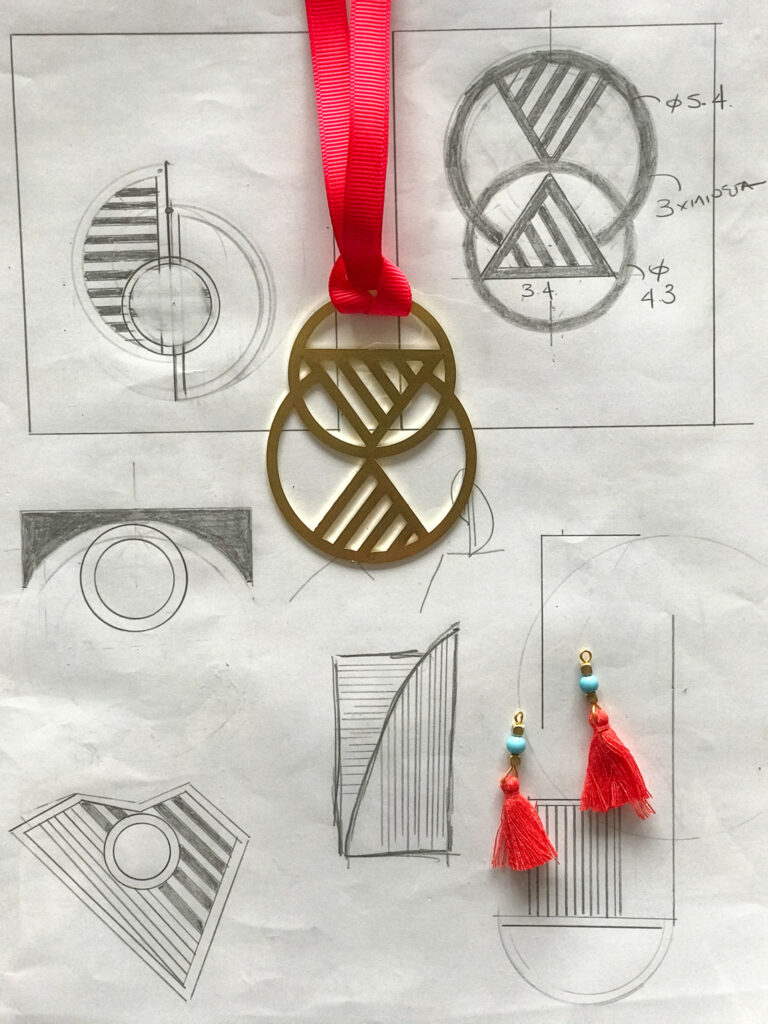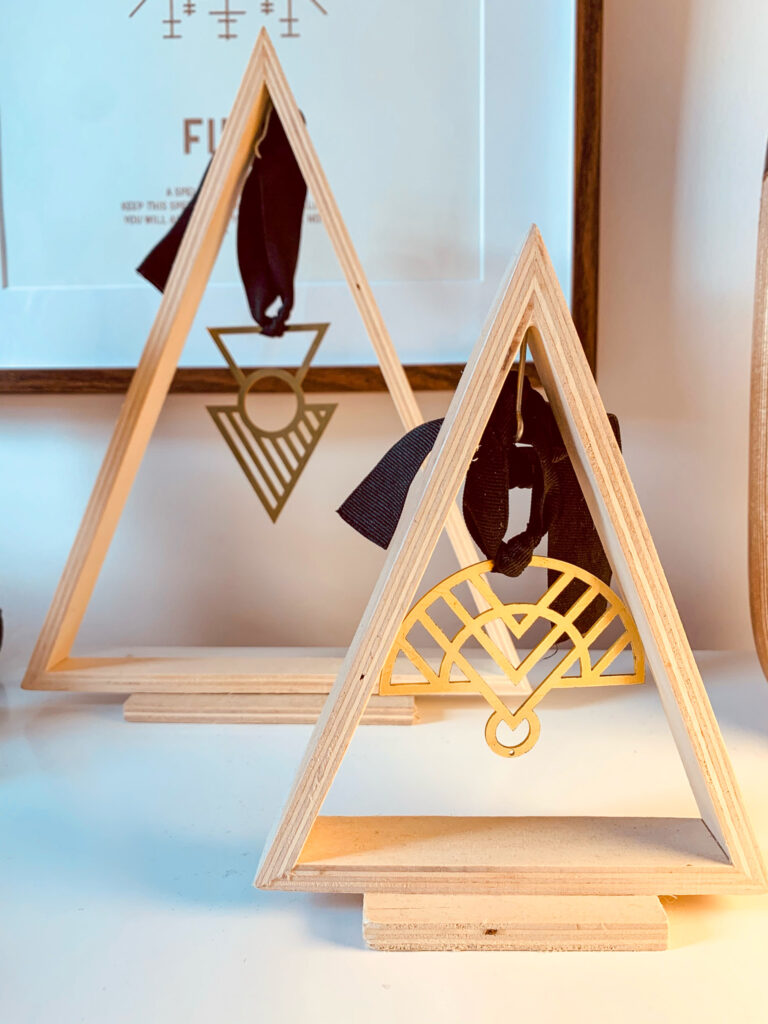 The Miracle Morning Experience
Can you tell us a few words about your new project, the Miracle Morning Experience? What is it exactly and for whom?
The Miracle Morning Experience is the ultimate morning routine that will transform your life and skyrocket your energy. It can get you into alignment in the morning so that the rest of your day flows effortlessly, productively and joyfully. It gives you the tools to be healthy and happy. To wake up in full energy, inspiration and creativity. To wake up each day to your full potential.
By practising the Miracle Morning Experience, you get to complete everything that is really important in your work and free up more time to do the things that give you the greatest amount of joy and satisfaction in your personal life.
It allows you to make immediate and profound changes in any or every area of your life that you choose to work with.
The way you start your day largely determines the quality of your day, your work and your life.
Τhe Miracle Morning Experience gives you a great morning ritual and teaches night-owls how to beat the snooze button, even if you've never been a morning person.
It is for everyone! Especially for those who say that they are not a morning person.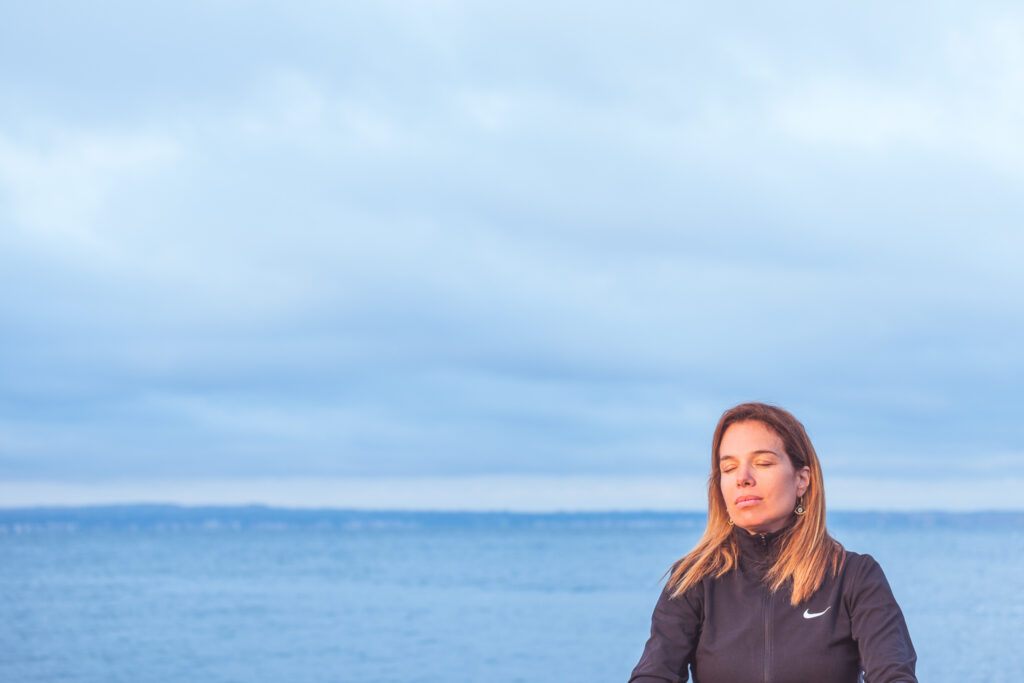 When & where did you learn about the Miracle Morning routine for the first time?
The first time I learned about the Miracle Morning routine was one morning at 6:00 am in Malta. I was there on a business trip and I was checking what's on the Air Bnb experiences.  When I travel I have this habit of searching experiences guided by locals as I believe it is the best way to get to know a city.
At that specific trip all of my mornings were already booked by business meetings so I had a hard time finding any experience suiting my calendar. I wanted to do Stand-Up Paddle in Valletta but I couldn't. The only experience I could do was one called the Miracle Morning Experience at the beach of Sliema at sunrise. It was held at 6:00 in the morning so that could fit in my calendar.  I didn't have a clue of what this is about but I thought why not try it out?
I am a passionate learner so I grab the chance to learn anything new. The next morning, I was ready by 5:15 and got a taxi from Valletta to Sliema. When I arrived there, it was like walking into a calm, magical scenery from a novel. The sky was still grey slowly turning into orange as the sun was rising in slow motion. The horizon line stood out strong and clear, like a rope connecting the sound of dancing waves to my brain. The sound was so magical that I recorded it on my phone so I could keep it and come back to it when needed to feel this calmness again. The serenity in the movement of the sunrise was breathtaking.
A few minutes later I met my guide, Guillam. A French guy from Bordeaux working as a banker in Malta. He told me that he and his family had chosen to move to Malta because of the sunshine. He wanted to be able to take his kids out in the sun most of the year. Guillam, the French guy from Bordeaux was the very first person that introduced me to the Miracle Morning Experience and the S.A.V.E.R.S.
Returning to Greece I started to research everything that I could find on the Miracle Morning Experience and in what ways the S.A.V.E.R.S method could change my everyday life.
How has the Miracle Morning routine changed your life? Can you give us some specific examples?
Practising the Miracle Morning Experience has been a lifesaver for me. It had a great impact on my confidence, mood, and enthusiasm all of which are huge assets in my workplace.
Constantly working in different areas is not easy to tackle. It demands laser focus, discipline and strong motivation.
Before practising the Miracle Morning Experience, I used to struggle to tick the boxes in my daily to-do list, fit every task in my calendar and rush off to my kids' afternoon activities.
To achieve that I had to deprive myself of sleeping hours and eliminate myself into long working hours. On top of that, I had to deal with my guilt emotions of not spending enough quality time with my family.
After practising the Miracle Morning Experience, my life has changed.
I have laser focus and I can recognize the actions that I need to take to get to my goals.
I am full of energy and feeling taken care of everyday
Through the daily meditation, being one of the S.A.V.E.R.S letters, I have worked out my focus muscles to concentrate on the present moment. Here and now, giving space to whatever needs space.
I live in calmness, waking up on my own at sunrise without any distraction. It is my ME time, giving me the chance to fill up my cup so I can serve others.
I am more productive and braver.
I experience more happy days versus depressing days
I learned how to Pause and take pleasure more to what I already have rather than what I don't have.
I learned to concentrate on hearing the sounds of nature, flowing in the tranquillity of the sunrise.
I experience less stress and I have the ability to deal with adversity and difficulties in a calmer and clearer mind.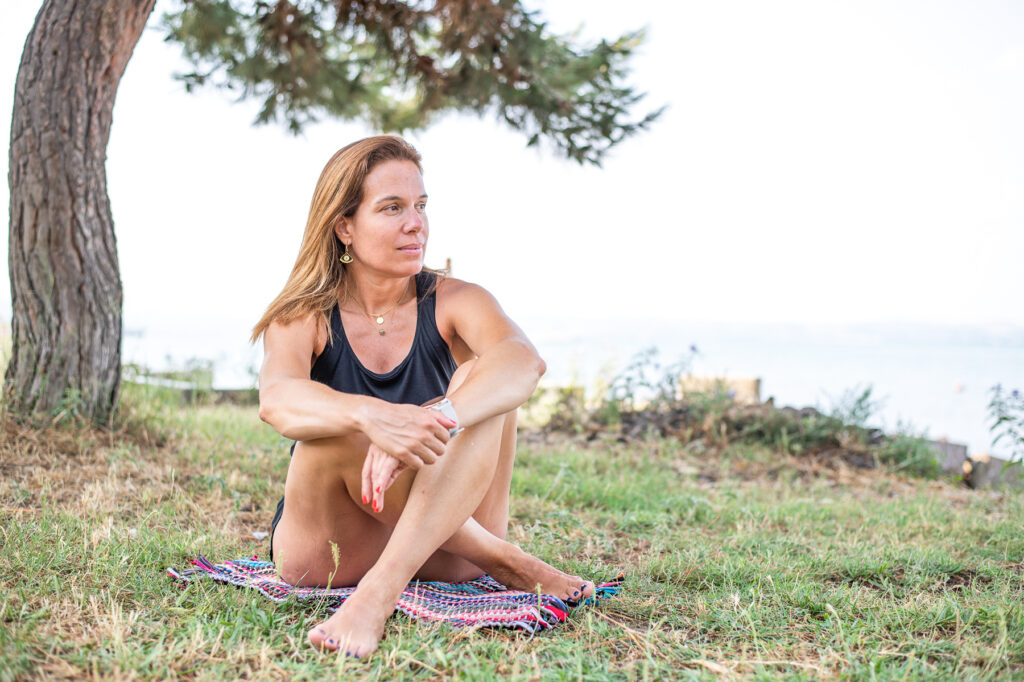 I know that you've worked as an architect for many years. What made you decide to take the leap and try out something entirely different?
First, I strongly believe that our lives can be much more fulfilling when we broaden our definition of success, moving beyond the modern metrics of money, status and power, to include well-being, wisdom, wonder and the power of giving. The Miracle Morning Experience has been a lifesaver for me, so I just had to get it out there, sharing the benefits with as many as possible, one morning at a time!
Secondly, it is this inner need for getting involved in new fields. I take great pleasure and fulfilment in diving into new experiences learning from scratch. The procedure of getting new knowledge in my head and picking up a new challenge makes me feel alive, productive, creative and joyful.
MOTHERHOOD
You are a mom of two children. Could you share with us some tips about finding the balance between motherhood and professional life?
I believe finding the balance between motherhood and professional life is an ongoing procedure that never ends. The truth is that the Miracle Morning Experience has given me the tools to handle this balance. Every morning I live in calmness waking up on my own at sunrise without any distraction. It is my ME time, giving me the chance to fill up my cup so I can take care of my kids later in the day. Our breakfast time is the best part of our day as I make an intention to prepare a healthy breakfast for them sharing a joyful start of the day.
Another tip I find helpful is being honest with my kids, sharing with them my worries and feelings. When I am under a stressful period, we discuss about it and I admit to my kids that I cannot be fully available for them. Ι delegate duties to both of them and we agree on our weekly plan. It is surprising how good they feel on taking up responsibilities and being able to help out their Mum. They feel very proud when they make their own breakfast before leaving for school because Mum has a Miracle Morning Experience session and has left the house at 6:00. They even leave me a good morning note in the kitchen. It gives us the chance to equally take care of each other, taking turns in between all four of us.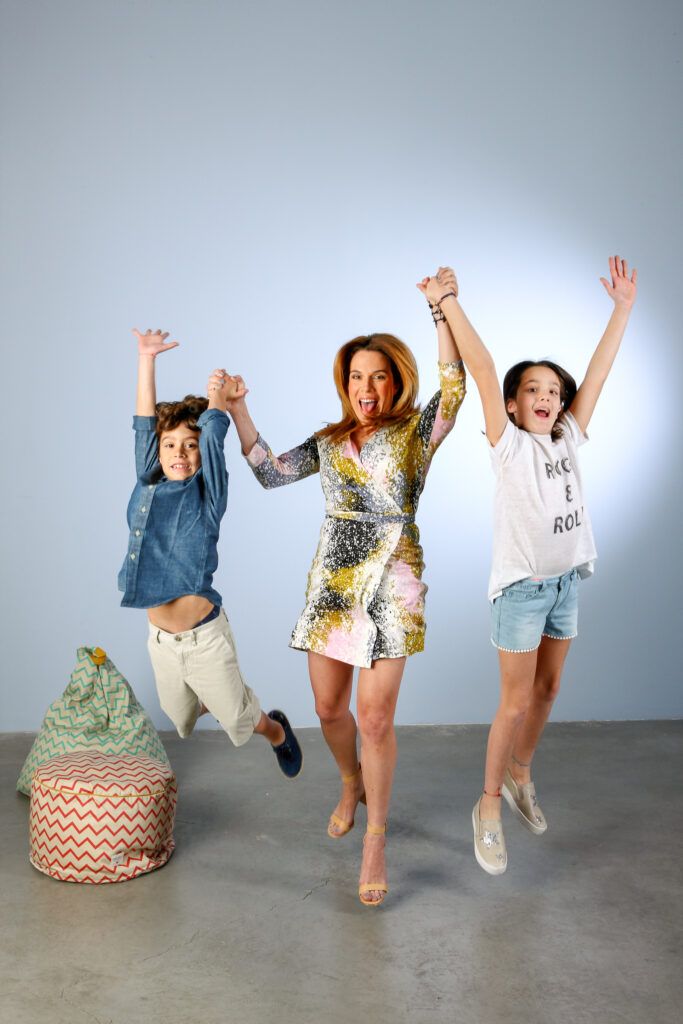 Life in Thessaloniki, Travel & Inspiration
How is everyday life in Thessaloniki? What does a typical day of yours look like?
I wake up at 6:00 and do my Miracle Morning routine usually by the sea, then I wake up my kids and we all enjoy our breakfast before leaving for school. I then go for my outdoor workout or running or stand up paddle in the Gulf of Thermaikos. I am a morning workout person. Usually, I am at Rountes Fountes workshop by 10:00 and work until lunchtime. My lunch break will be either cooking in my workshop's pink and gold kitchen and have a friend joining me or I return home so we can enjoy a family's lunchtime.
That is one thing I truly love in Thessaloniki, distances are so small so I can be at home in 10 minutes. In the afternoon my kids' activities usually take place where I become their taxi driver enjoying our time together. As I usually like to say, the most important conversations with my kids always take place in the car in between activities. Twice a week I stay all day in my workshop so I can work uninterrupted. In the evening after dinner, we read stories in bed with my kids and discuss how was our day. It is a very old family ritual that we started when they were very young, but to my surprise, they still want their story time every night. After that, I take some time for my evening routine. I light up my candles, I plan my next day in my journal, I write in my gratitude calendar and do some meal preparation for the next day. Then my husband and I usually sit in our balcony enjoying the night's breeze unwinding with a glass of wine and sharing our thoughts.
Could you share with us some of your favourite addresses in Thessaloniki? If you had only one day to show your guests around the town, where would you take them?
My favourite addresses in Thessaloniki are three. The historic center of Frangomahala – Rountes Fountes workshop is in this area- , Ano Poli and the Roman Agora area.
The center of Frangomahala was the city's first economic center where Jewish and Ottoman banks were located at the start of the 20th century.  Despite the whirlwind of reconstruction, today the Frangomahala district bears visible traces of its past mainly through its buildings. This is what I love in this area. The State Conservatory on Fragkon street is my favourite building. At night you can enjoy your cocktail at any of the cutest small bars in the area or even better on a roof terrace bar with a view on all buildings' roofs. Fragile is my favorite terrace bar.
Ano Poli is my favourite area to stroll around, enter every small paved alley and admire the city's view from above. I often take my book and find a nice small coffee shop to take some time off.
If you want to have a taste of Greek food enter the Igglis restaurant.
The Roman Agora area is the place where I would love to live in. I feel it is the place of creative people and artists. It is so close in the center yet you get the impression that you are in an old time's neighborhood. My favorite restaurant there is Mourga.
What does travel mean to you?
Travel means joy, freedom and wonder!  Travel means new experiences and connection to others. A vivid horizon to the unknown. I love travelling in any form, with my family, with friends and family, or even better with my husband just the two of us on his motorbike. I believe my favorite part of travelling is planning it. I dive into research about everything, the destination, its history, the locals' habits, the restaurants and their food, the less touristic hotel. I dedicate a lot of my time in planning our trip and I enjoy a lot this procedure. I always make sure to book a local guide and live an Air Bnb experience out of the box. Experiences can give the thrill and reboot the mind, body and soul.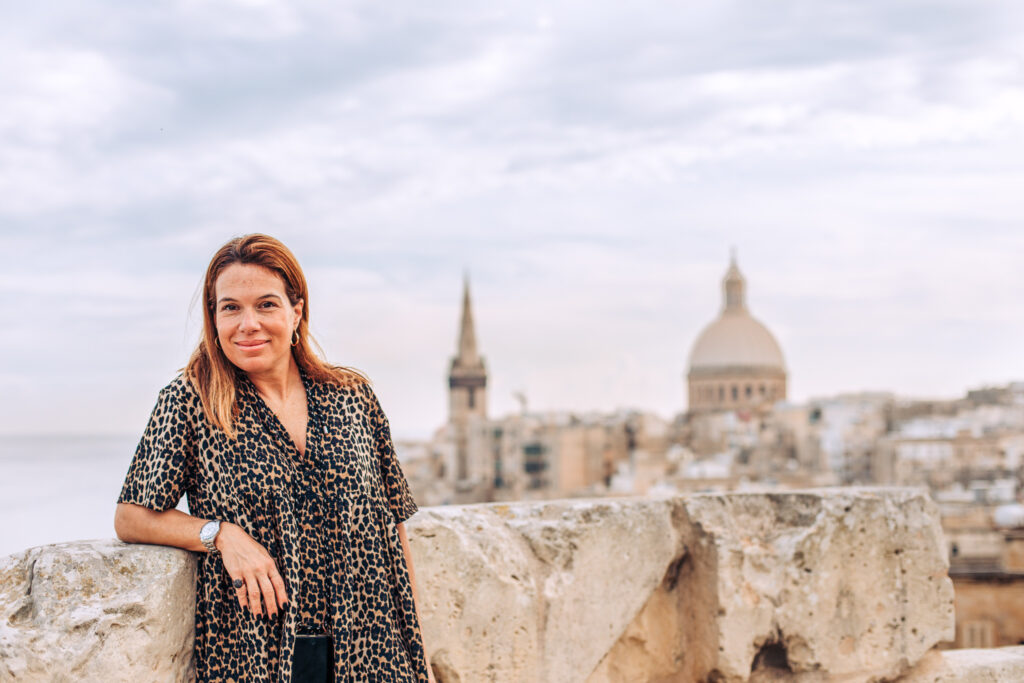 What was your favorite travel experience so far and why?
I am grateful for every travel experience I had, but if I had to choose one, that would be our family trip to Krakow Poland and Auschwitz-Birkenau. The incentive for this trip was the 90th celebration concert of Ennio Morricone. We thought that our kids should have the chance to meet a great composer, orchestrator and conductor and one of my favorites of all times. The other great part of this trip was visiting Auschwitz-Birkenau, a breathtaking experience for all of us. Before getting there, I wasn't sure if taking the kids was the right decision. At that time, they were 12 and 10 years old. After our 3 hours tour, I felt extremely grateful that I trusted my inner instinct and took the kids with me. It is an experience that I am not sure I can describe in words, my thoughts and feelings had this need of being kept in silence, in processing, trying to understand how a human being could be able to behave in such a horrific way to another human being. I strongly believe that this trip should be part of school trips, so they can understand that what happened back then can never be repeated in any way, in any form. It is a trip that can teach our kids valuable lessons. Even the part when all 4 of us stayed in silence for a long period after our visit to the camp, was a new experience for us, for this trip.
What does Greece mean to you?
Birth, roots, serenity, horizon, ancestors, island scenery, calmness of nature, gratitude.
The next trip you are currently planning is…
My husband will turn 50 years old next year and I am planning a surprise trip for him. I haven't decided yet on the destination, I am currently searching on Vietnam, San Francisco or Morroco. I hope he will not read the interview and spoil the surprise!
Which book and/or movie would you recommend reading/watching to get inspired?
One of the books that have truly inspired me and had a great impact on me is: "Brave not Perfect" by Reshma Saujani. Another book that has deeply inspired me is "Big Magic" by Elizabeth Gilbert.
Do you have any favourite podcasts/Instagram accounts/YouTubers that you love to follow and be inspired?
Favourite podcasts are Hal Elrod's weekly podcasts, Elizabeth Gilbert's Magic Lessons, Marie Forleo's and Brave not perfect podcast.
Instagram accounts that I love to follow are @the_eudemonia, @reshmasaujani, @digitaldetoxdestination, @architecture.trip, @christinavlahoulis @judiliciousandnutritious, @emmaforeatingaround
If you had a magical wand, what would you change in the world today?
I would definitely make the sexual abuse of women at all ages and all countries of the world disappear.
What makes you happy?
Where should I begin? My list could be very long!
Being in silence in nature, writing my daily gratitude calendar, working out in the cold at 7:00 am, stand up paddling, reading stories with my kids, family weekends at our mountain village, choosing bravery over my fears. Making my own granola, riding our bikes all 4 of us. Designing a new project. Getting bookings for the Miracle Morning Experience. Enjoying a glass of wine with my partner at our jungle balcony. Running at 5:30 am at Thessaloniki's waterfront with my dog as my accountability partner.
Thank you so much, dear Veronica, for this interview.
*All the photos for this article have been kindly provided by Veronica Palaiokrassa
Check Veronica's "Rountes Fountes" blog and shop her wonderful craft items HERE 
Learn more about the "Miracle Morning Experience" HERE 
Connect with Veronica on social media:
Read more articles here:
Open House Thessaloniki, the city revealed
Sugar-free month. Lessons learned.
Inspiration – Lara van Uchelen, the healthy brunch queen of Lausanne
Best places for lunch in Lausanne
Are you visiting Lausanne soon and want to know which are the best places to eat and drink? Are you new to the city and eager to discover the top foodie addresses? Check out my ebook – The Curated Foodie Guide to Lausanne which consists of a 4-day foodie itinerary and an insider's tips on local life.