She is the founder of Pigolampides, a website where you can find all the kids-related activities in Thessaloniki. That's how I first discovered Ioanna and started following her and her work, even though at the time I had no kids of my own. There was something very appealing in her social media presence and her newsletter, which was one of the few that I was happy to open and read through.
I visit Thessaloniki, where Ioanna is based, quite often so at some point I reached out to her and invited her for a coffee. She was also happy to meet and we spent a lovely afternoon talking about what we love to do, how we get inspired, new projects we are working on and of course, travelling.
In the end of 2014, when I read that she created a family-friendly agenda, I was so excited that I managed to get 3 of them and give it to friends of mine who had kids and lived in the city at the moment. Since then, I am constantly inspired by her writing, creative projects, photographs, travels, attitude and, in general, her way of life. Well, even her email signature is inspiring! She has been lucky to have discovered the magic in herself which she instils in every single project she is involved.
So today I am very excited to introduce you to Ioanna who was so kind to answer all of my questions. Make yourself a cup of coffee, hot chocolate or tea and keep reading:
Would you suggest a song to hear while reading your interview?
I would suggest the soundtrack of the movie YOUTH, which I like very much!
How would you introduce yourself in a paragraph?
I love travelling. I love the dreams that come true and the hopes that aren't lost.
I like to dare and to meet new people. It took me years to realise how magical it is to be different and I started truly living when I was 19 years old –when I began travelling.
I am excited to give ideas and inspiration to people and I always look forward to the next trip. I am cyclothymic, I often fall, but I always get up.
Your email signature reads "Family Travel and Leisure Advocate". It looks to me that you have created your dream job on your own. How did you manage to do that? What would you advice someone who is currently not happy with his/her work?
I cannot accurately describe the journey because it was not something well designed and organised. It was mostly an urge to follow my instinct. We all have this instinct, but we have been trained to ignore it. It took me a long time to accept that it exists and that its voice can lead me to fairytale places.
And although the journey was and still is like a fairytale, at the same time there are always the everyday battles that you fight with yourself. You need to have courage and guts to follow THE DREAM, but I think that it's even harder not to do so.
How and when did you start your website, Pigolampides? What is your main purpose? Any plans of having the website in English as well?
I had the inspiration for my website,www.pigolampides.gr, about 10 years ago and I created my first official site in 2009. My goal is to inspire parents to discover the child who is hiding inside them and spend quality time with their children.
The website, which was revamped in early September 2017, now also offers a new section in English , for the travellers who want to visit Thessaloniki with their families.
You have worked on many creative projects because of this website. Could you name a few and what they were about?
The ones that I remember more vividly are "The Family at the Museum", where along with the museum educator Despina Tsiptse we organized family educational programs in various museums of our city, while the most recent one is the "Bookpoints" , a festival which we co-organised with 7 small and creative bookshops of Thessaloniki.
But we have also organized lovely excursions along with families who we met due to my website, Pigolampides, in various prefectures such as Kilkis, Xanthi and Kavala. The experience was exceptional!
You have also created the travel website The Paper Boat. Could you tell us a few words about its journey?
Both I and my husband love travelling. Before we had a child, one of our friends –who was already a parent – was trying to convince us that it would not be as easy to travel with a child. I really didn't like that and I wanted to prove that this is not true.
That was also, most probably, the motivation for creating thepaperboat.gr. We wanted to change this idea that Greeks have, that travelling with children is difficult. So, we share at The Paper Boat our experiences from our travels with Olympia and we promote destinations and accommodations which are family-friendly.
Why do you believe it is important to travel with kids even though it is often challenging? Do you have any tips to share with us based on your family travel experiences?
Having a family means sharing experiences together. It's what makes life fun and unique. Children are our company on our journey to earth and not an extra burden on our luggage. Children can feel from their very first day of their life journey, our love for them.
Certainly, on a family trip there are challenges, but for me, that's where the meaning of life lies. Being ready to accept the setbacks and open to change your schedule, whenever needed, is for me the best advice.
This can easily happen if you manage to live in the moment, not be absorbed in your work and react creatively. Children love the enthusiasm, playing and the truth. If you accept life, the journey will reward you with very intense feelings and your family's bonding will keep getting stronger.
Just a few toys and some coloring pencils, a photo camera as well as the right choices when it comes to your accommodation, can help a lot!
Could you share with us your ideal itinerary in Thessaloniki for a family weekend?
Thessaloniki is definitely a family-friendly destination and any visitor can discover this. It is a glamorous and friendly city, where everything is close by and there are many nice places to visit. I believe that the city's seafront promenade,"Nea Paralia", is its biggest jewel.
To a family I would suggest discovering "Nea Paralia" from the Port up to Thessaloniki's Concert Hall (Megaro Mousikis) either on foot or by bikes; to visit the White Tower; to take a boat trip in Thermaikos; to walk around its old markets and to explore Ano Poli. But, while in Thessaloniki, you can do so much more. Here are some extra ideas . There is also a Greek version here.
What was your favorite travel experience so far and why?
Every single trip is unique. But I do remember that I was thrilled with our honeymoon trip, a 20-day road trip around the Balkans. We had planned the route, but we left everything else to chance!
What does travel mean to you?
It makes me feel that I am alive. A bit like the oxygen I breathe.
The next trip you are currently planning is…
Olympia is now 6 years old and we are looking forward to going with her on a road trip in Bulgaria and Romania next spring.
I am aware that you are currently aiming to promote and establish the family-friendly concept. Could you tell us a few words about this project?
In cooperation with the Municipality of Thessaloniki and the Deputy Mayor for Tourism Development and International Relations, Spiros Pengas, we plan to promote Thessaloniki as a family-friendly destination. It was a great honour and pleasure for me to be involved in this project and I feel proud that our Municipality has taken significant steps over the last years in order to promote our lovely city of Thessaloniki to other countries.
Soon, we will have info material from which a traveller will be able to be informed and inspired by the family-friendly experiences available in Thessaloniki.
Could you share with us a few people that you have met because of your website and inspire you in some way?
For sure Tolee Fotitzidis was one of the first ones who believed in my dream and inspired me to follow it. And then, I was lucky to have very good friends and partners, such as the graphic designer Michael Sachpazis, who now lives and works in London.
But during all these years I also receive very nice messages from parents, who truly make me happy about what I do. I feel happy and inspired by them!
What is happiness for you?
Living your dream and allowing love to engulf you!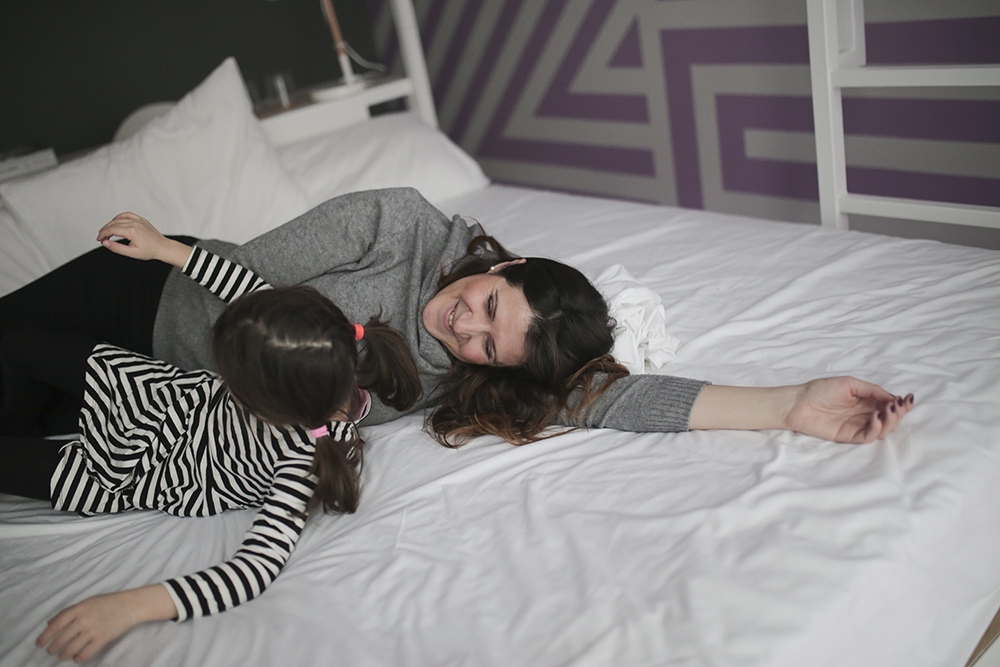 Photo Credits: Effie Panagoula  & The Paper Boat