There are people that appear in your life when the time is right and create magical moments, spiritual moments that make you feel the divine power of the universe.
That's how I feel about meeting Ioanna Lapata here in Switzerland a few years back, whom I consider my spiritual guide. Ioanna was a professional dentist for years and decided to change her career path and study Tibetan medicine. She is now a Tibetan doctor helping people refine their well-being through what they eat and have a more holistic approach when it comes to their health.
If you are intrigued to learn more about her journey and Tibetan medicine, make yourself a cup of herbal tea and keep reading:
Would you suggest a song to hear while reading your interview?
The song that spontaneously comes to my mind is entitled ''The days of light'' (Oi Meres tou Fotos) by the Greek singer Natassa Bofiliou. 
I like this song because it has a particular effect on lifting up my spirits.
How would you introduce yourself in a paragraph?
I am an alien from outer space who carries a very simple message: Happiness in life lies in the ability to enjoy simple things and to trust one's inner voice and impulse.
I am a uniquely optimistic Tibetan doctor, Dentist, herbalist, gardener, mother and wife who never loses faith in human potential.
TIBETAN MEDICINE AND TIPS FOR STAYING HEALTHY
When and why did you start being interested in Tibetan medicine?
I came across Tibetan medicine 6 years ago during a sleepless night of internet browsing. This was a period of many changes in my life where I had already decided to quit dentistry and study something new. While exploring my options in Switzerland where I have been living for the last few years, I stumbled upon an article about the history of Tibetan medicine and how this ancient medical system was influenced by Greek medicine. Traditional Greek medicine was introduced to Tibet in the seventh and eighth centuries and played a significant role in the shaping of Tibet's approach to health and medicine, more so than other medical systems originating from nearby countries like China and India. As I'm a very proud Greek, I found this information absolutely fascinating. It was at that moment, at 2 o'clock in the morning when I decided to learn more about it and enrol myself on one of the best schools in Europe for learning Tibetan medicine.
What is Tibetan medicine? Who is it for?
Tibetan medicine is a centuries-old traditional medical system developed in Tibet. It emphasizes the importance of each person's unique characteristics in both states of health and disease and the interconnectedness of everything. The physical body, mind, emotions energy body, seasons, and environment are all constantly influencing one another, our health and well-being. It employs methods such as special body-mind exercises, nutritional and herbal supplementation, diet and behavior changes, relaxation techniques and external therapies like the application of heat on specific body points. Tibetan medicine is suitable for any interested individual who cares about prevention or faces some health challenges and is keen to integrate natural approaches to his regime. This system can be easily combined with mainstream medicine.
What do you love most about your work/practice?
As a dentist, I used to offer restorative solutions to clients, whereas with Tibetan medicine I don't just fix the problem I have to find the root cause of the problem. The same health issue might have completely different causes and locating them is crucial in deciding treatments. So, every time I work with a new client it's like having a whole new world in front of me. It's magical and inspirational. Another thing that I like in my practice as a Tibetan doctor is the opportunity I have to be of service and empower others to take charge of their own health.
What should someone expect during a Tibetan medicine session with you?
Basically, one should expect a very friendly chat with the aim to gather as much information as possible, identify imbalances and make an individual treatment plan according to one's needs and expectations. Diagnosis is quite interesting cause it utilizes methods such as pulse, tongue and eye reading. I am friendly and patient and try to give as much time and explanations as possible to my clients. At the end of a session, they will at least have learnt something new about the tendencies and particular characteristics of their digestive system as well as which behavioral patterns should best be avoided. 
Could you share with us a few tips that anyone could use to boost their immune system and be healthier?
I strongly believe that good health and a strong immune system start with simple good habits like a good night's sleep, regular consumption of ginger and wild oregano tea during the cold and flu season, taking small amounts of probiotics with every meal in the form of fermented vegetables or beverages, consuming more than 60% of vegetables at every major meal, starting the day with a cup of boiled hot water and a teaspoon of garlic honey, washing the face with cold water and always keeping one's feet warm.
ABOUT CHANGING CAREER
You were a professional dentist for many years, working both in Greece and Scotland. What made you change your career path?
I studied Dentistry and had my own private practice for almost 17 years. Many people change career paths because there's something missing in their work. This was not the case for me. I loved dentistry and my interaction with my clients and I literary adored the artistic part of this profession. I found it very rewarding to give back a beautiful smile through aesthetic dentistry or remove a toothache from a patient. I just woke up one day feeling that this chapter of my professional life had ended and I needed to do something else. I felt like I didn't have to offer anything more as a Dentist and although I was earning my life very well at the time, I took the decision to seek something else.
What kind of difficulties did you encounter and how did you manage to overcome them?
I was very lucky to have the support of my husband who never judged me for my unconventional choice to quit Dentistry for the newly developing in Europe traditional Tibetan medical system and who also undertook the family finances throughout my studies. My biggest difficulty was finding free time to spare with my young daughter and just do things as a family. Since I always had exams at Christmas time, it was not until I had finished my studies that I managed to travel again and have happy and stress-free holidays with my daughter and husband.
What would you advise another person who is now considering changing career path?
Anyone considering changing career path has already taken the decision so my first advice would be to just go for it and never look back. My second piece of advice is to consider your strengths and weaknesses and what you want to achieve. It depends a lot on the personality. For some people, especially those like me who wish to change careers but remain in the same broad field of their interests, the choice might be easier. For others who are less confident in their decision making, advice from a professional might help their transition.
MOTHERHOOD
Could you share with us some tips about finding the balance between motherhood and professional life?
This is one of the most difficult things in life since nobody warns you before having children how much help is required to raise them properly and how much unprepared you are for the task. From experience, I would say that balance between professional life and motherhood depends on the cooperation between the adults involved in the upbringing of children and the ability to establish a rhythm in family life. In my case, the support from my husband as well as my notebook where I carefully plan my week ahead in detail has helped me a lot. I also believe it is important to create a personal space like having a hobby or ritual that you follow every day. Keeping some time for yourself helps you cope better during periods of pressure from either motherhood or your professional role.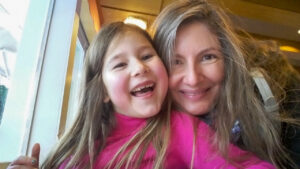 What do you love most about raising your kid in Switzerland? Switzerland is a beautiful and safe country to raise a child. It has treated me nicely and I'm very grateful for this. I consider Switzerland as one of the few countries in the European continent where family and local traditions still hold and shape the values of the society. This helps a lot in raising a confident child with a strong identity. Furthermore, there are beautiful friendly neighborhoods where children can play, good quality food and a well-organized school system.
What's one thing you would like to change if any?
The lack of spontaneity in the average Swiss and the long rainy days.
LIFE IN SWITZERLAND, TRAVEL & INSPIRATION
How is everyday life in Switzerland? What does a typical day of yours look like?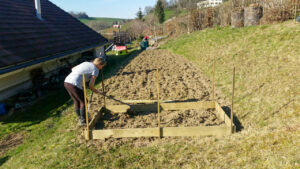 My everyday life in Switzerland is supercharged. I wake up at 6 pm, do my daily routine of Tibetan yoga and decide treatment plans for my clients. I get most of my insights early in the morning. After a quick breakfast, I spend another 2 hours in the garden and then go to my office downstairs to answer emails. As lunchtime approaches, I head to the kitchen. This is a joyful and creative moment in my day. I never use recipes, I always improvise, I apply the diet principles of Tibetan medicine and use organic products from the local producers or my garden to create nutritious meals. The rest of my day is scheduled around my appointments with clients or my daughter. I read or study for at least two hours every single day. When I have some spare time, I go for a walk in the local forest. I usually finish my day by sharing a glass of red wine or a cup of herbal tea with my husband.
Could you share with us some of your favorite addresses in the area you live? Where do you take your guests when visiting you?
A must visit place in Rue (my small town) is a cosy restaurant specializing in crepes using recipes and ingredients from Brittany in France. ''Entre Ter et Mer'' is a unique place beautifully decorated and the crepes are just delicious far from your regular nutella or honey. The blends of different ingredients like anchovies, salted butter, red wine shallots and more make it an unforgettable experience. It also hosts cultural events like exhibitions and concerts.
When I have friends or family visiting me, I also take them to see Gruyères and Murten, two medieval towns in the Fribourg canton of Switzerland where I live. Gruyeres is very picturesque, famous for its castle as well as the production of the most popular cheese in the country with the same name. When I visit this town I always stop for a coffee at H.R Giger museum. H.R Giger was an artist who achieved international fame with his work on Ridley Scott's film Alien. In 1980, he received an Oscar for ''Best Achievement for visual effects'' for his designs of the film's creature and its otherworldly environment. This otherworldly universe of the artist is clearly reflected in the decoration of his museum bar.
Murten is a medieval town with views of a beautiful lake with a Mediterranean feeling. I always take friends there so we can stroll along this beautiful lake and walk through the historic centre of the town. Murten is full of life with many restaurants and coffee shops open seven days a week which is quite rare for Switzerland. I never forget to stop off in one of the shops to taste nidelkuhen, the traditional cream cake of the town.
What does travel mean to you?
For me, travel is much more than visiting new places. It is a way of cultivating a growth mindset. Travelling as often as possible keeps our minds open while fueling our curiosity. It helps us stay prepared for whatever life throws our way and helps us disconnect from daily life. It also allows you to try amazing food! You meet interesting people from different cultural backgrounds and feel an adventurer.
What was your favorite travel experience so far and why?
My trip to Alaska. This was 15 years ago when I was still single and adventurous and I decided to leave for a 15-day hiking trip to Alaska. Alaska has a fascinating history with the gold rush, railroads and settlers coming to explore this beautiful state, I spent 2 weeks hiking in the gorgeous Wrangell-St.Ellias National Park and discovering unique wilderness: fragrant forests, amazing wildlife, sublime mountain light and a real sense of peace in an unspoiled by civilisation part of this planet.
What does Greece mean to you?
Greece is my safe place, my inspiration, my breath. I speak a thousand years old language and I grew up immersed in one of the oldest and most important world cultures.  I couldn't have asked for more.
The next trip you are currently planning is…
I have absolutely no idea! Planning a trip takes time especially if you intend to organize it yourself. I've never visited an Asian destination so at some point I would like to travel to Nepal. I'm drawn to tall mountains like the Himalayas.  There's a certain amount of peace and spirituality that exists in nature's gigantic scheme of things. After all, this specific part of the world gave birth to the medical system I studied.
Which book and/or movie would you recommend reading/watching to get inspired?
I would recommend Bruce Lipton's book ''Biology of Belief'. 'We live in a very interesting time in man's history where new scientific discoveries emerge every single day. One of them, the science of epigenetics, claims that our biology is actually not our destiny as we've been trained to believe after the discovery of DNA.
Dr Bruce Lipton's work and ideas are extremely helpful to understand how our conscious and subconscious minds really function and the role they play in overcoming false beliefs in order to literally override our DNA code and live a healthy life physically and mentally. The ideas expressed in this book are very empowering and groundbreaking so I consider it a good read.
Do you have any favourite podcasts/Instagram accounts/YouTubers that you love to follow and be inspired by?
I try to have control over the time I spend on social media so I tend to follow very few accounts that bring me joy or serve an educational purpose. Some of my favorites are Podcast francais facile and podcast francais authentique for learning French, The Herbs Society UK and Althea Provence (Christophe Bernard) for my interests in Herbs and their medicinal uses. Together with my daughter, I sometimes watch two Chinese food bloggers Liziqi and Dianxi Xiaoge who make fabulous, almost professional videos showcasing the calm, idyllic village life preparing local dishes using produce that they have planted, harvested and raised themselves.
If you had a magical wand, what would you change in the world today?
I would love to wake up in a world which gives more time to human relations and nature rather than generating and spending income.
What makes you happy?
Life itself and a cup of herbal tea at the end of a hectic day.
Thank you so much, dear Ioanna, for this interview!
*All the photos for this article have been kindly provided by Ioanna Lapata
Check Ioanna's website – https://www.tibetanwisetraditions.com/
Connect with Ioanna on social media:
Read more articles here:
Travel & food guide to Sithonia, Halkidiki 
Inspiration – Veronica Palaiokrassa, the Miracle Morning Experience Greek Ambassador 
Where to find Greek products in Switzerland