In this article you will find a family-friendly travel itinerary to Zagori, Greece based on a 48-hours long trip we took in July 2022.
The region
Zagorochoria or Zagori villages or simply Zagori is a mountainous region in Epirus comprising 46 villages. They are famous for the natural setting, the impressive stone mansions that showcase their past glory and the numerous activities in nature you can enjoy. Among them, hiking to Dragon lake (Drakolimni) and crossing the Voidomatis gorge are the most well-known. There are however several easier hikes and also a rafting route which is ideal for families visiting the area.
The name "Zagori" is of Slavic origin and means "beyond the mountains". It's a year-long destination and travellers who love spending time in nature will be in heaven here.
How to get there
Nearby airports: Ioannina, Corfu, Thessaloniki, Aktio (Preveza), Athens (this is the furthest away but is better connected with international flights all year round). For international travellers, Thessaloniki & Athens airports have the most frequent flights all year round.
Driving: Ioannina, the biggest city and capital of the Epirus region, is about a 50-minutes drive (48 km) from Aristi village. Thessaloniki is about 4 hours' drive (300 km) and Athens is about 5 hours' drive away (460 km). All distances are based on Google Maps and total driving time might vary depending on various reasons such as traffic.
Practical Info
In the area, you won't find supermarkets, shops, ATMs and modern life facilities that we are used to when living in a city. You will find mostly family tavernas/restaurants, a few mini markets, traditional shops and many guesthouses/hotels. This is a different part of Greece, that hasn't been widely discovered yet – although many experienced travellers have started coming to the area and loving it.
When it comes to equipment for young travellers, it's hard to move around with strollers and you might use it only for your baby to sleep in while you are enjoying a meal or a drink at a village square. Otherwise, a baby carrier will be much more practical especially if you are planning to hike.
When we travelled: last week of July 2022
Age of kids: 6 and 2 years old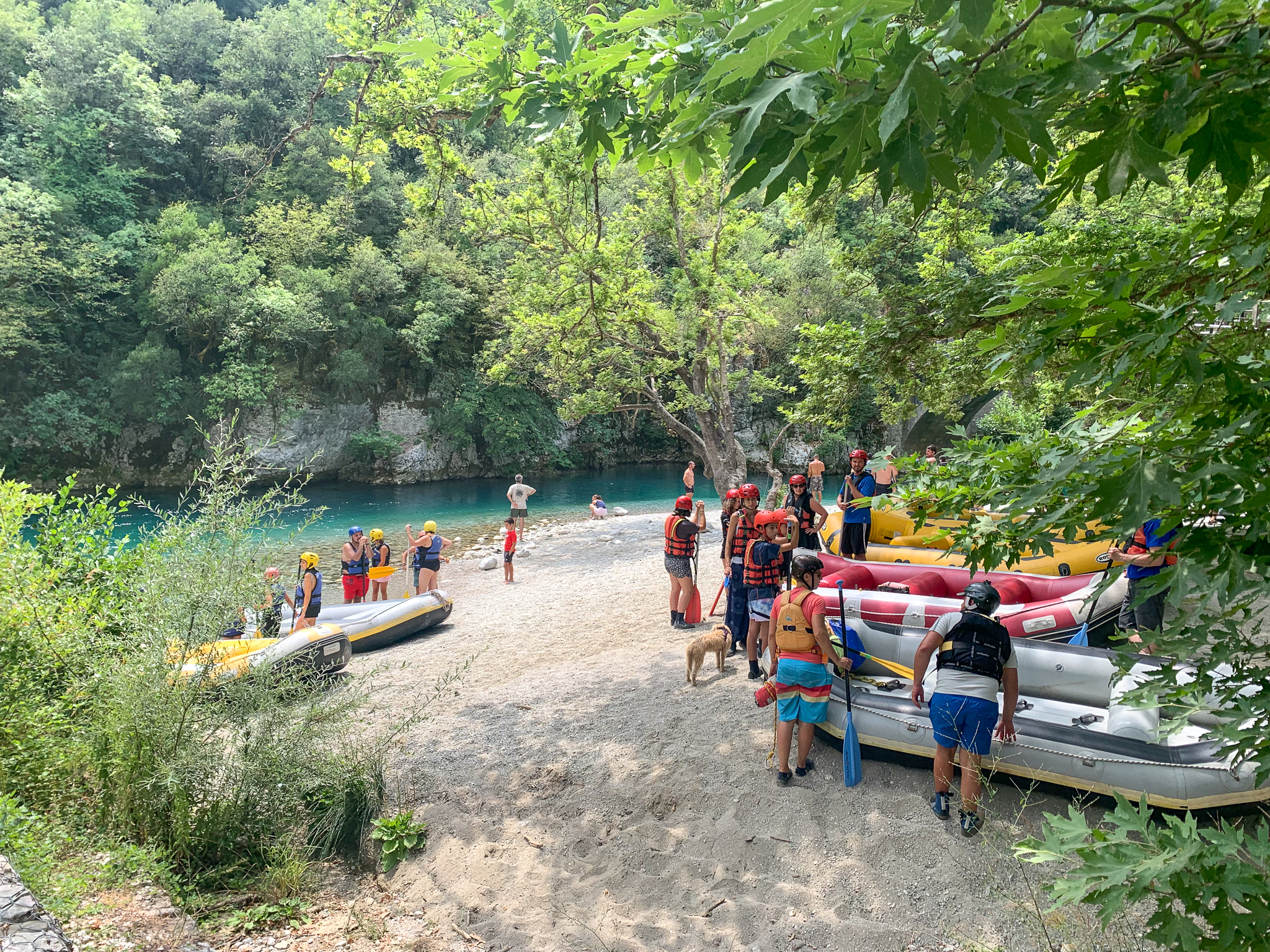 Zagori, Greece – Family Friendly Travel Itinerary – Day 1
Aristi is one of the main villages of West Zagori and it's a great base to explore the nearby villages and also part of the central Zagori.
Morning
On this occasion, we were travelling from the nearby city of Ioannina which is only a 50-minute drive away. We arrived at Aristi village around 13.00 and went straight to Aristi bridge by Voidomatis river (follow the road from Aristi to the villages of Megalo and Mikro Papigo). Parking is easy and there is ample area to lay out your towels or picnic mat, as we did. Kids loved throwing stones in the river and we watched many brave ones who dived in the river from the cliffs and others who simply dived in. The water is freezing cold even during the Greek summer but it's also very clean – Voidomatis river is considered to be one of Europe's cleanest rivers and has been part of the Vikos – Aoos National Park since 1973. The natural setting is stunning and this is the starting point for rafting, kayaking and a popular hike.
The end of July is usually very hot in Greece (and it was indeed 35-40o C in Ioannina) but in this area, it's much better, especially by the river or under the shady trees of the main squares.
After a while, we headed to Aristi Mountain Resort, checked into our room and relaxed a little bit. We also got room service for the kids just to eat something light before we go out and explore.
The kids' menu is quite diverse – we selected the meatballs with potatoes and cherry tomatoes which were delicious. For us, it was very convenient that you can order this any time of the day, whenever the kids feel hungry.
Afternoon: Megalo & Mikro Papigo
After a rejuvenating nap, we drove up the iconic, windy road to Megalo Papigo where you park your car outside of the village and then can explore on foot. Built at an altitude of 1.000m, it's one of the most popular and developed villages in the region offering impressive views of the rocky Towers of Astraka. Other highlights of the village include the Agios Vlasios church and Agios Georgios church but also the numerous stone mansions with their colourful doors and shutters.
As we were walking leisurely around the village, the rain started to fall, a lovely summer rain and we protected ourselves under the trees of a square along with a big group of international students and their tutors.
The rain didn't stop for a while so we decided to find refuge at the nearby Kouli's kafenion (coffee shop). We enjoyed our coffee along with sweet treats – a delicious orange pie and another one with chocolate and biscuits called mosaico. The terrace has a magnificent view of the Towers of Astraka and invites you to wind down and relax. If you are travelling with older kids you could easily let them explore the village's alleys and squares on their own. This is a bit harder when travelling with younger ones as we did.
Our initial plan was to have coffee and sweets at the lovely yard of "Sterna" but due to the rain, we had to reschedule. Before leaving though, I got into "Sterna" shop and admired the lovely space that Elli has created here – you can find various cute items to take back home with you but I was mostly interested in their homemade marmalades & sweets that you can find downstairs. I took a precious jar of raspberry marmalade and we headed off to our next destination. Sterna's yard is the cutest and I promised myself to come back here for another coffee or a drink – although we didn't manage to do it on this trip, this is a reason alone to come back to the village.
Next stop on our route to Mikro Papigo: Ovires, the small ponds carved naturally in the river bed where you can dive in during summer. As we visited right after the rain, it was a bit chilly to swim so we just walked around with the kids and watched a photo shoot of a newlywed couple. This location can get quite busy during summertime.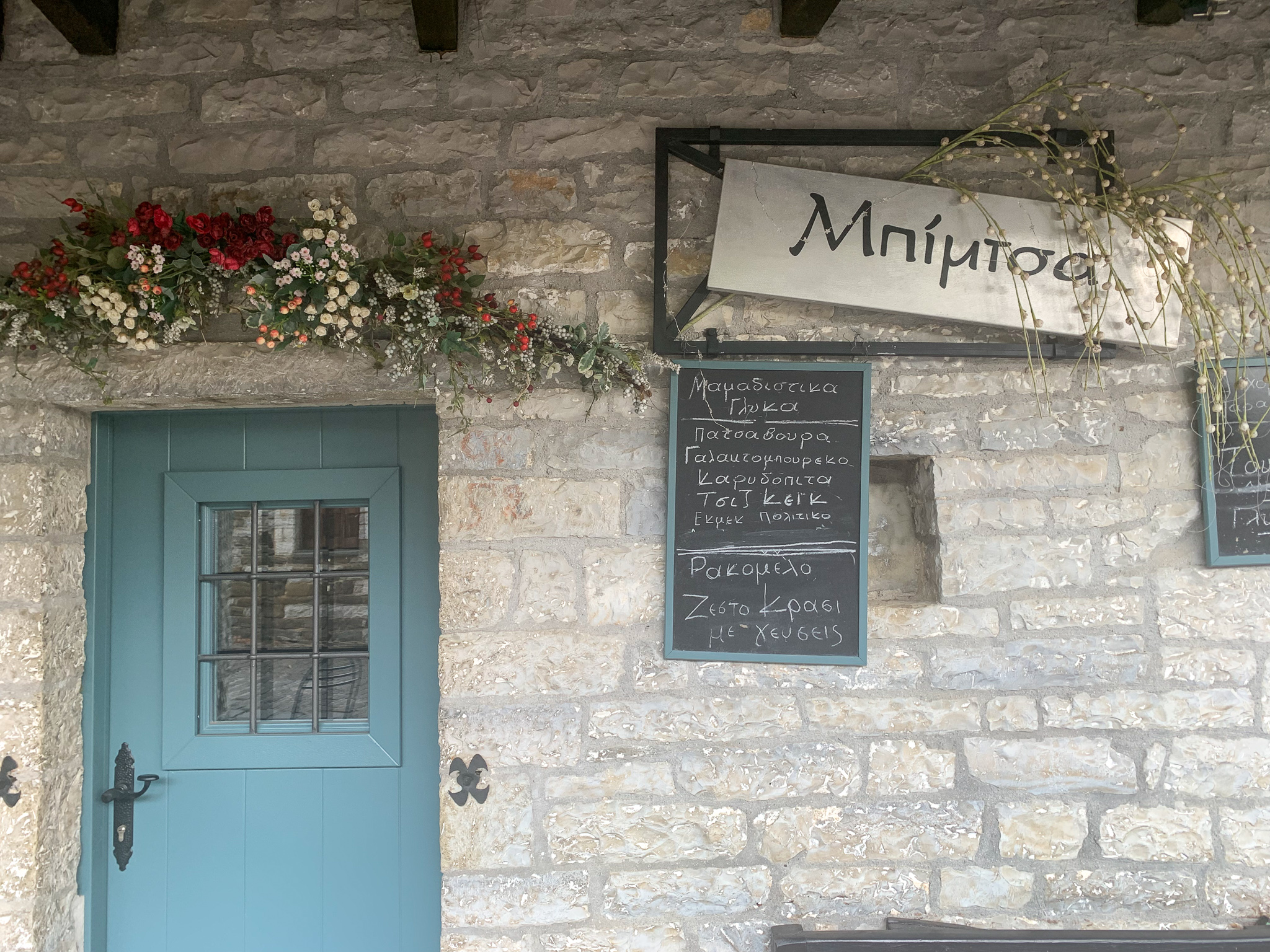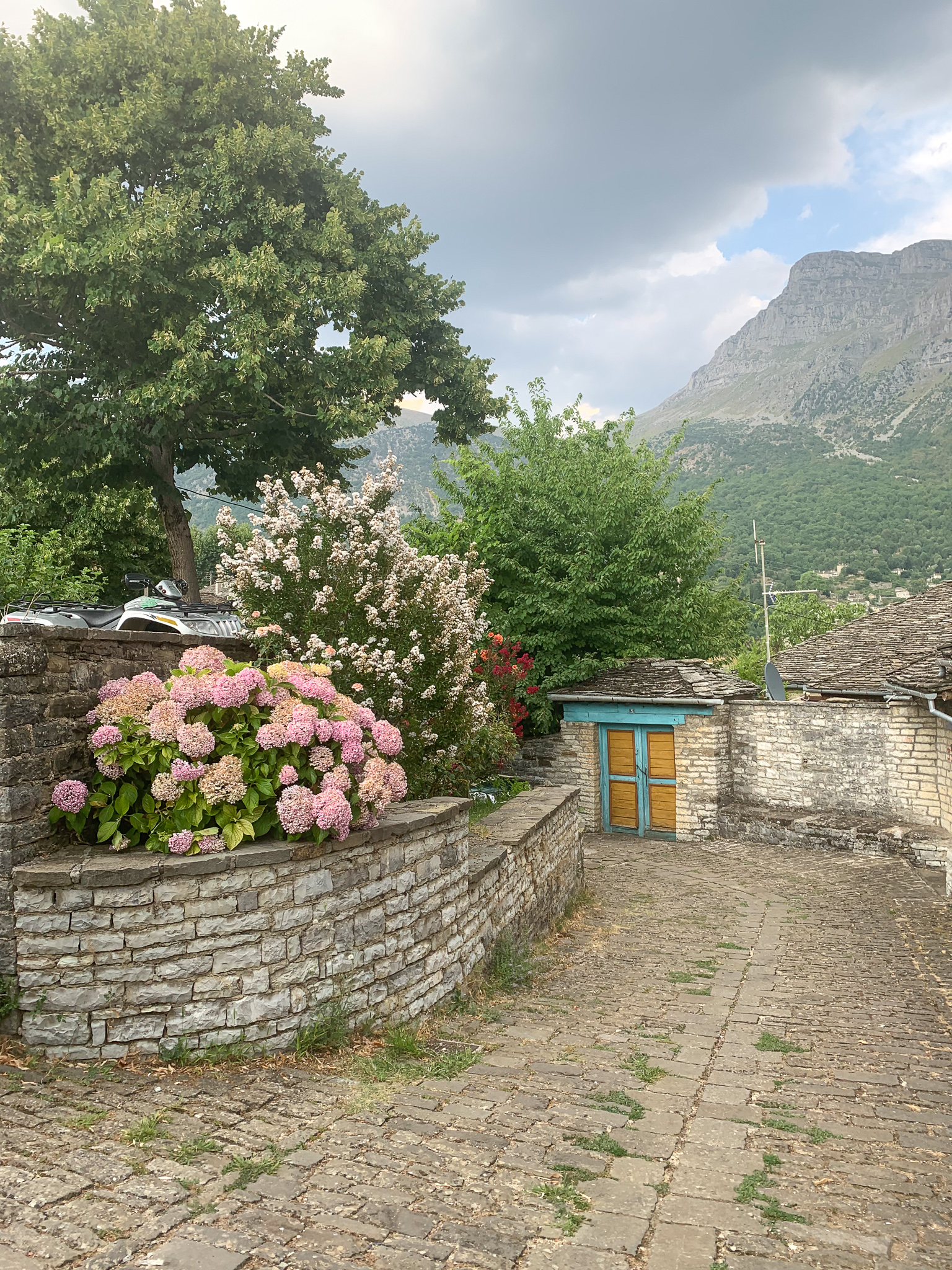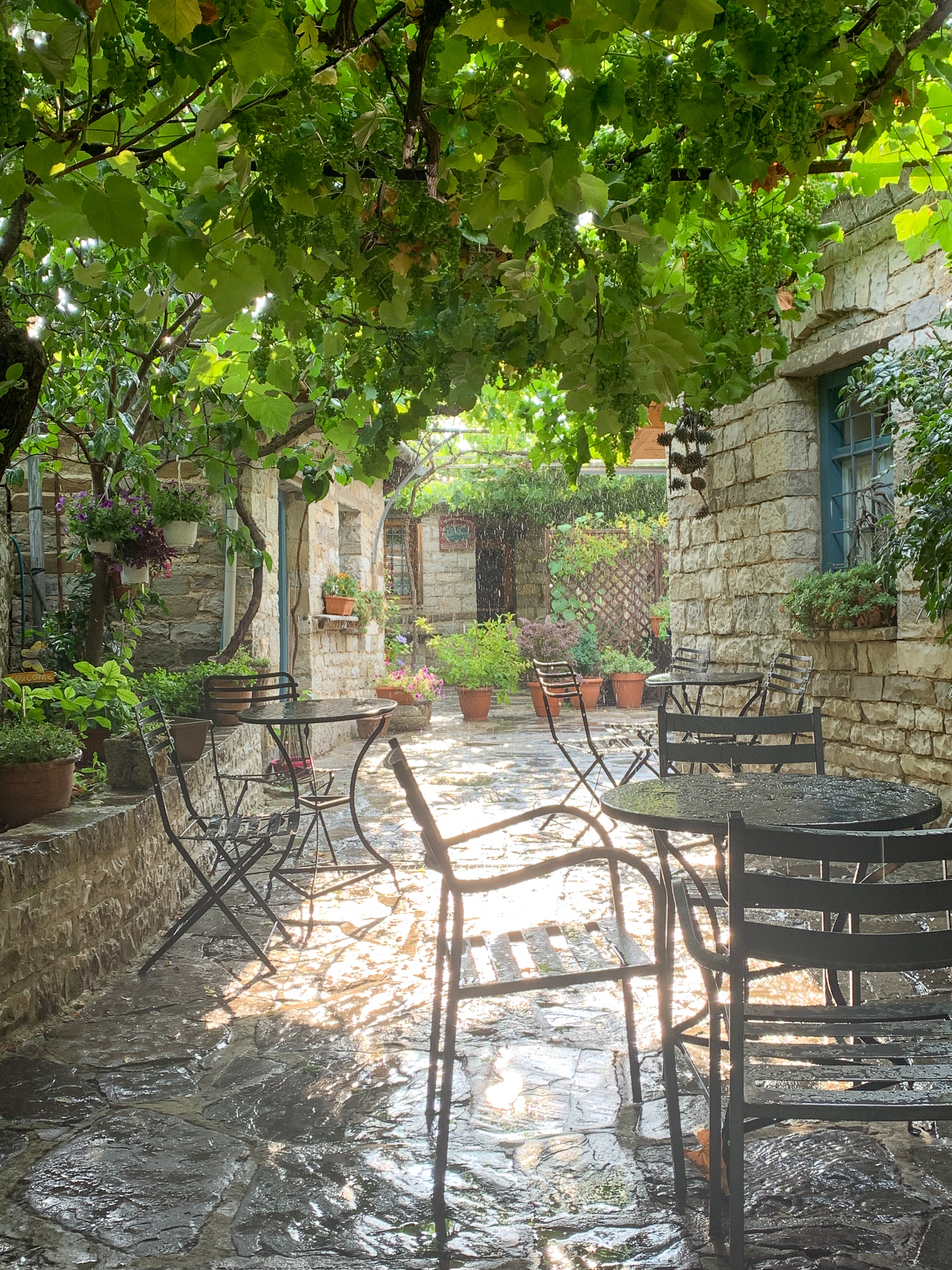 Mikro Papigo village
A few more twists and turns from Ovires and we arrive at the parking spot outside Mikro Papigo village. Mikro Papigo is situated where the road ends; there's practically nowhere else to go unless you are taking one of the hiking routes to explore the mountains. From here, you can hike up to Drakolimni (dragon lake), a rather popular route for hikers all over the world. If you love hiking you should look into this experience (dedicate at least one full day for this).
We had dinner at a taverna here with views of the Astraka towers – the view was the only remarkable thing of our dinner though so I won't mention the place as I wouldn't recommend it.
Then we walked around the sleepy village which is very small. The beautiful church of Taxiarches is one of the village's highlights. Another one is the yard from Pinocchio guesthouse – a great place for a coffee with a view.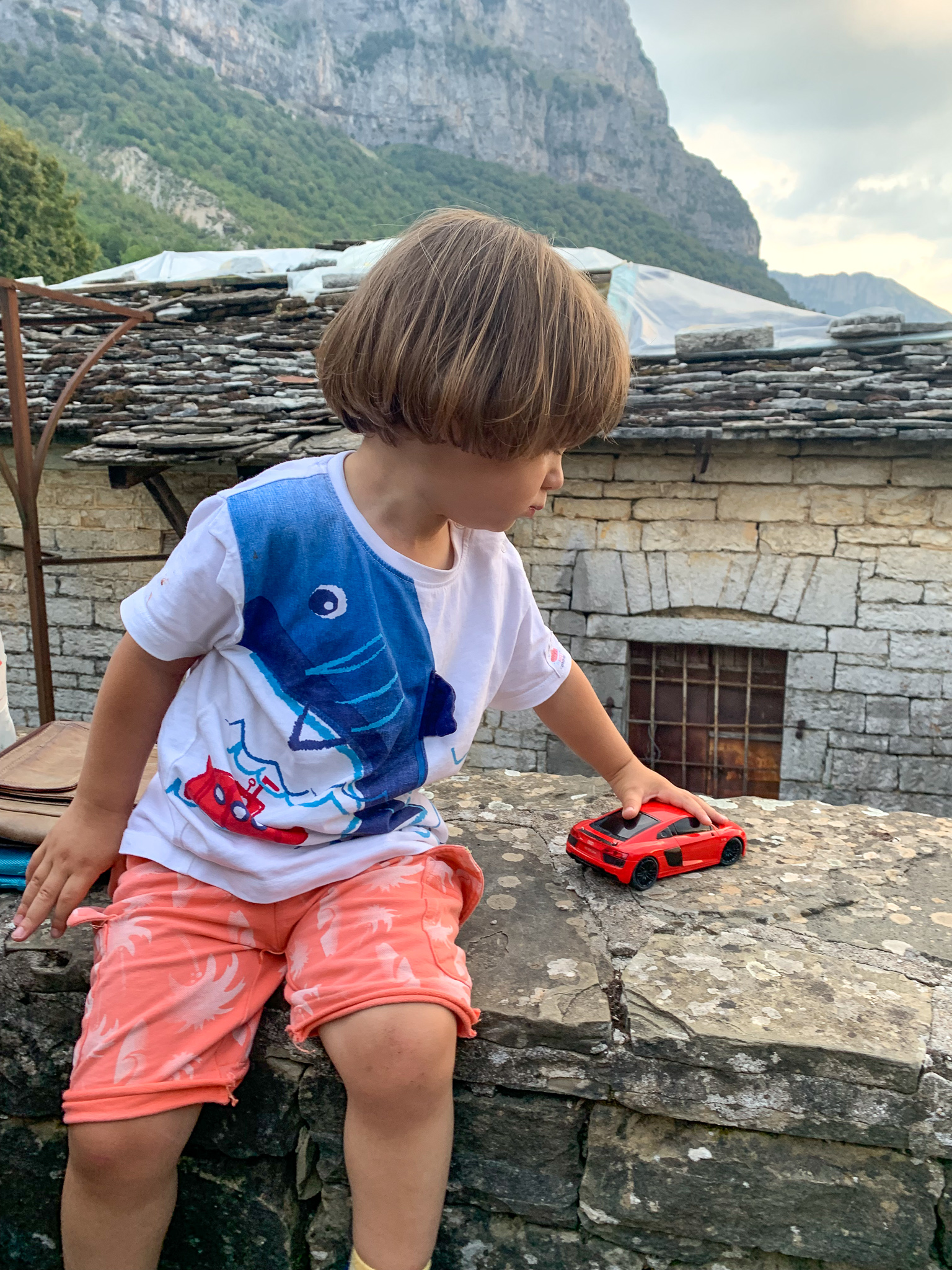 Zagori, Greece – Family Friendly Travel Itinerary – Day 2
In the midst of the Greek summer, we had a rejuvenating night's sleep due to the mild temperature you get in the mountains and also the high-quality mattress of our hotel (CocoMat mattresses are legendary in Greece and also abroad).
Breakfast time: a nice little walk in the resort leads to the restaurant where the buffet breakfast is served. And what a breakfast! There is a variety of sweet and salty food to select from: omelettes, roasted vegetables, cheese and ham, croissants, cakes, marmalades, traditional pies, nuts, honey and Greek yoghurt. You can also have your freshly made orange juice and any kind of coffee you like. We, adults, loved our Greek yoghurt with nuts, dried fruits and honey along with fresh juice and coffee. The kids preferred bread with chocolate spread, the traditional flour and feta cheese pie which they adore (we often cook this pie at home as well) and fresh orange juice.
Our kids wake up quite early even when we are on vacation mode so having breakfast served from 8-11.00 at the hotel was very practical. In the morning, we were among the first to enjoy the delightful buffet breakfast at the terrace of the restaurant with stunning views over the region.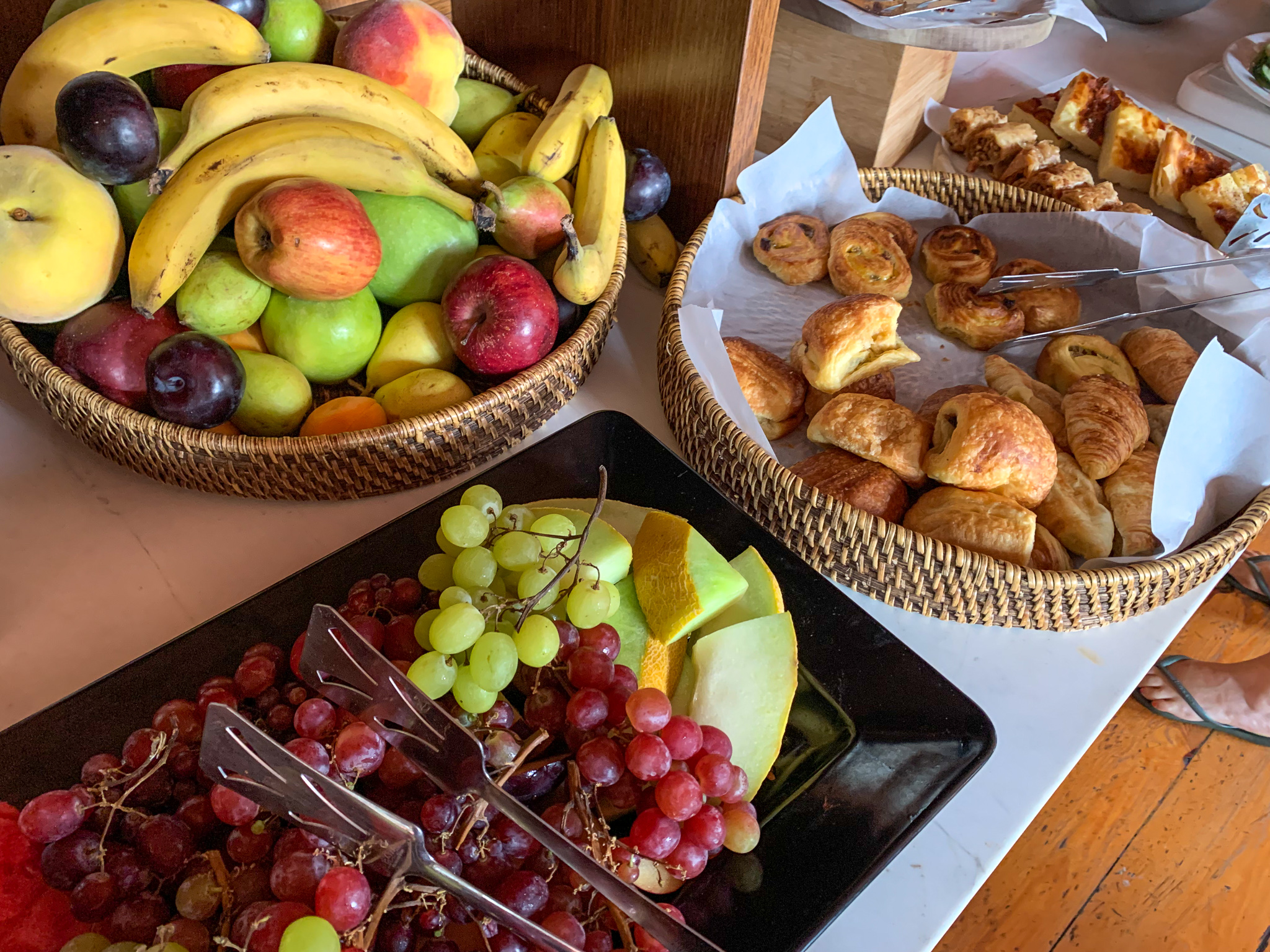 Morning
We decided to take it slow for our first morning here and headed to the indoor pool for swimming. We had the pool to ourselves and the kids loved playing around and swimming. There is also a jacuzzi where you can relax – preferably without kids in the evening. At the hotel, there is also an outdoor pool which is smaller than the inside one but nice for a dive and for sunbathing.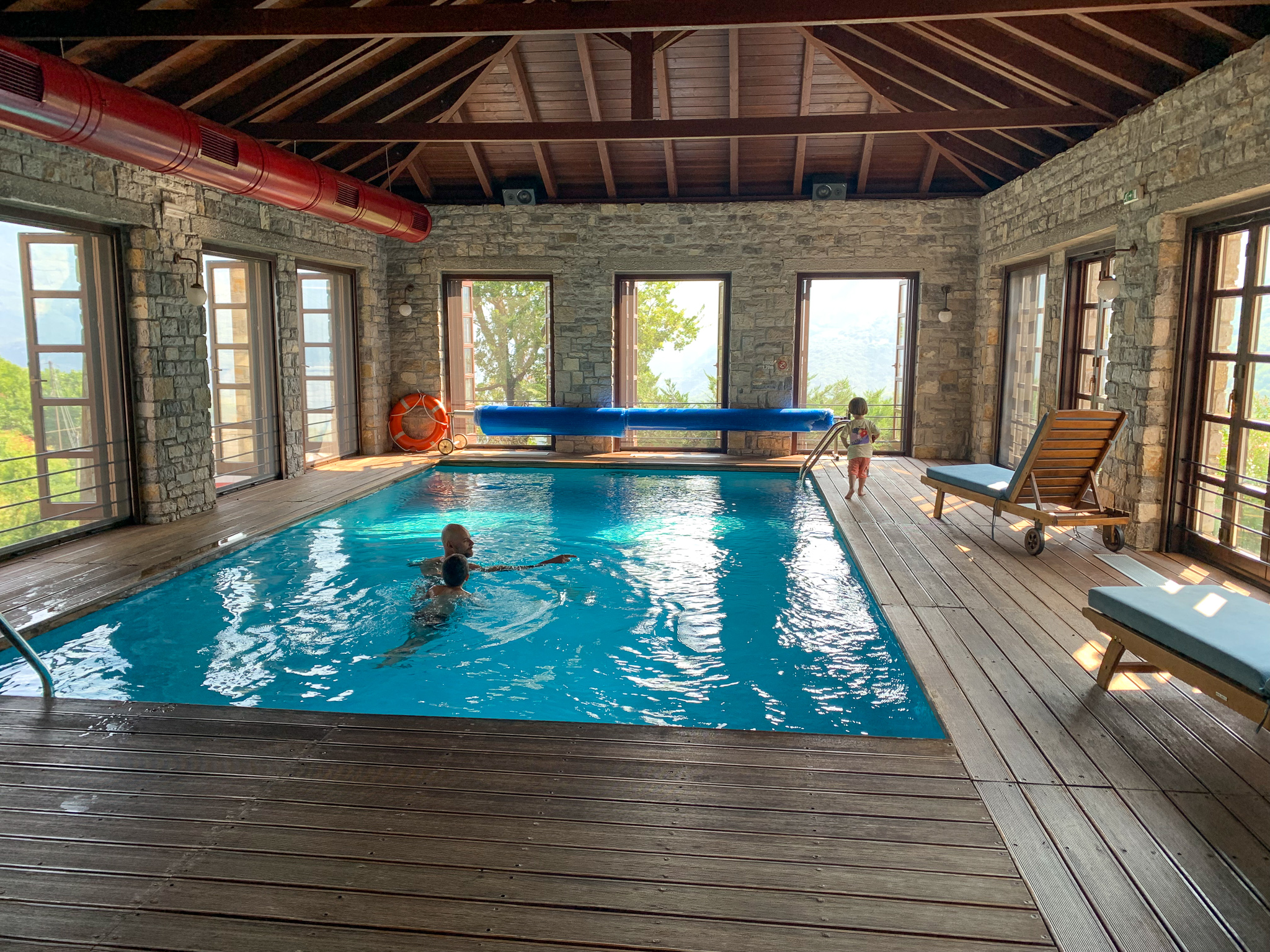 Vikos village – view of the gorge
When we checked in, they gave us from the reception a leaflet with various ideas on activities and routes you can follow in the area. I found it very handy and that's where I got the idea of driving to nearby Vikos village to check the views of the gorge. It's only about 10 minutes drive from Aristi and after parking on the main square, you can follow the signs to the panoramic viewpoint. Next to the viewpoint, there is also a café with a nice yard where you can enjoy a drink with panoramic views.
From this viewpoint starts a hiking path towards the springs of Voidomatis river. According to our hotel's notes, the descent lasts about 25 minutes while returning uphill should take about 40 minutes.
As it was getting quite hot, we decided to return to our hotel room for a rest which worked out well because our little traveller could get a good nap. We had organised for Thanos and Marios to go rafting at Voidomatis river but due to a summer storm with hail, we postponed this activity for the next morning. If we knew that our plans for rafting would change, we would probably have lunch at Aristi's main square where there are two tavernas serving simple, local recipes.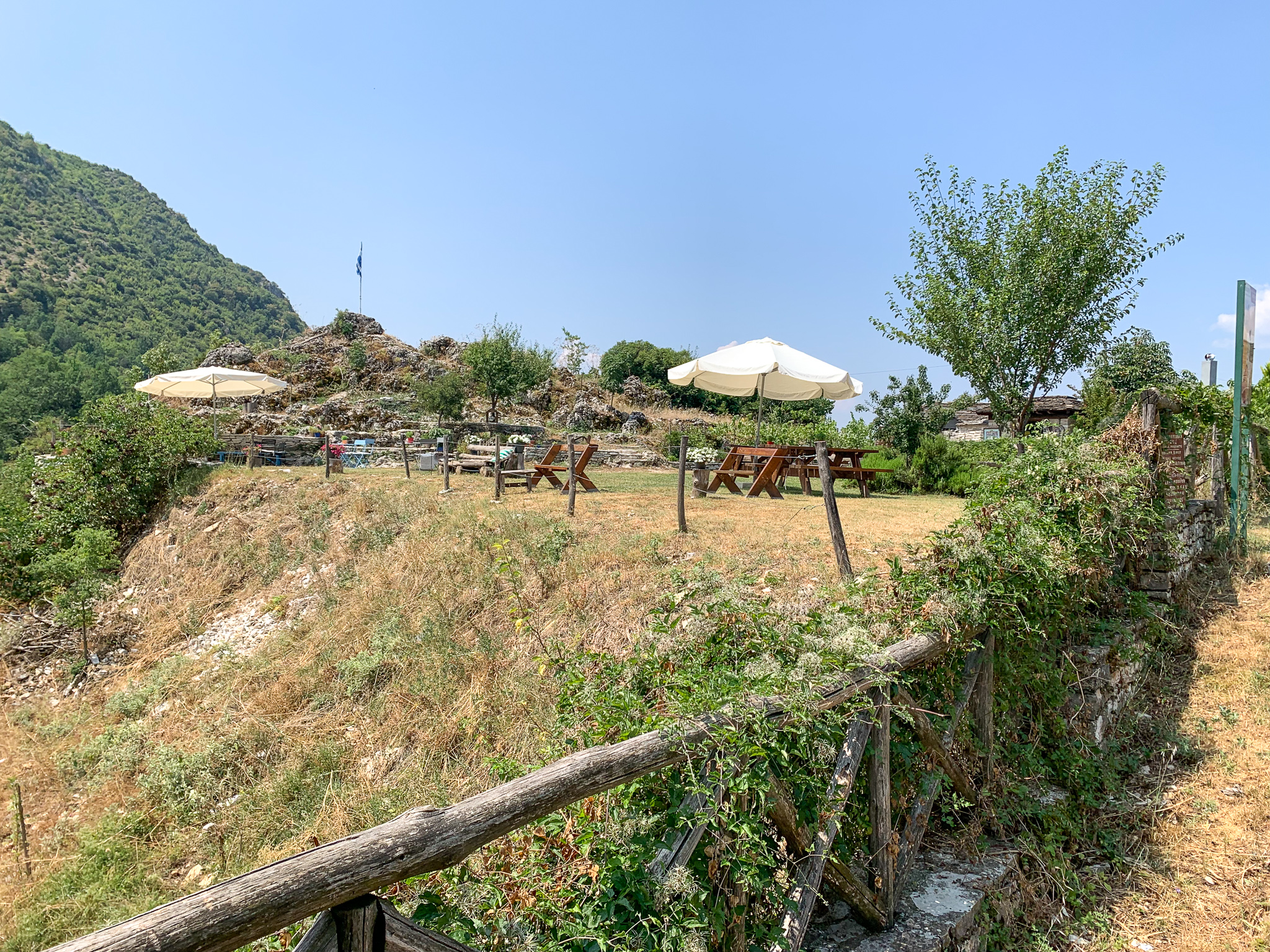 Afternoon
Once the rain stopped, we returned to Voidomatis river at Aristi bridge and followed a walking path within nature, stopping here and there to throw a stone or collect some branches. Because of the rain and the temperature dropping, there was a heavenly layer of fog just above the river and it was pure magic to watch. Many other people were admiring the landscape. I asked a lady to take a family photo of us and later learned that she lives with her family in Paris and came to visit for the summer.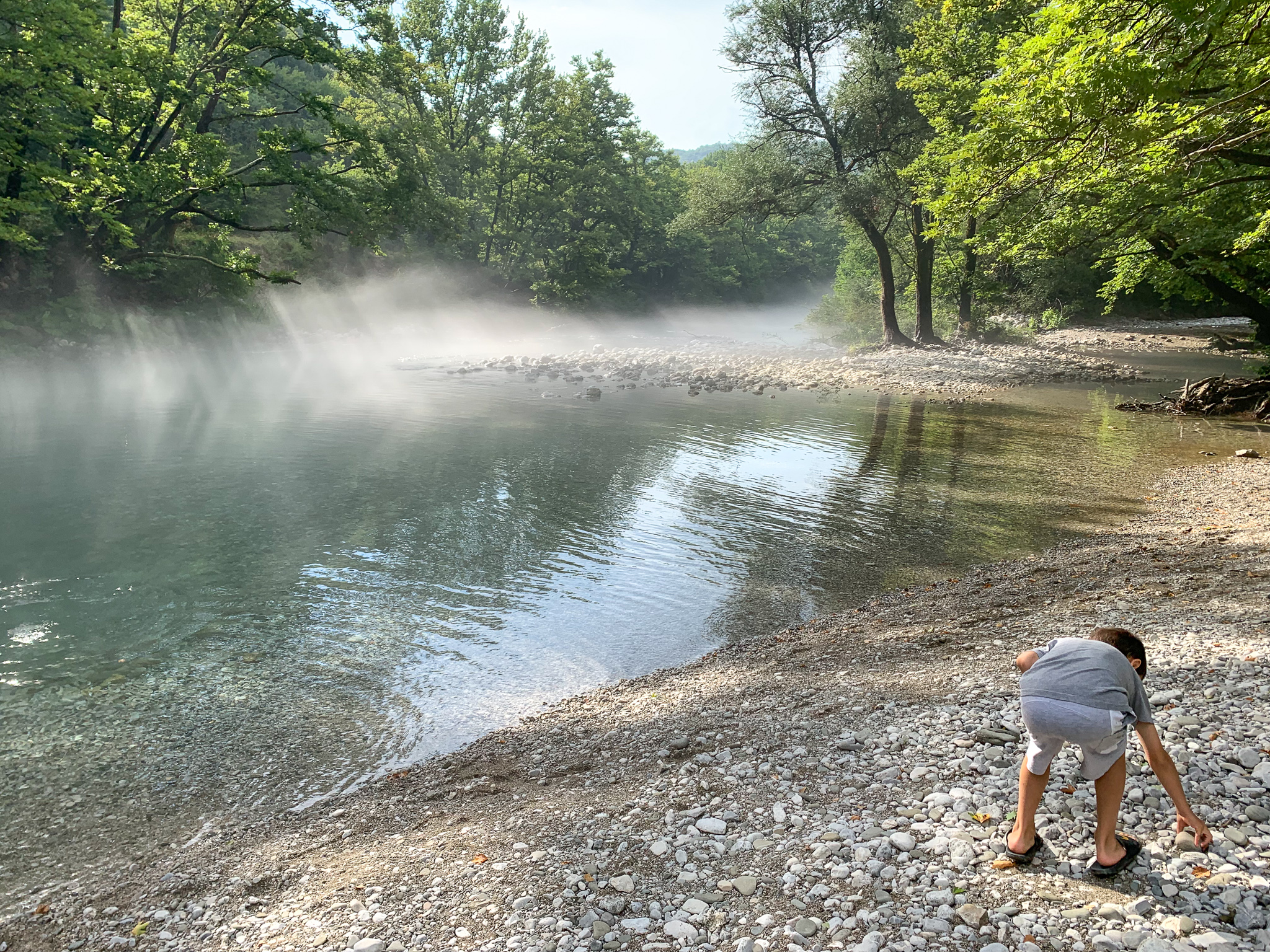 Dinner at Salvia restaurant
The first time I visited Aristi Mountain Resort & Villas many years ago was to have a romantic dinner with Thanos at Salvia restaurant as I had read it was really good. Coming back after many years, now visiting with our two boys, I was happy to experience an equally satisfying dinner.
We had booked our dinner for 19.00 and it turned out to be a lovely time as there was no direct sun on the terrace and the temperature was pleasant due to the rain. The restaurant's terrace is one of the most unique spots of the hotel as you can see directly and unobstructed the towers of Astraka and the winding road leading to Megalo and Mikro Papigo.
Salvia restaurant, awarded for its contemporary Greek cuisine, offers a menu based on local products. The recipes created by Executive Chef Yannis Liokas mix tradition and innovation resulting in a memorable and delicious dining experience. The hotel has its own organic garden and sources dairy and meat products from local producers.
If you want to read more about what we ate at Salvia restaurant, check out the full hotel review right here.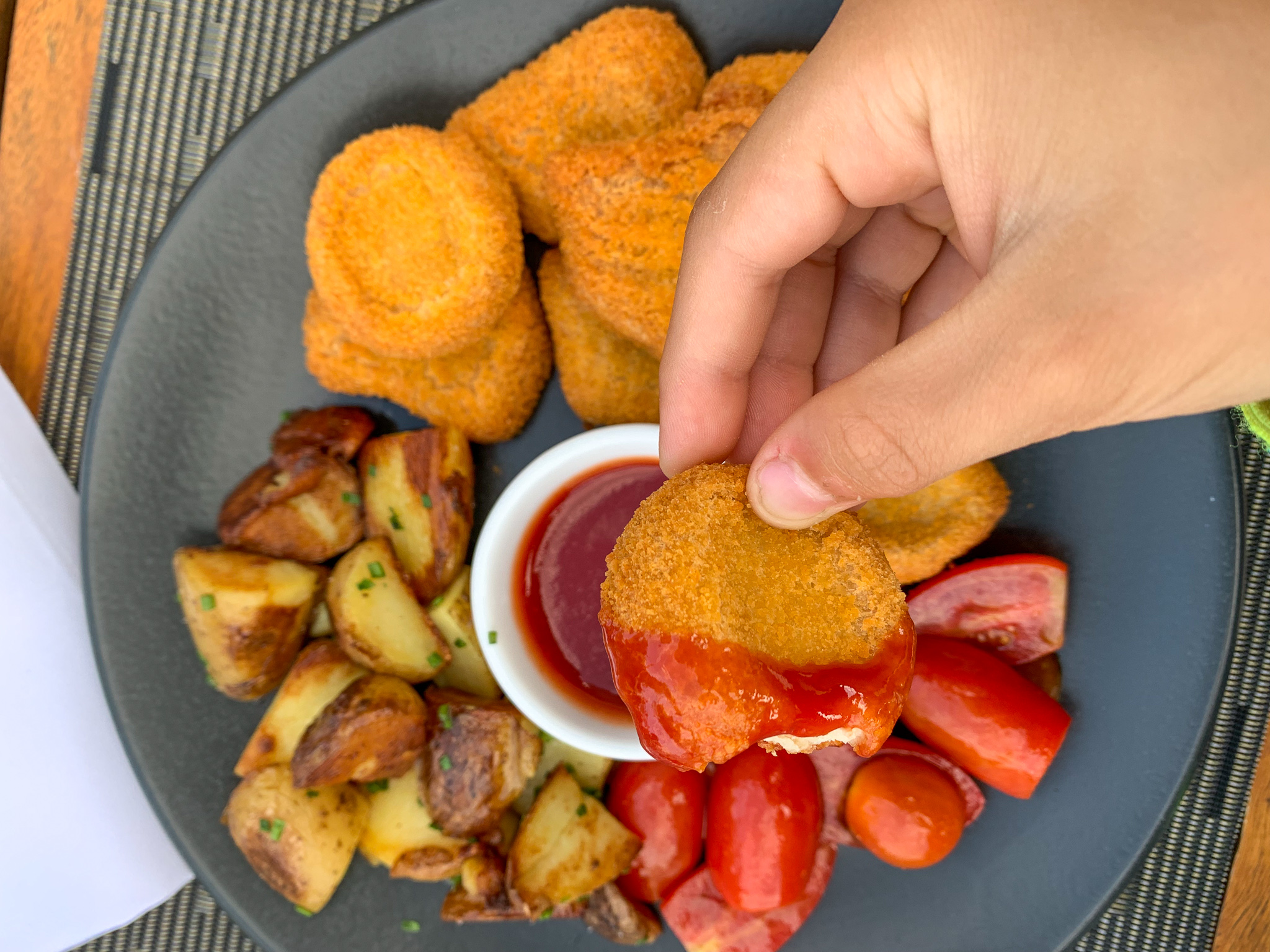 Evening at the square of Aristi village
After dinner, we followed the traditional stone path starting from the Aristi Mountain Resort & Villas which leads to the main square of Aristi village in 5 minutes.
We ended up hanging out at the square where the kids met a few other boys and started playing football together. Some of them were Greek, and there were also two brothers from Ireland. Thanos translated so the boys could communicate while I spoke with their mother. She told me they had spent one week in Corfu and then one more week here in Zagori (they were staying at Aristi Mountain Resort & Villas as well). She was surprised that not many English-speaking travellers were around as they found this region spectacular.
Indeed, combining a few days by the sea either on an island such as Corfu or on the mainland of Epirus (e.g. Preveza or Sivota) with a stay in Zagori exploring the villages and nature makes for a great trip.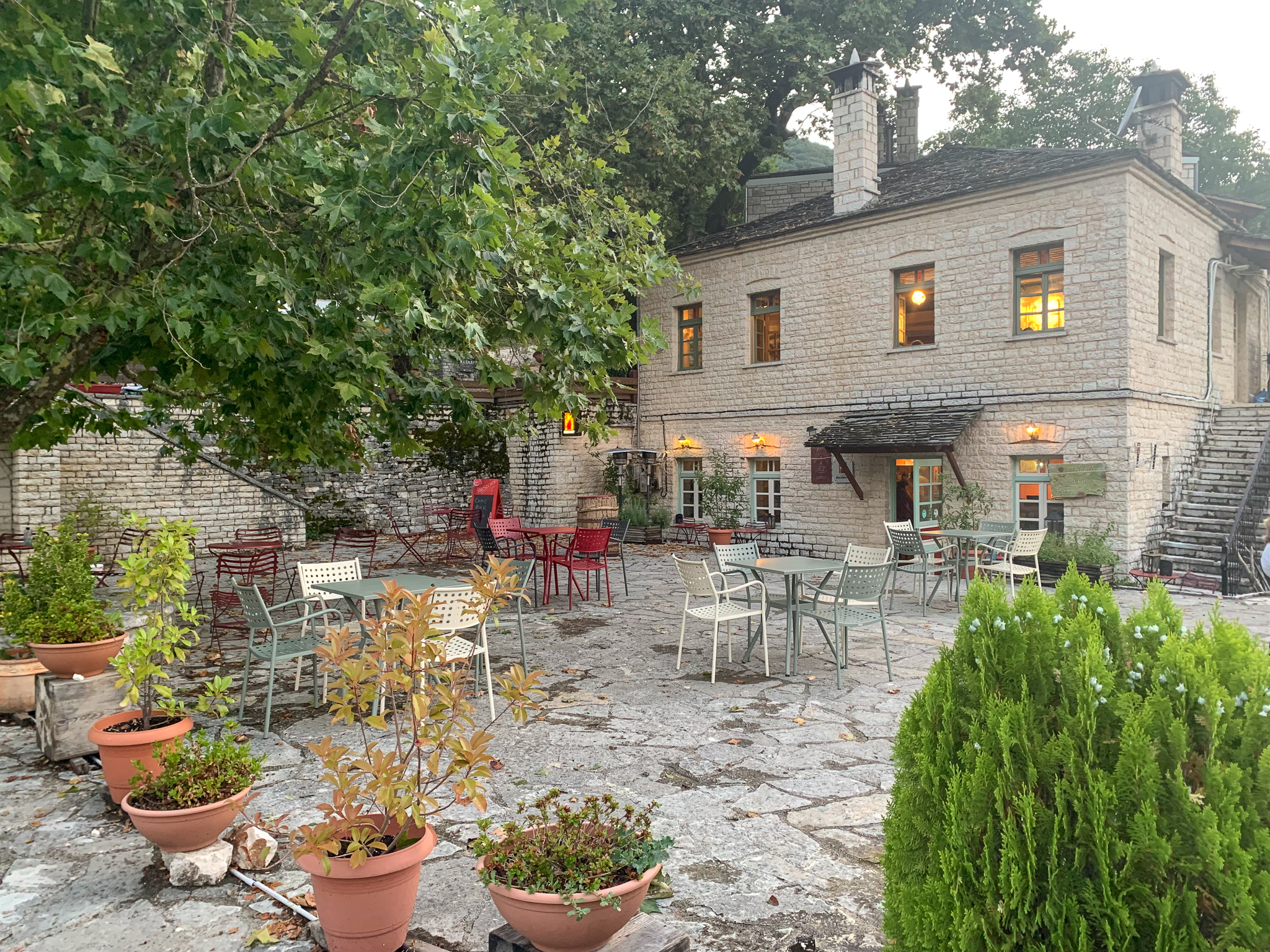 Zagori, Greece – Family Friendly Travel Itinerary – Day 3
Morning
After having breakfast at the hotel where the kids made some new friends we got ready for our morning activity, all organised from the hotel.
10:00: Rafting with Trekking Hellas, from Aristi bridge to Kleidonia bridge.
This is a great opportunity to enjoy rafting with your kids (suggested for kids who are 4 years old and older) as the specific route is ideal for families and for those that haven't done rafting before and want to start with an easy route. The natural setting, in the heart of the National Park of Vikos-Aoos and the impossibly clear waters of the river Voidomatis, guarantees a truly unique experience. The whole activity from start to finish lasts about 3 hours while the time you spend inside the river is about 1.5 hours. Although it's an activity which can be done all year round, it's probably better during the summer with kids because they won't get cold. Marios was thrilled to paddle through the river and he loved our guide, Kostas.
If you want to read more about our rafting experience with Trekking Hellas Ioannina, from Aristi bridge to Kleidonia bridge, click below for more details. 
Family-Friendly Rafting in Voidomatis River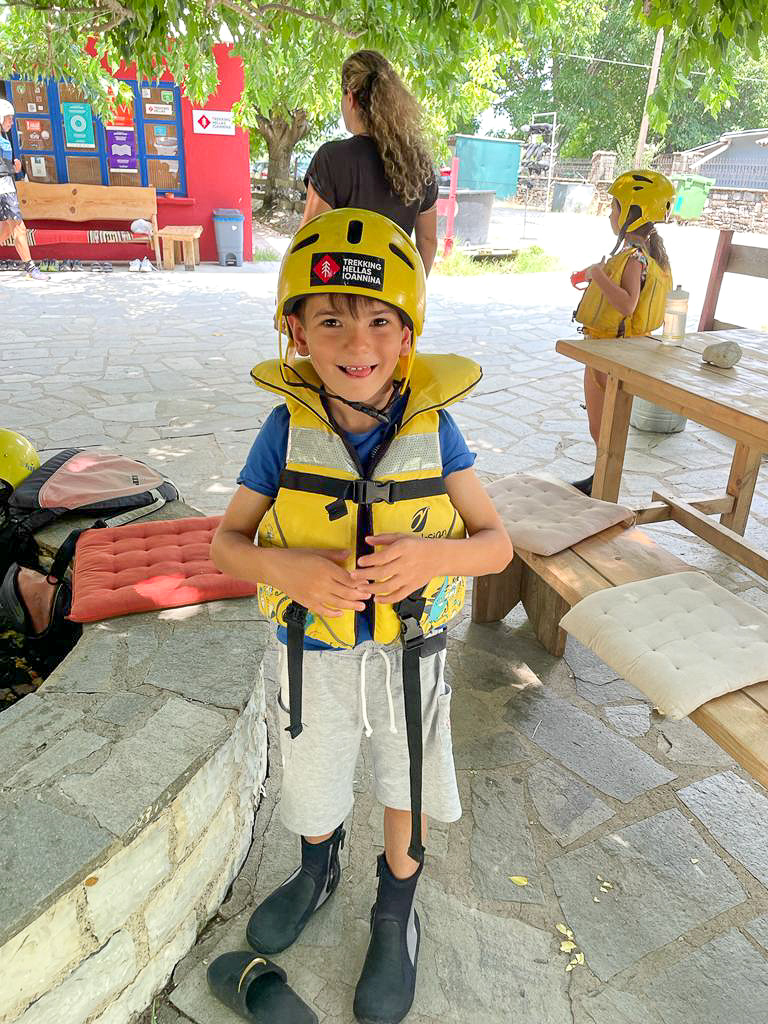 13:00 – Lunch by Kleidonia bridge
At the exact point where the rafting route finishes, there is the Voidomatis taverna where locals told us we could have lunch and that's exactly what we did. The location by the river is pleasant, the service was friendly and quick, the food was simple and tasty and the prices were very reasonable. We had trout, meatballs with fried potatoes, pasta bolognese, salad and a cold beer while enjoying the sound of the river flowing next to us.
More family-friendly activities we could do around the region:
Horse riding with White Pegasus (only for our eldest son) – Facebook
Visit Megalo Papigo again for lunch or dinner at Astra restaurant and coffee with sweets at Sterna
Roadtrip to explore more villages of Zagori such as Elafotopos, Monodendri, Kato Pedina, Ano Pedina, Vitsa, Dilofo, Kipoi, Koukouli, Kapesovo, Vradeto and Tsepelovo. Near Kipoi village there are many single and triple arch stone bridges to explore. All villages have many impressive stone mansions and delightful main squares with traditional coffee shops, "kafenia", and tavernas.
Visit Konitsa and the playground/animal park of Lotos Farm
Thank you, Aristi Mountain Resort & Villas, for welcoming us – can't wait to come back and explore more of this unique region!
Disclaimer: Our stay at Aristi Mountain Resort & Villas was complimentary but all opinions expressed are mine, as always.
Have you visited Epirus in Greece with your family? Which is your favourite region and why?
Read more articles here:
Travel & food guide to Sithonia, Halkidiki 
What to pack for a trip with a baby or toddler
Travel tips: first summer vacation with a baby
Family holidays in Preveza, Greece – What to do
Are you planning your next vacation with your baby/toddler? Check out my mummy and baby/toddler travel checklist here.