Family-friendly Rafting in the Voidomatis River with Trekking Hellas Ioannina, from Aristi bridge to Kleidonia bridge: an easy route to follow with your kids to admire the stunning nature.
At the end of July 2022, we spent a weekend exploring the mountain villages of Zagori in the region of Epirus, Greece along with our two young travellers. The villages of Zagori (also known as Zagorochoria) are one of our favourites and we love to return and explore more whenever we can. This time we had the opportunity to experience family-friendly rafting in the Voidomatis River, and we loved it.
Staying at Aristi Mountain Resort & Villas was very practical because it's very near to the Voidomatis river, where this activity takes place. You can read more about our recent trip to Aristi here:
Zagori, Greece: Family-Friendly Travel Itinerary
Be flexible when travelling with kids
This was our second attempt to experience rafting at Voidomatis. We had originally scheduled it for the day before but it was pouring rain and although everyone assured us that rafting is a great experience even with the rain, it would be too cold for Marios so we postponed it for Sunday morning. If there is one thing I have learned while travelling with kids, this is to be as flexible as possible to accommodate situations like this that you can't control and adjust quickly and smoothly.
Sunday morning
The meeting point was at Trekking Hellas Ioannina base at Kleidonia, which was about a 10-15 minute drive from our hotel, Aristi Mountain Resort & Villas.
The instructors welcomed us and after completing some necessary bureaucratic forms we were given helmets, life jackets and rubber shoes. Then, Giorgos gave us a briefing about our experience. Among others, he strongly advised us to leave everything in our car so we don't lose it inside the river.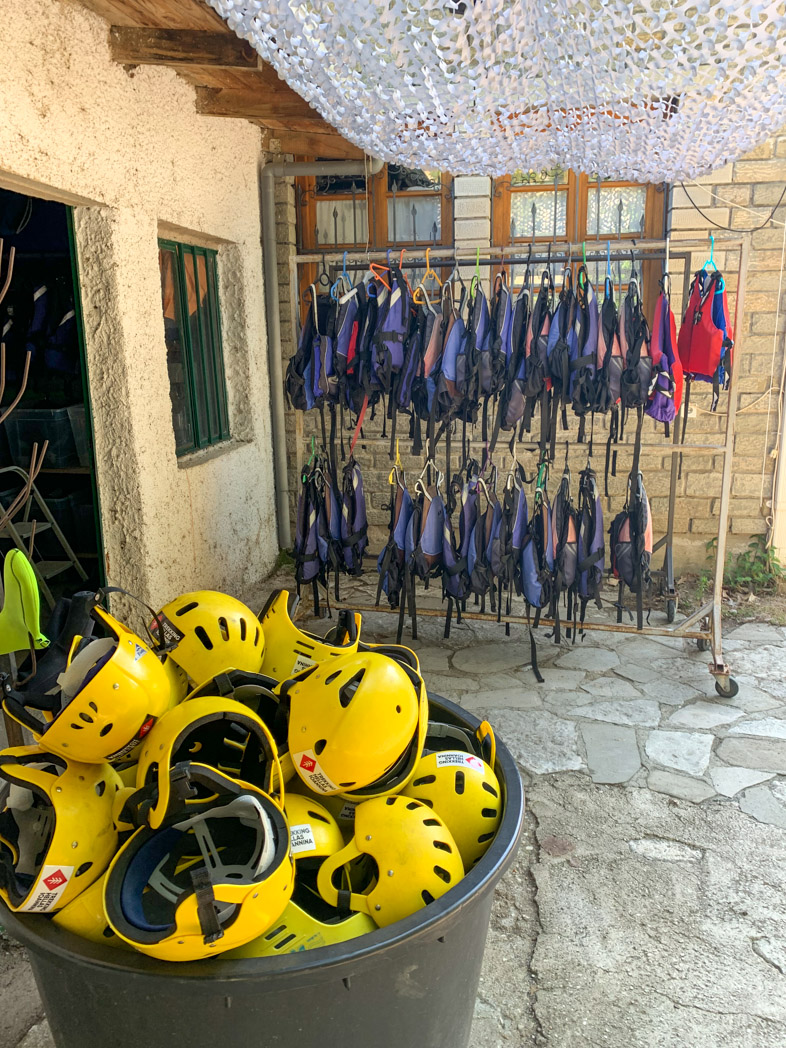 Start point – Aristi bridge
Together with Marios, we boarded the little van along with the others and Giorgos drove us to the bridge of Aristi, where we had already spent a few hours during the last days. They divided us into groups, each rafting boat being suitable for 6 persons and a guide. Our guide for the day was Kostas, calm, experienced and knowledgeable. Kostas grew up in nearby Konitsa and started practising in a kayak academy from a young age. He told us how in the '70s, German travellers who were into kayaking came to the region and used to kayak in the river, then taught some locals as well and that's how this sport started and then flourished in Greece.
Marios is now almost 6 years old and he was thrilled to follow this route and experience rafting. The other family on board with us came from Corfu for a day trip, specifically to do the rafting. They had two kids, a 7.5-years old girl and an older boy – both also very excited about the rafting experience.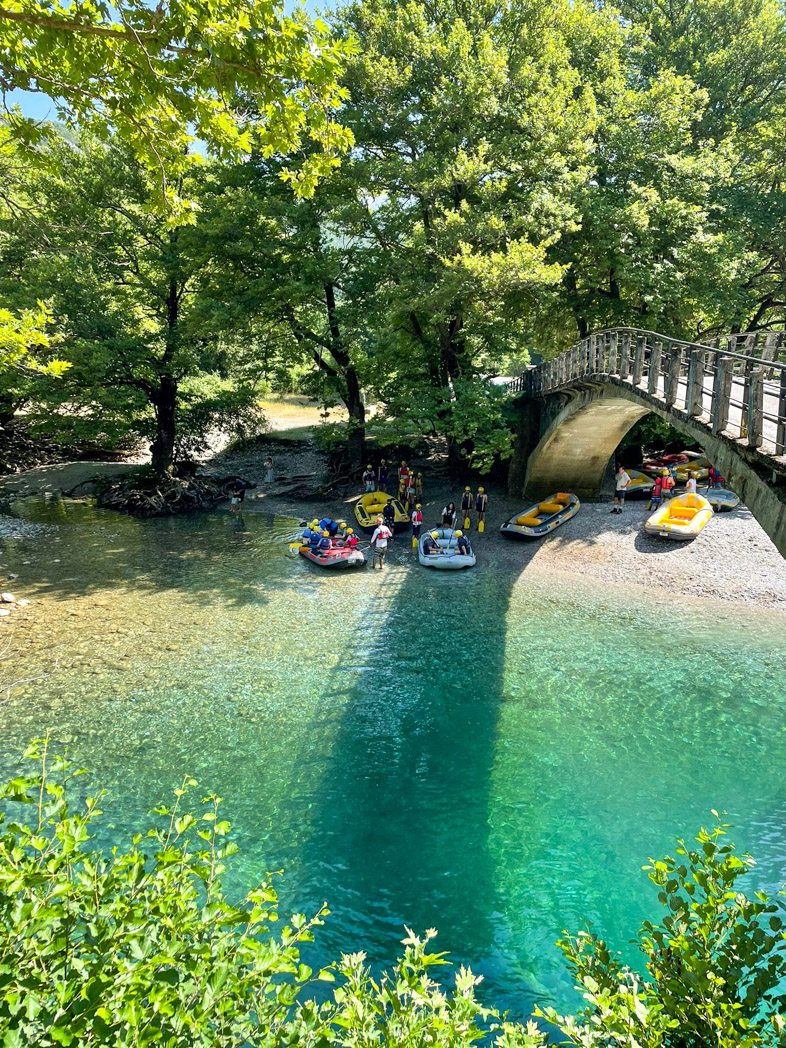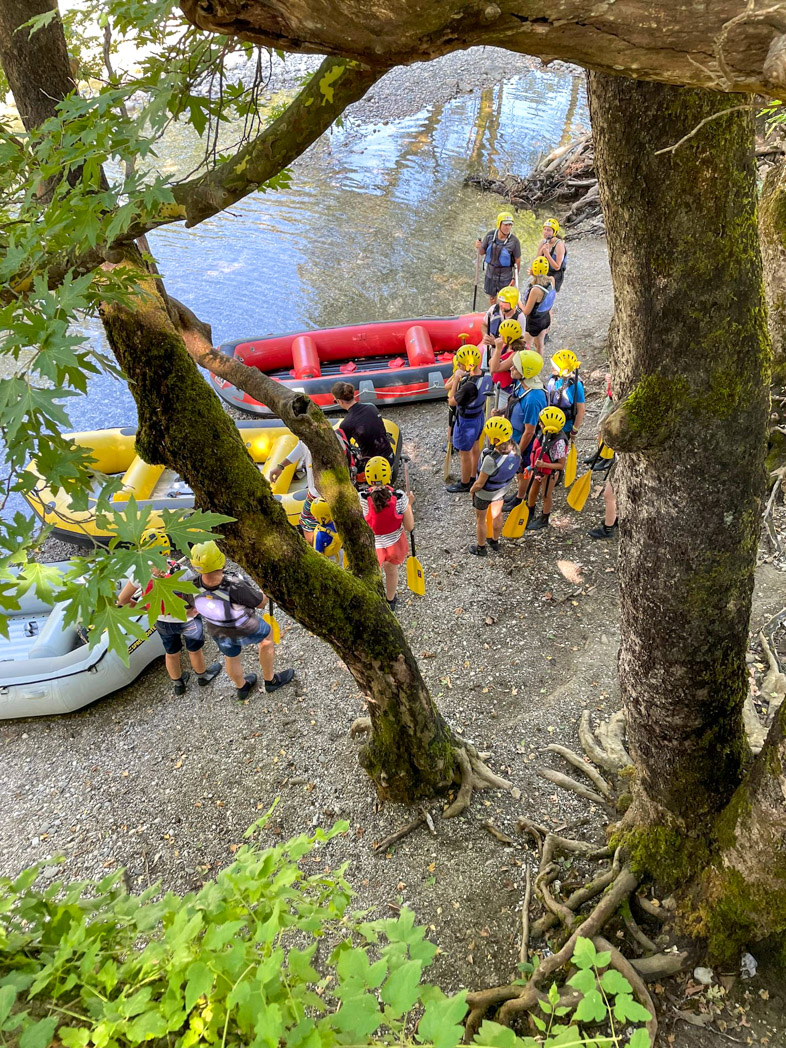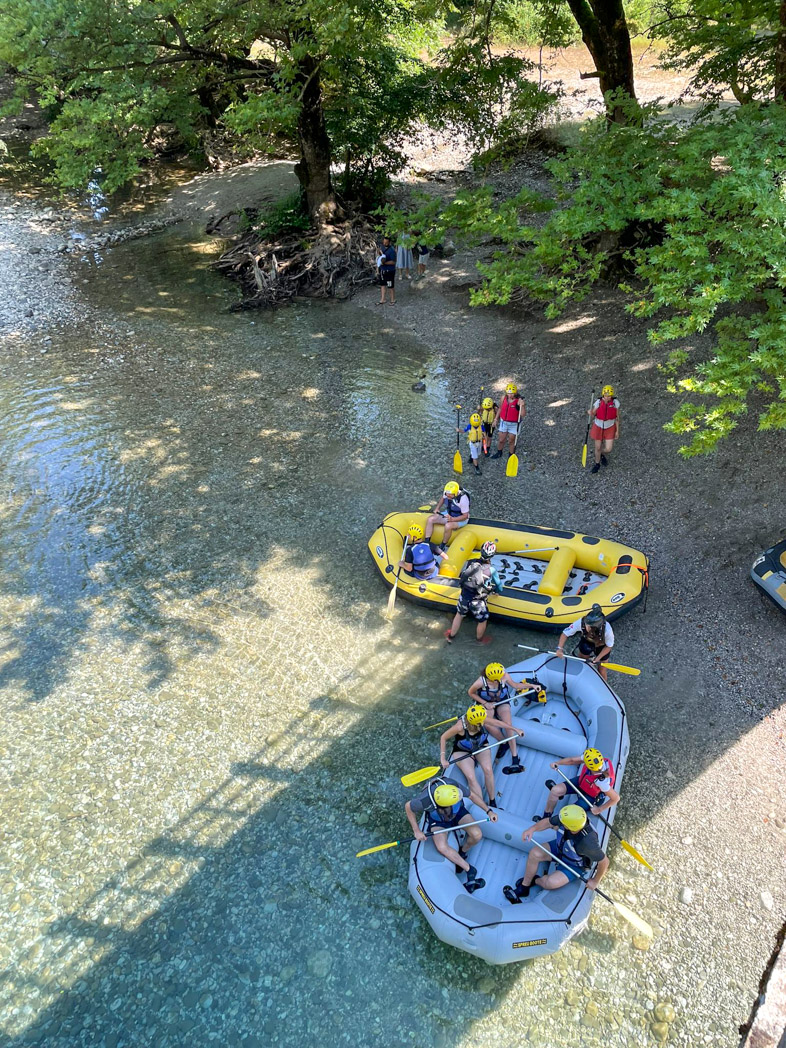 The National Park Vikos-Aoos
The route we follow lasts for about 1.5 hours and it's fairly easy which means you can enjoy the scenery and the natural beauty of the surroundings as you spend the majority of the time inside the national park. The national park Vikos-Aoos has been characterised as a Geopark and you can find more information about its importance and characteristics here.
At some points, we also meet a few people that are walking as there is also a path that connects the bridge of Aristi to that of Kleidonia. During summer, numerous adventure companies offer rafting and various other activities.
"During winter though, only 2-3 companies remain active here," says Kostas who seems to know the flow of the river by heart. Which is normal If you consider that during summertime, the peak season, he is guiding groups down the river 2 or even 3 times per day.
Drinking water from the springs & swimming
About halfway, we stop at the banks of the river, follow a path and drink water straight from the springs. Kostas takes a few photos of all of us – I regret I didn't ask him to take a photo together with him as well. He then asks if any of us would like to swim. Having tried the water several times the days before and not being able to go deeper than the ankle level before starting to feel numb, I kindly refuse. So does Marios. But Nikos, the father of the other family who is with us wants to try and dive in. The water is so cold that you cannot swim but only dive in and get out. It might be freezing cold but it's also crystal clear, at some parts light blue as if you are in the sea.
"We are the first, our guide is the best," Marios tells me now and then. He loves that we have passed by many other rafting boats along the way.
The Slide
At some point, while enjoying the tranquillity and pureness of this natural setting, Kostas gives us new directions: "after a few minutes, we will reach a barrier where we will slide. That's when I will tell you to raft quickly and then you will all have to sit inside the boat so we pass this spot smoothly".
Needless to say, this part with the slides was Marios' favorite. He wanted to go back and do it all over again.
On the shores, you could see a few horses riding along peacefully.
After the "slide", the natural park finishes and we soon reach the ending point of our route: Kleidonia bridge. Our family-friendly rafting in the Voidomatis River was pure fun and we are planning to come back for more with friends and cousins.
Lunch by the river
Thanos with our little traveller was waiting for us at the finish (Kleidonia bridge), and after changing clothes, and thanking our guide we sat by the river at a taverna to have lunch. We got trout, meatballs with fried potatoes, pasta bolognese, salad and a cold beer and enjoyed the simple yet tasty food right by the river.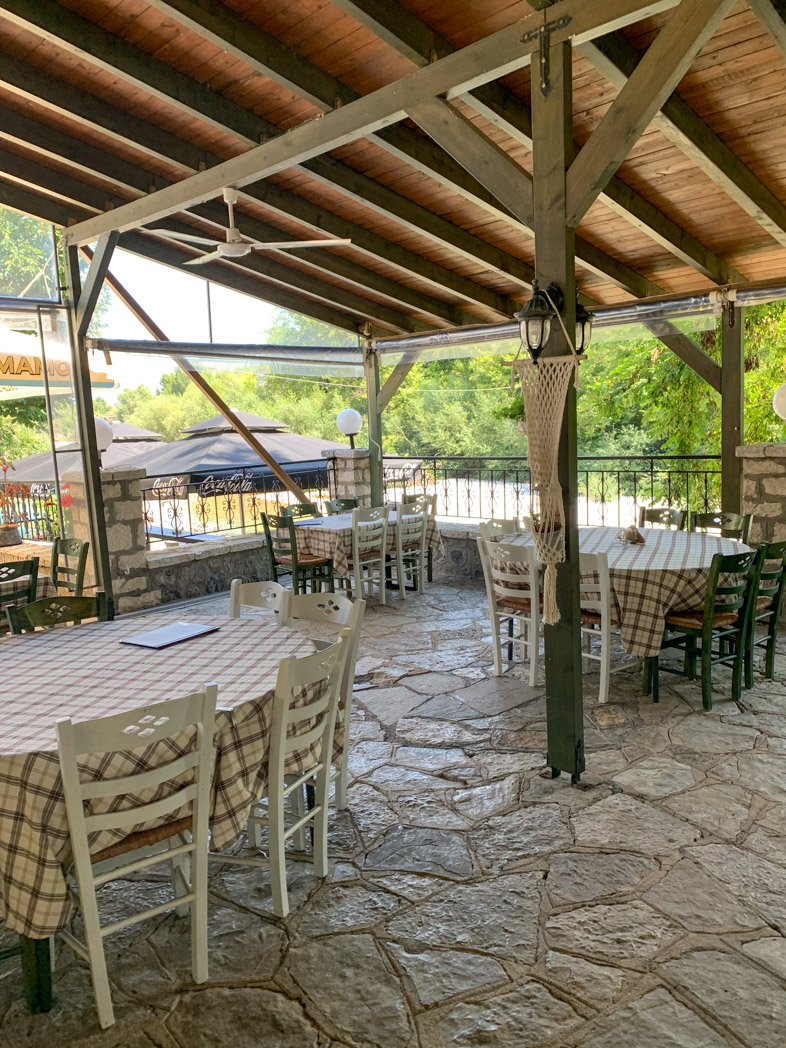 Practical info:
Take with you: a swimsuit, towel and dry clothes.
Total duration: 2.5 – 3 hours
Time spent inside the river: about 1.5 hours
When: this activity happens all year round. With kids, it's best to do it during summertime.
Level of activity: easy. What's great about this specific route is that it is suitable for young kids and total beginners. Plus, it's a great way to discover the national park.
Cost: 35 euros/person
Company details: Trekking Hellas Ioannina, Email: ioannina@trekking.gr
Disclaimer: the activity was kindly offered by Trekking Hellas Ioannina. All opinions are my own, as always.
Photo Copyrights: Trekking Hellas Ioannina & Rania Margari
Have you done rafting with your kids? What other activities have you tried with young kids in Greece? 
Read more articles here:
5 places to visit in Epirus, on the Greek mainland  
What to pack for a trip with a baby or toddler
Family holidays in Preveza, Greece – What to do
Travel & food guide to Sithonia, Halkidiki
Are you planning your next vacation with your baby/toddler? Check out my mummy and baby/toddler travel checklist here.