Aristi Mountain Resort & Villas is located at Aristi village, one of the 46 Zagorochoria villages found in the mountainous area of Epirus prefecture in Northern Greece.
This is a great place to explore if you love nature and being outdoors. What is even better is that this destination is ideal year-round. As I was born and raised in Ioannina, a city nearby, I used to come here for day trips with my family. That's why I was now thrilled to bring my own family including our two young travellers to explore the area further.
We visited for 2 days towards the end of July 2022 and you can read more details about our trip and what we did here – Zagori, Greece: Family-friendly Travel Itinerary
The Resort
The award-winning resort is also a proud member of the world's most sustainable hotels: the network "Beyond Green" includes hotels, lodges and resorts that follow globally recognized sustainable tourism standards and the United Nations Sustainable Development Goals.
I had visited the Aristi Mountain Resort & Villas in the past twice: the first time with my partner to enjoy a romantic and very satisfying dinner at the exquisite Salvia restaurant. And the second one while on assignment for Official Bespoke magazine when I got to meet and interview the founder, Mr Vassilis Iosifidis. During this interview, I got to learn more about the founder's philosophy and the actions taken toward a sustainable way of managing the resort.
Here is the article I wrote for Official Bespoke magazine in 2018 based on that visit (summer 2018).
I love the fact that while staying at Aristi Mountain Resort & Villas you can enjoy all the luxury amenities and services you are offered and know that they have been carefully designed to follow strict sustainable practices.
Through the hotel, you can also book many wonderful experiences such as cooking workshops, photography workshops and tours, birdwatching, geotrails, guided hiking routes, riding by the river, trekking, river walking, canyoning, yoga sessions outdoors, rafting, horse riding by the river and hang gliding. At the time we visited our kids were 6 and 2 years old and we chose to do the rafting experience with our elder son.
You can read more details about our experience here. (coming soon)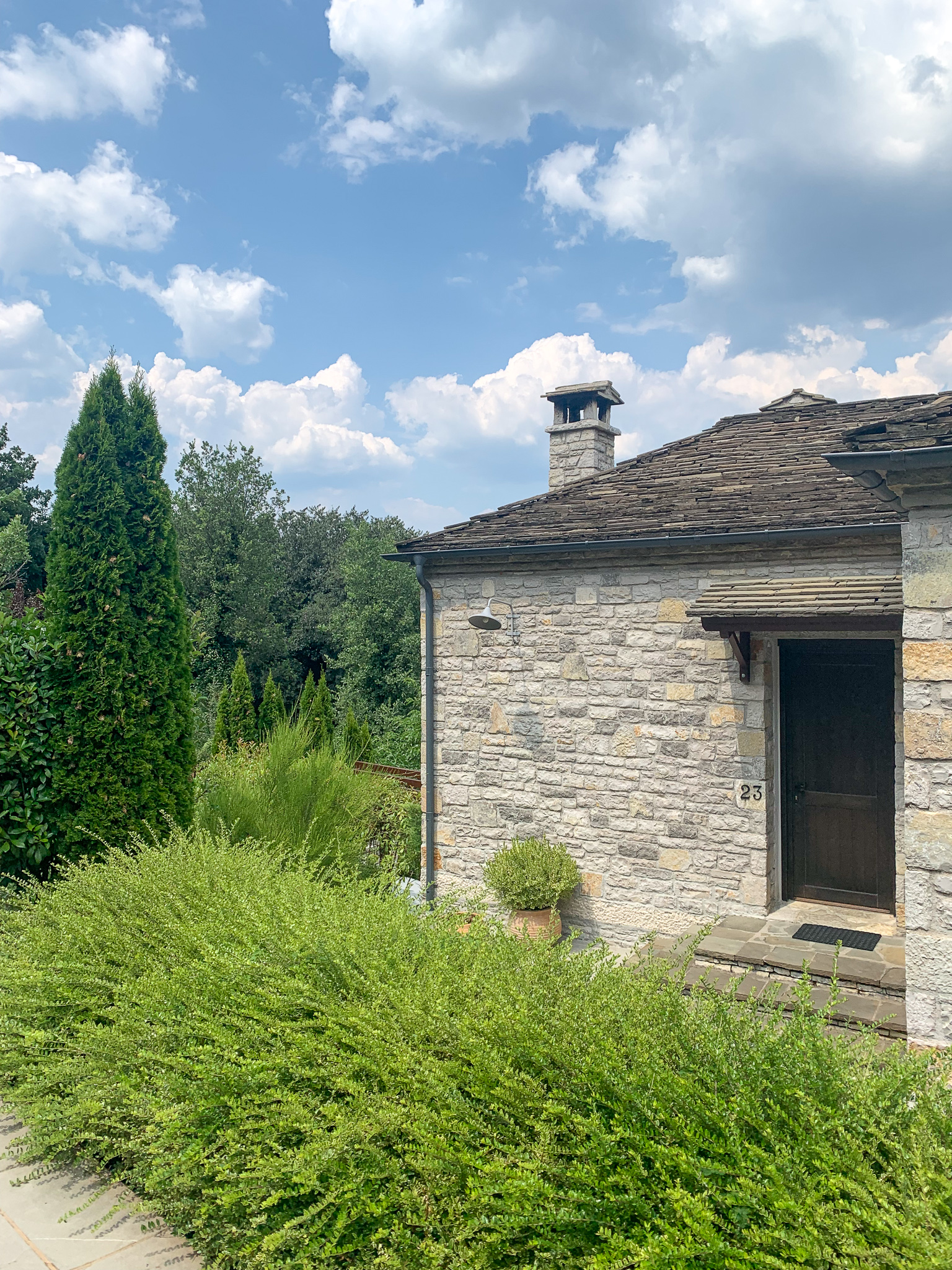 The family room(s)
We stayed at the Executive Suite and we loved it – there is ample space for everyone and we could certainly have stayed for much longer. As you enter the suite there is a spacious living room with a fireplace (which we didn't use in July but could certainly imagine us around the fire during winter nights), a fridge, an espresso machine and an electric kettle for tea. The couch turns into a double bed and that's where our 6-years old traveller slept. The master bedroom is spacious and tastefully decorated and the king-size bed has a CocoMat mattress. There is also plenty of space for clothes in the closet and any other personal items you might have with you. Inside the closet, you will find good quality bath robes and slippers which you can use for the spa and the swimming pool and there is also an umbrella – a nice touch, and certainly useful (it rained both days we visited). In the master bedroom they had set up for us a baby cot for our 2-years old traveller and it was all we needed. The bathroom, equipped with good quality bath amenities, is also spacious and the shower was very convenient for younger kids. The suite is also equipped with two flat-screen TVs, a writing desk and of course free Wi-Fi.  We loved the mountain views, the little terrace outside our suite and the combination of traditional architecture and modern furniture. Also, the fact that during the rain, we could easily spend a few hours inside our suite.
Other types of rooms that could work well for families: Villa & Aristi Family. The Residence could also be available upon request.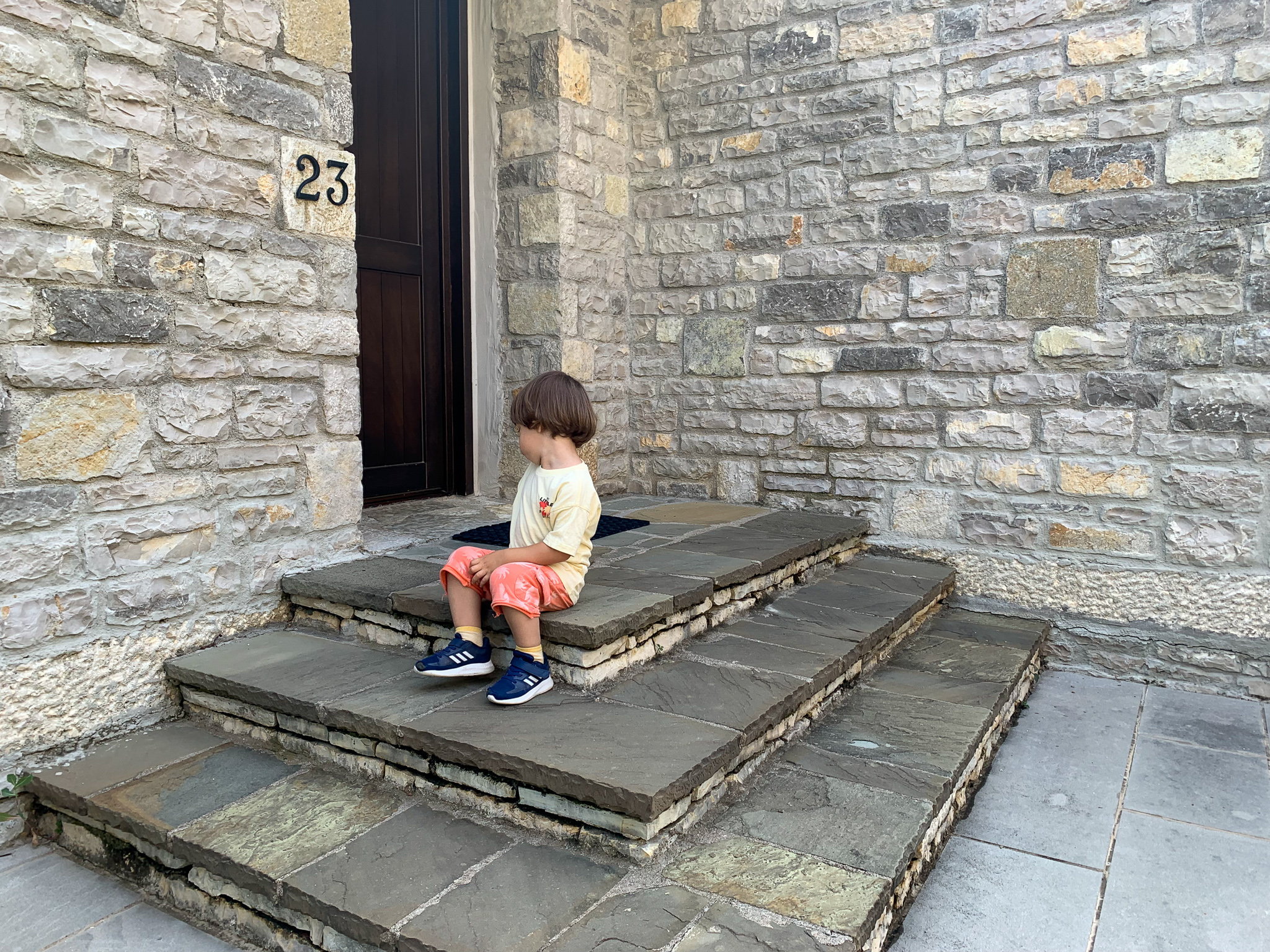 The Wellness & Spa center
The Spa facilities include a hammam, jacuzzi, sauna and an indoor heated pool.
We spent one morning enjoying the indoor swimming pool with a stunning view of the mountains and we all had great fun. In the same space, there is also the jacuzzi and I can imagine how relaxing it must be after a day's hike in the region.
There is also an outdoor pool where visitors can dive into during the summer while sunbathing and enjoying a coffee or refreshing drink from ATOP lounge bar.
We would go back to enjoy the spa and I would probably book the "aromatherapy" or the "Aristi Aroma" massage in the lovely outdoor space. If you also want to experience the spa services, you should book your appointment in advance to avoid any disappointment.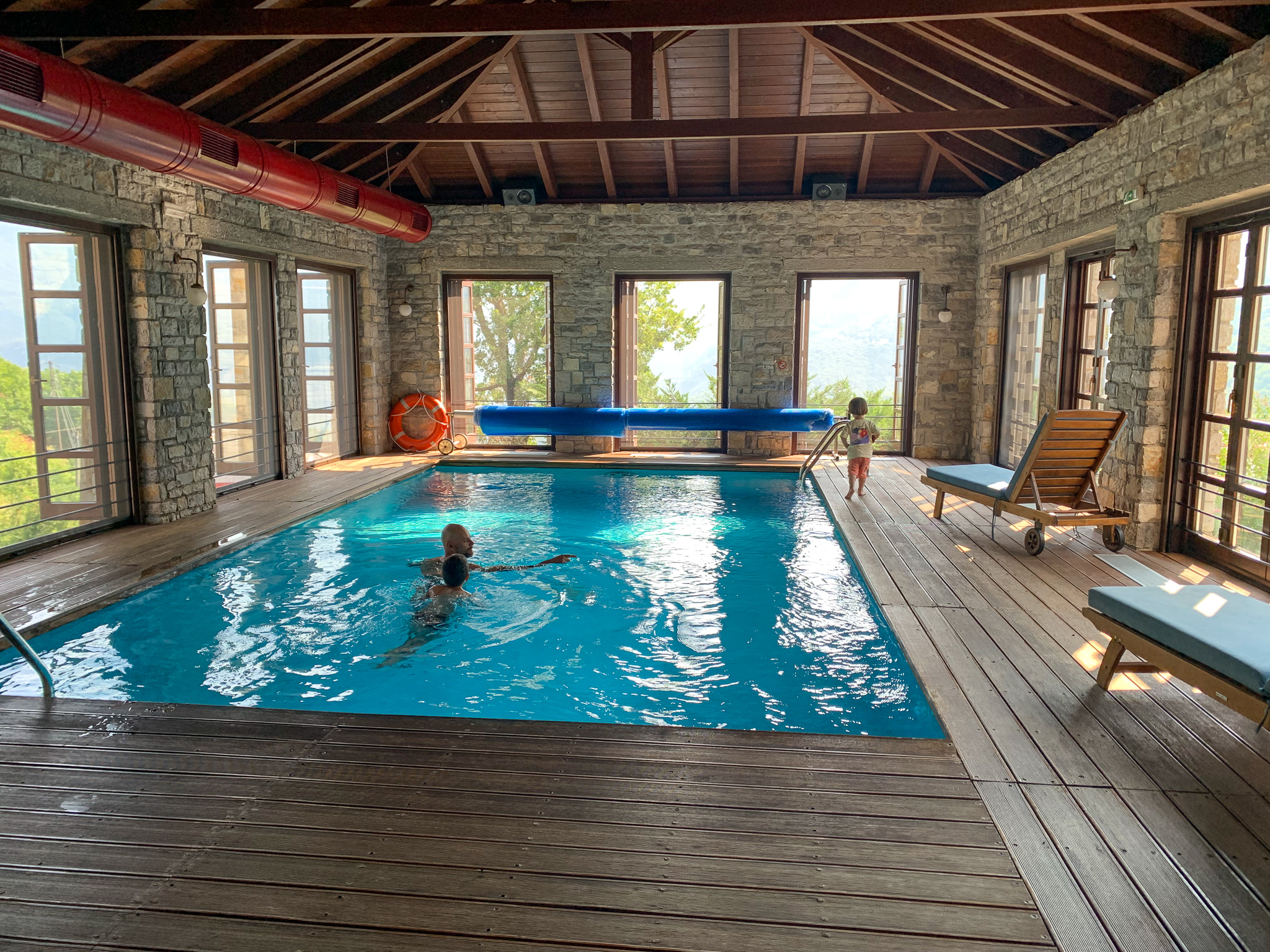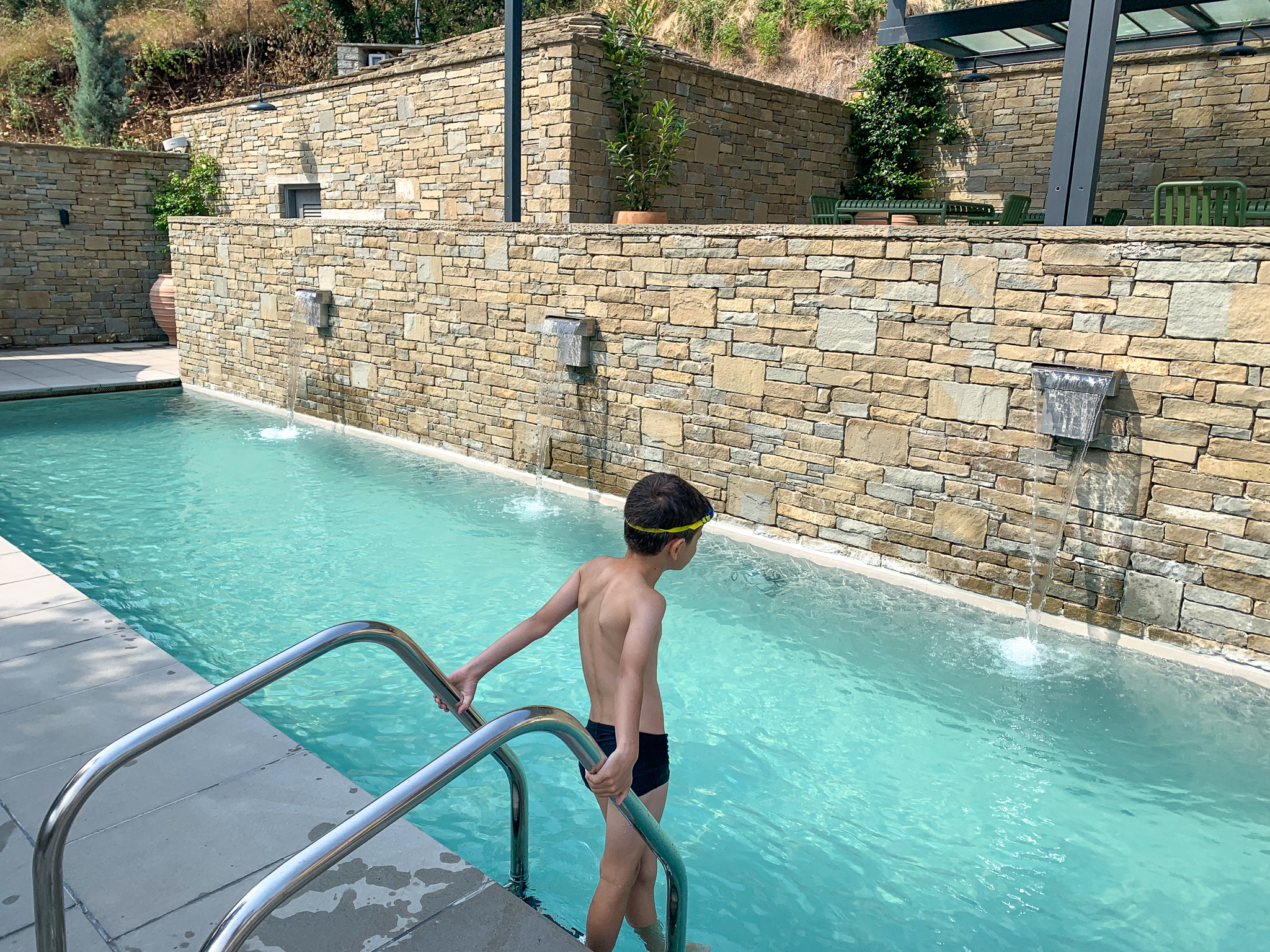 The food
Salvia Restaurant was among the highlights of our stay at Aristi Mountain Resort & Villas.  Locally sourced products, traditional recipes, modern cooking techniques and excellent presentation guarantee a real gastronomic experience. The restaurant's terrace also offers stunning views of the mountains: that's where we enjoyed both breakfast and dinner.
Breakfast
The buffet breakfast here is divine: there is a variety of sweet and salty food such as omelettes, roasted vegetables, cheese and ham, croissants, cakes, marmalades, traditional pies, nuts, honey and Greek yoghurt. You can also have your freshly made orange juice and any kind of coffee you like. We, adults, loved our Greek yoghurt with nuts, dried fruits and honey along with fresh juice and coffee. The kids preferred bread with chocolate spread, the traditional flour and feta cheese pie which they adore (we often cook this pie at home as well) and fresh orange juice.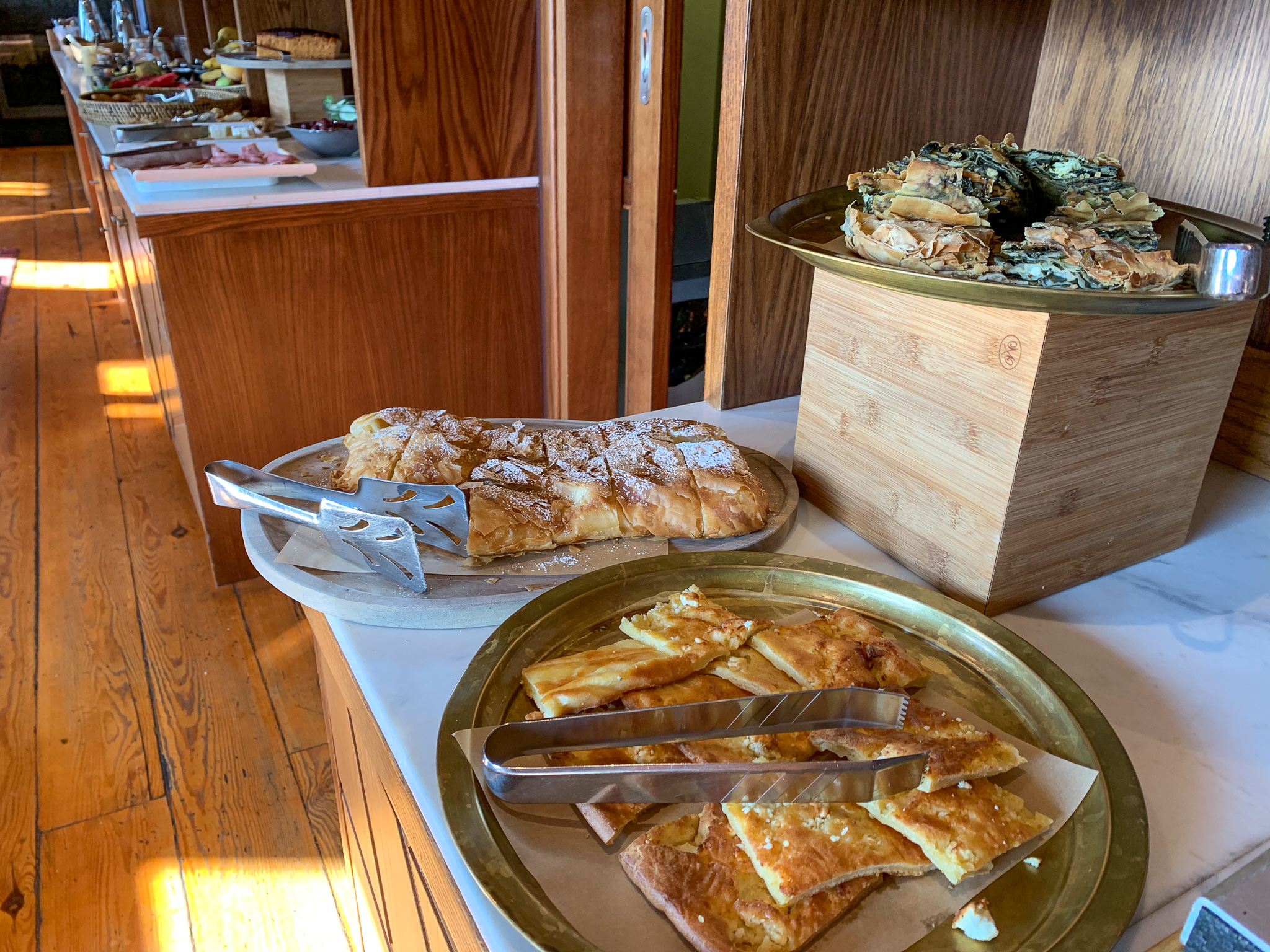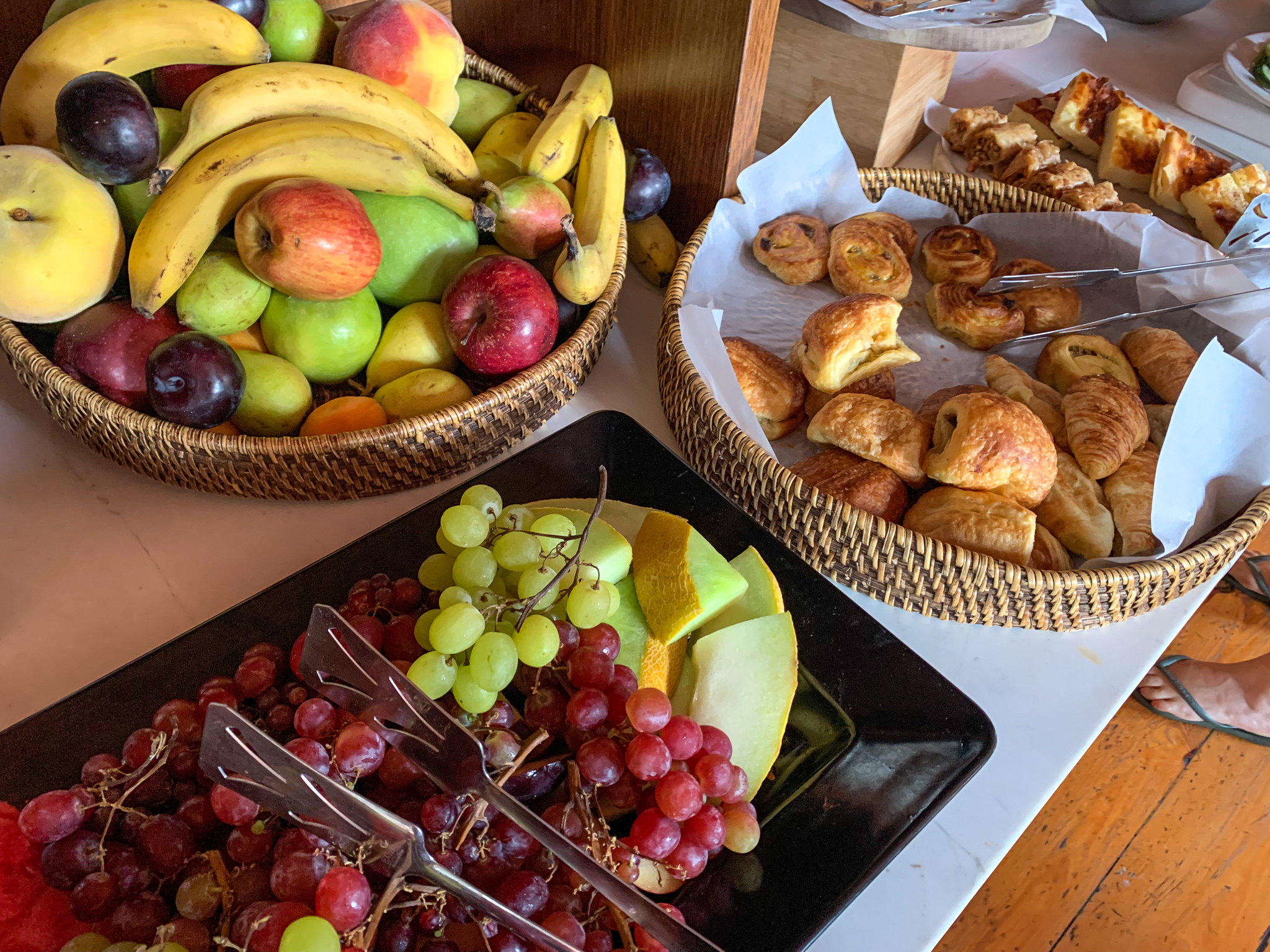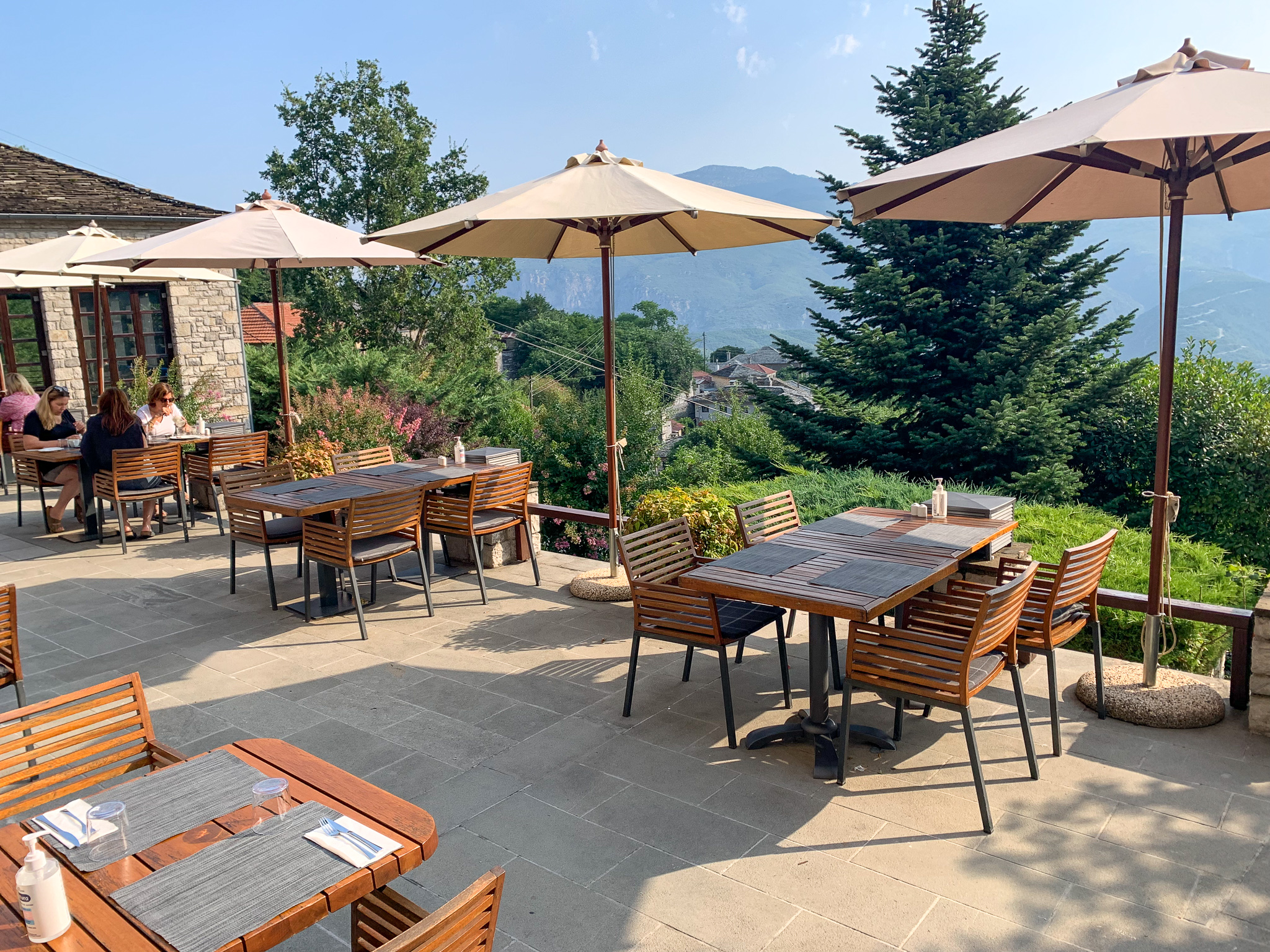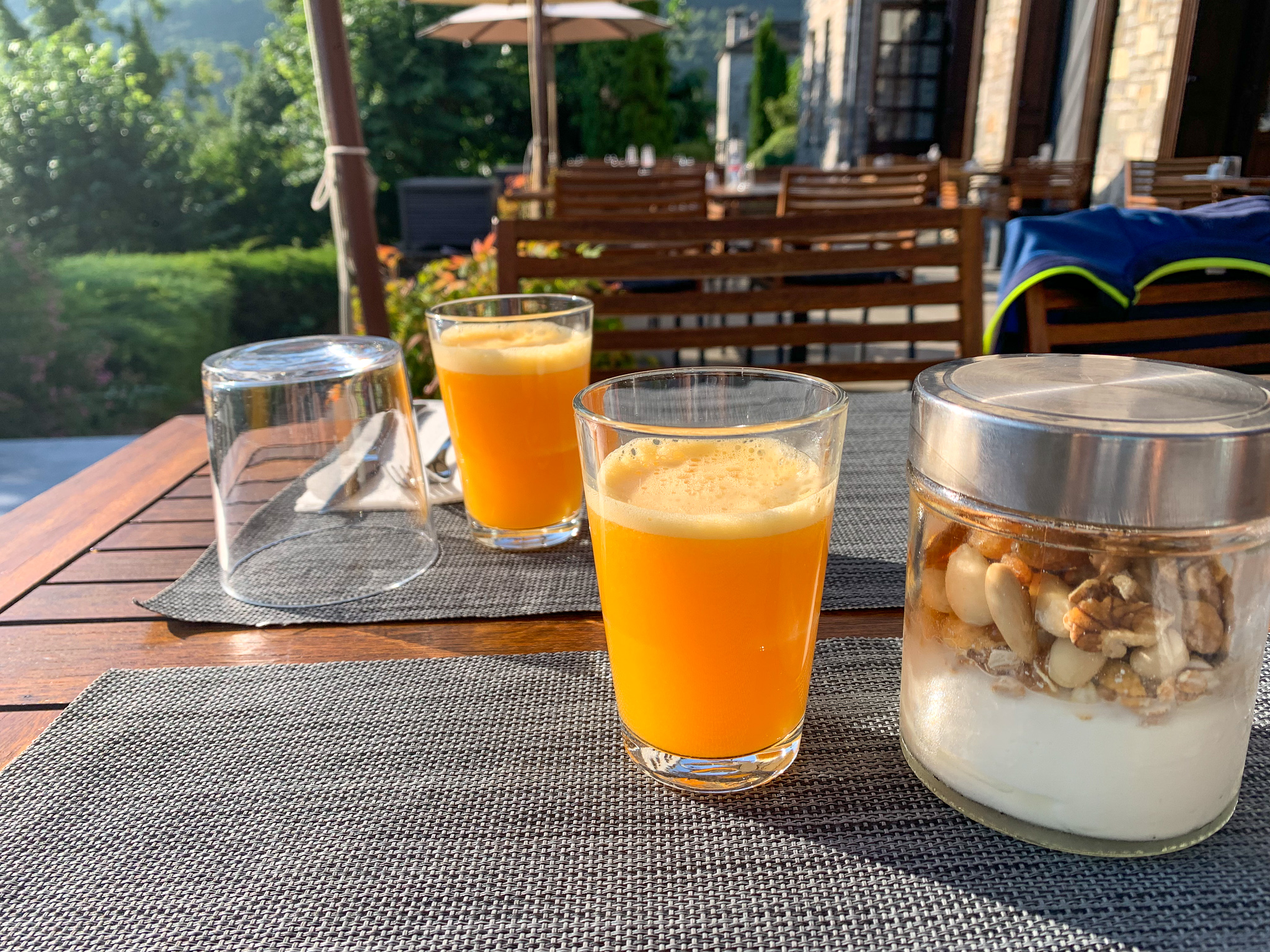 Dinner
For salad and starters, we took the pumpkin and cheese pie with a traditional crust, feta cheese, zucchini, nettle and spearmint oil. We tasted also the summer green salad with smoked trout, notchweeds, zucchini, black-eyed beans, fresh herbs and lemon-oregano sorbet.
Thanos truly enjoyed his risotto with beetroot cream, cyan, hazelnut and aged balsamic vinegar. I tasted the trout baked in a dough with herbs, warm potato salad, and emulsion of burnt butter with trout eggs. We also had two glasses of white wine from local wine producers.
For the kids, we took the chicken nuggets coated with semolina, mini potatoes, handmade ketchup, cherry tomatoes and plain pasta for our picky eater.
We were so full that we couldn't taste the dessert afterwards but if I could I would try the "Baklava" with the crust, cinnamon ice cream and caramelised fruits.
Room Service Menu: the option of ordering a snack or your entire meal to enjoy in your privacy is also possible and might be handy, especially with very young travellers who find it difficult to sit at a restaurant. We did try it while staying there and were very satisfied with the service.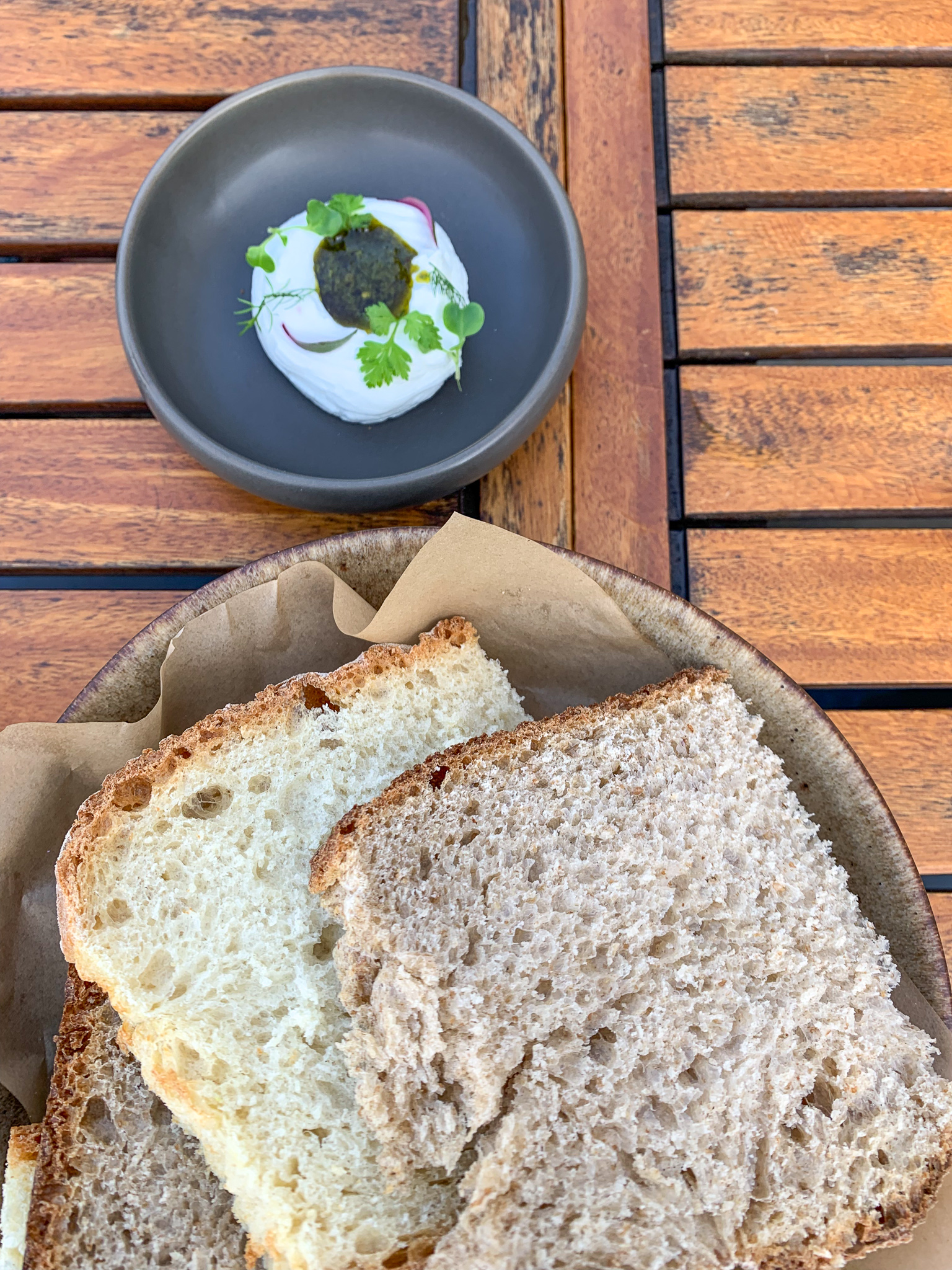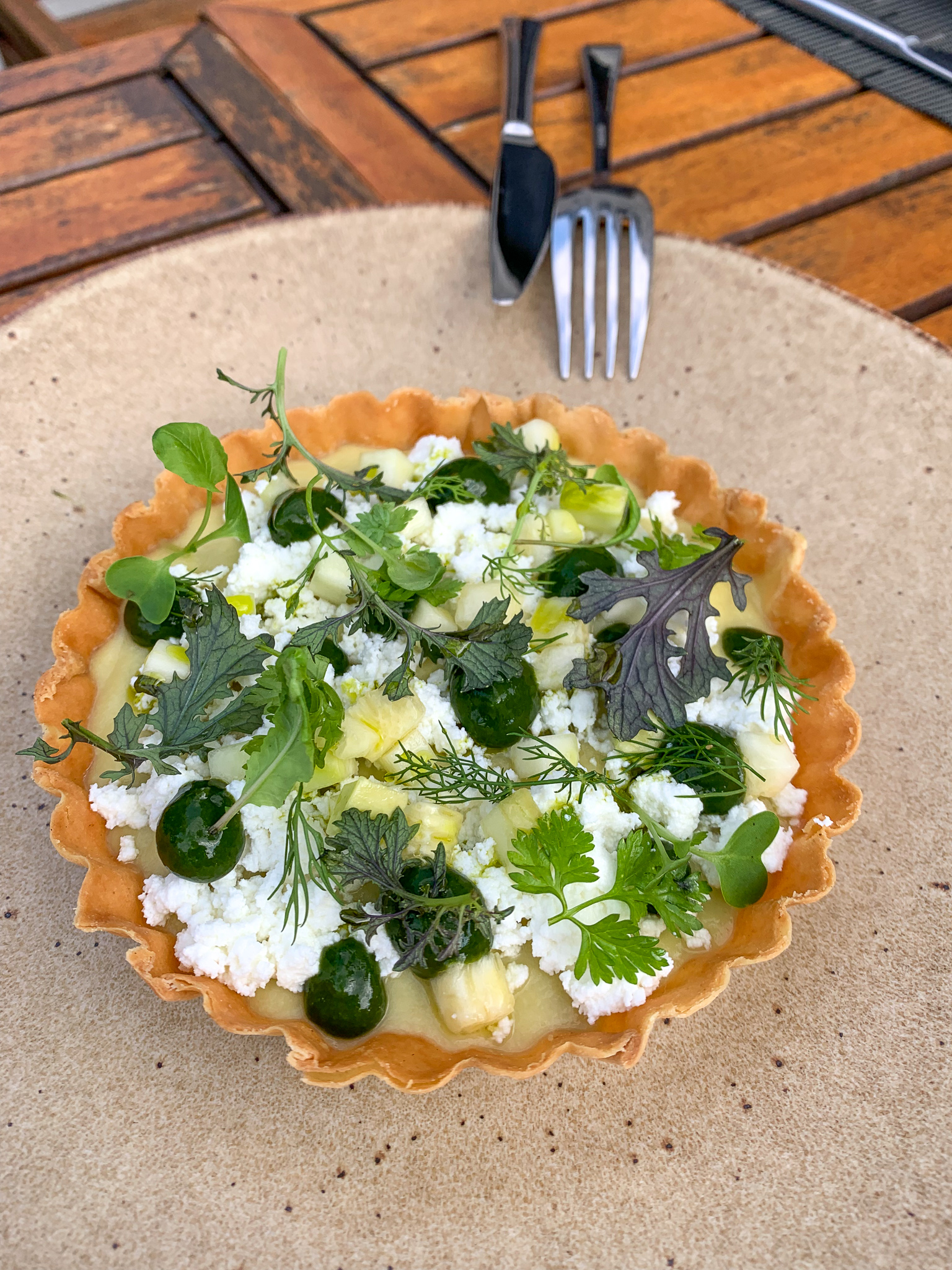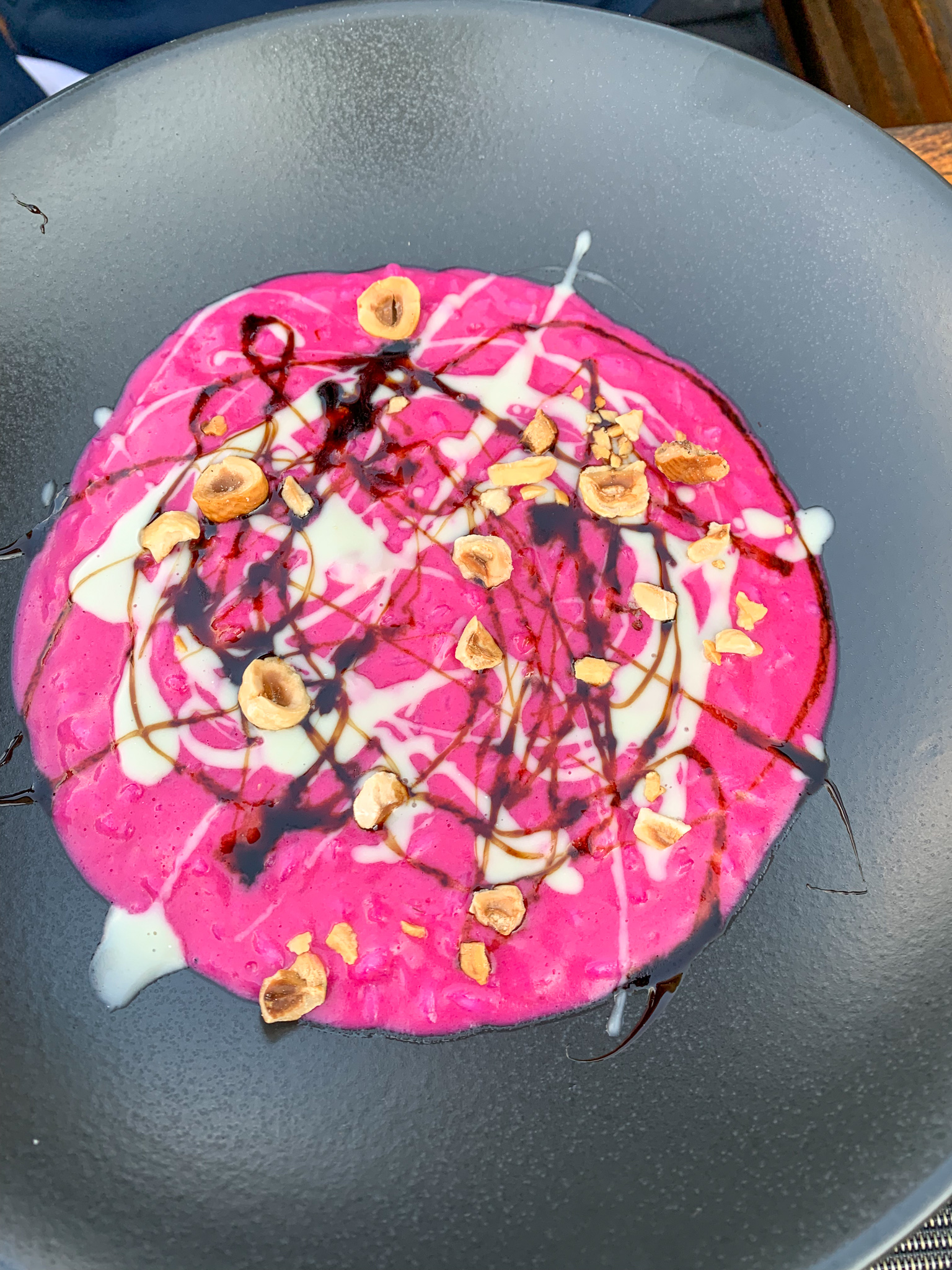 The Greenhouse and Private Dining at the Aristi Farm:
Next to the Aristi Residence, one can find the Greenhouse with the organic garden, stove oven and a patio with amazing views. Here, you can attend a cooking workshop or enjoy private dining.
We had an amazing time and we can't get wait to return and discover more of the region – thank you Aristi Mountain Resort & Villas for the warm welcome!
Disclaimer: Our stay at Aristi Mountain Resort & Villas was complimentary but all opinions expressed are mine, as always.
Have you visited Epirus in mainland Greece? Which is your favourite region and why?
Read more articles here:
Travel & food guide to Sithonia, Halkidiki 
What to pack for a trip with a baby or toddler
Travel tips: first summer vacation with a baby
Family holidays in Preveza, Greece – What to do
Are you planning your next vacation with your baby/toddler? Check out my mummy and baby/toddler travel checklist here.