Halkidiki is the peninsula located near the city of Thessaloniki in the north of Greece; it is the city's beloved getaway to the Aegean Sea. This is where the locals go every weekend (or almost) in the summertime and most of them will tell you that "there is no other place like Halkidiki". I tend to agree. With my Travel & food guide to Sithonia, Halkidiki I want to show you why.
Comprising three distinct areas, Halkidiki offers something for everyone. Kassandra peninsula tends to be more popular among the younger ages; Sithonia peninsula appeals more to those seeking tranquillity and is a favorite among families; Athos, widely known as the "Holy Mountain", is an autonomous region of the country, a World Heritage Site comprising of 20 orthodox monasteries which are accessible only to men.
What's there to explore in Halkidiki?
Sandy beaches with turquoise waters where the pine forests plunge into the sea like Vourvourou, Kavourotripes and Kalamitsi; charming villages with traditional architecture like Afitos and Arnaia ; geological wonders such as the cave of Petralona; historical sites such as Aristotle's park, a theme park in honor of the great philosopher and scientist who was born in ancient Stagira (www.dimosaristoteli.gr); walking routes which reveal the area's diverse ecosystem and mountainous region; an important wine region and wineries to visit, such as Domaine Porto Carras with its vineyards spread across the mountainous slopes of Mount Meliton; cultural festivals under the stars like the Sani festival.
Sithonia
All areas are unique but Sithonia is the one we love to return year after year since 2015. The last time we visited was in June 2021. During all these years we have gathered useful info about where to stay and places where you can eat well. I've created this Travel & food guide to Sithonia, Halkidiki to share our favorite places with you and invite you to explore this lesser-known but gorgeous Greek summer destination.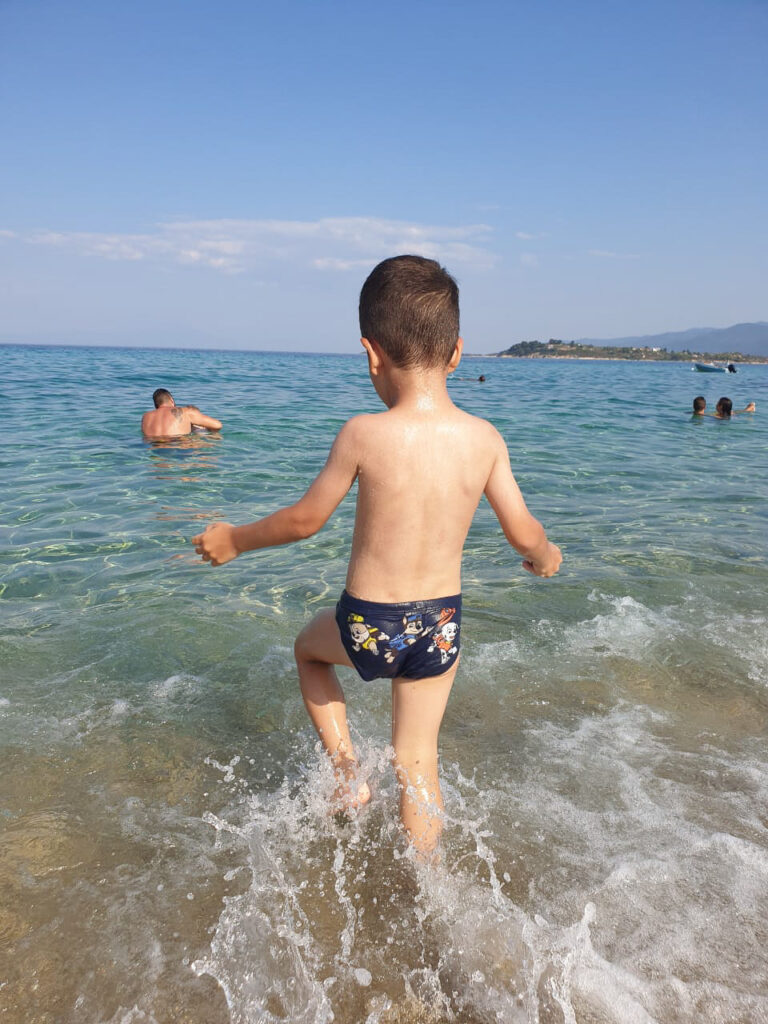 How to get to Sithonia, Halkidiki
By plane to Thessaloniki and then continue by car to Sithonia. Depending on where is your final destination in Sithonia and the traffic, you will need about 1-2 hours. For example, Nikiti is about one hour away from Thessaloniki without traffic and it's a great base to explore the whole area; Kalamitsi, on the southern edge, is about 2 hours away by car from Thessaloniki. There are also public bus routes but I would highly recommend having your own car -or campervan – if you want to discover more than one place.
When to travel
From June until mid-September if you want to find most restaurants and shops open. The weather might be mild and suitable for swimming from May until the end of September (or even October), but not all facilities will be operating.
Also, keep in mind that August is the busiest month for any Greek destination and you should expect crowded places and high prices.
Personally, early to middle September is the period we mostly love because the weather is still warm and sunny but without the crowds and the peak season price tag.
Where to Stay in Sithonia, Halkidiki
There are so many options to choose from in the area. In this Travel & food guide to Sithonia, Halkidiki you will find our favourites, based on our personal experience and recommendations from locals.
Pyrgos Bungalows, Trani Ammouda: this is our favourite so far from all the places we have stayed in Sithonia. Tastefully decorated bungalows with well-equipped kitchen, dining table indoor and outdoor, the most amazing yard where you can read a book and chill while your kids play around, yummy food with healthy options to choose from and a great beach just in front of you. Having young kids, the proximity to the beach is very convenient. We have stayed at Pyrgos Bungalows two times, and we've been coming here even when we don't find a bungalow to stay – just for a coffee or lunch after swimming.
Book your stay here through booking.com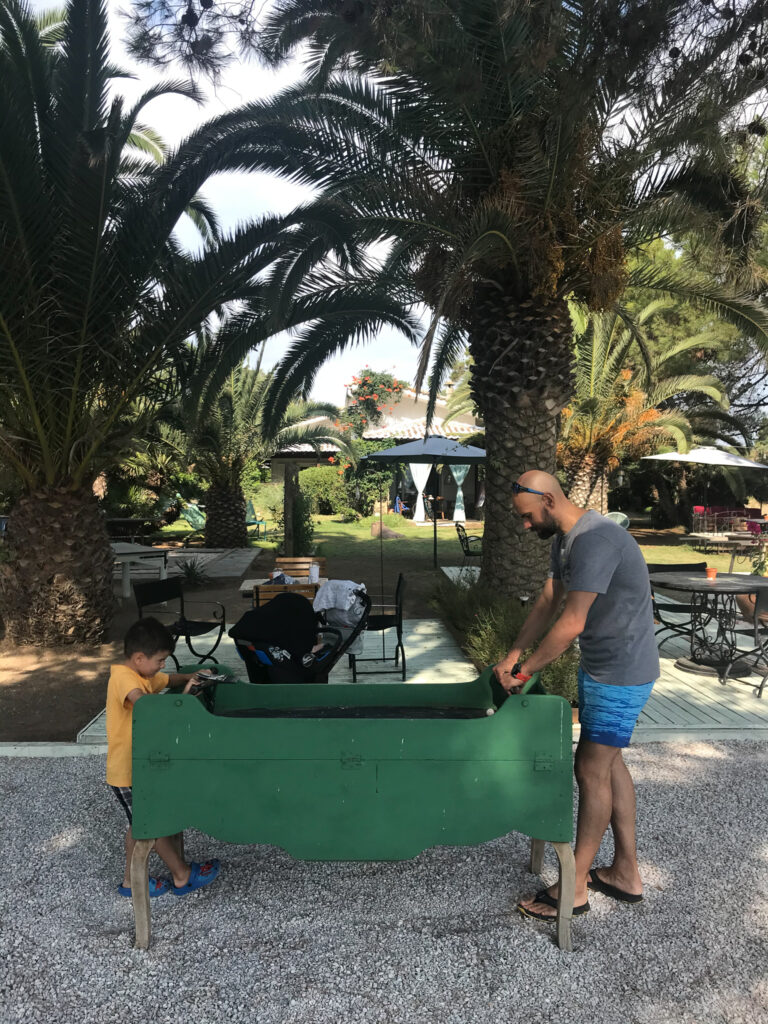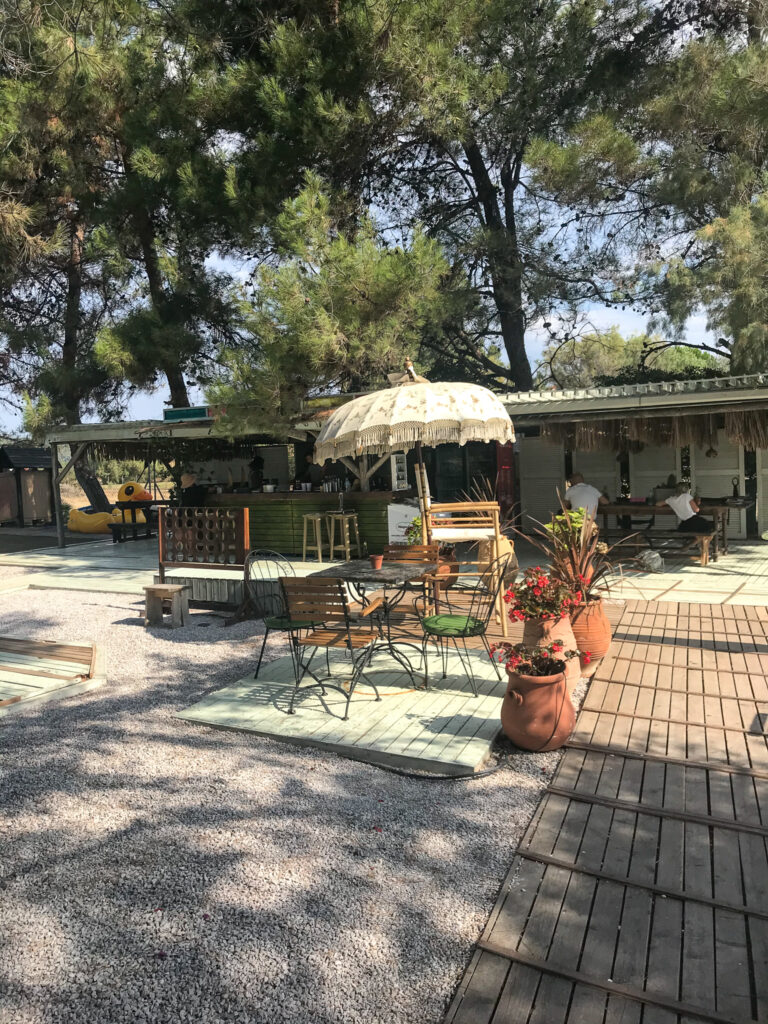 Leon Villas and apartments, Nikiti
New facility located near the harbor of Nikiti offering self-catered maisonettes with equipped kitchenette. They started operating in 2020 and we were very satisfied by the friendly welcome, the hygiene measures taken due to Covid19, the clean swimming pool (it's small but has a kids' area as well and was very pleasant when not crowded), the spacious maisonette. Having a two-floor maisonette was not ideal for a baby and a toddler but other than that, we were satisfied with our stay.
Book your stay here through booking.com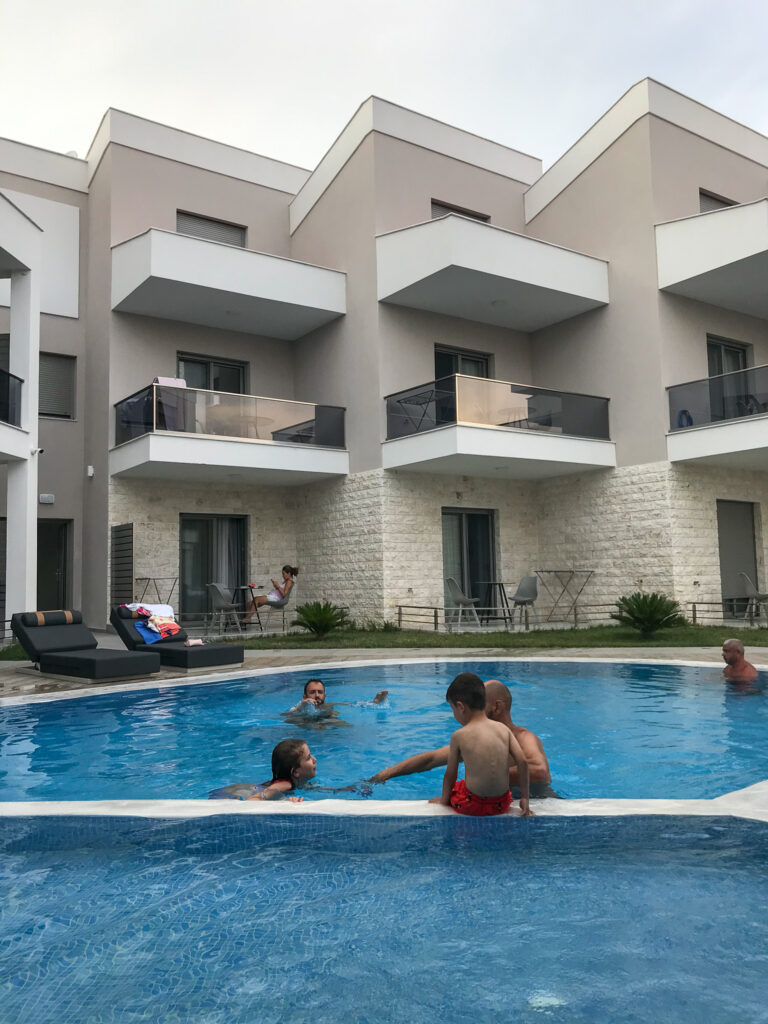 The below places have also been on my radar but we haven't stayed in any of those yet.
Armenistis Camping: this is a very popular camping and that's the reason we haven't been able to stay there yet, as we usually book quite late for our summer vacation. Some people say that it's too noisy for families but I don't have a personal experience of this. We have visited the camping to swim at the beach and loved the sea here. This beach house is on my dream accommodation list for a while now.
Book your stay here through booking.com
Akti Oneirou Luxury Camping: it's indeed a luxury camping and I love the tranquillity of this little cove. Because of its location and the high standards it offers, this place is also popular and we never manage to get a spot when we want to. Their chic mobile homes are also on our dream accommodation list.
We have had an excellent lunch at Manassu Restaurant a few years back and although it was pricey, it was worth it.
Nine muses studios, Kalamitsi: praised for the great breakfast, warm welcome, amazing and spacious yard with swimming pool & walking distance from Kalamitsi beach
Book your stay here through booking.com
Book your stay here through booking.com
Book your stay here through booking.com
Best places to eat in…
There are many options to dine in Sithonia. In my Travel & food guide to Sithonia, Halkidiki I have only included the ones we have personally tried. We have visited some of them, like Mpoukadoura and Platanos, on many occasions and several years in a row and have never been disappointed. In other ones, like Rizes and Kazanis, we have only been once. All of them have been recommended to us by locals or by people who come to this area regularly.
Mpoukadoura, Akti Elias
An award-winning restaurant for its Greek cuisine and delicious, authentic recipes, this spot immediately won a place among our favourites. The location -which was a bit tricky to find the first time around- is fantastic: just by the sea and with a glorious sunset, so we like to come here for an early dinner. The service is super friendly even when we visited with small kids and were a bit restless. They also have a small playground which is great for our little gourmands. What I also love is their homemade marmalades and liquors. Don't miss this place. Reservation strongly recommended.
Akti Elias, Nikiti, Halkidiki
Platanos, Palia Nikiti (old village of Nikiti)
We have been coming to Platanos restaurant since 2015 almost every year. Our experience was great every time. The menu is well-curated and although someone might think it's small, it has options for everyone. The meatballs here are legendary while my favorite is the delicious, colourful salads and the appetizers such as manouri cheese with tomato marmalade.
The setting, amidst the square of Palia Nikiti (old village), is dreamy. Plus, every year the decoration seems to be even more sophisticated.
The square is not for pedestrians only but there is not a lot of traffic so the little ones can explore around until the food is served.
Palia Nikiti
Rizes, Nikiti
Located by the beachfront of Nikiti, this restaurant serves Mediterranean cuisine along with great sunset views. Our early dinner here was very convenient as we had ample space for 2 strollers, the service was friendly and quick, the food was tasty and well presented. I would go back to taste more of their appetizers as, for me, this was the highlight of their menu.
Nikiti seafront
Arsanas seaside restaurant in Nikiti
One of the most elegant restaurants in the area, Arsanas has a marvellous seaside location and an excellent menu. The cuisine is based on Greek recipes including seafood and grilled meat but with a modern twist which makes for a gourmet experience. From the numerous restaurants lining up Nikiti's beachfront, Arsanas stands out.
"Akrogiali 2" for fish, Nikiti
Also located at the beachfront of Nikiti, here we enjoyed an early dinner with fish and many appetizers and salads while watching the glorious sunset. Everything we tasted was delicious and Marios was super happy to be able to choose the fish he wanted to eat on his own. There is another restaurant called "Akrogiali" – they told me it's a different restaurant so keep that in mind.
Nikiti seafront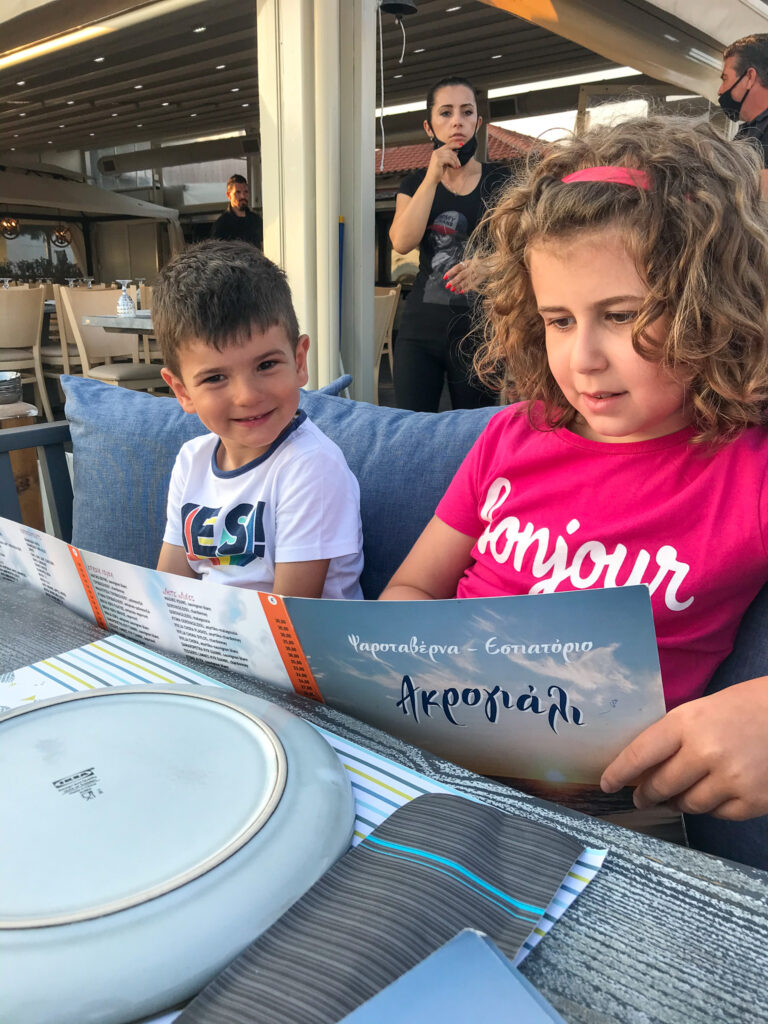 Kazanis for fish, Nikiti
This is one of our newest discoveries and we liked the romantic ambience of the restaurant, the friendly and efficient service and of course, we liked the food. Grilled octopus was one of the highlights here; we will be coming back for more.
Nikiti seafront
Gourmet cuisine at Manassu
Manassu is a secluded beach bar in Sithonia facing a little gulf where the sea is splendid. In this dreamy setting, the restaurant at Manassu serves modern cuisine based on Mediterranean flavours and pleasing for both eyes and palate. I can still remember how much I liked the grilled octopus we tried here on our swimwear, facing the sea and drinking a glass of white wine.
We visited during the low season (June) and at that time we travelled together with my cousin and her toddler who had a glorious nap at one of the beds available on the beach.
Manassu beach bar and restaurant is part of Akti Oneirou luxury camping and, on the premises, you can also find a mini-market and a playground.
Tip: the beach is pretty small and dominated by Manassu beach bar and sunbeds, so if you are not very keen on this type of beach you might not like it here. The music from the beach bar was also a bit loud when we visited.
Fish at Ormos Panagias – Aristos taverna
Ormos Panagias is a little village located on the east coast of Sithonia and is right next to our favourite beach in the region (I might even dare to say our favourite one in Greece so far), Trani Ammouda.
The tavern of Aristos has tables on the beach and the setting is very nice for a summer meal with traditional Greek dishes such as zucchini balls, grilled mushrooms, kefalotyri (hard cheese) saganaki, mussels saganaki or mussels with rice, grilled sardines, spaghetti with octopus or fresh fish.
And if your little ones love playing on the sand by the sea, then you are in for a real treat here.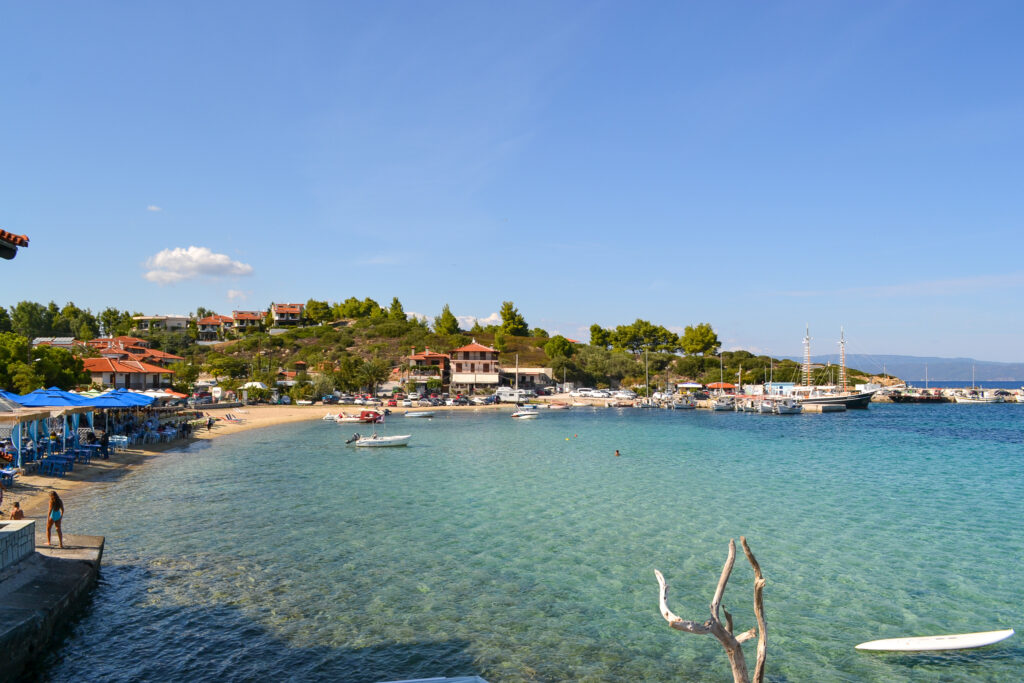 Ksilaki for ice-cream, Nikiti
This place has been the revelation of our summer 2020 vacation in Nikiti. I spotted it while we arrived as it was only 5 minutes away from the place we stayed, mainly because of its lovely decoration and outdoor space. When we asked some locals for advice on where to go for ice-cream, Ksilaki was the name that popped up. And boy, did it not disappoint!
Chocolate, salted caramel, red fruits and many more options, often based on seasonal products like figs, are on offer. The texture is perfect, so is the taste. We kept coming back every night to try different flavors. I have tracked down its founders and hopefully, will report more on this lovely spot and its behind-the-scenes very soon.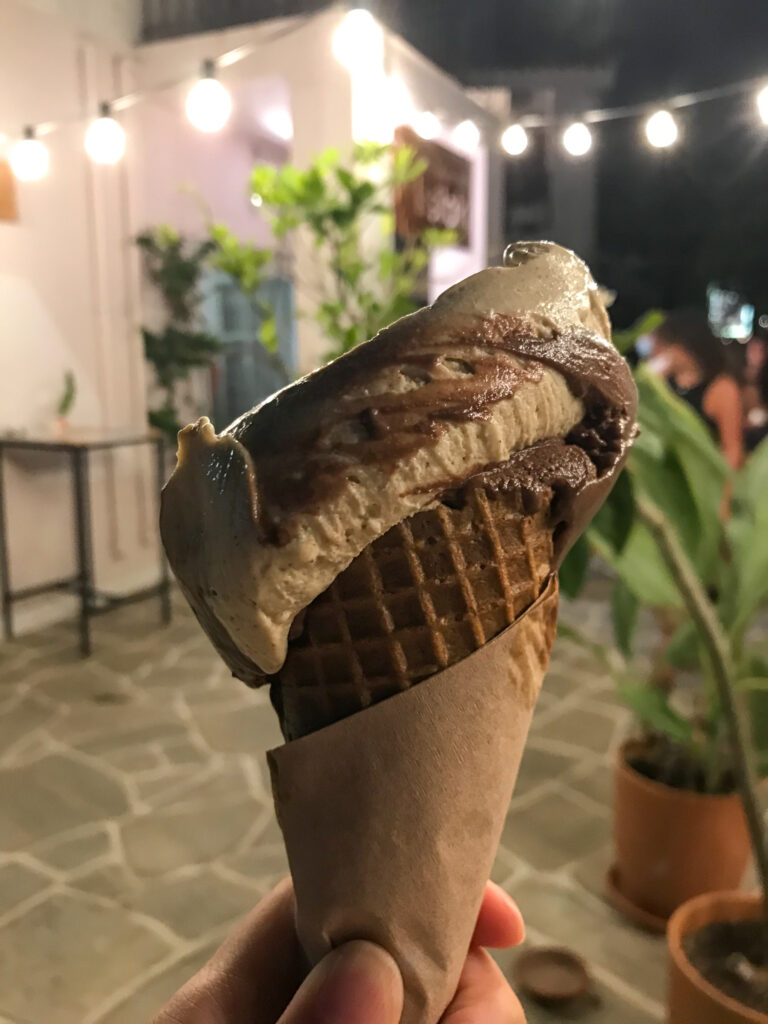 A few other options to consider when it comes to food: at the same street where "Ksilaki" is, you will also find "Anatoli" pastry shop to try a traditional sweet: revani with ice-cream.
To Spitaki is a nice place to get a coffee and ice-cream for the kids while sitting by the beach (the ice-cream is pretty basic though compared to the one you can have at "Ksilaki"). For breakfast, try Galvas bakery & patisserie and bougatsa at "Day by Day", both found on the main road of Nikiti.
Anatoli for traditional revani sweet with ice-cream, Nikiti
To Spitaki for Ice-cream and coffee, Nikiti – Facebook 
Galvas bakery & patisserie, for breakfast, coffee and sweet treats, Nikiti – Website
Day by Day for breakfast, quick lunch and coffee, Nikiti
Do you have special dietary needs?
I recently discovered a gluten-free blog created by Dakis who has created a gluten-free guide to Halkidiki. It's in Greek but I think you can get valuable information and translate it easily online, plus there is also a map which you can consult.
And if you combine your vacations in Halkidiki with a visit to nearby Thessaloniki (and you absolutely should), here is Daki's gluten-free guide to Thessaloniki in English.
He has a pretty cool Instagram account as well, check it here.
Best Beaches
Locating the best beach is very subjective, I think, but what is great at Sithonia peninsula is that you can find everything: from long stretches of beach to sheltered coves.
On the east side, our favourites are Trani Ammouda, Armenistis, Akti Oneirou and Kalamitsi beach. Kavourotripes and Kriaritsi beach are also on our list to explore once we return. On the west side, we recently went to Akti Kalogrias and really liked the beach but the space is limited, dominated by beach bars and difficult to park your car. Lagomandra and Toroni are also considered good options. Porto Koufo is also a lovely place to visit (see photo below) with its small marina and seafood tavernas.
What to do in Sithonia during the summer
Stay at the beach for the whole day
Stroll around Palia Nikiti (old village)
Watch the sunset at Nikiti seafront
Rent a boat from Ormos Panagias and visit the nearby islands
Go for an early morning run
My good friend and fellow travel writer Nikoletta Lamprou who knows the area very well has written a travel guide for Sithonia where you can get more ideas on what to do – check it out here. Keep in mind that this guide was published in February 2016 so there might have been changes when it comes to restaurants and other businesses in the area.
I hope you have found my Travel & food guide to Sithonia, Halkidiki useful while creating your own family trip in Greece. If you think another friend of yours would also find it useful, why not send them an email with the link?
For more info about the area check the official tourist site here.
Feature photo copyright: (c) Halkidiki Tourism Organisation
Disclaimer: Some of the links in this post are affiliate links, meaning that if you click through and make a purchase, I will receive a small commission at no extra cost to you. Thank you for your support!
Have you visited Halkidiki already? Which is your favourite region and why? If not, are you tempted to explore this area or would you rather visit one of the islands?
Read more articles here:
What to pack for a trip with a baby or toddler
Travel tips: first summer vacation with a baby
Family holidays in Preveza, Greece – What to do
Six places to visit in Spain's Costa Brava with a baby
Are you planning your next vacation with your baby/toddler? Check out my mummy and baby/toddler travel checklist here.