In June 2017 we went on our first family summer vacation with our then 9-month old baby boy, Marios to the spectacular Costa Brava in Spain. Travelling with a baby comes with new challenges, as we learned, but one thing remains unchanged: the urge to explore new places, taste local produce and food and create lasting memories.
Here are 6 places in Costa Brava that we found to work perfectly for a family vacation with a baby:
1. Tamariu
This is a lovely seaside village where you have everything you need for your summer vacation. The parking is very close to the beach and quite cheap as well (2.4 euros for the whole day while we paid as much as 3euros/hour in other places). The beach itself is wide enough, with the perfect type of sand for babies (it's easy to walk in but won't stick everywhere) with crystal clear waters, great surroundings of pine and tamarisk trees and natural shade which means you don't necessarily have to bring your own umbrella if you don't want to. Personally, we didn't need much more than that. A few, lovely restaurants right by the beach, supermarkets and a hiking route beginning from the beach, in case you feel adventurous. We followed the hiking route towards Cala Pedrosa for about 15 minutes and discovered a rocky space, which is a perfect background for taking family pictures; we didn't make it until the end of the hike but still, the scenery was stunning and well worth the effort. Next time we visit this area we would definitely consider Tamariu as our base.
Website: http://visitpalafrugell.cat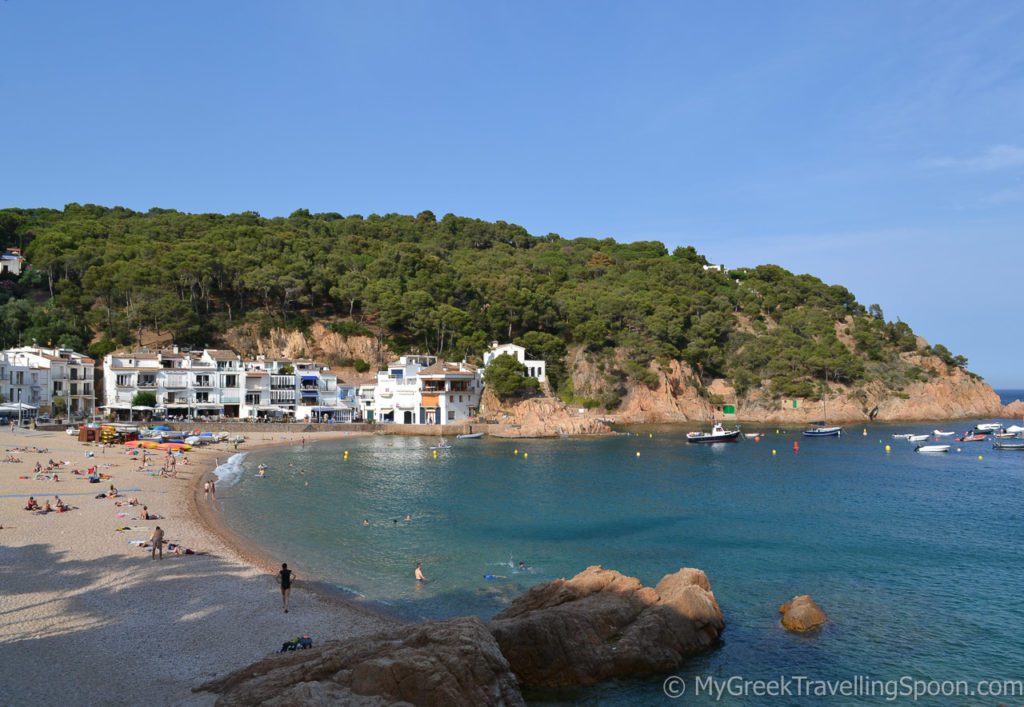 2.Tossa de Mar
It's probably one of the prettiest towns in Costa Brava. The castle, which is right on the beach, is so charming and especially at night when it's lit up, it looks so romantic. We loved walking around the pedestrian streets of the old town and looking at the various shops. Our little one was really interested in watching all the people go by and all the colourful shops. Having dinner at restaurant Cana Pini was one of our favorite family-friendly experiences as well because they have a space dedicated to the little ones with high chairs and kids' menus where they can draw (9-month old Marios preferred to taste it at this stage but I am sure that toddlers would love to draw on them as well!). The staff was super friendly and they even brought our little one a plastic glass and chips to munch on. This was a recommendation I found on the blog www.kaleyann.com and I am glad we tried it out.
Website: www.infotossa.com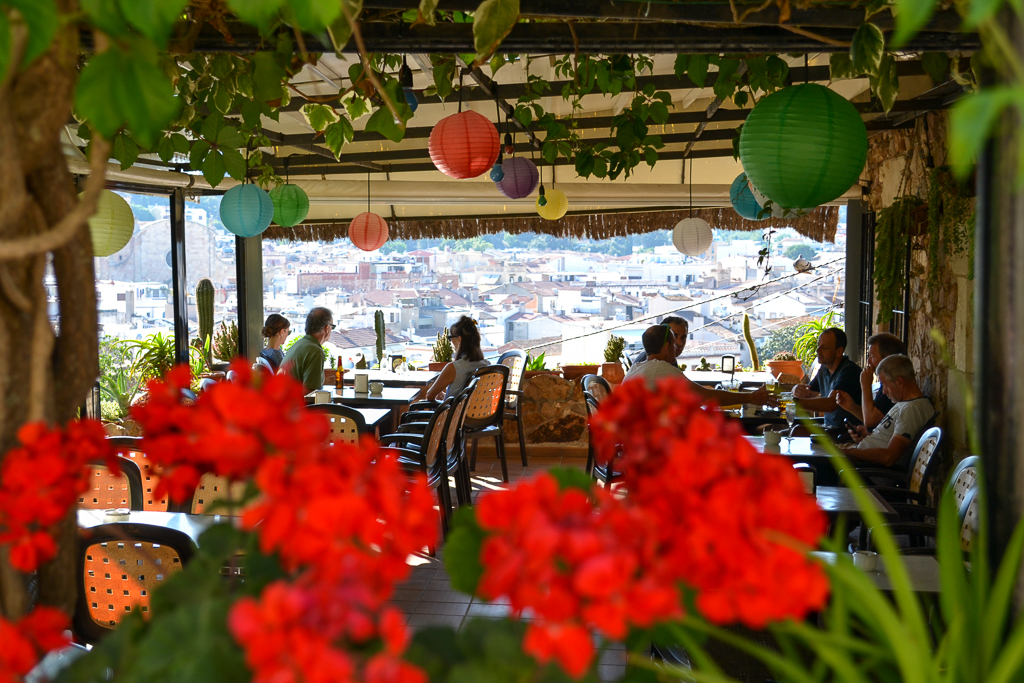 3. Marimurtra Botanical Garden in Blanes
Not all days are ideal for going to the beach. Fortunately, there are alternative ways to spend your time and the Marimurtra Botanical Garden in Blanes was one of them. Founded by German Carl Faust, the botanical garden has been declared an Area of National Interest by the government of Catalonia. What a great example of creating something for everybody to enjoy; a place, which will benefit thousands and thousands of people! The garden, which consists of around 3,000 exotic species – no, we didn't count them!-, is very well preserved and there are signs leading you from one part to the other. Our favorite part was the coastal path next to the sea; the views are heart-stopping and serve as the perfect background for your photos. The area is not entirely stroller friendly so if you can, it's better to have your baby on a baby carrier.
Website: www.marimurtra.cat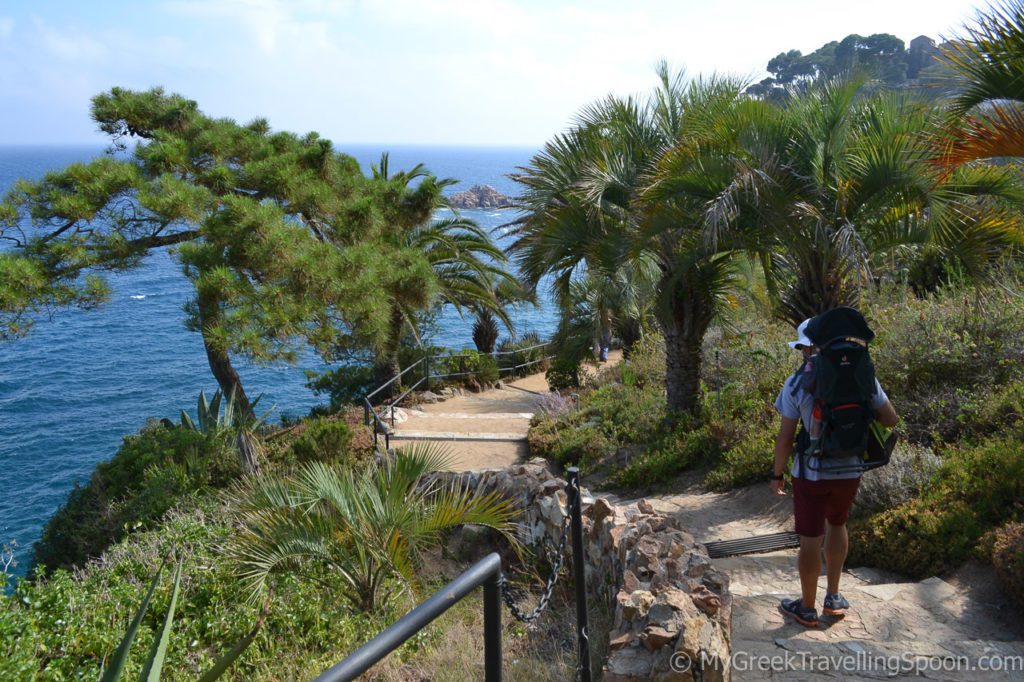 4. Sant Feliu de Guíxols – Visit the local market
Our AirBnb hostess, Xènia, gave us many useful tips and advice on activities we could do and places we should visit around Costa Brava. One of them was to visit Sant Feliu de Guíxols where many more locals stay than in Tossa de Mar and go to the daily food market to buy fresh produce. We could never resist going to a local food market, especially while being in Spain so we headed to Plaça Mercat where the market takes place. There is an indoor space where we bought many nuts, quinoa and dried fruits but there were also meat, cheese and other counters on offer. Outside, at the square, was the real feast of fruits and vegetables: the highlight was the huge and sweet watermelon we got for just 4.5euros. Marios loved it too!
Website: www.visitguixols.com
5. Pals – Discover the medieval village
Around Costa Brava, there are numerous medieval villages, which are definitely worth visiting. We ended up going to Pals for an afternoon leisure walk after a day spent at the nearby beach of Cala Aiguablava. The village is situated on a small hill and its historic heritage is brilliantly preserved. There are art galleries, cute terraces to sit and enjoy and a few shops selling pretty cool stuff. Pals is nowadays famous for its rice which you can taste in one of its restaurants; we are definitely planning to go back for a romantic dinner. There are also many cultural activities going on so make sure to check Pals' tourist info page before your visit.
Website: www.visitpals.com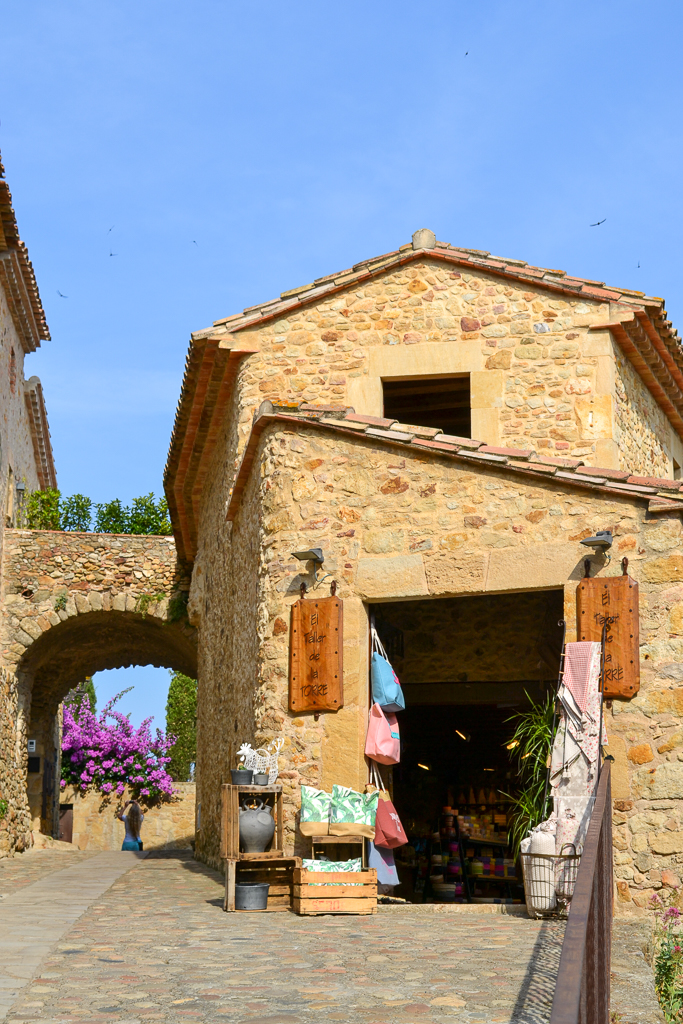 6. Cala Salions beach
This is where our AirBnb apartment was located and although there were mostly locals, we found that the beach was very convenient for families with babies or small children. First of all, it's accessible by car (you can park just 2 minutes walk from the beach), there is natural shade available (although not ample so you'd better get there early or be prepared to squeeze among others) and a supermarket and restaurant close by in case you need anything. Plus the beach itself was quite nice as well.
Check out a few more photos from our trip in the gallery below.
Do you want more info about the region of Costa Brava?
Click here: Costa Brava Tourist Board
Have you visited Costa Brava with a baby or toddler? Are there any other places you would recommend visiting? Leave a comment down below and share your wisdom!
Wondering what to pack for a trip with a baby or a toddler? Check out this article and get your free mummy and baby/toddler travel checklist.