Last April, during Easter time, we spent a few days up in the Swiss Alps and had a lovely time. We went to Champex-Lac, at the canton of Valais, which is only 1.5 hours away by car from Lausanne; it's a small resort lying at 1.470m altitude with plenty of activities for families. We went together with another family, good friends of ours.
Quick overview:
Destination: Champex-Lac
Canton: Valais
Duration: 5 days
Season: April 2021
Type of accommodation: mountain hut
Food: cooking at home
Curious to know more about how we organized this trip?
Once we had agreed on the selected dates (beginning of April), we started searching on the My Switzerland website for mountain huts. To be honest, I didn't know that this dedicated page existed but it does, and it includes some very nice accommodation options.
We booked this chalet which seemed lovely and suitable for two families with young children.
What we loved about it:
The proximity to Champex-Lac with its alpine lake
The setting in a quiet, beautiful environment
The fact that it was fully equipped: kitchen, heating, an attic with countless toys and DVDs for the kids, sledge. There was even a jacuzzi available.
The surrounding area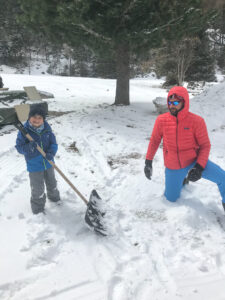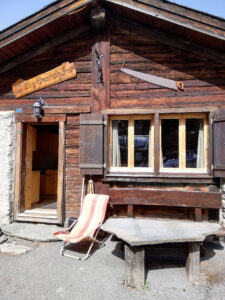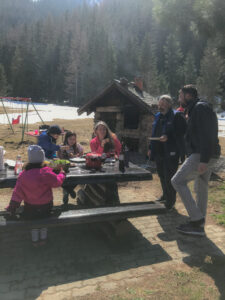 Some of the activities we did:
Walking around the small, frozen lake at Champex-Lac. There is also a little playground on one side.
Getting the open gondola lift to the top of the ski resort to check the views (Stefanos was 11 months old at the time so I didn't go up but all the others did and the kids really liked the view from up there)
Playing with the luge just outside the chalet we were staying at
Mini day excursion to Verbier, 30 minutes away by car, for a bit of skiing, luge and walking around
Mini excursion to Fouly, Val Ferret and a short hike in the snow
Barbeque & lunch outdoors
Pilates, both outdoor & indoor (we were lucky because our friend who was with us is a pilates instructor)
Jacuzzi
Quiet nights with tea for us, adults, in front of the woodstove
Cheese fondue night while watching the snow outside
Visited Barryland museum in Martigny to see the Saint Bernard dogs on our way back to Lausanne – Website
There are plenty of activities both for winter and summer to keep everyone happy.  It's a very nice place for family holidays if you want to take it easy and enjoy nature.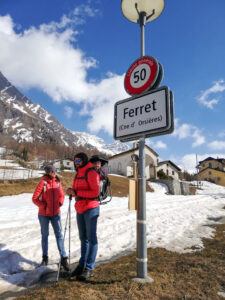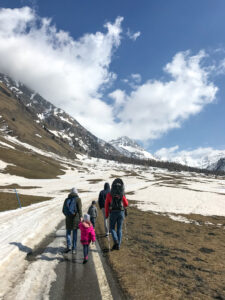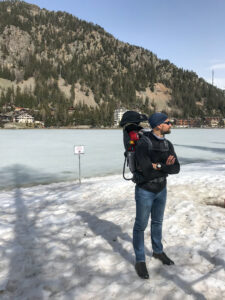 FOOD
Due to Covid19 restrictions, we had decided from the beginning that we would cook at our chalet. We had taken with us some basic food provisions (extra virgin olive oil, balsamic vinegar, oregano and spices) and we went twice to a nearby supermarket to buy everything else we needed, once we set the menu.
There is also a mini-market in Champex-Lac where you can find everything you need. Also, the local bakery was open every day and that's where we bought some local eggs as well.
While driving back to Lausanne, we stopped for lunch near Martigny, at Marche food market where there were plenty of food options. At the time, we couldn't sit there to enjoy our food so we took it and ate just outside – if it wasn't so windy, it would have been a perfect little picnic with the kids.
More info about the area here – Champex-Lac
And here – My Switzerland
Have you visited Champex-Lac? What else did you do with your family? Are you planning any trips around Switzerland or abroad for the Easter break? If yes, where to?
Meanwhile, if you are preparing for a short trip with young kids yourself, check out my Mummy & Baby/Toddler travel checklist right here. It makes packing so much easier!
Read more articles here:
Travel & food guide to Sithonia, Halkidiki 
Family holidays in Preveza, Greece – What to do
Best Places for Coffee in Lausanne
Inspiration – Stella Cervello, sustainable living in Paros, Greece
Where to find Greek products in Switzerland 
Family-friendly Lausanne in Winter