Stella Cervello moved from Montpellier in Paros back in 2016 because she wanted to live closer to nature in her everyday life. Along with her partner, Thomas, they are currently building a passive house on the island and creating a forest around it.
I read about Stella's story while researching for another project I was working on based on Paros island and found an article about Stella and her "Sustainable Living" website. I was intrigued immediately and wanted to know more. We set up an online call and chatted about life in Paros, how she came across a dream job by serendipity, her tips and philosophy on living sustainably, permaculture and many more.
I've never met Stella in real life (yet!), but she has inspired me so much with her life that I had to share her story with you. Keep on reading.
Would you suggest a song to hear while reading your interview?
Mmmm there is one song I keep listening to over and over lately, it's called: Big Thief – Shark Smile
How would you introduce yourself in a paragraph?
How to start… I'm half French, half Spanish, I grew up in the countryside, completely off-grid when I was a kid, and later in the Pyrenees mountains in a more conventional way. My parents were growing a lot of their food and knew how to make things like vinegar, bread, cheese, etc! Once a year they would go to Barcelona to buy grains and other food items in bulk. Even if I was small, I think this way of living and my parents' love for nature passed on to me somehow.
Life in Paros, Greece
When did you relocate to Paros and why?
Thomas and I moved to Paros in 2016. We used to live in Montpellier, France, a very sweet town. We both wanted to move to the countryside and missed nature in our everyday life. So, we started exploring places to live (actually only two). We started by staying a few months in the Pyrenees, where nature is wonderful! During a trip to India, we met a friend who lived in Paros and decided to check it out! We took a one-way ticket and left only when we had no more warm clothes to wear. It was in September when we first arrived, and we were both shocked by the lack of shade and trees! But then, we fell in love and after one or two more visits, we left our apartment and drove from France to Paros.
What do you love most about life in Paros? What would you like to change if you could?
I love the rhythm, everything seems slower somehow. I also love the warmth of the people. My favourite part of living here is the winter, it's so quiet.
If I could change something, it's the way the island is developing….
How is everyday life in Paros? What does a typical day of yours look like?
It depends if it's a workday or not. I must say when I moved here I was afraid that I would get bored but I'm so busy all the time, it's crazy!
I juggle between work, taking care of plants on our land, trying to grow other things from home, trying to be healthy and go to yoga, etc. Sometimes coffee with friends or going for a swim, also some island exploration. So, days are very different but always with the amazing island vibe and beautiful landscapes around.
Could you share with us some of your favourite addresses on the island? Where do you take your guests when visiting you?
I like to show people Paros Park in Monastiri: there is a little path that goes to the lighthouse, and it's amazing for the sunset. You can also observe all the efforts that have been made to reforest the place and work at slowing down erosion. I love the beautiful and fragile Filizi dunes, the antenna on top of the mountain in the centre of the island where you have a 180º view and of course the streets of the villages, all very cute.
Sustainable living & Clean Blue Paros project
When/why did you start being interested in sustainable living practices?
It's hard to say. I think that, in the past, I was interested but I was not doing that much in my everyday life; I was just buying organic and recycling my waste and loved spending time in nature.
I became more practical about it, after reading the book "Zero Waste Home" (Bea Johnson). It made me realise not only the crazy amount of waste I produced but also the impact I had on the planet.
Of course, sustainability is not only about waste, but I think it's what triggered things for me.
The zero-waste movement is more than that too: it's also about knowing where things come from, which are the seasonal vegetables, eating local, buying second hand or ethical clothes, repairing things, growing food, social justice, and more.
For you, what does "sustainable living" mean?
I don't know if I chose the name correctly but what I meant was to care for all beings, including other humans and nature as much as we can.
To do our best to reduce our impact on the planet. This does not necessarily mean doing big changes but with small everyday habits.
Even if this word has been overused and lost a bit of its meaning, it officially means to live within our means in terms of natural resources, to make sure our children's and grandchildren's needs are met. We can't think in the fastest and easiest way, even if we come and go! I believe that what we leave behind, is our responsibility!
By saying this, I don't want anyone to feel guilty. Governments and big corporations have a huge role to play, but we can also take some responsibility and make better choices where we can.
Could you share with us a few tips that anyone could use in his/her everyday life when it comes to sustainable living?
Yes, I would love to! First, I would say to not overwhelm yourself and don't forget that this needs to be fun! I have changed a lot since I started and this year I have relaxed much more about all this, if I end up with a bit of plastic it's not the end of the world!
Ok sorry, yes tips! I got carried away!
I would say to start with small things and easy wins that make you feel good! Maybe a good way is to read a book as I did, or simply by looking around and start changing the things you are aware of.
Some people like to start by reducing waste and this can be done per room for example kitchen first, then the bathroom, etc.
Or you can start by learning to grow your own food! You can also start by using reusables, or drinking tap water, there are so many things!
I think also learning more about nature, and spending more time in nature, is what will help you get inspired. Equally, I would say to be curious about things, about their impact, about how they have been made, etc. There are 1000s of blogs out there, find one that resonates with you and start reading articles when you are in the mood. If you are in Paros you can refer to my website. But I also have articles on how to go Zero-waste, tips for when travelling etc.
But please, I will say it again, don't get overwhelmed by all the environmental problems on Earth at once. Take it little by little and keep in mind what you can do, even if it's very little. I recommend reading the story of the hummingbird for inspiration.
What exactly is permaculture?
For me, after taking two courses, I believe that it's complimentary with the zero-waste movement, and it covers everything.
I think I should share the definition of my friend Elena Symeonidou who inspires me so much.
Here it is:
"Permaculture is an interdisciplinary applied science of design for sustainable living. It encompasses all aspects of our life, habitat, energy, food production, resilience, human cooperation and symbiosis among all living things on earth. It combines ancient with modern scientific knowledge and technology in order to manifest its ethical basis: care of the earth, care of people, setting limits to consumption and a fair share of the surplus.
It was developed in Australia in the 70's by Bill Mollison and David Holmgren and the word Permaculture, coined by Mollison, comes from the words "Permanent Agriculture" and "Permanent Culture" because "… without permanent agriculture there is no possibility of a stable social order."
For a more comprehensive definition, have a look at the webpage What is Permaculture, on the website of the Permaculture Research Institute of Australia.
Now many people use the term "regenerative agriculture". And I love the idea it implies: to have a positive impact rather than negative or no impact at all.
Could you tell us a few words about your work for Common Seas & the project Clean Blue Paros?
A few years back, overwhelmed by the number of single-use cups, straws, and bottles found in beach clean-ups, I started a campaign called Plastic Free Drinks on Paros. I read about many campaigns on social media and made my own for here. I created a website, a friend helped with a poster, and I started going around talking to businesses to help them reduce plastic, by finding alternatives.
Common Seas contacted me right after and asked me to work with them on a pilot project on Paros, to reduce the use of single-use plastic! How could I say no? It has now been 2 years and lots of fun and cool projects. Lately, I'm working on a project that I have been wanting to do for a long time. To popularize tap water. Even though the water follows all the EU guidelines for drinking water, most of the population don't think it's safe to drink. So, we have been investigating, testing and finding the best ways to communicate our findings, etc. More is coming soon!
What do you love most about your work?
I love to work with a team on something that I'm passionate about! It's super cool to have so many resources and amazing people available to work with.
I know it sounds cliché but I can't believe I found this job on Paros! I always had jobs just to basically buy food and pay my rent before, so it's exciting!
Travel & inspiration
What does travel mean to you?
I don't travel much anymore but for me, it means discovering new landscapes, interesting cultures and food. But it also means disconnection from my everyday life, reset, freedom.
What was your favorite travel experience so far and why?
I don't know if it counts as a trip but we have been to Naxos, the island just opposite Paros and I loved it so much! There are forests and lots of Oaks (my favorite tree). Also, in the south, there is a cedar forest and dunes like here but much more widespread. It was just unexpected for me.
But for longer trips, I would say Morocco. It's such a beautiful country and people are extremely generous in the countryside. I was there with my dad, and we were looking for food. We saw a kid and made a gesture asking where we could get food. He asked us to follow him and we ended up in his house, a small fishing hut. He prepared for us fried eggs, even though we kept saying there was no need for him to cook. Then the whole family came and they insisted for us to stay and brought more food. The day after we bought sardines and showed up at their house to thank them. The parents told the kids to come with us and we all went to the beach and ate sardines cooked on the fire. When we left, they asked us if we could drop the younger sister to the main city because she had to be at school the day after, we were so impressed by their trust. Also, my father made them laugh a lot, trying to mimic a pirate! When we left my dad had tears in his eyes, it was priceless! It's also one of my best memories with him!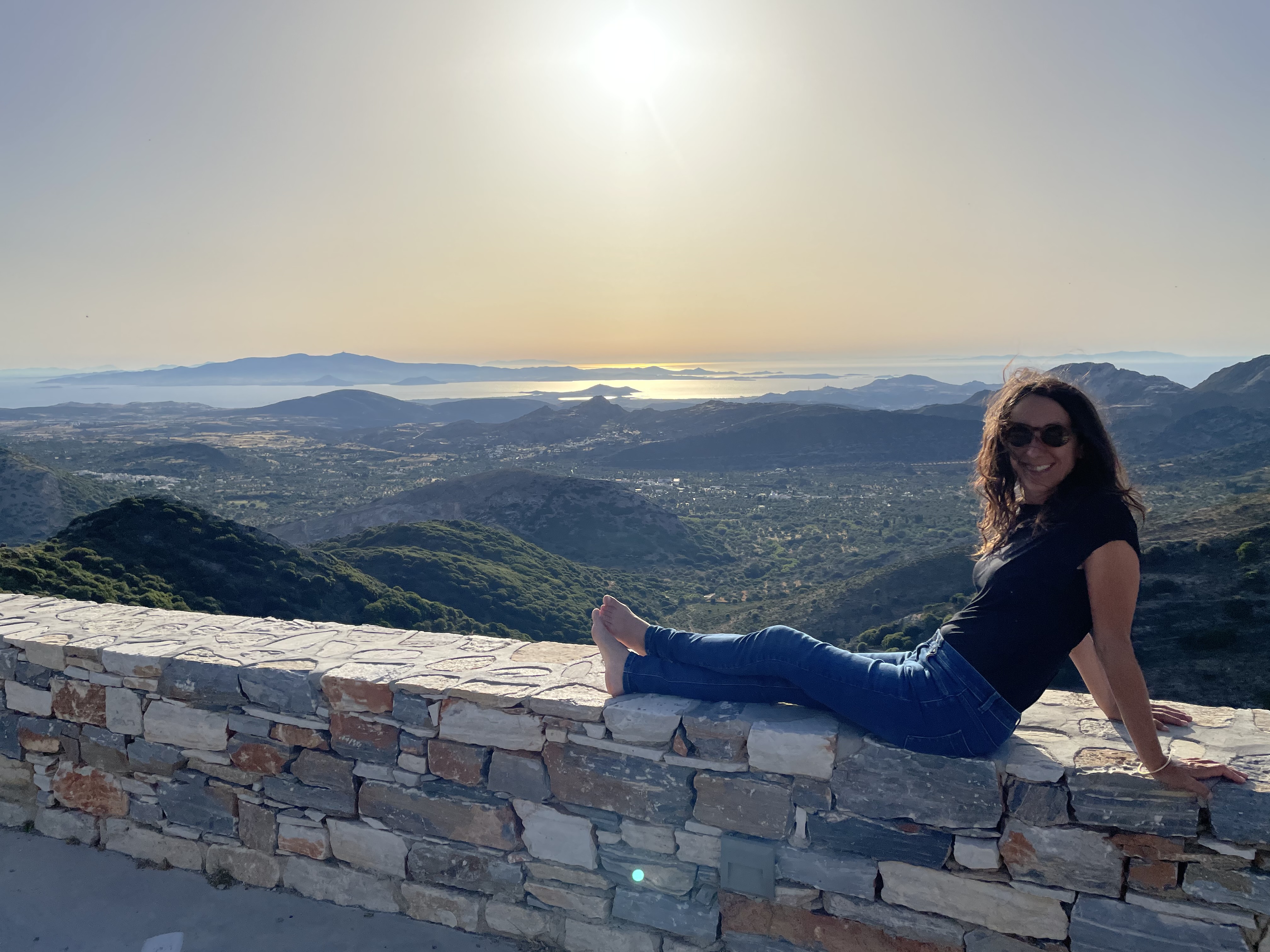 What does Greece mean to you?
Before coming to Paros, Greece was like an unreachable dream with crystal blue waters and white houses. I can't believe we live here now.
Now I would say that it mostly remains unexplored still but Paros means home, a place far from the craziness of the world, where we can live a simple life.
The next trip you are currently planning is…
Just to see my sister in Barcelona, my mum and some trees in the Pyrenées and Montpellier to see my old friends.
But I'm tempted to plan a trip to Ikaria, where we also have friends living.
Which book and/or movie would you recommend reading/watching to get inspired?
Now I'm reading an amazing book about soil with the title "Le sol, la terre et les champs – Pour retrouver une agriculture saine". I'm not sure if it's available in English. It's from two researchers called Claude et Lydia Bourguignon. They also have lots of youtube videos.
I recommend Zero waste home by Bea Johson; it's very practical. Also, if you want to learn more about Permaculture, I loved Gaia's Garden by Toby Hemenway.
For movies, I love the French documentary called "Demain" (tomorrow) about the environmental challenges we are facing and the solutions that exist. I like that it is super uplifting and not depressing like most of the other documentaries about the environment.
Do you have any favourite podcasts/Instagram accounts/ YouTubers that you love to follow and be inspired?
Even though I'm on a break from social media for a month now, I have found lots of inspiring people online. First, I would say Lindsay Miles – Treading my own path, I love how thorough she is with her research and in-depth articles. I also love the Zero Waste chef. I think she is very cool.
If you had a magical wand, what would you change in the world today?
Mmmm…. I think capitalism! I would change the whole way our economy and society are built on.
What makes you happy?
To have time to sleep and spend time in nature doing nothing. To slow down and be healthy.
Do you want to share with us the new, exciting things you told me you are currently planning?
Yes! Where to start! We have bought land on the island, and we have started planting trees, putting seeds, etc.
The plan is to create an inspiring example of a beautiful, food-rich, biodiverse, carbon-positive Cycladic food forest, using regenerative techniques (I know it sounds intense!). For this, we work with our friend mentioned earlier, Elena Symeonidou, who is an experienced and very knowledgeable Permaculture designer. At the same time, we are also building a Passive House, an energy-efficient house, with as many natural & locally sourced materials as possible, also with an amazing team!
And in the process, we want to minimise our waste as much as we can or find solutions to recycle/upcycle it.
By doing this, we hope to create a living example of sustainable living, by sharing all the helpful details, including what has been difficult, impossible but also our wins, on our webpage, but also in person for those who want to visit.
For that, we are in discussion with the Living Building Challenge certification to be a case study for Greece using the Core Green guidelines.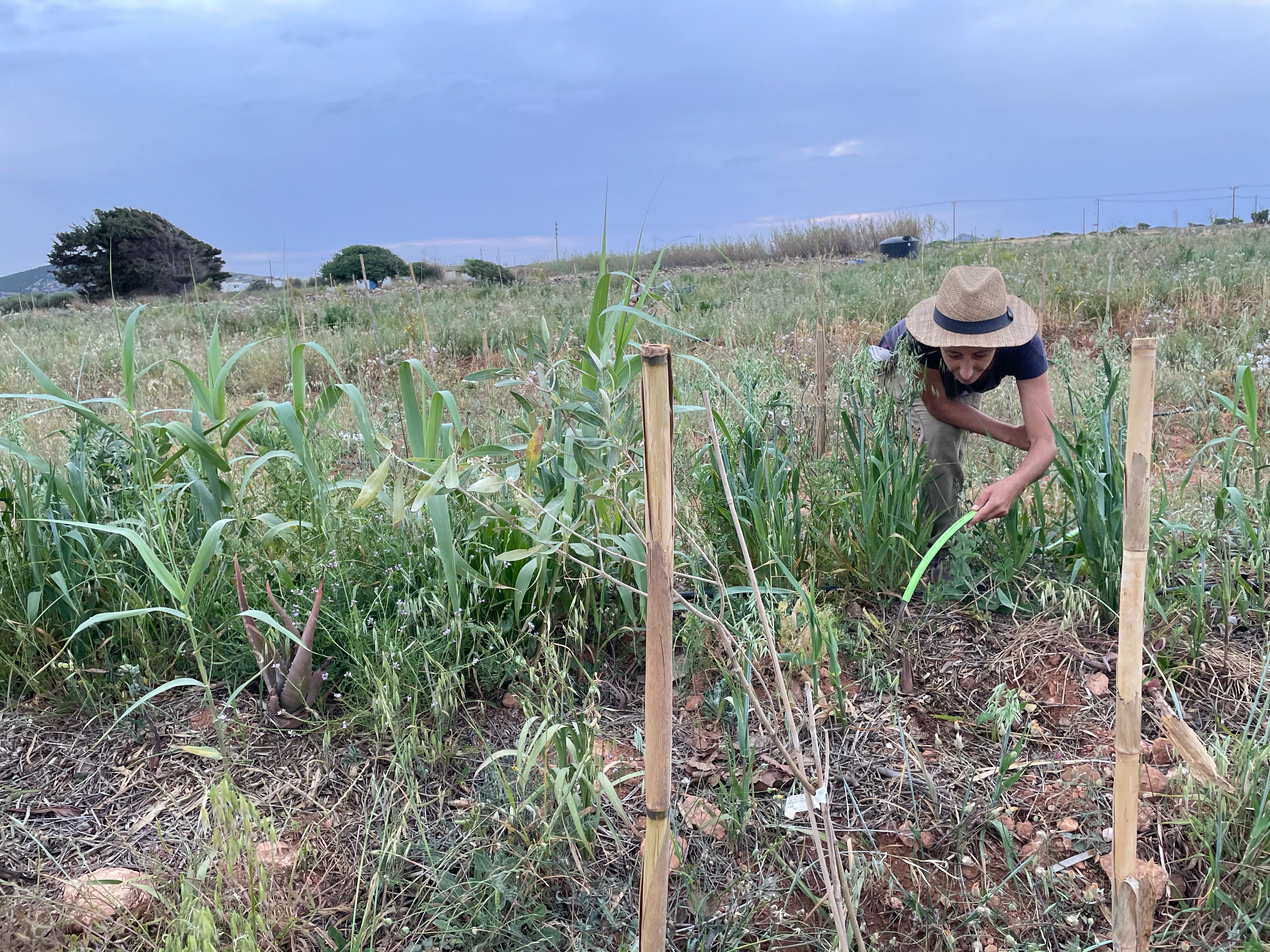 Thank you so much, dear Stella, for this interview!
*All the photos for this article have been kindly provided by Stella Cervello
* In August 2021, Stella quit her job at Clean Blue Paros to focus on her dream project: along with her partner, Thomas, they are now building a Passive House with natural materials and creating a food forest around it.
Check Stella's website, Sustainable Living Paros 
Connect with Stella on social media:
Instagram
Facebook
Read more articles here:
Travel & food guide to Sithonia, Halkidiki 
Inspiration – Veronica Palaiokrassa, the Miracle Morning Experience Greek Ambassador 
Where to find Greek products in Switzerland