What's the first thing you do while you are about to start packing for your next trip with your baby or your toddler? Where do you even start? It can be overwhelming, especially when you begin travelling with your baby.
That's why I compiled a mummy and baby/toddler travel checklist right after our first trips as a family of 3. It makes packing time so much more fun and almost effortless!
You can find my mummy and baby/toddler travel checklist here. 
In this blog post, I share with you everything that's included in this checklist and I hope you will find it useful as well.
Let's start!
WEATHER
All year round. You will find a separate category for summer-only and winter-only trips and what you should add to the basic list.
DURATION OF THE TRIP
One week. That's the maximum I plan for even when we are travelling for a month, as you can always wash your clothes if needed.
CLOTHES & SHOES
It really depends on where and when you are travelling and how is the climate in your final destination but overall, I like to pack bodysuits (both long-sleeve and short-sleeve ones) and cardigans which are very flexible. Then, I get 3 outfits which I know we are consistently wearing at the specific period (I avoid packing clothes that Marios has never worn before because I am not sure if it will fit and whether he will like it or not. Yes, he already has an opinion on his outfits!).
A jacket, light or warm depending on the season, is always on the list as well. Sometimes I choose to take this lovely raincoat with us (even though I am more excited about it than Marios is) and if it's winter time I make sure to get one extra lightweight jacket with us, just in case. These Patagonia baby jackets are our favourites because they are super comfortable, lightweight and match with our own Patagonia jackets.
I also like to pack a bath towel (but this is optional as you will most probably find one at your destination) and a baby changing mat.
For babies, you should also pack a few bibs and burp clothes.
Sleeping
For night time I pack 2 or 3 pairs of pyjamas which I combine with a bodysuit, depending on the temperature. I also get a little blanket which usually comes handy on the road as well, either on the plane or on the car. When he was younger, we used a sleeping bag which is super easy and you are sure that he/she is warm enough during the night. Plus, it's very comforting for the baby. This one has been my favourite so far.
Shoes
Two pairs of shoes are what I usually take with me but I always make sure to take the ones we mostly use at any given period. This changes so fast as his feet are growing day by day so make sure it still fits and you have used it recently. This is not a good time to experiment with a new pair of shoes. Even when it's summertime and we are heading for vacation by the beach, I make sure to have one pair of kids' trainers as they are the best if he is energetic like mine and wants to bike for example or to play football (well, unless he is playing on the beach).
Summer Vacation
If you are heading to the beach or any kind of summer vacation (lucky you!), you must pack a sun protective swimwear like these ones and a hat like this one.h
Sunglasses is also a good idea although not all kids will be happy to wear them. Usually, I also pack a few swim diapers for the first days until we get to a local supermarket and buy some more.
Winter vacation
Are you heading to the mountains to enjoy the snow? Then one extra winter jacket, or better a combi which will keep him/her warm, two beanies, a scarf and gloves should be on that list of yours as well.
BABY/TODDLER TOILETRIES
Toothbrush and toothpaste
These are one of the first to go inside the kit. Since I want to use specific toothpaste for him, I make sure to get enough for the trip.
I love this Greek brand Frezyderm Sensiteeth first toothpaste.
Vanity kit
Nail clippers, a thermometer for the bath and room temperature (I use this Philips Avent one since he was born) and an electronic thermometer for kids are among the essentials. This Braun thermoscan ear thermometer is very practical.
Hairbrush, shower gel & shampoo, diaper rash cream, moisturising lotion go in as well. Whenever possible, I like to take small quantities with me.
First aid kit
Any kind of pain reliever you might use should be included in this first aid kit. I also have a buttercream for bumps (we do get a lot of them nowadays), Arnica caramels prescribed by our paediatrician for the same reason, children's bandage with cartoon designs, a small bottle of antiseptic Betadine, a few pads and serum for the nose. I also used to take a teething gel and a nose aspirator, just in case.
Make sure you also pack any vitamins or medications you might be taking For example, in Switzerland all kids take Vitamin D until the age of 3 so I make sure to pack this little bottle as well.
Sunscreen and bug spray
You know which brand of sunscreen and bug spray you want to use on your baby, so make sure to take them with you as it's not certain whether you will find these brands at your final destination. Though I am pretty sure that nowadays you can find equally good brands almost anywhere you go.
Various
A few diapers, enough to last for the first 1-2 days and baby wipes is what I like to pack. Once there, make sure to locate a store where you can get more diapers and other baby products you might need to use.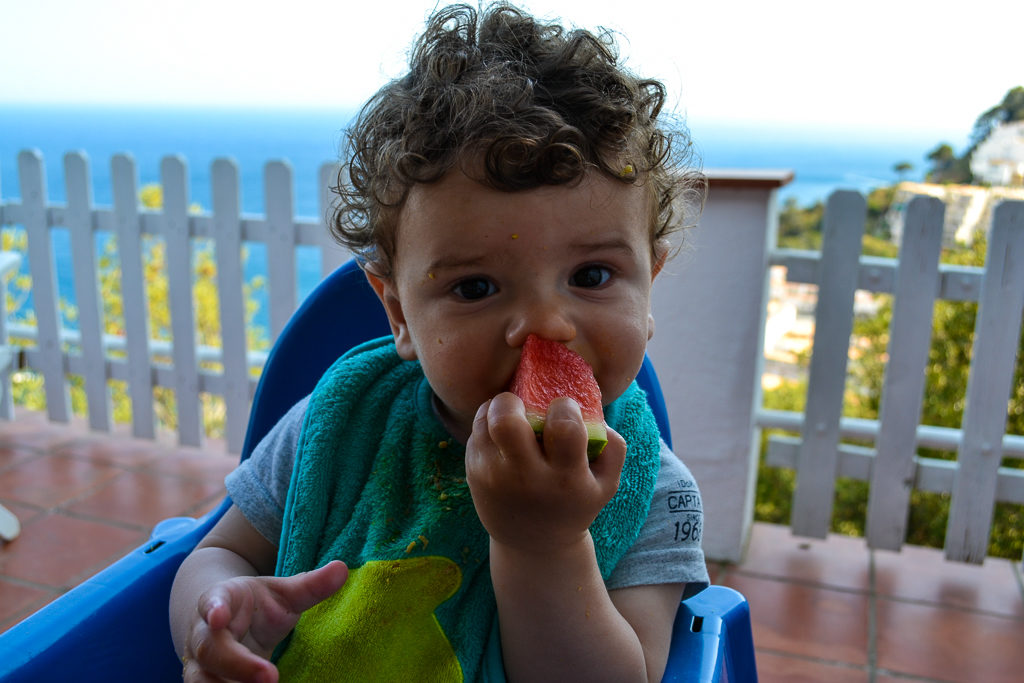 EATING
When it comes to food, what will you pack varies on the stage you are currently at. Below you'll find a list of ideas, some of which will be relevant to you so you can mix and match!
Formula milk and thermos
Choosing a formula for your baby is so important that you definitely don't want to risk not having enough. You should pack the amount you need for the entire trip especially if your baby has any kind of intolerances. We used the brand Hipp since Marios was born (I did breastfeed him until 6 months old but he also had formula on top) and were satisfied with it.
When we travelled for one month in Canada and was tricky to get so much formula with me, I did research online about where I could find the specific brand at our destination. If it's not available or you cannot locate any store selling it via your web search, you could also consider checking on Amazon if it is available and whether they can deliver on your desired destination.
When we were still using formula, I always travelled with a thermos so that I could have warm water with me. It has never been a problem at the airports as they normally let you have with you whatever you need for the baby, after checking it thoroughly.
Breast pump and milk storage
Medela is the brand I used for the first few weeks I was breastfeeding Marios and this Medela Single electric breast pumpis quite easy to pack for travelling.
Milk bottles
We still use bottles and what I do is take two of them with me, a glass one and a plastic one. Philips Avent is the brand we use and I am loving it.
Thermos and food container for food
There is a transition period (usually about 6-12 months) when you also start feeding your baby solid foods. That's when a little food thermos will become useful for when you are out and about. We used this Skip Hop Zoo Stainless Food Jar.
There are so many available in the market but make sure you pick one that has sufficient space for your baby. Food containers for extra food like these ones will be very practical as well.
Plate and cutlery
Small details like his favourite plate and cutlery go a long way for your baby or toddler when travelling. Plus, you won't have to worry about finding kids-friendly plates and cutleries when you are eating out. This said, it's completely optional and you could definitely skip packing these items. 
Water bottle
We've had several water bottles tried out but this NUK one for babies and this type for toddlers were the best for us. I've always tried to have a large quantity of water with me for Marios as he drinks a lot.
Baby food and snacks
Do you think it's tricky finding healthy food while on the road? Now imagine having a baby or toddler with you!
Having a hungry baby/toddler is not a good scenario so make sure to cook a travel-friendly meal in advance and pack it nicely. Snacks are also vital to keep him/her distracted and happy for a while longer. Our favourite snacks are fruits (blueberries, bananas, anything that is easy to eat), cookies, bread, dates (although they can get quite messy). Do avoid chocolate and sugary snacks while on the road – you are trying to tame that energy ball of yours, not fuel it even more. For babies, this type of organic fruit gels was also some of our favourites snacks.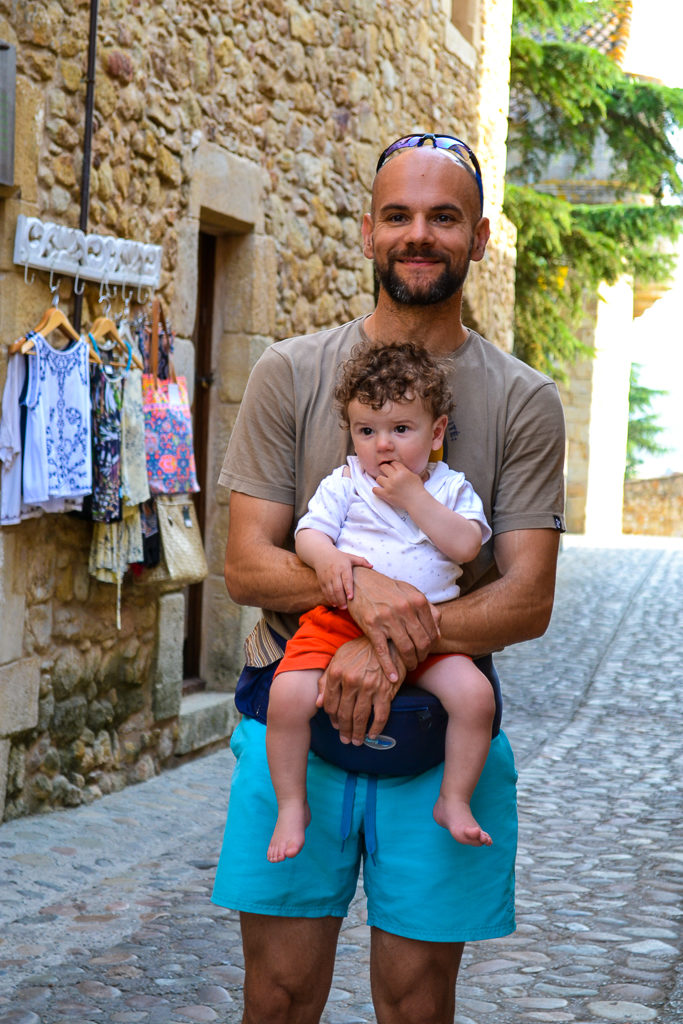 BABY GEAR AND MORE
Travel baby seat
It might be taking up a lot of space but I have only recently stopped packing our travel baby seat. We got this baby booster seat as a gift and it was one of the most practical gifts we have ever received. It can fit in any chair and makes your life easier.
Look how cute this one is and it also comes with a placemat!
Stroller
Is it essential? Well, it depends on your needs I would say. For me, it was, because Marios was quite a big baby and it wasn't easy to carry him around on a baby sling for a long time. That's why our stroller would be my number one choice, plus it was great when we were out exploring and he wanted to have a nap. We took a Chicco Liteway stroller like this one with us from Montreal to Spain and Greece and while it's a quite good one I would have preferred something lighter and easier to handle like this one.
Baby Carrier or Sling
Do you prefer carrying your baby on a baby sling? Then you should be packing it for sure. We had received a baby carrier hip seat similar to this one as a gift and took it with me in our first trips.
Baby monitor and night light
We have been using this simple Philips Avent baby monitor which also has a night light and lullabies since Marios was born and I always take it with me on our travels because I feel it gives him a sense of familiarity to any new place we visit. To be honest, I often think that this must be more comforting for me than him but hey, he looks happy when I put it on!
Sheets and blanket
Totally optional as you will most likely find sheets and blankets at your destination, but I like to take with me at least one sheet and a blanket (either a light one or a warmer one depending on the season). In fact, I always have a blanket with me on the car or on the plane and it has been very practical so far.
Potty chair
Marios is not potty trained yet but we definitely plan to go on this adventure when we are at our home for a few weeks. I believe it's much easier in many ways. But if for some reason you are in the potty-training process and need to travel, this travel potty chair might be useful.
Toys/books
Be as brutal as you can when it comes to packing toys and books for travelling. Babies and toddlers can play with practically everything and it would be sufficient to have only a few toys with you and 1-2 books to read and keep him/her entertained during the trip and at your destination. This Fjällräven Kånken Mini Rucksack, also received as a gift, is what I use nowadays to pack a few of Marios' toys (mostly cars) and 1-2 of our favourite books. I also take at least one book with stickers with me as it's a great way to entertain him when needed.
Car seat
The car seat we have been using for Marios since he was about 6 months old is the Recaro Hero. It's perfect for our road trips as he can sleep very nicely.
If we had to carry a car seat with us on a plane trip, I would first check if it was possible to have something available on our final destination (maybe rent it from the car company or someone local). If this would not be possible, then I would probably select a light car to take with us.
Portable crib
We have never taken a portable crib with us because it was always provided at our destination. I highly recommend you do the same and have a crib planned for you where you are staying. If that's not possible or you decide to carry your own for whatever reason, this portable crib seems like an excellent choice.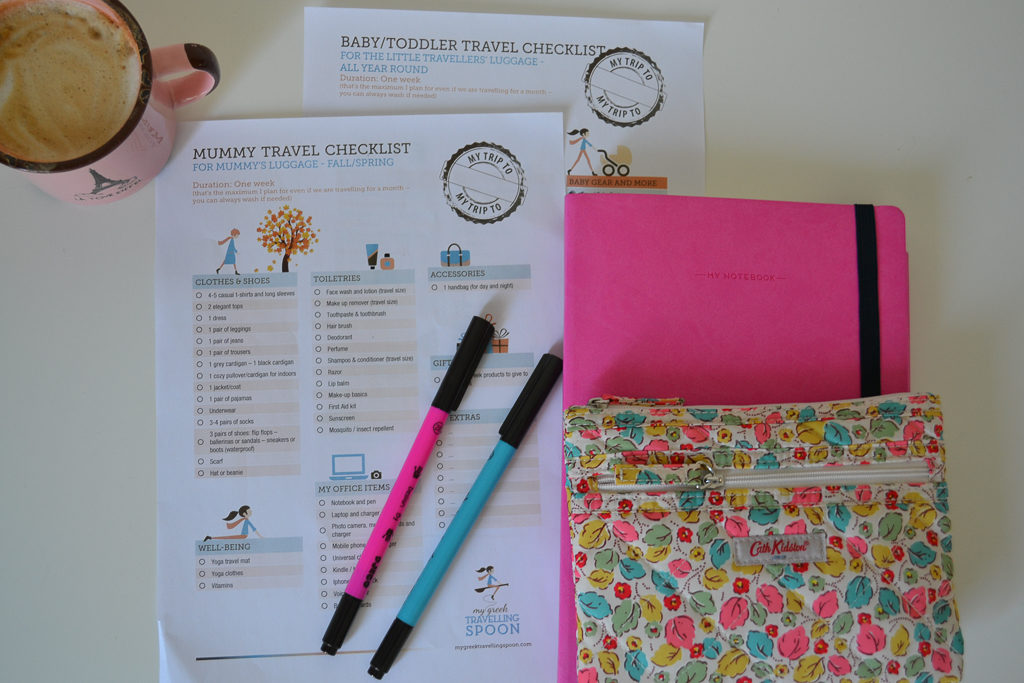 And that's pretty much all you need to consider when packing for a trip with a baby or a toddler. Not very easy to travel light anymore, right?
Every single time I need to pack Marios' luggage (and now Stefanos' luggage as well), I use my baby/toddler travel checklist which includes all of the above on one page so I can tick off every item that goes in and quickly finish packing. In fact, lately, I have been using a timer as well for 30 minutes and I try to stay focused and finish within this period of time.
And I've also created a mummy travel checklist for my own luggage which I find very useful as well.
You can find my mummy and baby/toddler travel checklist here. 
I hope you will find these tips helpful while packing your baby/toddler's luggage for your next trip!
If you know of another mummy who would find this blog post helpful, please consider sharing this link with her.
Note: All the links included in this blog post are for your reference only.