Sunday in Switzerland is a special day. It is considered to be a day dedicated to family time, taking care of yourself, outdoor activities; anything but work-related. That's the reason why most of the restaurants and cafés are also closed on this day.
Living in Switzerland for almost 7 years now, it took us quite a while to adapt to the Swiss Sunday lifestyle but I must admit that I have begun to like it. When visiting the country, and more specifically Lausanne, being aware of this peculiarity will help you enjoy your Sunday in the best possible way. You just need to prepare a bit in advance so that you know where to go and what to do.
That's why I thought that a "Lausanne Sunday guide" will be quite useful, so here are some ideas. Pick the ones you fancy for your own, personalized itinerary:
Picnic at the park
Both locals and expats love going on a picnic and especially on Sundays or on holidays when the weather is sunny and warm, you will find it difficult to find some space for your picnic blanket. Some of my favorite spots are:
By the lake: Park Vidy, Lutry, Pully, Saint Sulpice, Ouchy
In the city: Park Mon Repos, Park Montbenon, Park Milan and Botanical Gardens
Close to the city: Lavaux vineyards
Your picnic bag: visit the Saturday morning market in Lausanne to get everything you will need for your Sunday picnic. If you can't make it to the market, just go to the nearest super market. What to pick?
Local cheeses such as Gruyere, Appenzeller, Emmentaler and Tête de Moine
Dried meat
An artisanal baguette
Local Swiss wine – the white variety of Chasselas is the king of the Lavaux wine region
Beers from local microbreweries such as Dr. Gabs, BFM, Trois Dames, 523 and many more.
Fruits and artisanal chocolate bars for dessert.
Sneak in there also a book, a board or card game, beach raquettes, your swimming suit and a towel if you are going to the lake, sunscreen, sunglasses and anything else you might fancy. I would personally also grab a notebook with a pen because writing outside is very liberating and inspiring.
Lake cruise
One of the loveliest experiences you can have as the views are magnificent. There are various itineraries to choose from and you could stop at the popular Château de Chillon (www.chillon.ch) next to Montreux but also to the neighboring French cities of Evian and Yvoire. Personally, I would skip Evian and go directly to Yvoire, a tiny medieval village bursting with flowers where you can spend a few leisure hours taking photos and enjoying life. Here is where you go to book tickets or check more info about the lake cruises – http://www.cgn.ch
Brunch time
It might sound cliché but if you like food, then you like brunch as well. The restaurants that are open and offer Sunday brunch are usually booked so if this is an option you might consider, do book your table in advance – although it's always worth trying the last minute as well.
Museums and the Cathedral
Boring, I hear you saying. I mostly agree but some of them can be pretty interesting. Most of the city's museums are open on Sundays so if you want to visit any of them, do so on a Sunday. La Collection de l'Art Brut showcasing art from self-taught and unconventional creators is one of a kind (www.artbrut.ch). The Olympic Museum is also worthwhile, Lausanne being the "Olympic Capital" as the International Olympic Committee has been based here thanks to Pierre de Coubertin. The museum, found on a privileged location next to the lake and with breathtaking views, has been recently renovated and there is now tons of multimedia complementing the permanent and temporary exhibitions; there is also an interactive section where you can try out yourself some activities. (www.olympic.org )
The Cathedral is also one of the city's highlights, which you should visit, if not to admire its architecture and impressive organ, then definitely for the unhindered views from its courtyard. Sunset here is mesmerizing.
Ride a bike
Swiss people are very proud of using their bikes which offer an alternative, environmentally friendly choice to move around. That's a perfect excuse to ride a bike as well. Unless you are perfectly fit or have an electric bike, you probably want to avoid biking around the town because Lausanne is ruthlessly hilly. Stay by the lake and follow the flat routes around this area with some charming villages and beaches to discover along the way. Otherwise, take the bus or metro when going uphill (bikes are welcome on public transport but you have to pay extra).
Bellerive Swimming pool and plage
It's huge, it's green, it's by the lake and you can spend a whole day sunbathing, swimming in the lake or at the swimming pool and just chilling out. The queues, especially on a Sunday, can get long but it's worth the wait. Pick a spot on the grass, under a shaded tree perhaps, rent a sun lounger, and put on your swimming suit in the dressing rooms to dive into one of the 3 swimming pools or the lake. The fifty-metre pool is mainly for those who want to exercise; the other two are mostly for fun. There is no music so load your mobile with your favorite music playlists. On the premises, there is also a restaurant and a small snack bar. If you don't mind the crowds and you are dying for a dive, you will like it here.
Bellerive is not the only swimming pool available though. Here is a list of all the swimming pools in Lausanne – http://www.lausanne.ch/en/thematiques/sport-et-olympisme/installations-sportives/piscines-plein-air/bellerive/bellerive-info-pratique.html
Hiking
If not in the Alps, then where? Don't worry, it's not obligatory to climb the highest peaks and there are countless hiking options with all levels of difficulties. Take the train, head to the nearby mountains and start walking. Just next to Lausanne, a ten-minute train ride, it's certainly worth it to walk among the out-of-this-world Lavaux vineyards no matter the season. (www.lavaux-unesco.ch). During the summertime, you could also board the small touristic train that guides you around the area. (www.lavauxexpress.ch )
Another great alternative is to take the cogwheel train from Montreux to the mountains of Rochers de Naye, with incredible views over the lake and the surrounding area. Then head downwards on foot. Hiking: checked.
Ouchy
Lausanne's main harbor used to be a quiet fishing village but nowadays on a Sunday it's buzzing and it feels like every single Lausannois comes here to spend the day by the lake. For coffee, a glass of wine, a picnic, walking, running or taking the pedalo (paddle boat) and getting into the lake: the choice is yours. Often times there are festivities going on as well which draw even more crowds. The fountains turn into small swimming pools for the kids during the hot, summer days and couples are dancing to the rhythm of tango: magic.
Ice cream, artisanal only.
Near Park Milan, under the train station, the place to go is LOOM which has the most unconventional flavors you have ever tried. The queues can get immensely long on busy days, but hey, that's a good thing. So wait patiently to be served. www.loom-gelateria.ch
In the town center, search for the Italian GeA (Gelateria Artisanale) found in a small, paved alley and read on the chalkboard the day's favorite flavors. Then try to decide what to taste. You can always ask to taste a flavor if you are not sure that you will like it. Last time I picked Nutella with pink smoothie (yoghurt and red fruits) which was yummy, but I also love their dark chocolate sorbet here and the fact that they always have new flavors to try. Never boring. Always top quality. That's what you are paying for. http://geagelateria.ch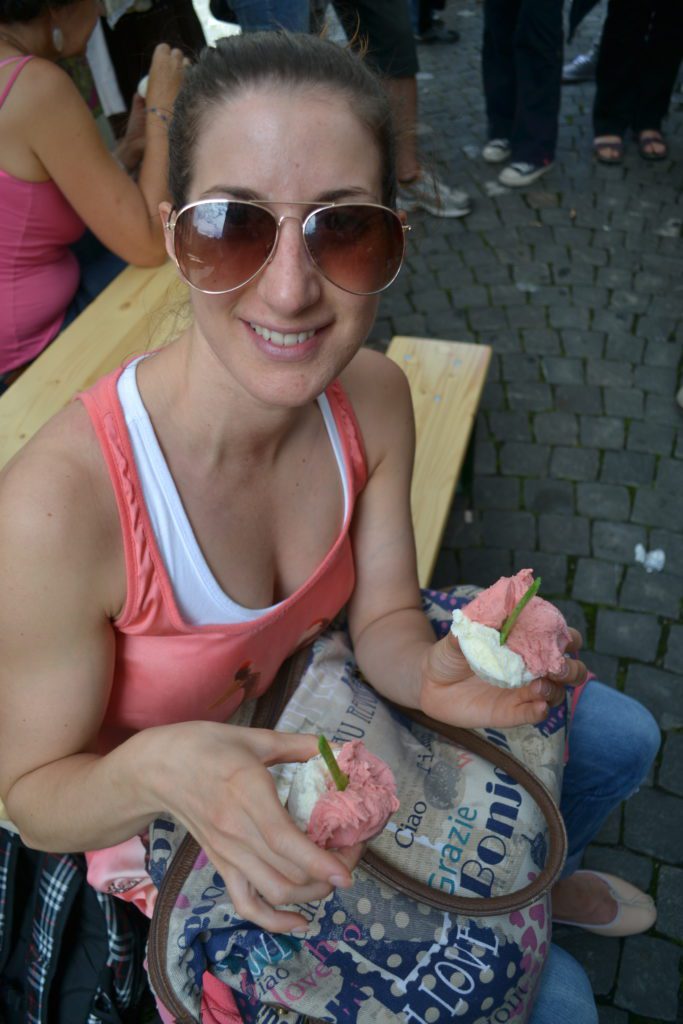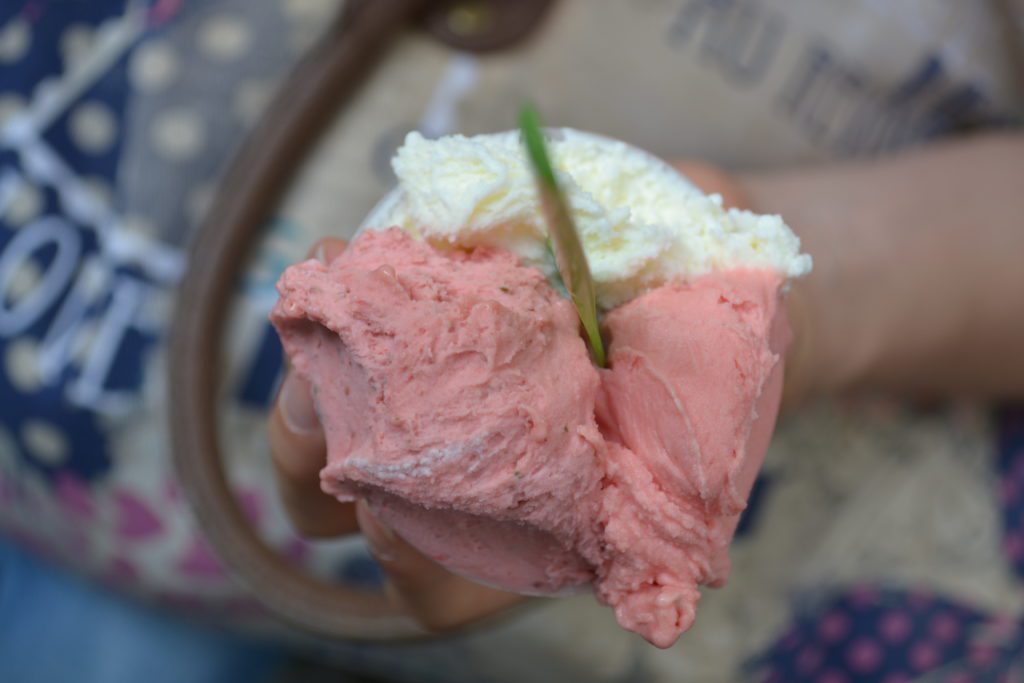 Walk around the city center
On Sundays, it's totally empty. As if the city has been evacuated. The first few times it seemed spooky but you should focus on the positive side: you could, for example, take some great photos and just walk around leisurely. You might even stumble upon a café that is open on Sundays, have a sit and enjoy the stillness.
Have you been to Lausanne on a Sunday lately? How was your experience? Do you have any more tips to add? Leave a comment down below and make this Sunday itinerary more fun!