I've been waiting to write this blog post for so long; read: I've been waiting to take this trip for so long!  We just returned from a long weekend in Paris with our little traveller, Marios, who is now 3.5 years old and can't wait to share everything we did and all the delicious food we ate on this blog post. Are you ready?
Day 1 – Friday
We arrived at Paris – Gare de Lyon by train from Lausanne, a very smooth, 4-hour train ride from the centre of Lausanne to the centre of Paris around 14.00. By metro, we easily reached Meininger hotel at the 12th arrondissement within 20 minutes more or less.
After checking-in, we left our luggage in the room and set out to explore as the day was sunny and gorgeous.
Tip: the hotel offers locker rooms and it would be very convenient if our room wasn't ready and wanted to leave our luggage there for a while.
Searching for late lunch at the 11th arrondissement
There were a few great places I had found already in the 11th arrondissement and most of them seemed to be open until 17.00. We headed to Oberkampf café which combines great coffee and food but unfortunately, the kitchen closes at 15.00 (Mericourt café was our other option but the kitchen also closes by 15.00). Disappointed, we decided to have a quick flat white with oat milk (which was great) and also tried their banana bread and a chocolate cookie with fleur de sel – both yummy.
Oberkampf café is definitely worth checking out but the place is tiny so no question of fitting a stroller in here and it might be tricky to find a place in busy hours.
The neighbourhood had a very pleasant vibe; nearby, we located an interesting Lebanese restaurant, a Greek deli and the French bastards bakery where we ate a baguette to satisfy our hunger. Very modern interior for a bakery and the pastries were screaming our names but we already had our sweet dose for the day.
Afternoon sightseeing: the Eiffel Tower
It might sound cliché but Marios could recognize the Eiffel Tower wherever he would see it lately and he would tell us "look, it's Paris!" with such excitement that we knew we had to take him there, just to show him that it's real, it really exists.
We stopped at the metro station Iena and got to Eiffel Tower from Trocadero: a great place to check out the impressive monument for the first (or the 10th) time and take some nice photos as well. We didn't manage to get any decent photo to be honest as a family of three with the Eiffel tower as a background but that's ok. We were all so excited to be there!
There was only one elevator going up to the 2nd floor at that day and even though initially we thought we would wait, the queue revealed its full spectrum after a few turns and made us change our mind. Queuing for an adult might be difficult but doable; queuing with a toddler is not fun at all. So even though Marios wanted to go up to the tower we suggested we'd rather spend our time and money at a nearby carousel with the best view ever: the Eiffel tower! And we did exactly that. The evening was magical with a glorious sunset and then a full moon which illuminated the sky: the best evening we could ever ask for. At nearby Trocadero, there were so many people staring at the monument, while a street singer added to the scene even more charm
You know what? I didn't think much of the Eiffel Tower before getting a closer look at it; it's truly magical and I cannot explain exactly why. Its grandeur, the unique structure, the lights, the fact that you are in Paris, all of them together? But it's really worth having a look from up close even if you decide not to climb those stairs or take the elevator (which costs about 16 euros per adult by the way).
Dinner on a Friday night:
Pizzeria Popolare was on our plans; the queue outside the place on a Friday night made us change our plans though!
The Internet came to the rescue and directed us to a nearby bistro with good reviews: Tradi. This cute bistro was empty by the time we went there (around 20.00) and luckily there was a table for us. I have to admit that at first, I was anxious because we found a table on a Friday night (will we get poisoned by the food?) but it was a very pleasant surprise. Everything we ordered was impeccable both in looks and in taste. We got a vegetable soup with pumpkin, homemade ravioli with thyme, chicken with roasted potatoes and a dessert with baked apples.
Everything came well-presented and delicious. Marios was exhausted by that time so we did keep him busy by giving him the mobile phone to watch some cartoons but he really liked the chicken with the roasted potatoes.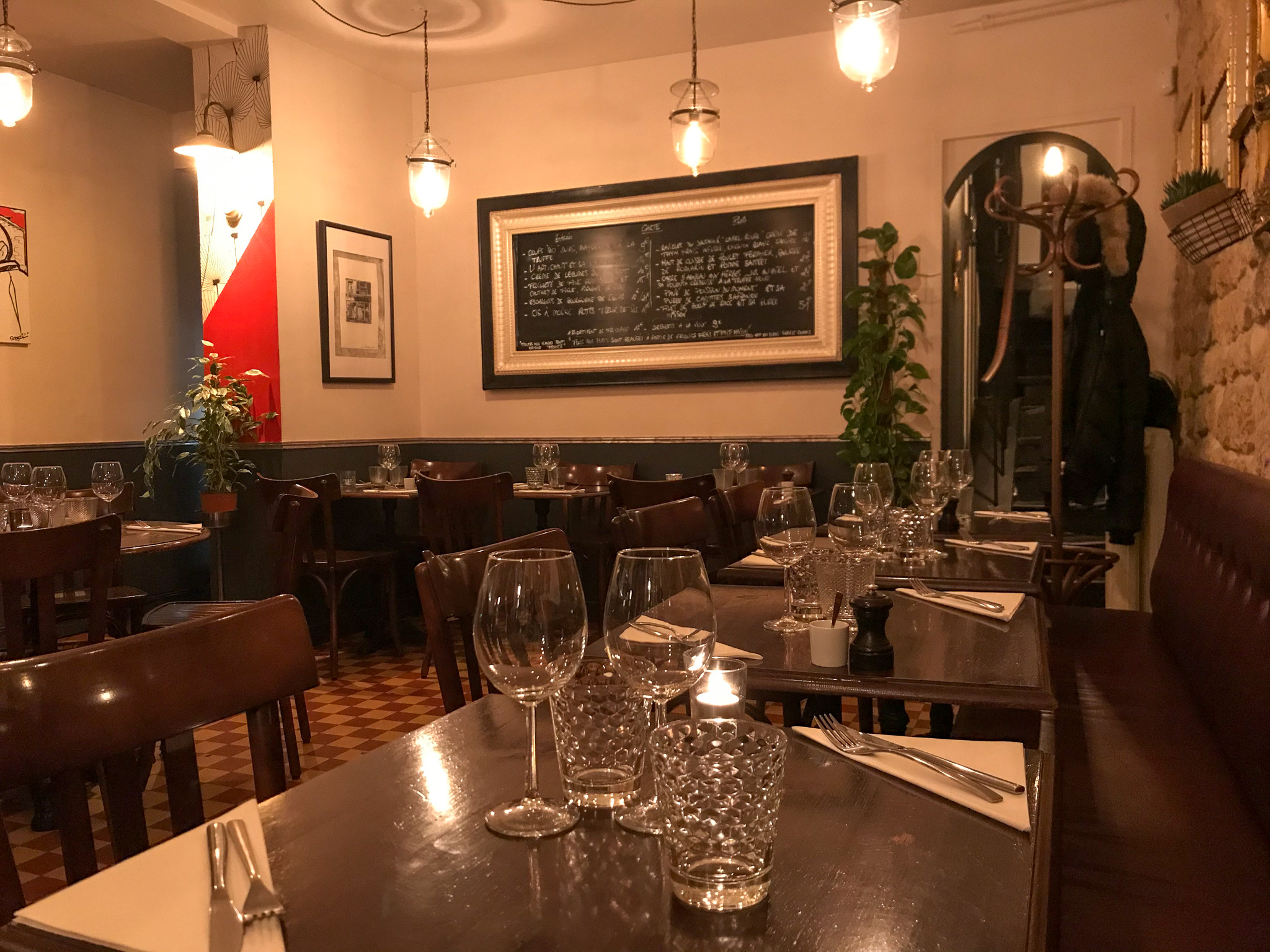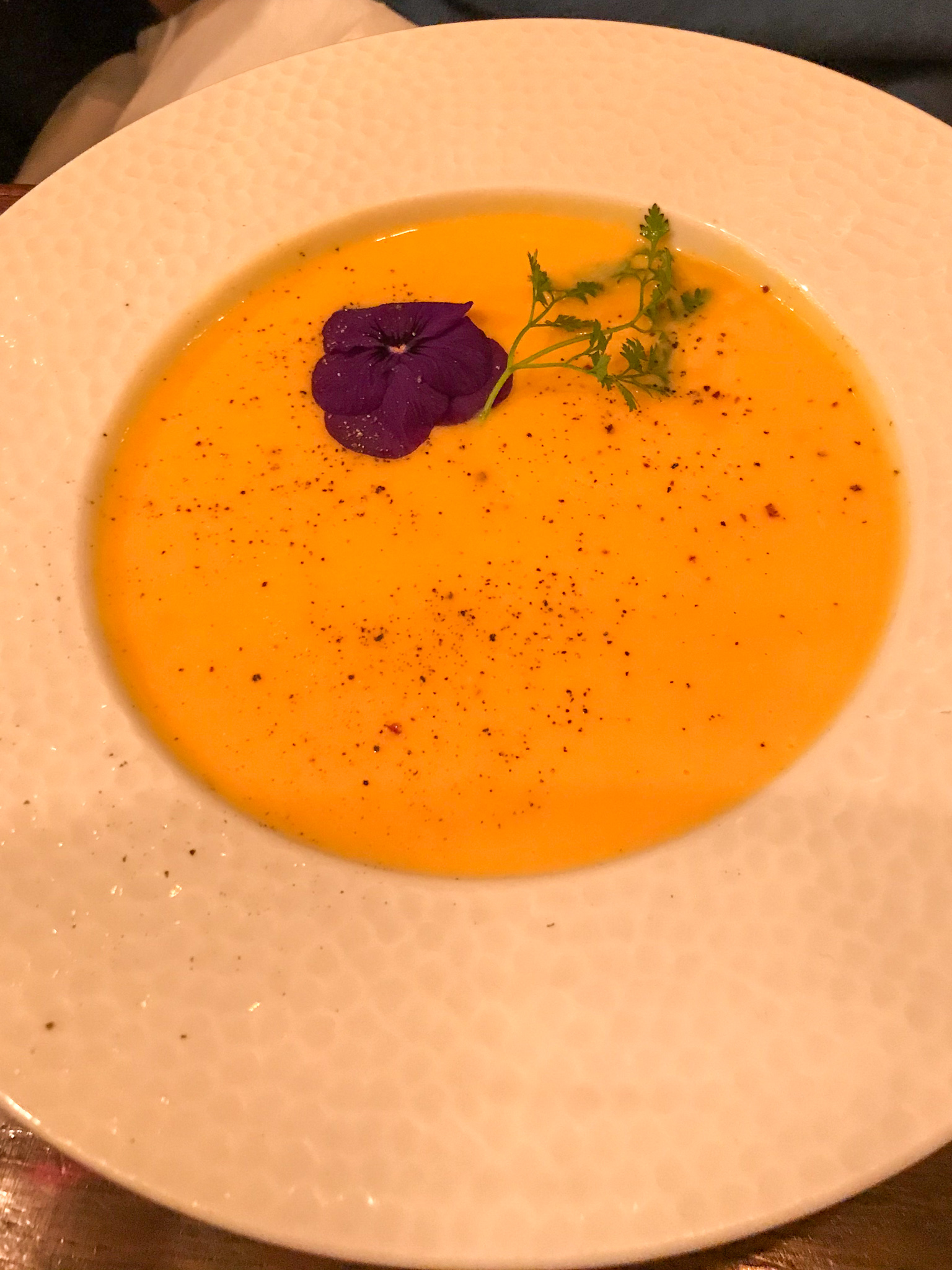 Day 2 – Saturday
Yes, I had thought to reserve at least one table in advance and that was the one, but if you get there at their opening (10.30 on a Saturday) you might be able to get a table – there were two couples in front of us who did exactly that.
Sunday in Soho is a very cute place in the Marais with two floors but not stroller-friendly – in fact, I don't think a stroller could fit in this space at all. We sat on the upper floor where you can also get a glimpse of what's going on in the kitchen – a feature I love about any restaurant.
What we ordered: as it was Saturday, the brunch menu was on offer. I got the Greenback Avocado Toast with scrambled eggs, crumbled feta cheese, confit tomatoes, and marinated cucumbers on sourdough bread; Thanos took the Good Karma Salad with falafel, kale, butternut squash, pumpkin seeds, pomegranate and vinaigrette; we also took the Down Under from their sweet menu for Marios that we ended up sharing: two toasted slices of banana bread topped with ricotta, honey and seasonal fruits. Add to that a Glow smoothie with strawberry, banana, blueberries, apple juice, almond milk and two flat whites with oat milk and you've got a winning breakfast. Everything was delicious and the service, from start to finish, super friendly. Their drink menu also includes "wellness lattes" such as beetroot, golden turmeric or matcha latte, options that I always want to try but find difficult to resist getting my preferred flat white coffee.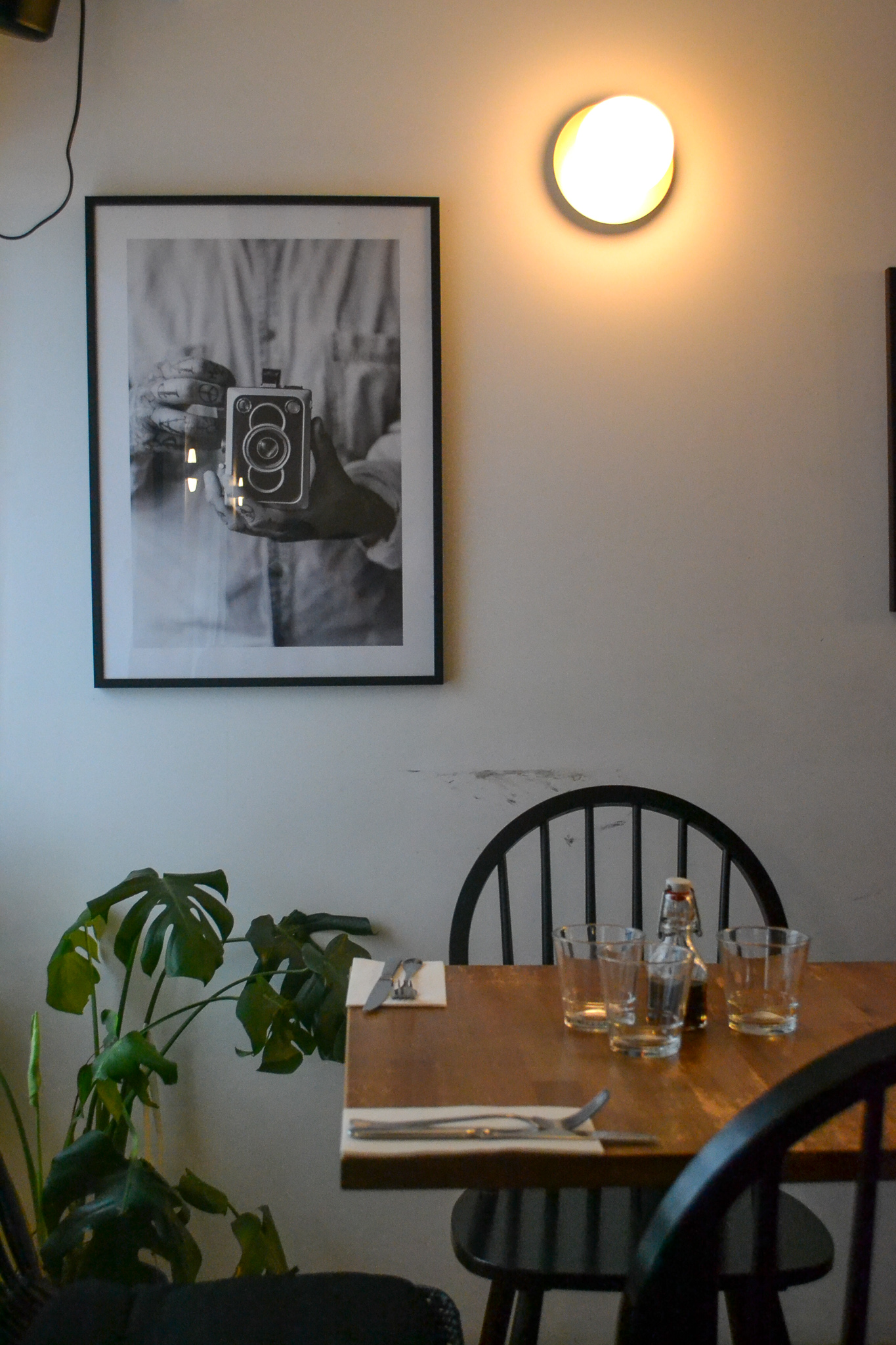 Location: this popular spot is located on the 2nd arrondissement, at the heart of Paris in a location worth exploring on foot. From the metro station "Grands Boulevards" we passed by a lovely arcade, Passage des Panoramas which is "one of the first covered passages in Paris" featuring various and amazing architecture. There, we also located "Arabica", a tiny and gorgeous-looking specialty coffee shop serving freshly roasted coffee.
The 2nd arrondissement is also next to the Marais and you can easily combine exploring this area after the hearty breakfast at "Sunday in Soho".
Centre Pompidou: Saturday morning was cloudy and chilly so we decided to head indoors and explore the Centre Pompidou, the high-tech architecture building where you can find the largest museum for modern art in Europe among many other. Once we sorted tickets and wardrobe we headed to the kid's exhibition; I think their current exhibition was too artistic and abstract for us but the corner where you could draw was lovely. We tried to visit part of the modern art exhibition as well but Marios wasn't impressed but we all enjoyed the views of the city from the upper floors of the building.
Website – https://www.centrepompidou.fr/en
Dinner at Chez Justine, 11th: we were looking for a good place for pizza and this cosy restaurant with the non-stop cuisine seemed like a good choice. It didn't disappoint. The vibe here is very relaxed and as you are waiting for your wood-oven baked pizza you can have a glimpse at what's going on in the kitchen. Apart from the pizza we also ordered a delicious quinoa salad which was a nice surprise on the menu.
Day 3 – Sunday
Breakfast at IMA Cantine, Canal St. Martin: this was one of the areas I really liked from our previous trip to Paris and IMA Cantine seemed to have delicious food so we thought we would try it out. No reservations this time (I am not sure they take any) but we showed up early, around 10.00 and had no trouble finding a table for three.
Once you enter the cantine there is a delicious buffet-like spread on the counter welcoming you in the best way. It's a very easy-going place where you can see all the non-stop action in the kitchen while you are waiting for your breakfast.
What we ordered: yoghurt with granola and berries, the vegan pancakes which were the most delicious pancakes I have ever tried (since visiting, we have tried their recipe back at home already twice), a fresh juice with red fruits and two flat white coffees with oat milk.
We also got cookies and muffins to go as we were full and could not try anything else on the spot. This was our favourite foodie spot discovery this time around.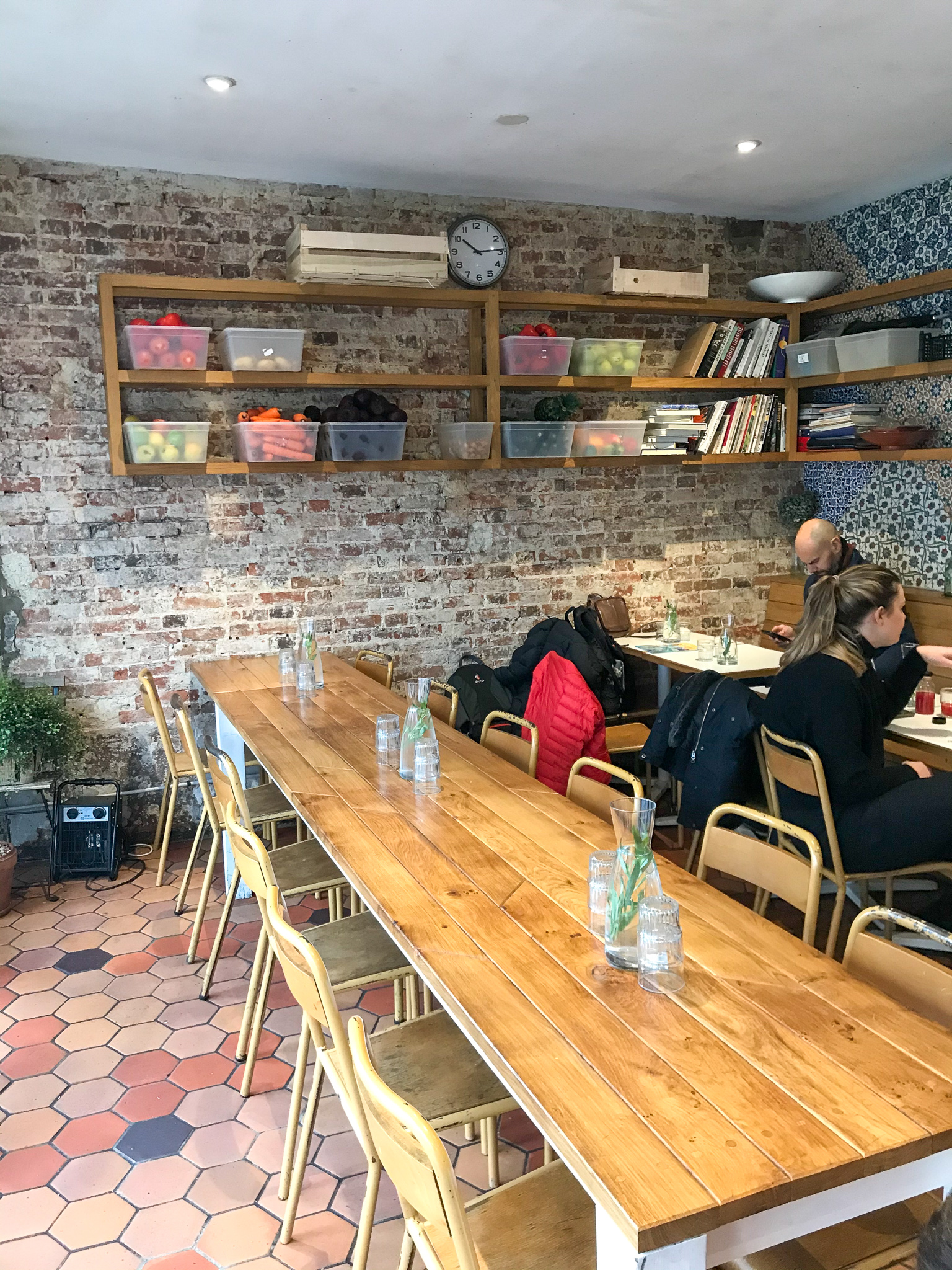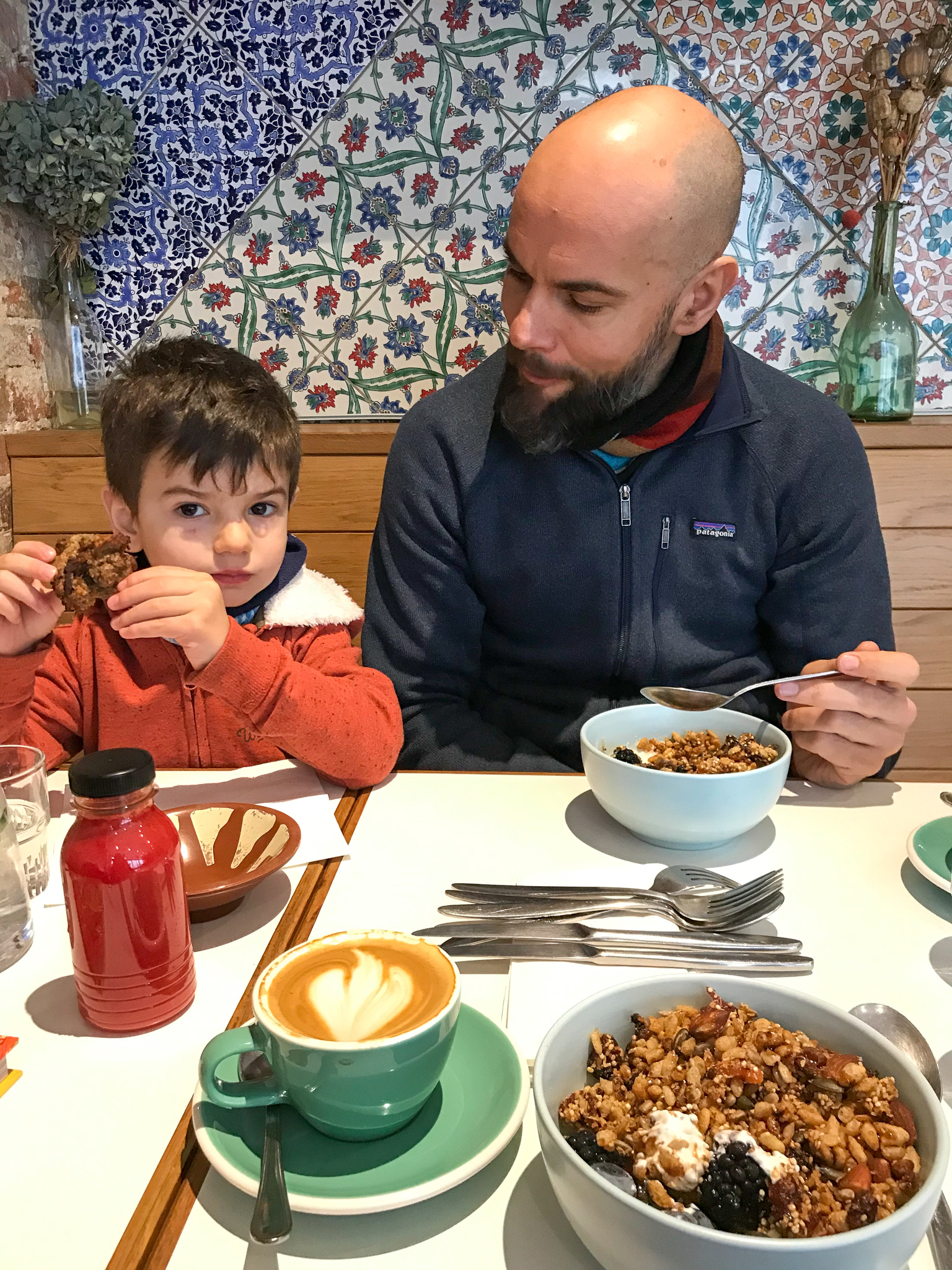 Visit at the City of Science and Industry: the weather was cloudy and chilly again so we explored our indoor options the evening before and came across the kids-friendly City of Science and Industry where they have permanent exhibitions for 2-7 years old and 5-12 years old kids. We booked our tickets online in advance and this was a good choice because they have specific time slots when you can enter these permanent exhibitions. Our group had about 1.5 hours to explore the 2-7 kids' permanent exhibition; we could definitely spend much more time in there. There are different thematic rooms with sensory exploration and games, activities with water, even a building site. It's like the perfect indoor playground.
They even have a temporary exhibition for babies 0-2, a planetarium, an aquarium and much more to explore.
Afternoon: on our last afternoon we decided to head to Marais and booked Breizh Café for dinner, a classic spot for crepes. The place is tiny and I don't think a stroller could somehow fit in here. The sweet crepes were definitely the highlight for us and they have some pretty fancy options to try.
While heading to Breizh Café we found by chance L' Éclair de Genie and bought a small box with 4 mini eclairs that we savoured later when back at our hotel room – they were all divine but I think our favourite was the chocolate one. I regret not having bought a few of their chocolate bars with the cute packaging to try as well.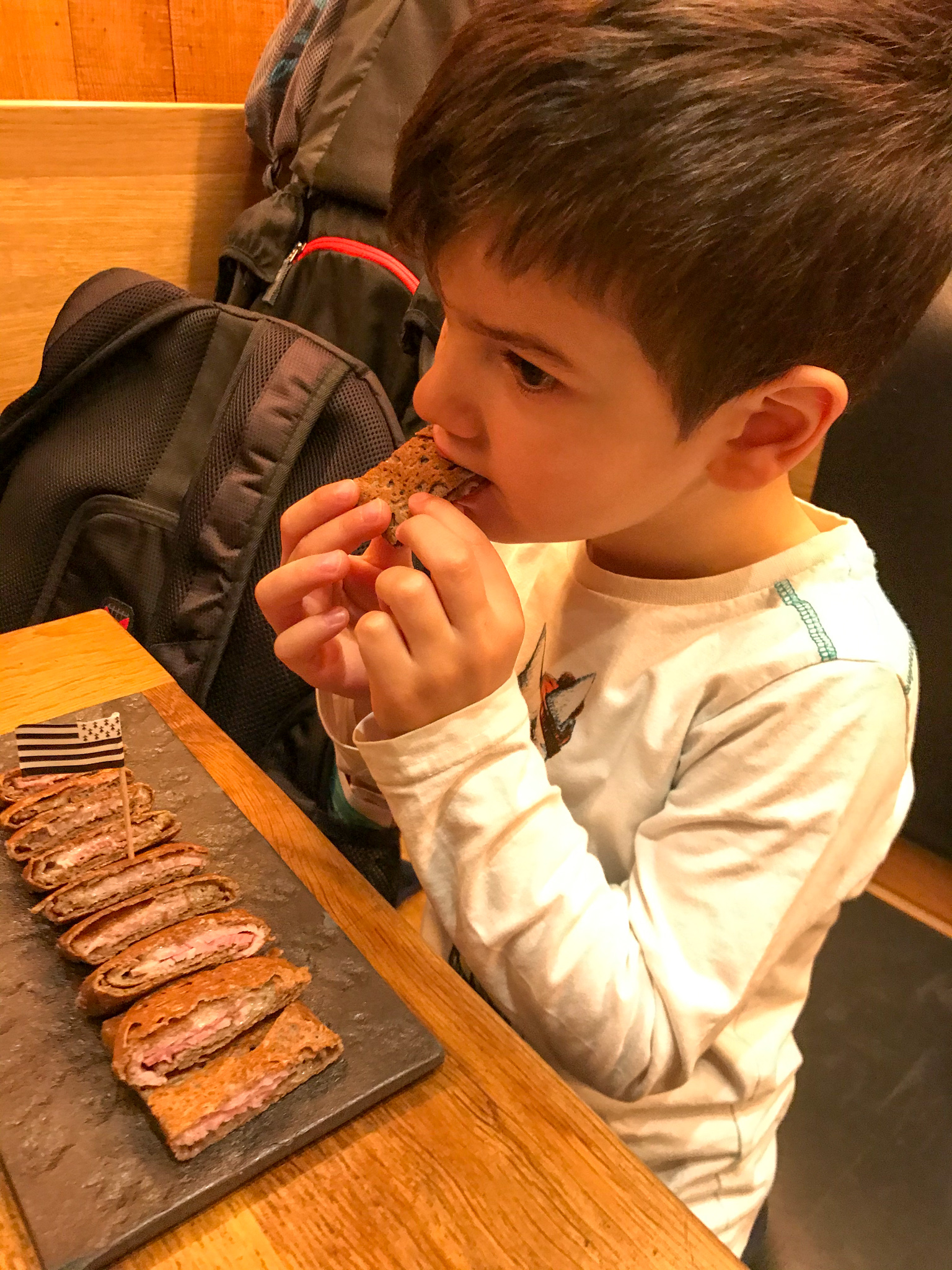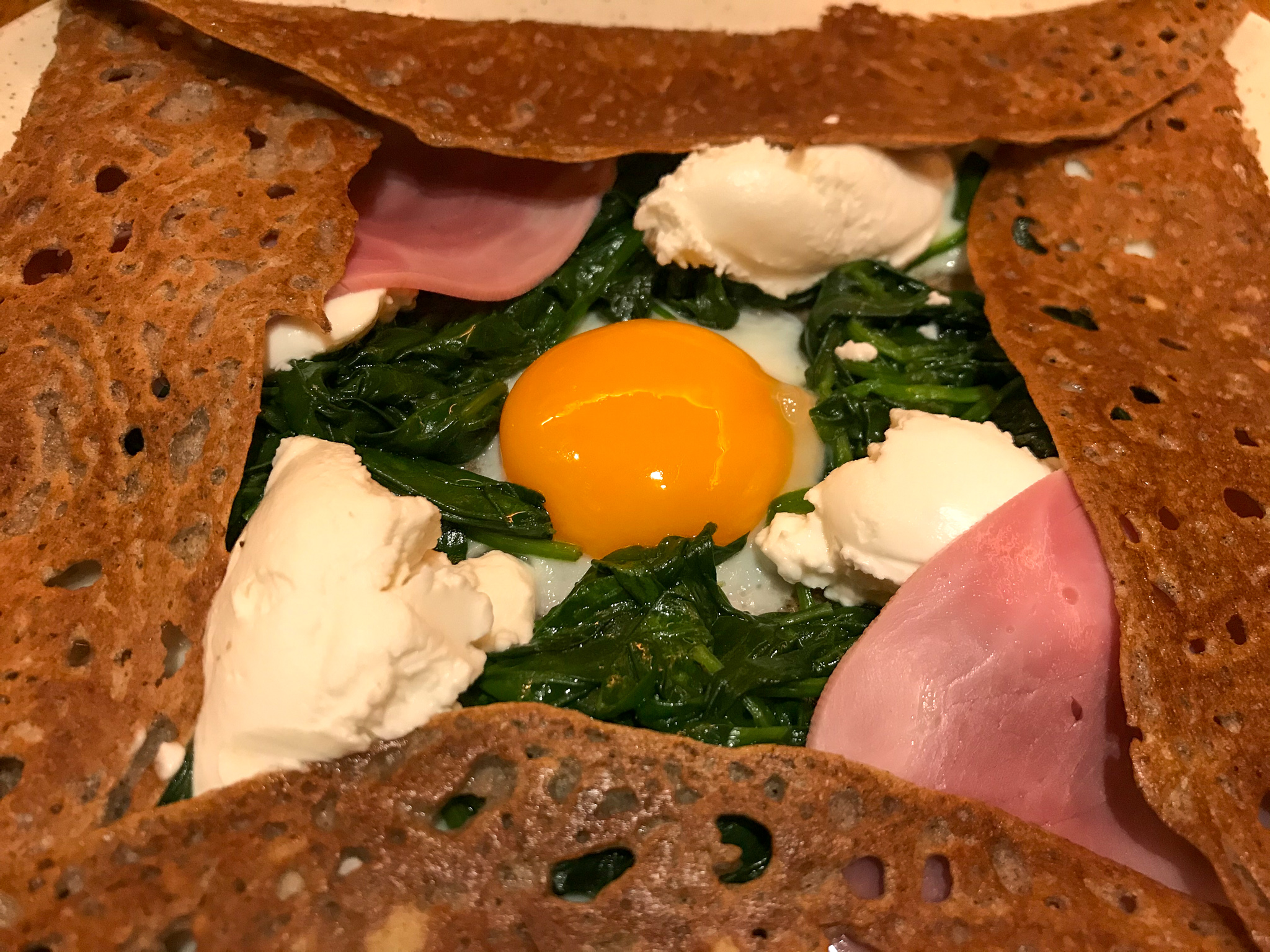 Where we stayed:
Meininger Hotel, 12th: we booked this hotel because of its family-friendly amenities such as the communal areas (kitchen and washing/drying machines that anyone can use) and kids play area (even though it was small, the kids were well entertained and Marios made some new friends as well while there). We tried the buffet breakfast at the hotel on our last day and although we had trouble finding vegan options, our toddler really enjoyed selecting from the buffet whatever he liked. The hotel is located near a metro station (about 10 minutes' walk) and we needed about 30 minutes to reach the main sights of the city.
The room we stayed at was spacious, light and clean. I would say overall this is a great value-for-money hotel option.
MOB Design Boutique hotel –
This cute hotel was also on our radar: it's located at Saint Ouen neighbourhood and I loved the "Master Mob" room which also offers a teepee tent for kids. Plus they have various interesting happenings such as yoga for families and a restaurant serving Mediterranean homemade dishes and pizzas.
Our tips for travelling to Paris with toddlers:
Take a backpack carrier instead of a stroller, if possible: it was very practical that we mainly moved around with a backpack carrier for Marios which was way more versatile and could fit in the tiny places we visited. Plus, we used mostly the metro to move around which is definitely not stroller friendly.
Keep an open plan: might seem obvious but we tend to get frustrated when we have planned to visit a place and then for some reason, it doesn't turn out to be a good idea in the end. You will have much more fun exploring Paris (or any other city) with your toddler if you stay open to changes and be ready to adapt whenever there is a need.
Have a wifi connection: to check opening hours of museums or monuments, restaurants, google maps and transportation options. It will make your life easier.
Stay at a family-friendly hotel or a family-friendly apartment
What we would do differently next time around:
Stay at Marais or Canal St. Martin
Organise a river cruise
Cite des Sciences – we would go back for sure and buy a ticket to see the other exhibitions as well
Kids-friendly Walking tour
Keep in mind opening hours of the kitchen at restaurants (e.g. if the opening hours on their website are 9.00-17.00, it doesn't mean that the kitchen is open until last minute)
Book in advance at restaurants
Carry a light bag with you with the necessary items only
Book activities online and skip the queues (e.g. museum entrance tickets, Eiffel Tower etc)
Other foodie places on my radar:
There were so many! We would need more than a month to check them all out. But here are a few ideas:
For Vegan/vegetarian and healthy restaurants/options:
Wild and the Moon, 3rd – https://www.wildandthemoon.fr/fr/ (many locations around Paris)
Ho-made, 10e.
Café Mareva, 11th, https://www.cafemareva.com
Bob's bake shop, 18th & Bob's Juice Bar, 10th & Bob's Café, 13th http://www.bobsjuicebar.com/addresses.html
Shakespeare And Company The café, 5th – https://shakespeareandcompany.com/51/shakespeare-and-company/463/the-cafe
Mericourt café, 11th, for coffee and breakfast or lunch – https://cafemericourt.com/en
Restaurants, bakeries & Markets
For coffee
Café Loustic, 3rd
Fringe for coffee, 3rd , it also has vegan bowls and tartines, small space
Ten Belles, 10th, http://www.tenbelles.com/
Pastry & Chocolate shops
Bontemps patisserie, 3rd
Popellini, 3rd
Pain de sucre, 3rd
Jacques Genin, 3rd, for the chocolate and the amazing "Paris Brest"
Les petits donuts, 3rd
La Chocolaterie by Cyril Lignac, 11th
Ladurée for legendary macarons and the prettiest gift boxes ever – https://www.laduree.fr/
Fou de Patisserie, 2nd & 9th , http://www.foudepatisserieboutique.fr/
Carl Marletti, 5th, https://www.carlmarletti.com/
Des Gâteaux et du Pain, 7th & 15th , https://www.desgateauxetdupain.com/
My Resources for the Itinerary
Food & Lifestyle Experts
Lindsey Tramuta, travel and culture writer based in Paris and the author of the bestseller book, "The New Paris", which I love. Check her website here and Here is her top 10 list of the city, not necessarily family-friendly though.
Topjaw – YouTube foodie videos
Family-friendly
*Whenever possible, I have also included the arrondissement (neighbourhood) where each place is located, for easy reference.
Visiting Paris during winter with a toddler might be trickier than visiting during summertime, but it's still worth it! What are your favourite family-friendly places in Paris? Leave a comment down below, I would love to know!