Are you ready to visit the city of lights, one of the most popular destinations in the world, for the very first time? Expectations are high, the "must-sees" endless as is advice from friends who have already visited the city. And here you are, trying to prepare a plan: where do you even start? Here are some tested tips to help you stay afloat.
Less is more. Paris is one of those cities that even its residents continue to discover every single day. It's absolutely natural to feel overwhelmed. Take a deep breath and come to terms with the fact that you won't be seeing everything. There is no point stressing out about it; after all, you will be coming back soon.
Use your smartphone as a guide. There are many useful applications that can help you out such as the metro app (search for "Paris Metro"), the google translate app which will quickly boost your French (search for "Google Translate"), various thematic tours (search for "Pocket Guide" among others), a guide to the best pastry/sweet addresses in town compiled by the expert David Lebovitz (search for "Paris Pastry Shops") and even the secret addresses treasured by the locals themselves (search for "My Little Paris").
Book a guided tour: I know, I know, guided tours might sound mainstream and très passé, but if you find the right one, you will be dazzled. And that's a promise. Do yourself a favor and list it as a top priority. Whether you prefer to walk, to ride a bike or the trendiest Segway, to buckle up in a cinematic 2CV or riding a vintage Vespa, you will find it all and so much more. Review sites such as tripadvisor.com give you an overview of the quality of the services and useful feedback from other travellers.
Tried & tested: WEGO walking tour – the charismatic French-Mexican Paul and his team offer a daily tour to key attractions/spots in the city that takes about 3-3.5 hours. This tour is a real eye-opener with the right mix of historical facts, trivia and humorous stories from everyday life in the city – your guide will even take you to the trendiest public toilets of the city center! Highly recommended.
Book that restaurant: Paris has seen a real boom in its bistro scene lately making food o'clock the ultimate, gastronomic experience. Just be prepared. For some places, you need to book weeks in advance, especially for weekends. That's why it pays dividends to do your survey beforehand and book at least one dinner at the restaurant that you fancy. Wendy Lyn has a very informative website "The Paris Kitchen" with useful information, detailed reviews of numerous restaurants and a very practical guide to the best addresses per area.
Tried & tested: Les Papilles, an atmospheric bistro/deli with divine food at the Latin Quarter neighborhood. You won't even have to decide on what to order, as the menu usually is set.
For lunch, you will be more relaxed, but it will be helpful to know 2-3 golden addresses in advance around the area you are visiting. Otherwise, you can always grab a freshly baked baguette from your nearest bakery, a bottle of wine and your favorite cheese from a deli et voila, you are ready to enjoy the most simple yet delicious meal while doing what the locals cherish most: people watching!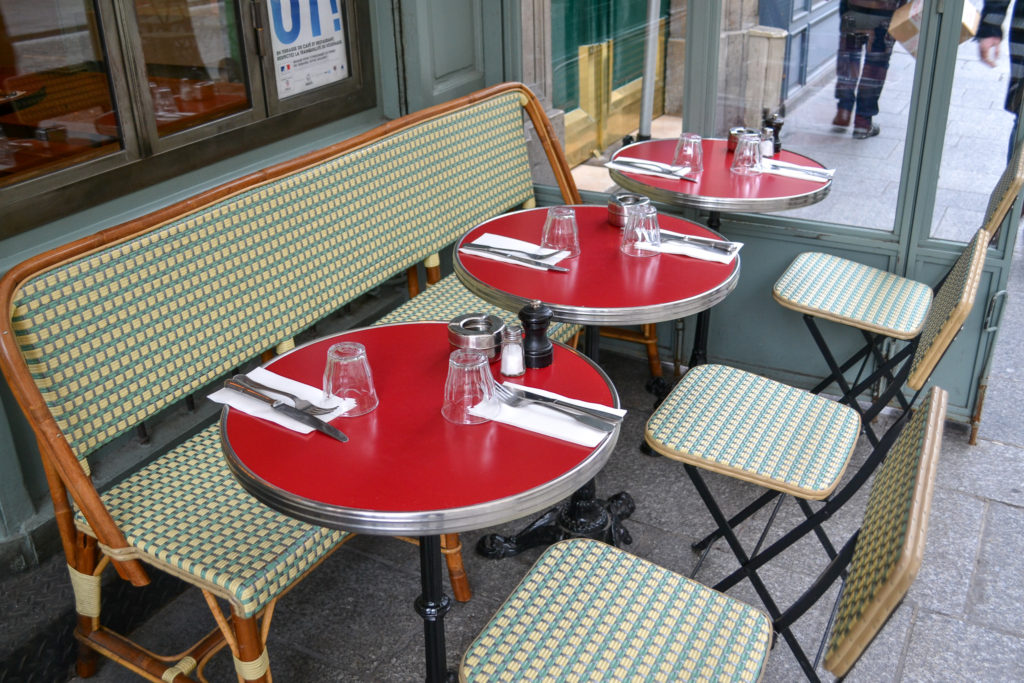 Be flexible. Always, always, always. Don't be rigid about following your plans, let the city itself and the weather guide you through. That's when a trip starts becoming much more interesting. For instance, if you wake up on a rainy day, skip walking around the streets of Montmartre – unless you really want to try your brand-new raincoat! On the other hand, if God decided to give you a gorgeous, sunny day to play with, would you really want to lock yourself up inside a museum and miss all the fun just because that was your initial plan?
Create your own Top 10 based on your interests, ignoring other people's "must-sees". Nobody will argue that The Louvre is one of a kind, but if world-class art museums are just not your cup-of-tea, why bother? The center of Paris is anyhow like an open museum on its own, so if you prefer to wander around its dreamy boulevards and narrow streets, off you go.
Are you a foodie? Explore the street markets, pop into kitchenware shops such as  E.Dehillerin or learn how to create authentic macarons by attending a course at La Cuisine Paris. Obsessed with fashion? Spend your time checking in the iconic shopping malls such as Le Bon Marché, Galeries Lafayette or visit the city's fashion museums such as the Palais Galliera.
And the list goes on, depending entirely on you.
Hop on the metro: the stunning, art-nouveau signs that decorate the Metro stops give you a good reason to do so. However, you will also do it for practicality: with a well-developed network, frequent stops and even more frequent routes, you won't need anything else for your transportation. Paris is a huge city and no matter how much you like walking – and you will most certainly walk a lot – it's convenient to use the metro for the longer distances. Packets of 10 tickets come handy and cheaper, making your Parisian visit easier.
Sunday plan: most of the city trumpets a relaxed tone on Sundays, but some areas remain lively. In the upscale area of Le Marais, you will get your shopping fix and walk along the pulsating street of Rue des Rosiers, where the heart of the Jewish neighborhood pumps. And if you feel hungry, try one of the infamous sandwiches at the well-known Sacha Finkelsztajn bakery.
Are you an open market fanatic? Then check out Bastille's Sunday market or Raspail's organic market, where you could also find your lunch.
Unless you already have booked for brunch, one of the city's favorite habits.
Tried & Tested: Le Reservoir. A special "Live Brunch" experience awaits with live music. Jazz/Soul Classics/ Gospel/ Rare Funk sounds take on the center stage of this Moulin-Rouge-ish setting, while you enjoy the savory and sweet buffet.
Get off the beaten track: it's more than certain that the Parisian centre will seduce you with its polished window displays, grand boulevards and its très chic aesthetic. But it's also worth visiting the up-and-coming areas where hipsters abound, such as the East Canal St. Martin, Bastille και Republique (10th, 11th, 12th arrondissement). That's where you will also find some "hot" restaurants.
Nail down the view from the Tour Montparnasse: getting up the Eiffel Tour is definitely a unique experience, but ask yourself how much time you are willing to wait in the line to do so. If the waiting time exceeds your limits, you do have an alternative: get on the nearest metro station and soon you'll be on top of the Tour Montparnasse (the waiting time here is minimum to non-existent), with views equally stunning. Best time to come is while the sun is setting for the day and the emblematic Tour Eiffel sparkles. Love at first, striking sight. www.tour-eiffel.fr & www.tourmontparnasse56.com
Have you already been to Paris? Do you have any other tips to share for those organizing their first visit? What has been your favourite experience of visiting this amazing city? Leave a comment down below!
Note: these tips are based on our first visit in Paris in 2014 when we were travelling as a couple.
Read more articles here:
Paris with a toddler in winter
36 hours in Athens with the girls 
Are you looking for ideas on where to eat and drink in Lausanne? Would you love to have a 4-day foodie itinerary? Check out my ebook – The Curated Foodie Guide to Lausanne!