Now that I come to think about it, this has been a dream of ours for quite a while now. Spending our vacation staying in a campervan right at the beach. That's exactly what we did this past June and we had an amazing time. It was only for one week but we definitely managed to recharge.
So here is what we loved.
Staying in a campervan at the beach
Waking up and glimpsing out of our window to the view of the sea was magic; so was watching the milky way above us at nights.
We would ideally select to stay on a campervan on the front row facing the beach but we were a bit late to book (about one month in advance) and even though June is a relatively low season, there was availability only for the second row. But still, we had a lovely view from our little terrace and were literally sleeping on the beach which was just amazing.
Ours was for 5 people even though we didn't need it as we were only 3, but again, it was the only one available. There was ample space, a sufficiently equipped kitchenette -though we used it mostly for preparing coffee and Greek salads- and a private toilet/shower which was very convenient. but there was a lack of drawers and storage space which would make the experience better. The smaller caravans don't have that issue, I believe, so we would definitely select this one the next time around.
There are a few more accommodation options in Thalatta Kalamitsi Village Camp: mobile homes, wooden mobile huts, simple caravans, luxury tents at the beach and simple tents.
Now, the luxury tent at the beach is definitely on my experience-to-have list!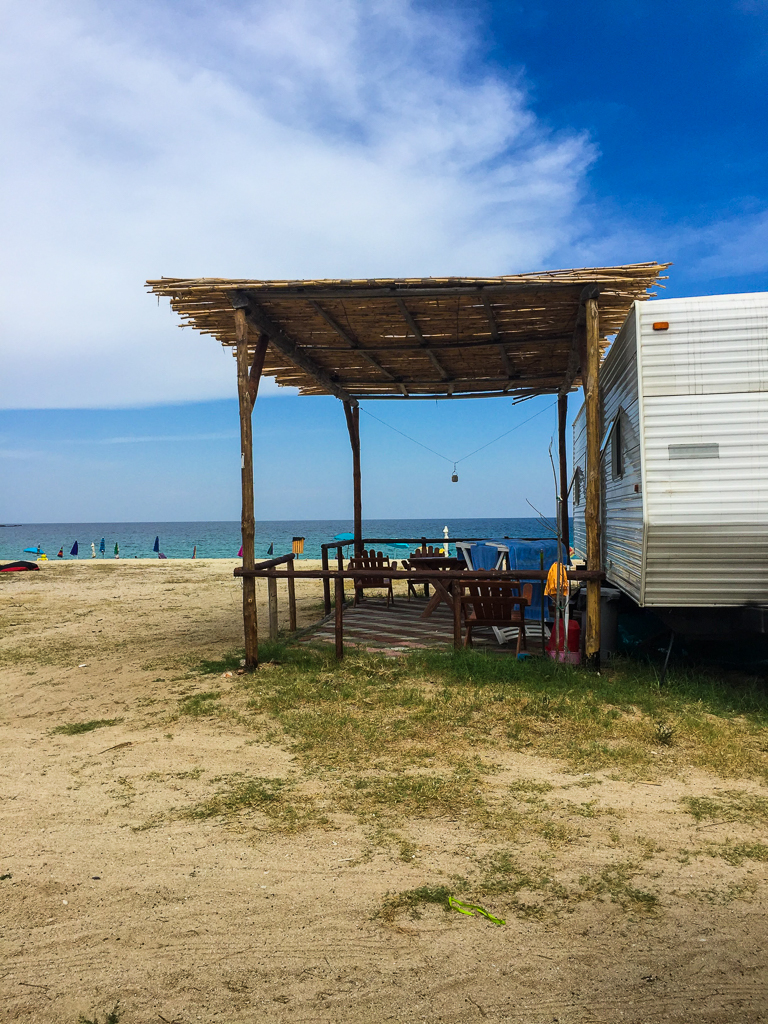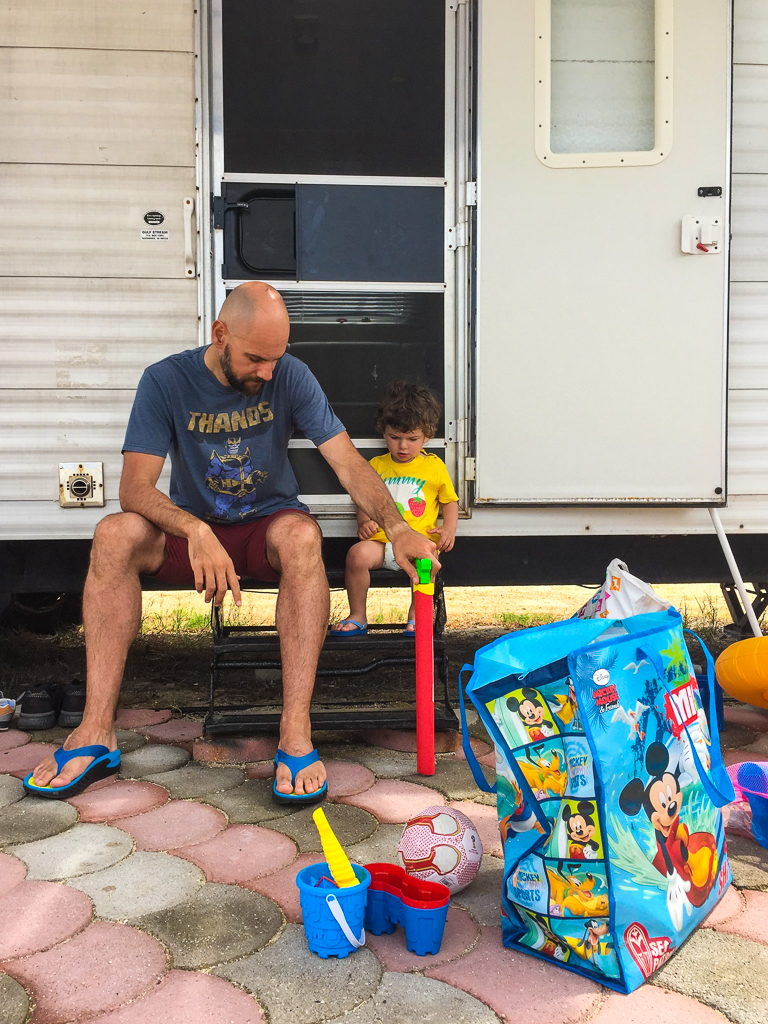 The location – Sithonia peninsula
Sithonia is one of the three peninsulas of Halkidiki and our most favorite at the moment.
Thalatta Kalamitsi Village Camp was suggested to us by my sister and brother-in-law who had been there the year before for a few days and really liked it. Their website also seemed promising so we thought, why not? It was a bit further away than the area we normally go (Trani ammouda in Sithonia peninsula as well) and this was a chance to explore the area a bit more.
The food
Inside Thalatta Kalamitsi Village Camp there is a self-service restaurant offering Greek traditional dishes every day and that's where we had most of our meals.  Theoretically, we could also cook ourselves but the restaurant offered a varied menu, the portions were large and very reasonably priced. We also dined once at the Greek taverna on site but we preferred to eat on our own terrace.
Food-wise, there is also a grill bar for souvlaki and gyros, a pizzeria with a wood oven -which we would love to try but it was not open yet when we visited – , a snack bar where we had our freddo espresso coffees which also offered cold drinks,  sandwiches and ice creams and a beach bar so discrete that I didn't even realise it existed until the 3rd day of our stay.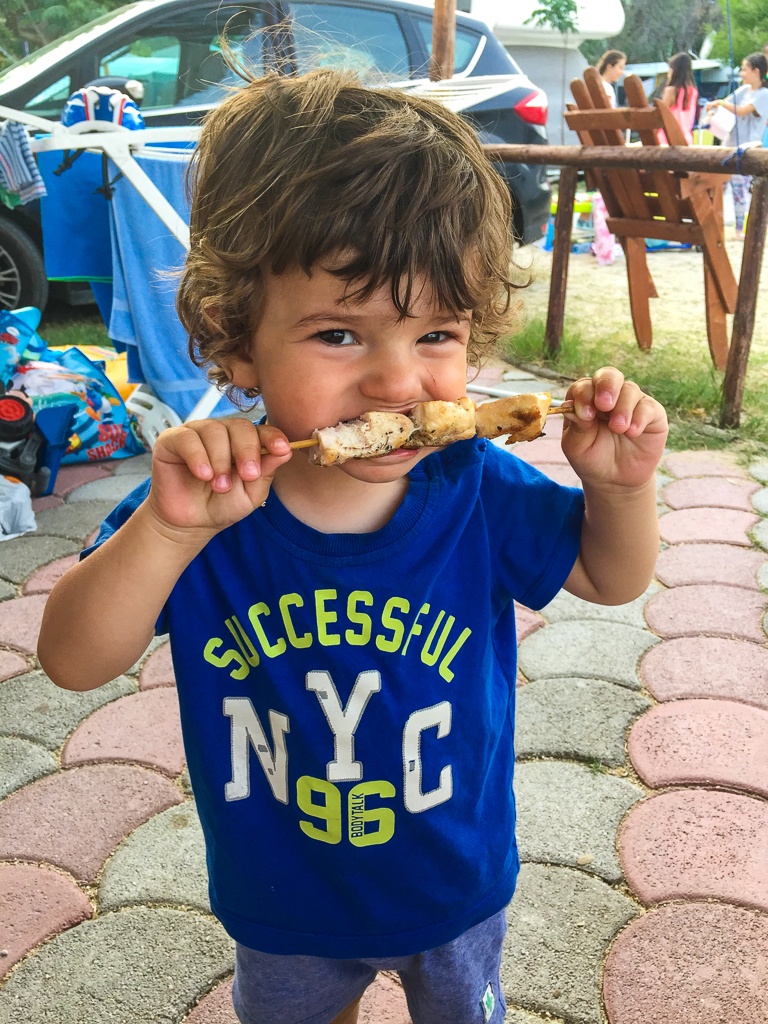 The Playground
Small but very well-maintained, we spent many hours playing in this cute little corner and getting to meet new friends as well. Marios loved climbing on its rope net tower, and so did many other little travellers as well.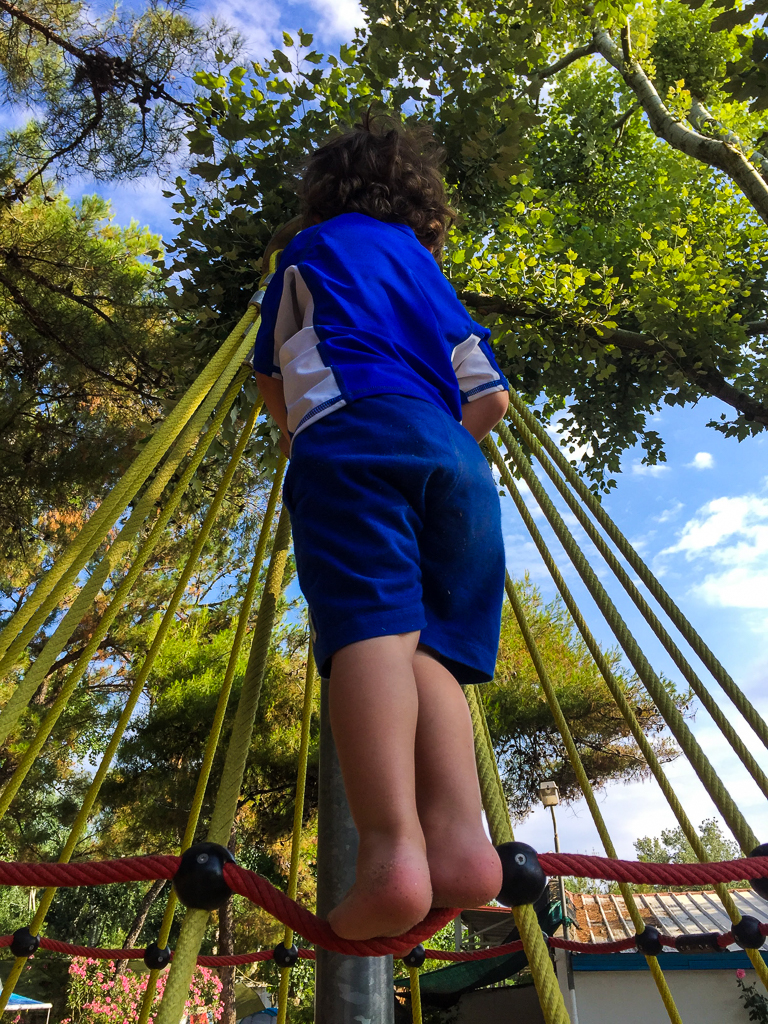 The beach itself
Halkidiki and especially Sithonia peninsula where Thalatta Kalamitsi Village Camp is located has some of the best beaches we have ever found in Greece. The water of the deep-water sea is crystal clear, the sand is ideal -not too thin, not too rocky – and the setting is relaxing with all the green surrounding it.
Our neighbours
Just in front of us, there was a lovely family from Bulgaria: Yana and Dmitri (Bulgarian-Russian) with a 7-year old girl, Diana and her grandma, Elena. The kids, despite the language barrier, played perfectly together and we had many interesting conversations with Yana, Dimitris and Elena. Plus, as they were coming to this specific camping for many years, they were able to give us a few good tips as well. What's even better is that we are still in contact and certainly hope to see them again soon!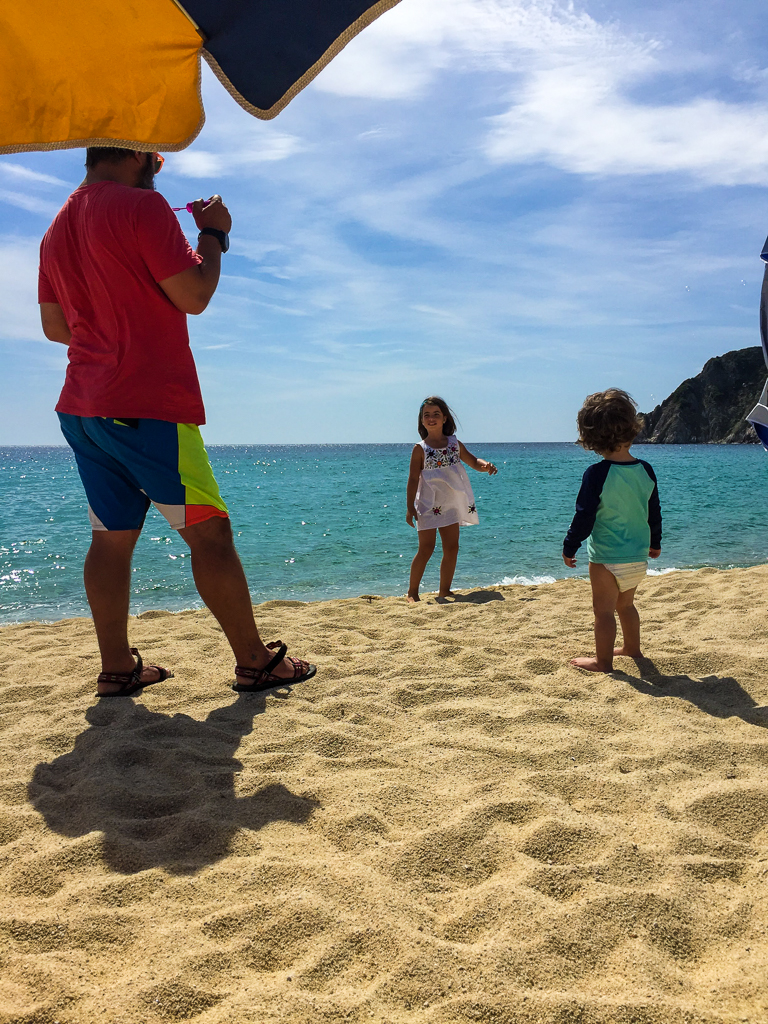 The sunset and sunrise on the beach
Oh my. Waking up with the sun rising out of the sea, what could be a better start to your day? Twice, I even went to do some early morning yoga right next to the calm sea, at a time when only a few people were around. Even if the sun sets on the other side of the peninsula, where the sky literally gets on fire, watching the sunset while playing at the beach with your loved ones is pure bliss.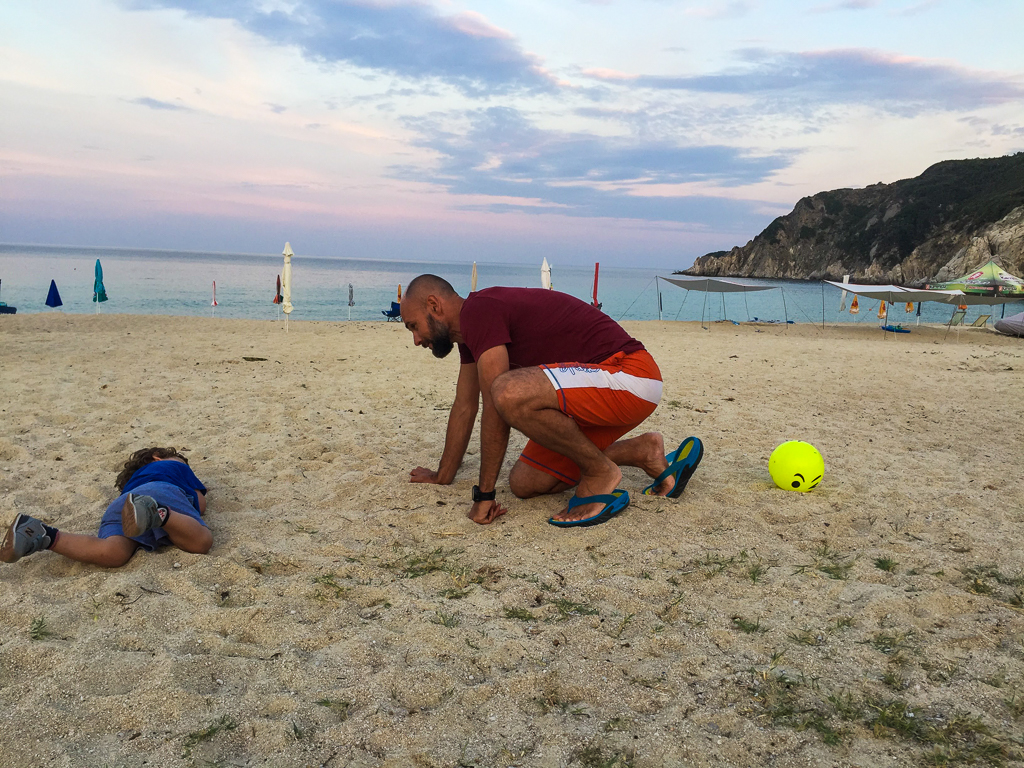 The relaxation
No need to take the car to go anywhere if you don't want to. Umbrellas and beach toys stayed at the beach during the whole duration of our stay -no need to take them back and forth. Food and fresh fruits were available on the spot at the Camping's supermarket so there was minimal effort there as well.
We normally like to explore a region but we enjoyed our stay and the rhythm so much that we only got out of the camping two times – once to go to the nearest village to find a birthday cake and the other to dine with friends at Platanos restaurant in Old Nikiti, one of our favorite restaurants in the region.
The bike rental and Water Sports activities
Thanos was the one who enjoyed mostly the SUP board which was available to rent by the hour and the bike which gave him an overview of the surrounding area. Next summer, both me and Marios are planning to join the fun!
The common facilities
In Thalatta Kalamitsi Village Camp there are 7 communal building complexes with shower, WC and hot water while there are also communal kitchen areas in each building complex.
We didn't use the common facilities as our caravan had its own kitchenette and a private shower/toilet.
Tip: we visited Sithonia in mid-June as we love to avoid the busy months of July & August but keep in mind that the weather can be tricky. September is also an ideal period for a summer vacation in the area.
Publication Date: 2018
2019 update: Having visited other campings in Europe after our stay, I have to say that unfortunately, the beachfront caravans are not in the best condition. Also, in summer 2019 (the second and last time we stayed at the camping) the pool was not clean and that's one of the reasons we didn't select this accommodation for our summer 2020 vacation as we wouldn't be able to keep Marios away from the pool.
Thalatta Kalamitsi Village Camp
Sithonia, Halkidiki
Have you ever stayed in a campervan at the beach? Have you visited Thalatta Kalamitsi Village Camp or the area of Halkidiki? What's the one thing you loved the most about your experience? Share your wisdom and happy memories with us!
Wondering what to pack for a trip with a baby or a toddler? Check out this article and get your mummy and baby/toddler travel checklist.