Scouting for specialty coffee wherever in the world we are is something we do naturally, both me and my partner, Thanos. Last December, while we spent a few days in Ioannina with our families for the holiday season, we discovered a brand-new coffee place, Kofi Microroastery. Ever since we tried their bean to cup coffee, we were hooked and have become regulars, to the point where they know what kind of coffee we prefer.
Located on a pedestrian street right beside the city's town hall, Kofi Microroastery opened in December 2017 and is determined to offer its customers great quality coffee, roasted and blended on the spot.
The old apartment building where it is found has been fantastically transformed by local architect Vicky Poriki of VP architectural studio into a minimal, European-style coffee shop.
Here, I love the restored mosaic floor, the open space, the white colour combined with industrial elements, the customized cups which reinforce the coffee's flavours, the stylish barista aprons, the roaster machine which is visible to everyone and the friendly service.
Their coffee though, that, I adore.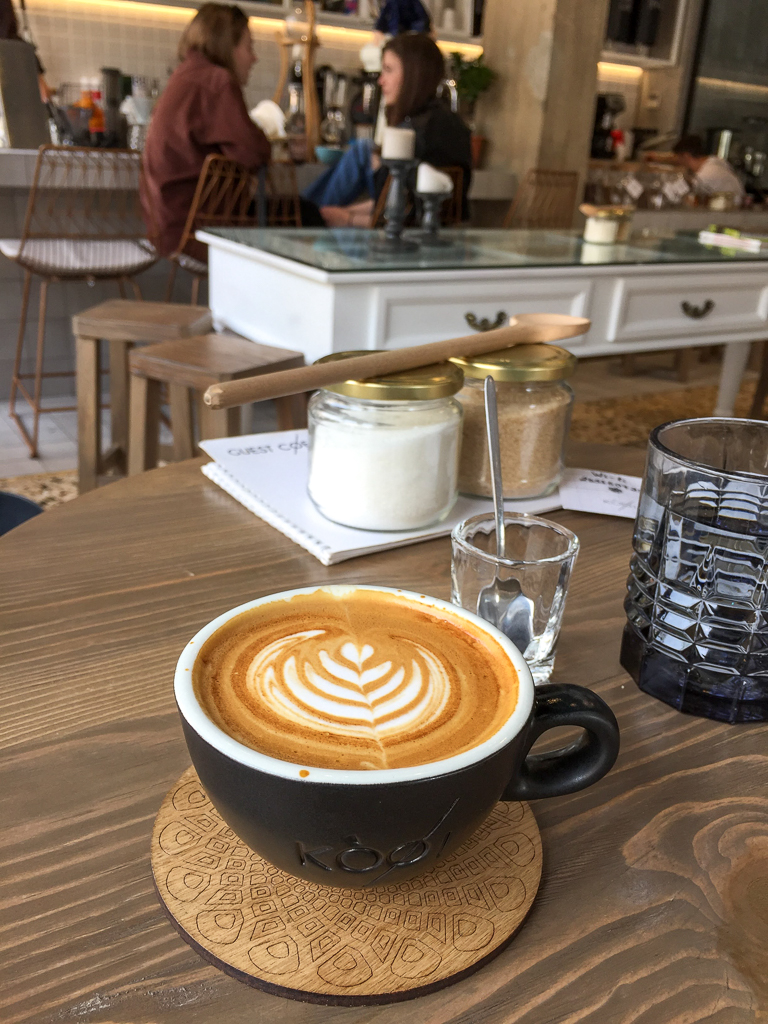 The Team
The founders, Konstantinos Ragias & Euripides Chelas, have been friends from 1994 and they decided to board on this coffee adventure together. Konstantinos is the one with a professional background in the coffee industry, with experience that goes back to 2003, while he was studying in Thessaloniki and bartending as a part-time job. After some years, he was motivated by the industry's development throughout the country and decided to pursue this career further.
Konstantinos has finished a Specialty Coffee Association (SCA) coffee course diploma which consists of a total of 6 themes on raw coffee, tasting, roasting, beverages, and on brewing which is about coffees hand-treated with water-drenching like the old filter coffee. "SCA is a worldwide organization, a monopoly as it is the only body to certify the knowledge on this subject" Konstantinos adds.
The professional experience he gained while working for Jacobs' educational department for Western Greece, gave him an in-depth knowledge of the coffee industry. But he finally decided to focus on specialty coffee, even though it's not for everyone's tasty palate.
"What I like most is to create my own products, to get the raw material and highlight its unique characteristics. That's why I quit working with commercial coffee. But every product has its audience." Konstantinos tells me while he also adds: "What I love most about Kofi Microroastery is that the coffee we are offering has been created by us, both roasted and blended on the premises."
The duo's goal is to open new coffee stores in Thessaloniki and Athens in the future.
What's on offer
Kofi Microroastery has a standard coffee blend, which is its signature blend from Central American regions (it has 2 Brazilian coffee origins and 1 Colombian coffee origin). Here, they try to maintain a solid taste profile in their house blend, but as consumers, we should always keep in mind that coffee, as an agricultural product, is directly affected by climatic conditions and various other factors.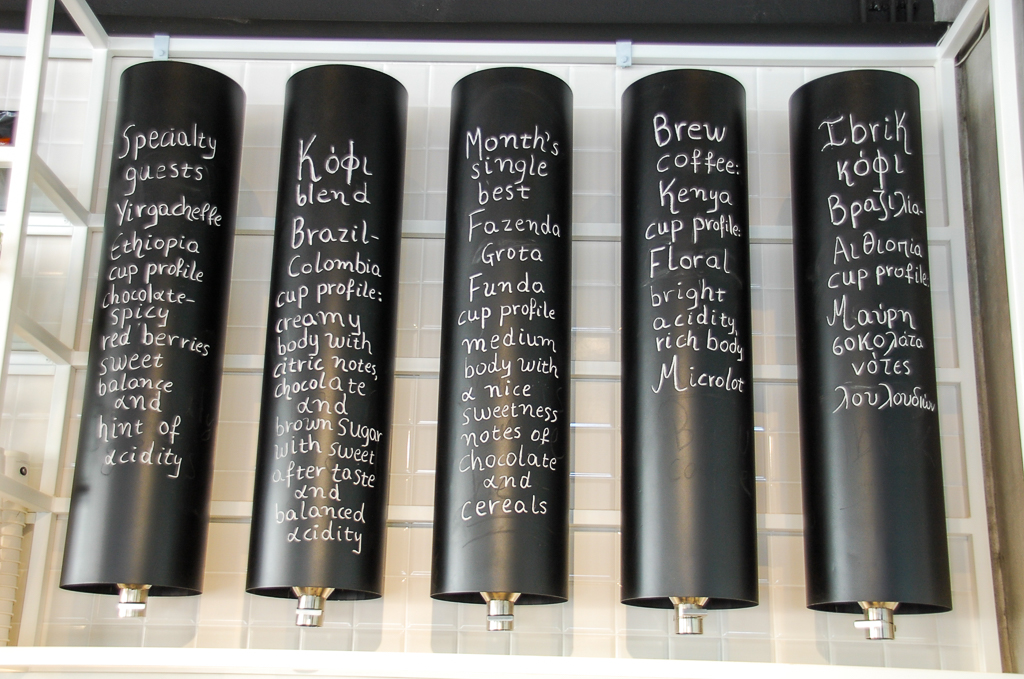 They also have guest products for a limited time, such as coffee varieties from Central America or East-Central Africa regions which produce excellent coffees such as Ethiopia and Kenya. Kofi microroastery also creates distinct house blends for coffee shops around the country, on a consulting basis.
Another highlight is the Greek coffee that is heated in the sand, the traditional method of preparing this kind of coffee.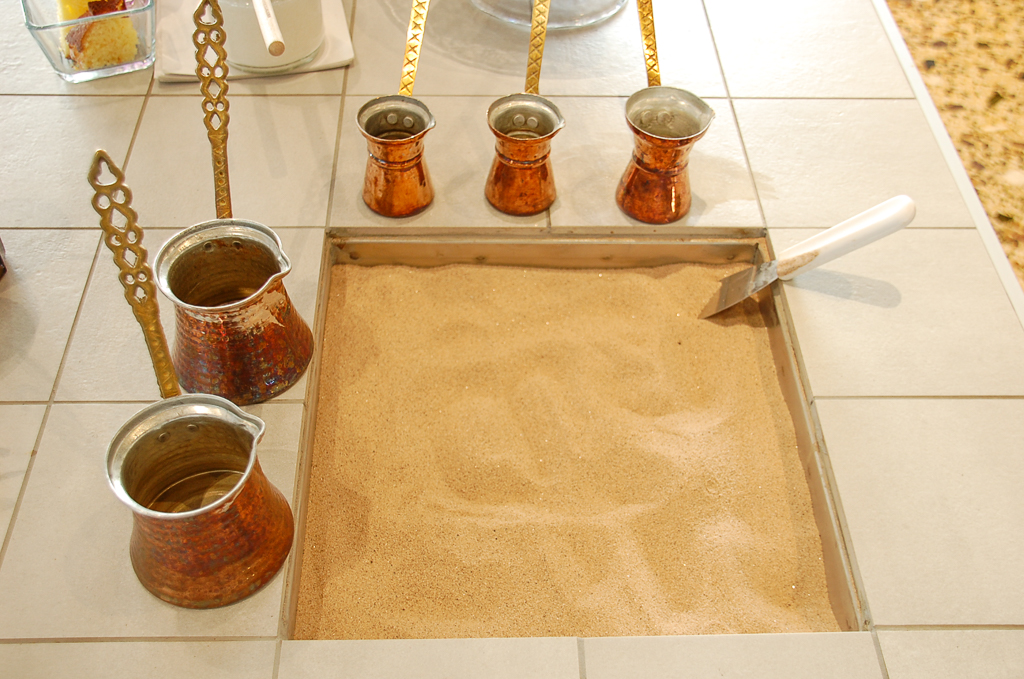 Here, you can also find local herbs and tea such as mountain tea from Pogoni, rosemary, mint, lemon verbena and a few others. For its chocolate drink, Kofi microroastery works with a specialised person in Patra and proposes 4-5 different kinds of chocolate blends with stevia and a dark single variety from Ecuador which has been very popular.
Sweets of the day: currently they are mostly served during weekends and are homemade, from Konstantinos' mother, who is also the one preparing the delicious cake served with every single cup of coffee. If I was not coming here for their excellent coffee and the cosy environment, I would probably come for this cake alone.
What's a good cup of coffee for you?
I asked Konstantinos and here is what he told me: "For me, a good cup of coffee is a round cup, a cup that will have a tolerable and not very aggressive acidity, no bitterness and with the characteristics that you personally like. For example, if you like chocolate, I would give you a coffee with such characteristics from Brazil or Ethiopia. If you prefer flowers and fruity flavours, I would give you other coffee varieties. The most important thing is that all of these coffee varieties are good quality coffee. A good cup of coffee is mostly linked with what each one of us likes and not so much with the geographical area where it has been produced. Personally, I like coffee from Ethiopia and Kenya because I like the yellow fruits, the spicy characteristics and the acidity too."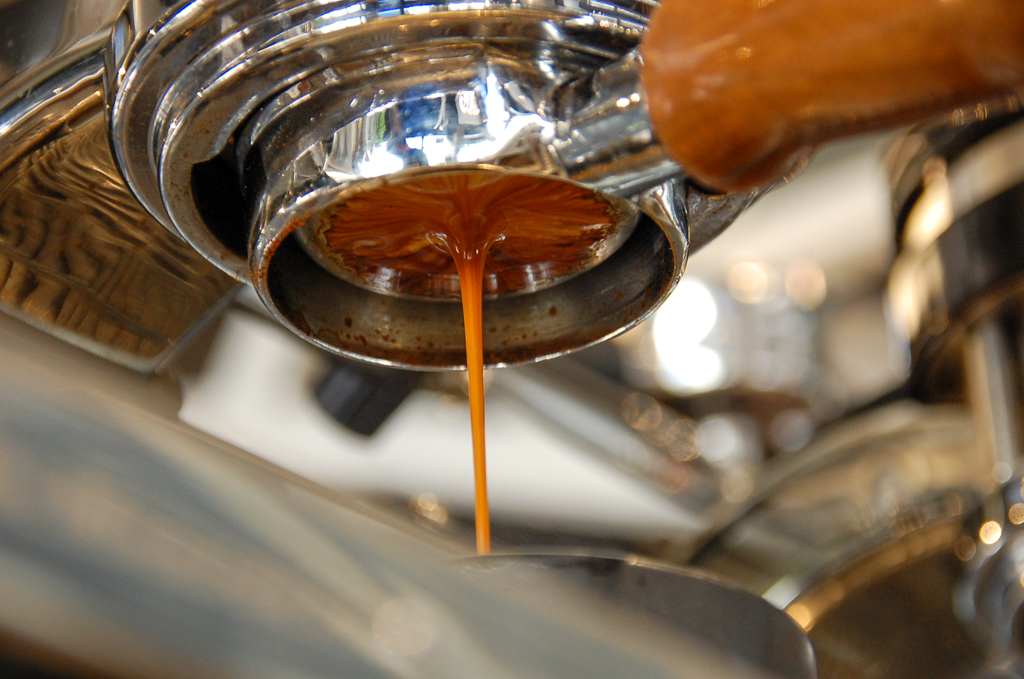 Greece as a Best Coffee Nation
During our chat, Konstantinos also highlighted that Greeks have invested a lot in the coffee industry: in the way they sell the beverages, in the way they process the raw material while they also choose different roasting methods leaving aside the Italian style of roasting coffee. This entire process has created a market segment while, at the same time, the country has been voted several times as Best Coffee Nation in the last 10 years.
In Konstantinos' words: "Italians have created a specific philosophy for espresso with dark roasting and moderate quality of raw material, which the market followed for many years. The Greeks invested a little more in coffee roasting, in the know-how and adopted a philosophy which highlights the coffee bean, the product. That's why our roasting is a bit lighter, a bit more aggressive as we try to showcase the various fruits that the coffee bean has, the earthy characteristics, the chocolate flavor.
Certain personalities such as Nikos Psomas from Mokka and Yannis Taloumis from Taf have promoted specialty coffee in the country and as a result, specialty coffee has its own market share within the local market which used to be 100% commodity coffee products."
It's also true that there are many Greeks winning international competitions in various fields such as latte art, brewing cup or competitions for traditional Greek/Turkish/Arab coffee – I didn't even know until today that such a competition existed!
Specialty coffee might not be for everyone, but once you enter this world, you are bound to be hooked.
So now tell me. What's the most unexpected place on earth where you have found good quality coffee? Would you visit a place just for its specialty coffee shops? I would love to know!