A girl's heaven. That's how I would briefly describe this place. And certainly, one of my favorite spots for a photo shoot as every little corner seems so cute!
I had accidentally discovered their very first, tiny spot when they opened back in 2011 while walking around Lausanne and I was happily surprised by the delicious cupcakes and their aesthetics. Since then, they keep growing and evolving, moving to a much bigger space in Lausanne, opening a new shop in Geneva, launching their creative workshops and keep offering the best cupcakes in town.
The last time I visited their Lausanne boutique, a few weeks ago, I met girlfriends chatting, a dad treating his daughter with a sweet treat and an elderly woman popping in briefly to enjoy an ice cream cookie sandwich, their brand new summer treat.
Cuppin's was founded by Dina Basic-Gawad and Yasmine Gawad. They both did the EPFL in Chemical Engineering and while Yasmine worked for a couple of years in the pharmaceutical industry as a scientist in biotech, Dina went straight after her studies in the watchmaking industry and more specifically in marketing, strategy and product development.
After both of them had their first child, they decided it was about time to work together and that's how Cuppin's was born.
When they launched Cuppin's, their vision was very clear: they wanted to have a unique concept store where someone could sit and enjoy good and homemade treats, discover small labels and do their unique shopping. Apparently, they have a great chemistry and their sweet adventure has proved to be very successful.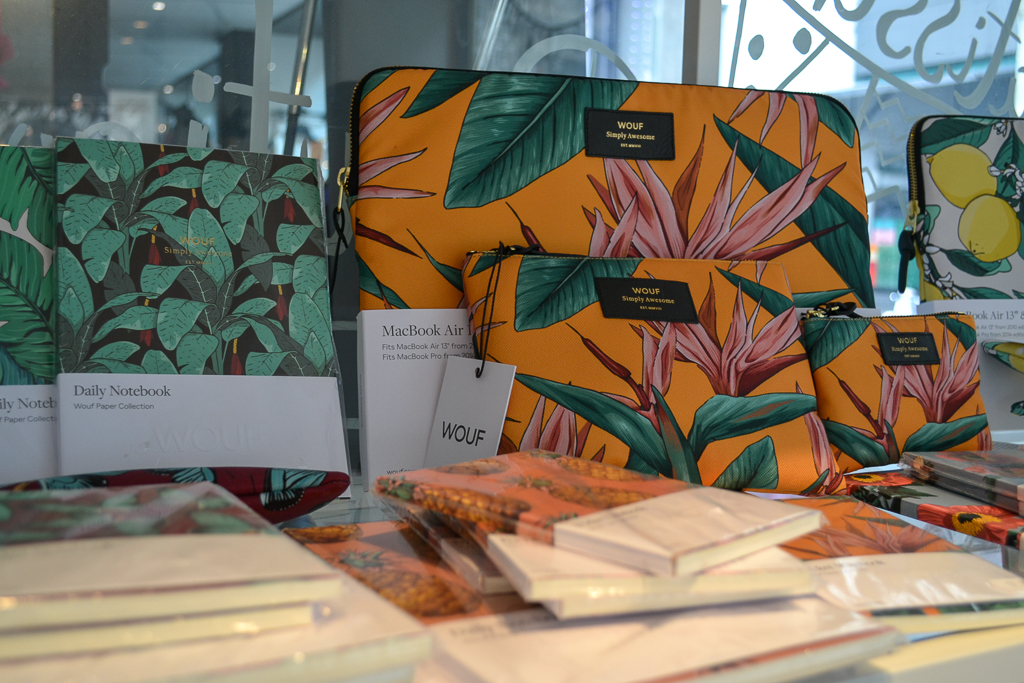 What's on offer?
There are 4 main pillars in Cuppin's product range: treats (cupcakes, cakes, coffee and tea), Women accessories (jewels and accessories), Children accessories and baking workshops (cupcakes making classes, cake design class).
In Dina's words "We always wanted to be very contemporary in our product offers. We thrive to always be right on to the trend as much on our baking design (cake design, cupcakes, cheesecakes, scones & co) as on the brands we are reselling. Our product range is now very wide from jewels, fashion accessories to baby accessories."
With all honesty, I come here first and foremost to savor their cupcakes. Their recipes are not too sugary and the cream cheese frosting is way better than the buttery ones you often taste. Caramelimelo and Black velvet are always racing up for the best seller title. "I definitely love our Pomme d'épices. It has a cinnamon cake, filled with applesauce. The topping is our very popular cream cheese frosting. On this flavor, it is infused with cinnamon." Dina tells me.
My personal favorite is a combination of a mini Choc Oh La La and a mini Super-Cali-Framboisilistic accompanied by a Fentimans Rose Lemonade. Utter perfection. But I also like to try out their ephemeral tastes which change according to the season and special occasions. As Dina points out, they always try to work with as many fruits as possible and less buttercream and fondant so that their sweet treats are less sugary.
Those on a special diet will be happy to know that Cuppin's also offers vegan and gluten-free treats. Cheesecakes, scones and biscuits are also on the menu if you are not a cupcake kind of person.
Recently, Dina has taken a barista course in London and introduced specialty coffee in their boutiques as well so if you are looking for a more refined type of coffee to drink -such as Caravan coffee from London and Lumi from Paris- while enjoying Cuppin's sweet treats, just ask for it. Their wide range of teas makes it very hard to select just one, but it's worth the effort.
What I also love about them is that they cooperate with some of the city's top creatives to co-create unique experiences for their customers: their new summer treat is a cookie sandwich ice-cream in cooperation with LOOM gelateria; their savoury tarts available for lunch are provided by The Café Caravane;  also, they recently worked with fashion blogger Hayekk for creating a unique cake design and lifestyle blogger Sofia Clara for the re-decoration of their Lausanne boutique's window display.
I asked Dina to share what's a "typical" day looks like for them. Here is what she told me:
"We don't have any routine. Having two boutiques and a lot of catering events makes every day a new day. Moreover, we both have 2 children, that also need to fit in our agenda. It's been 5 years now, and I think not a single day, I managed to finish my daily to-do list. I think it is part of the fact, we are also always coming up with new ideas and new projects and making every day as a new challenge. The fact that we have such a wide product range, makes it impossible to be bored! We are both very creative and love everything that implies sharing ideas and designs."
Dina also shared with me her favorite foodie and sweet experiences in Lausanne and the region: "I love Indian cuisine and I am very keen on the Nandanam. I also love ice cream and LOOM gelateria absolutely rocks. Last but not least, if you do love Peruvian food, you do need to try the empanadas of TAYTA – their ceviche is a winner."
This summer marks a 5 years anniversary of Cuppin's boutique in Lausanne and the girls are celebrating with some redecorating which will include new furniture and décor and I am excited to see the final result next time around.
Now tell me, have you visited Cuppin's either in Lausanne or in Geneva? What's your favourite cupcake flavor? What's your favourite place to enjoy an afternoon out with your girlfriends where you live?
Cuppin's 
Lausanne
Rue du Petit-Chêne 20, 1003
Geneva
Rue de la Terrassière 13, 1207