I still remember reading online Dimitra's interview at a popular Greek free press magazine and feeling so inspired by her story and her decision to move from Athens to a small, dreamy village of Pelion, Pinakates. A few years ago, I had passed by Pinakates briefly while researching a travel story for Pelion and I loved it.
A few months after reading her interview and following her on social media, I decided to take one of her online expressive writing courses. This involved several writing exercises like writing a letter to your future self or taking your notebook outdoors and write while being inspired by your natural surroundings, documenting your feelings and thoughts. I had a blast while doing it and aim to explore this kind of writing more in the future, as I am now determined that it is powerful and a great healing method to any issues you might be facing in life.
Dimitra is a kind, calm and balanced soul who inspires me with her life; that's why I want to introduce her to you. Tip: her new book entitled "WabiSabi", a collection of short stories on imperfection, will be published in a few days (Greek version only, for the moment at least!) so you might want to check it out.
Keep on reading!
Would you suggest a song to hear while reading your interview?
Feeling Good by Nina Simone.
How would you introduce yourself in a paragraph? 
If I were a novel heroine, I would be Julie Summers in Nadine Gordimer's The Pickup.
If I were a movie heroine, I would be Betty Anne Waters in Conviction.
If I could live in the past, I would live in the 20s.
If I were a piece of music, I would be one of Woody Allen's movie soundtracks.
If I were a flower, I would be a blooming sunflower.
If I were an animal, I would be a white horse.
If I were a bird, I would be a pink migratory heron.
If I were a natural element, I would be a deep emerald sea.
If I were a color, I would be purple.
If I were a scent, I would be jasmine.
If I were a textile, I would be linen.
What was the question?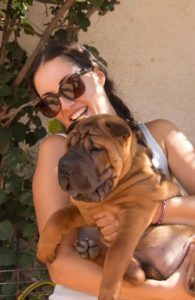 It looks to me that you have created your dream job on your own. How did you manage to do that? What would you advise someone who is currently not happy with his work?
As you said, I created my job. Creation is a continual process. I visualised how I wanted to see myself in ten years and I started working towards this goal. I took small steps and tried not to allow random events to have an impact on my ultimate purpose.
The crisis in my country didn't discourage me. According to a story I love, a large multinational company sent an executive to an African region to build a new shoe factory. The employee's first email to the company wrote: "Disaster! I am coming back tomorrow, nobody wears shoes here!" After he returned they sent another employee who on his first email to the company wrote: "Amazing opportunity! Nobody wears shoes here! Let's start building the factory."
What I mean is that everything is a matter of viewpoint. It is exactly like what Winston Churchill said: «A pessimist sees the difficulty in every opportunity. The optimist sees the opportunity in every difficulty".
Nonetheless, not everything has been easy and 'peachy'. I have at times struggled to make ends meet and have encountered professional and personal hardship. Sometimes the universe conspires against us. It's not possible for everyone to have the same success as Steve Jobs. Failure is a part of the grand scheme of things.
So, to create your 'dream job', I have distinguished the following steps: find your path, set a very rigorous schedule, don't let distractions alter your direction, see the glass as half-filled and learn from your failures.
If you want to find your personal path in life, question the reason for your existence and what motivates you to get out of bed each morning.  Make it a reality using every means available to you. In my case, it was the writing, the internet and a house in the mountains. What are your means? If you don't have the means, ask around, motivate yourself and let other people help you.
How and when did you start writing? Are you currently working on a specific writing project?
As long as I can remember, I have always loved writing in various forms (diaries, articles, fiction, and non-fiction pieces). While working as a journalist, I preferred the jobs that required writing. I started as a journalist on a newspaper and after jumping to television where I worked for many years, I came to realise how much I missed writing. I also started writing my first book when I was jobless by choice. Writing was the thing that got me out of bed. Over this period, I discovered that writing could have therapeutic results and after some research, I decided to train in therapeutic/expressive writing.
In expressive writing we use writing as the primary means of expression for our thoughts and feelings. The power of words can help us heal, shed light on our experiences and bring balance to our lives while also increasing our self-awareness and promoting personal growth.
Therapeutic writing can be of use to anyone at any point in life. We can implement it when we feel calm and relaxed as a way to enjoy the flow in our lives or, alternatively, when we face difficulties or dilemmas we can use it as a tool to calm down, clarify what is happening, work intensively with our feelings and increase our creativity.
Currently, I am working on a project about gratitude and journal writing and, in parallel, I am modifying my first novel's text for a theatre production.
Navigating life through writing: could you tell us a few words on how writing about your thoughts, dreams, aspirations etc can help you live your dream life? How can someone start today implementing this habit? Could you give us one easy tip to implement right away?
Margaret Atwood said "A word after a word after a word is power", and I am in total agreement that writing is an extremely powerful tool.
When we write, we put our thoughts in order. We can change our point of view and gain clarity in our life. Self-reflection on the text is also as important as the process of writing it.
If someone wants to get inspiration from writing, I highly recommend the morning pages introduced by Julia Cameron. Writing three pages every morning can help you to declutter your feelings and increase your creativity.
There are also many other exercises, techniques and prompts that we can use to help create a life that is aligned with our unique purpose. A very useful exercise I suggest to my clients is the following: write a piece about your usual 24hour day. Describe it in every detail. What are you doing? What is your environment like? What are you wearing? How do you feel? Who is around you? How do you react throughout the day?
Then, read it and write a self-reflective piece in two or three sentences about what you notice. How do you feel reading it?
After this, imagine your ideal day and write about it. How would you like your ideal day to look? Then read it and again write about what you notice. Compare the two writings. How do you feel? What information can you take away? What can you do in order to make your ideal day a reality?
This exercise motivated my move from the city to the mountains!
Could you tell us a few words about "Expressing MySelf", your Institute, and your electronic magazine about psychology, called "Psychografimata"?
The word Psycho-grafimata in the Greek language is a combination of the words "Psyche" and "Write". Through this web magazine, I publish articles about whatever is happening in the psychology field, from seminars, training, and conferences to art and research or articles.
The web magazine is one of the services I offer through my Institute which is called "Expressing MySelf". Through the Institute, also, I offer expressive/therapeutic writing workshops, seminars, individual sessions, and retreats. I provide an emphasis on online services as many people nowadays don't have the time or opportunity to attend a face to face workshop, possibly because they move around a lot for work, immigration or other reasons. I, therefore, use a specially designed e-learning platform, and in this way, of course, I can also work from anywhere.
Finally, I organise retreats in the Pelion peninsula, which is a wonderful place with stunning scenery, ideal for combining a vacation with personal growth. In the same area, I also offer "The Expression Lodge" which is a small tranquil studio where artists can stay and work.
Which book and/or movie would you recommend reading/watching to get inspired?
A movie I saw recently which made an impression on me was the "Endless Poetry" by Alejandro Jodorowsky. "The Dead Poets Society" is also a well-loved classic!
I love watching videos from the TED Academy and the School of Life, as I find many of them very inspirational.
Regarding books – there are so many!
The War of Art by Stephen Pressfield
The Artist's Way by Julia Cameron
The Intuitive Way by Penney Peirce
Wabi – Sabi: For Artists, Designers, Poets & Philosophers by Leonard Koren
The One Thing by Gary Keller
What does travel mean to you? What are your favorite travel experiences so far and why?
Travelling for personal or professional reasons is a fundamental part of my life. I love the whole process, from packing my suitcase and researching my destination to travelling by any means, the excitement I feel on arrival and finally my sweet homecoming.
My favorite big cities are Melbourne, New York, Berlin and Qatar, but I have also loved road trips by motorbike to Cinque Terre in Italy, the Austrian Alpes, the French countryside and Almeria in Spain. My top experience has been a trip to China and Mongolia. I found Mongolia an awe-inspiring place.
My favorite travel experiences stem from the different cultures I encountered. The more different the place I visit, the richer the experience. I believe that we can learn many things about our presence on earth by seeing and knowing other people's societies and landscapes.
Could you share with us your ideal itinerary around Pelion for a weekend?
Pelion is a magical peninsula which combines both the sea and the mountains. You can do the rounds of the area in a weekend, stopping in Portaria, Mylopotamos, Damouchari, Potistika, Afissos, Milies and of course in my village, Pinakates. Pinakates is the least touristy village, with a lot of green, stunning views. Staying there you feel you are travelling back in time, finding serenity and peace of mind.
Videos:
https://www.youtube.com/watch?v=65s0RKVHPes
https://www.youtube.com/watch?v=UNsHMEwNm2w&t=11s
Dimitra's Professional Background
Dimitra Didangelou is a psychologist, science journalist, and author who aims to help people gain insight, enhance their creativity and bring balance into their lives through expressive writing. Alongside founding and editing a web-magazine that explores psychology, she is the founder of "Expressing Myself", an Institute which offers workshops promoting conscious and creative living. Her training includes Advanced Study in Therapeutic Writing (The Center for Journal Writing in Denver, CO, USA), an MSc in Psychology and the Mass Media, a BA in Psychology and a Certificate in Philosophical Counseling and Psychotherapy. Dimitra is a published novelist and author of many short stories.
Individual sessions and workshops are held online but can also be arranged in person in Berlin, Cyprus, Greece, or by request in one of several other locations.
Website: http://expressingmyself.org/en/
Email: dimitra@expressingmyself.org
expressive.writing@yahoo.com
(c) All photographs of this post are kindly provided by Dimitra Didangelou.