Coffee, Tea and Spices
When was the last time you've done anything that's considered to be "just for tourists" in the place you live or that you know well? I like to take advantage of every such opportunity that appears my way so at some point last year I joined a guided tour which took us around numerous of Lausanne's historic places, ranging from the headquarters of a bookshop to a lovely, hidden coffee shop and a shop where locals love to go and buy their tea and their coffee. This was the first time I entered this gorgeous little place called "Saveur PimenThé " although I had passed by it a million times before.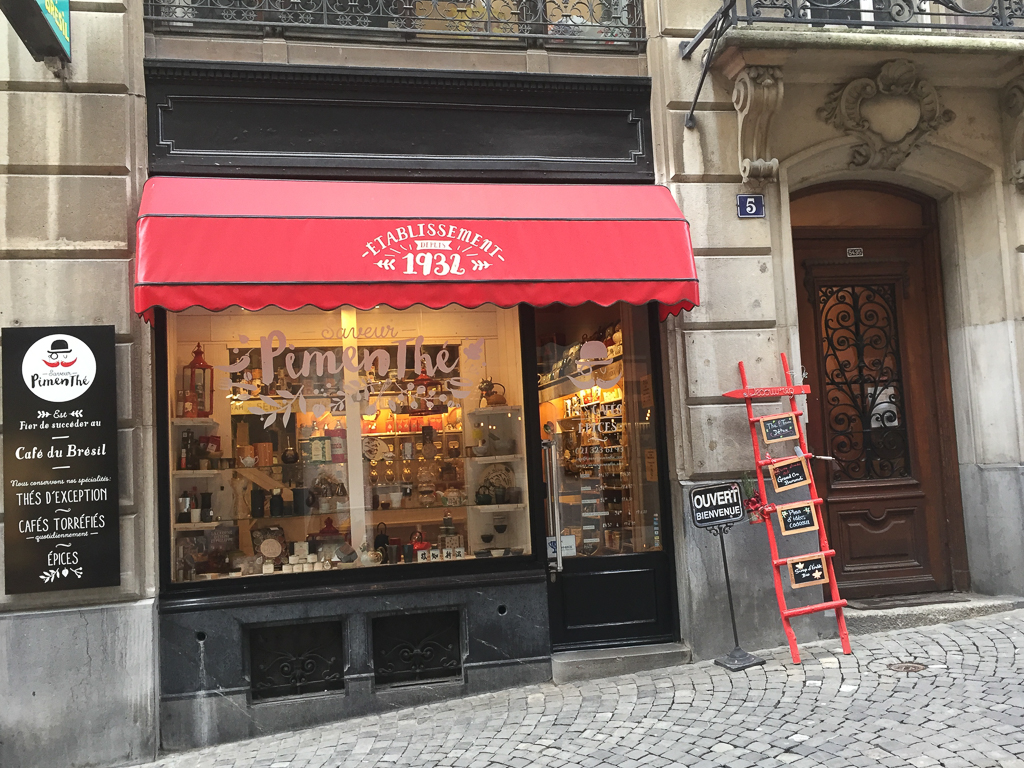 I instantly fell in love with the atmosphere inside, the decoration, the lovely teacups, the coffee grinder and the small bags of chocolate bites. The current owner, Magali Halt, invited me in the shop on one Tuesday morning and I was fortunate to see her roast the coffee on the back of the shop, a ritual she follows several times per week.
We also had the chance to talk about her background, the history of the shop, the current offerings but also about travel and food. Of course!
So, what's on offer?
Coffee: about thirty varieties and blends of coffee. Best selling: the Costa Rica Coffee Mix -my personal favorite as well- and the organic, fairtrade Peru coffee.
Tea: about 200 different teas, aromatized or not, organic or not, black, green, white, oolong, puehr, rooibos and herbal teas. Best selling: Des Moines Tea and Les 3 Thés.
Spices: more than 150 different spices and blends of spices, maple syrup and about 20 different maté. If it's the first time you hear about maté, as was the case for me, you might want to know that it comes from a species of tree native to South America that contains a lot of caffeine and was first consumed in Latin America.
Best selling spices: zaatar and madras curry.
Magali also likes to introduce new products for their customers, available for a limited duration only. "This year we will have a coffee from Burma and a coffee from a cooperative in Ethiopia so with each purchase of this coffee there will be a contribution to a social cause directly related to the cooperative" she explains.
The Probat coffee roaster used at the store is from the 50's and is located in the back of the shop. It has always been used in the store and during the war it also roasted chicory when coffee was lacking. Magali learned to roast the coffee from the shop's previous owners who patiently showed her how to define the quality of a grain and which is the right moment for each coffee. She roasts coffee several times a week and you will definitely smell the aroma if you are passing by the road.
Magali's background
Born in Lausanne, Magali quickly acquired the soul of a traveller. After her studies in the tourism industry, she left in 2001 for Quebec where at first she worked as a director of a travel agency and afterwards she created 3 companies: a hostel and mill of maple syrup (La Halte Sucrée), a dog sledding company (Nordik Adventures) and a farm with llamas, mohair goats, horses and chickens. Each one of them more interesting than the other, if you ask me.
At the beginning of 2014, Magali returned to Switzerland and she had to start all over again to get used to a different society, a more urban way of life.
From 2001 until now she has travelled a lot to meet people and learn about the world's cuisine, about spices, tea and coffee, topics that have fascinated her for a long time.
I am curious to know how she decided to take over the shop.
"At the end of 2014, while I was looking for a location for the opening of a future project in Lausanne, I learned about a small historic store which is for sale, the "Café du Brésil". My 97-year-old grandmother bought her tea from this store for decades and even I bought my first teapot from there.
I loved this store immediately and its owners too. However, I did not know much about coffee and its torrefaction, which for me was an interesting challenge and quickly excited me. This place is part of Lausanne's history that began in 1924 a bit higher than its current location, on rue de la Madeleine," Magali explains.
The "Café du Brésil"
I ask her to tell me more about the history of this place and its previous owners and she does so happily:
"Three generations of the same family have followed one another. This is an indispensable place for the Lausannois for tea, coffee (I roast the coffee in an artisanal way at the back of the store), and teacups and now for the spices and maple syrup of my old maple grove. When I bought it I renamed it to "Saveur PimenThé" and while keeping the products that made this place known, I add some products that I find because of my travels and my discoveries" she says.
Award-winning service
Just the previous day from when I visited the shop, Magali and her team of 4 people had officially received the 3rd prize at "Lausanne Prix du Commerce", which is a reward from the city for the local businesses that stand out. "It is a great motivation for me and my team to offer great customer service and take care of this beautiful place," Magali tells me.
While talking about her vision and her main philosophy for "Saveur PimenThé" I learned that this place is for her "the transmission and sharing through tastes, flavors, and exchanges." Her philosophy is to understand the product that she sells, from its production to its final state, so that the customers who will consume it eventually learn the story behind but also discover new things.
Along with her team, she likes to discover ideas in a different way eliminating the feeling of the routine out of a working day. How cool is that for a "boss"?
"It's hard to define what I like most about this shop. I love the stories connected with this place, the customers and their attachment to certain products but I also love to operate this beautiful roaster machine to turn the green coffee beans into a much loved morning drink; I love to open a tin of tea and discover the smells inside it; I love to talk about spices and the various dishes you can cook with them," Magali adds.
Speaking of Travel and Food 
"A Japanese proverb says: "To travel is to discover oneself through others". For me to meet people, different cultures and to learn allows me to discover more deeply myself.
In 2012, I loved cooking crepes for the children of a village in Tanzania and having them taste my maple syrup.
My next trip is to India (in Kerala) where I'm going to cook with a chef to learn more about spices and the Indian cuisine" Magali says.
She might have been travelling the world for many years, but Magali is basically a native Lausannois, so I also asked her to share with us some of her favorite places and experiences in Lausanne and the region. Here is what she told me:
"Lausanne is a city full of surprises and I discover it again now! In addition to places steeped in history, I love Parc Montbenon for the view, and I love Le Fraisier and the Café des Artisans for the food."
Have you visited "Saveur PimenThé " already?
If not, next time you walk down the charming Rue de la Madeleine, make sure to pop into this cute and historic place in Lausanne.
Thank you so much, Magali for the warm welcome in your historic and cute little shop!
Info
Saveur PimenThé 
Rue de la Madeleine 5
1003 Lausanne