Every Wednesday and Saturday morning, the cobblestone streets of central Lausanne turn into a feast of fresh produce and beautiful flowers. The busiest day is Saturday and I just love the buzz that it brings into the city.
That's when I go at Riponne square to grab some eggs from "happy chickens" and delicious alpine cheese from Chez Sandrine stand. There are many other stands selling cheese and dairy products as well but for some reason, I have become a regular on this one. The service is friendly, their products taste good and they seem to have many regular clients in general, which is a good sign. Right?
Here, there are also numerous stands selling meat, fish, fresh pasta, anything you would need really for your weekly meal planning (you are doing a weekly meal planning, aren't you?).
I also like to buy a freshly baked baguette from the bakery stands, a croissant and maybe try out some new products at the bio bakery (you will recognize it by the signs, they are usually right next to the post office) such as cookies and pies, they have all sorts of different kinds.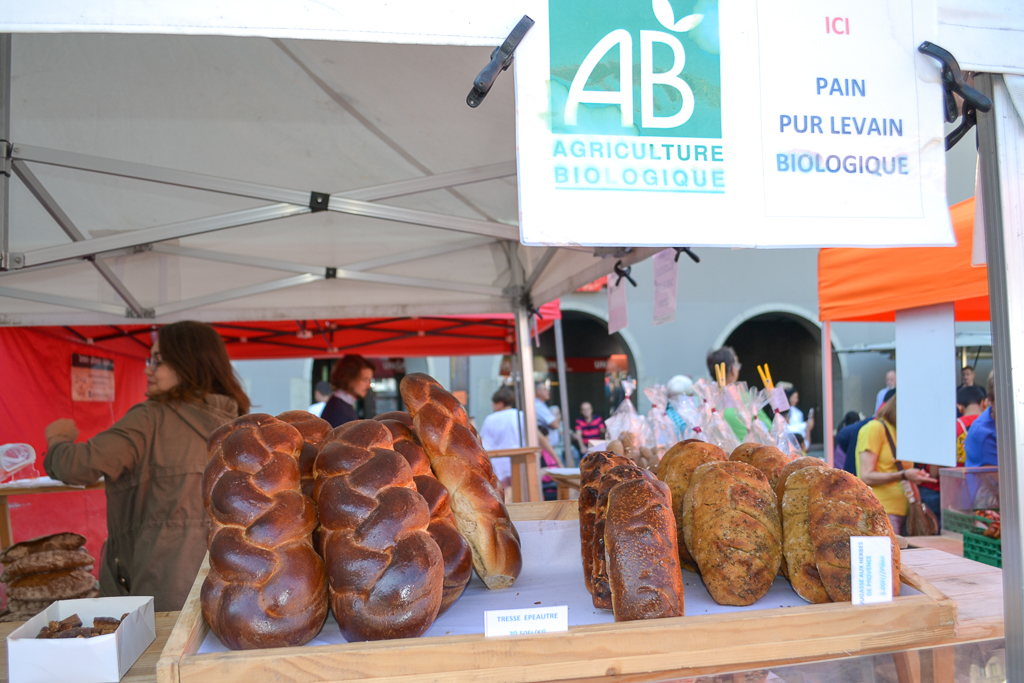 There are often some interesting street musicians playing here so I savour my croissant while listening to music! And honestly, I love investing my money in street musicians. Have you ever considered how much courage it takes to stand in the middle of the road and play a musical instrument or sing (or even both)? Not an easy-peasy kind-of-activity, I think.
Some days, when I feel homesick, I head to "Pitta" stand where Anastasios and Yota offer various Greek pies which taste really good. The guys are there every Thursday as well (along with other food trucks & stands) and offer many more Greek dishes such as "Gemista", tomatoes and peppers stuffed with rice, one of my summer favourites.
Nearby, at rue Madeleine, I like to deviate from the open market slightly to get freshly roasted coffee beans at Saveur PimenThé where Magali also offers spices, teas and many more from all over the world. On this street, there is usually a stand selling lovely flowers as well.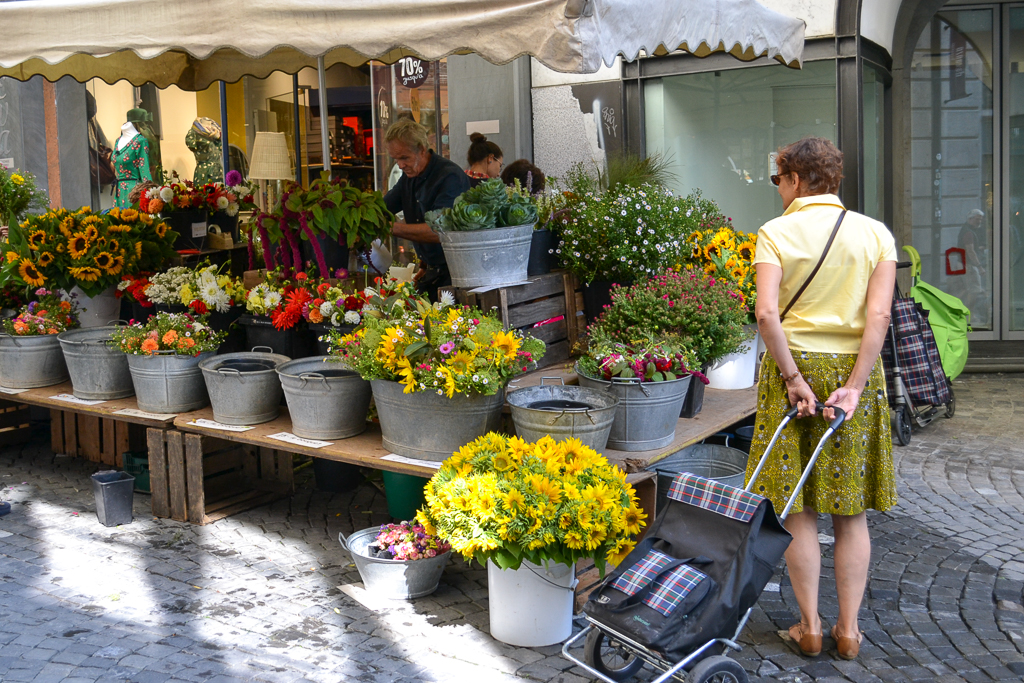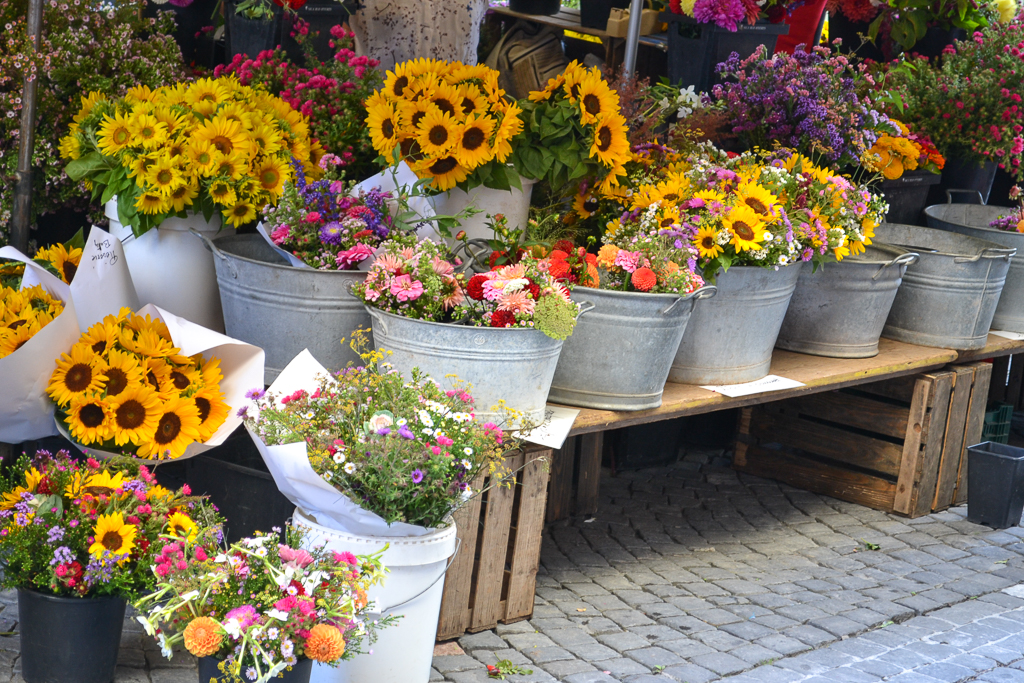 Oftentimes, when at this road, I hear the bell ringing and that's when I quickly head to Place de la Palud, where a statue representing justice is (it's the only statue in this square) to watch the short but fun clock animation which takes place every hour. Especially when I am with Marios, my little one, as this little show is very entertaining for kids.
When the show is over, I continue shopping for groceries: right beside the statue, there are two of my favourite producers where I buy most of our vegetables, herbs and salads. (Hess family & the stand just opposite them). There are many more stands around this square and one that sells many spices and olives if that's what you are after.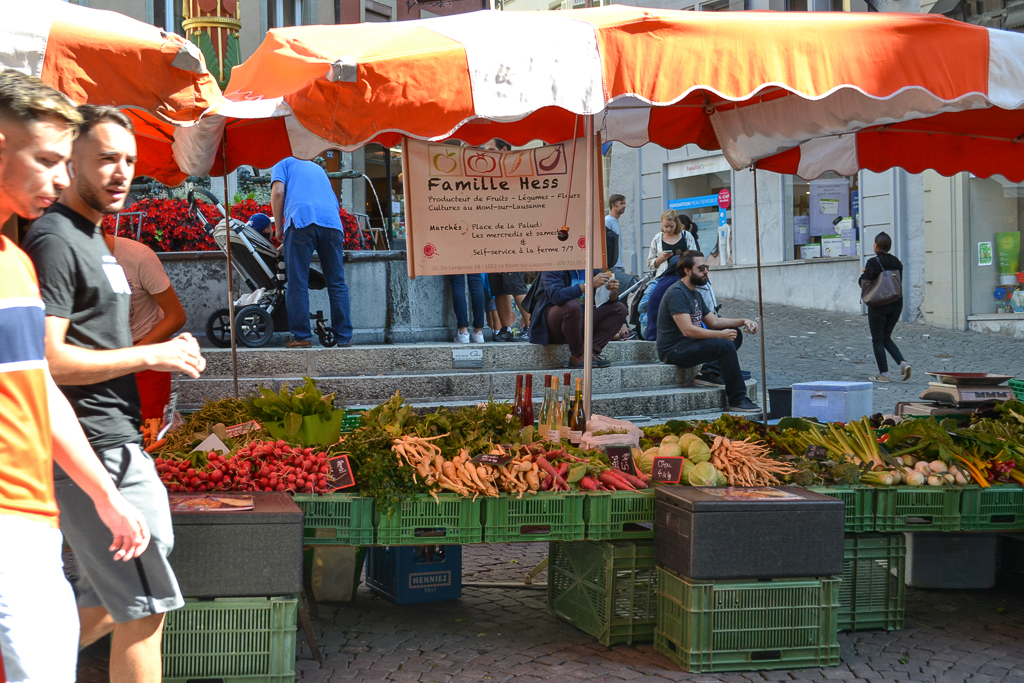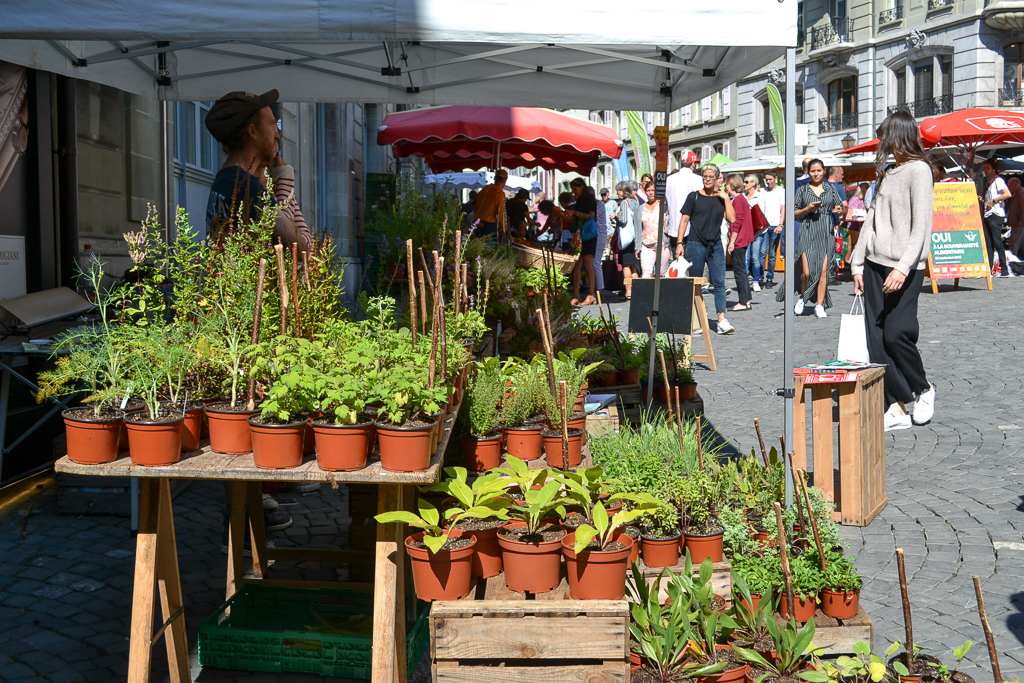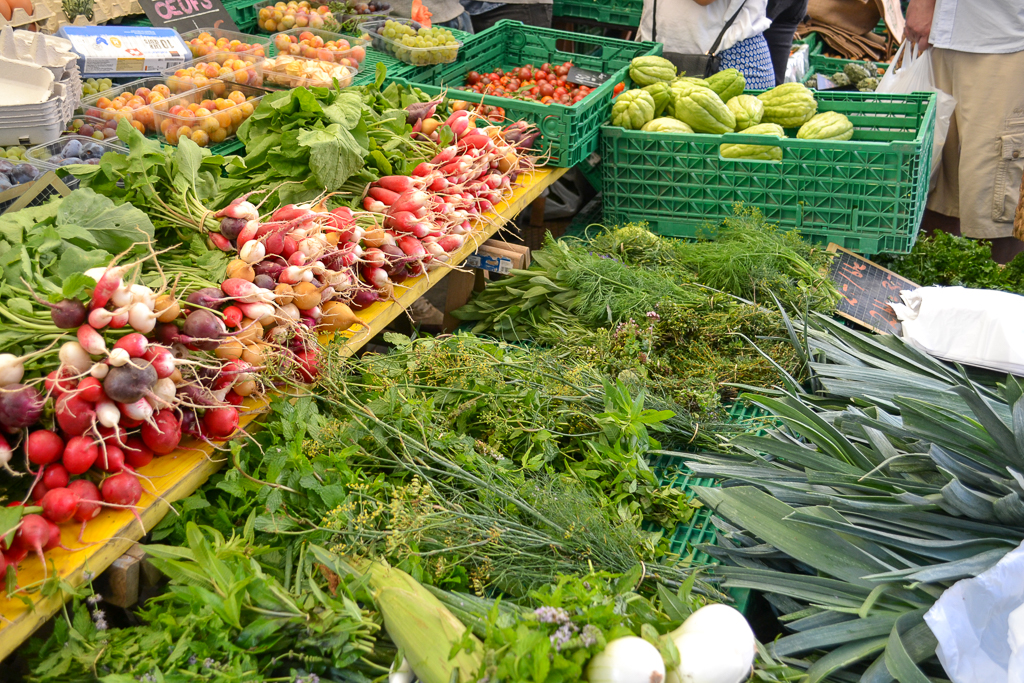 Sometimes, I like to grab an empanada from Tata and savour it while watching the world go by -you will find her stand at Rue du Pont, opposite the entrance of Globus shopping centre. Other times, I like to stop at Moutarlier (Place de la Palud) and grab one of their delicious croissants or some fantastic pastries for home.
From Moutarlier, I follow the road towards Rue Saint-Laurent to explore a few more stands and stare at the dreamiest flower stand of all, right opposite Manor shopping centre. I promise I will reach out to this amazing lady, learn about her story and then tell you all about it.
Usually, I am full from everything I have eaten at the market so I go to The Coffee Project for my dose of flat white (or a freddo espresso if it's summertime). But if I am still hungry and looking for lunch or a Saturday brunch, then my go-to places are Le Pointu, Blackbird Downtown Diner, The Culture Café inside FNAC or Pancs. They 're all nearby the market.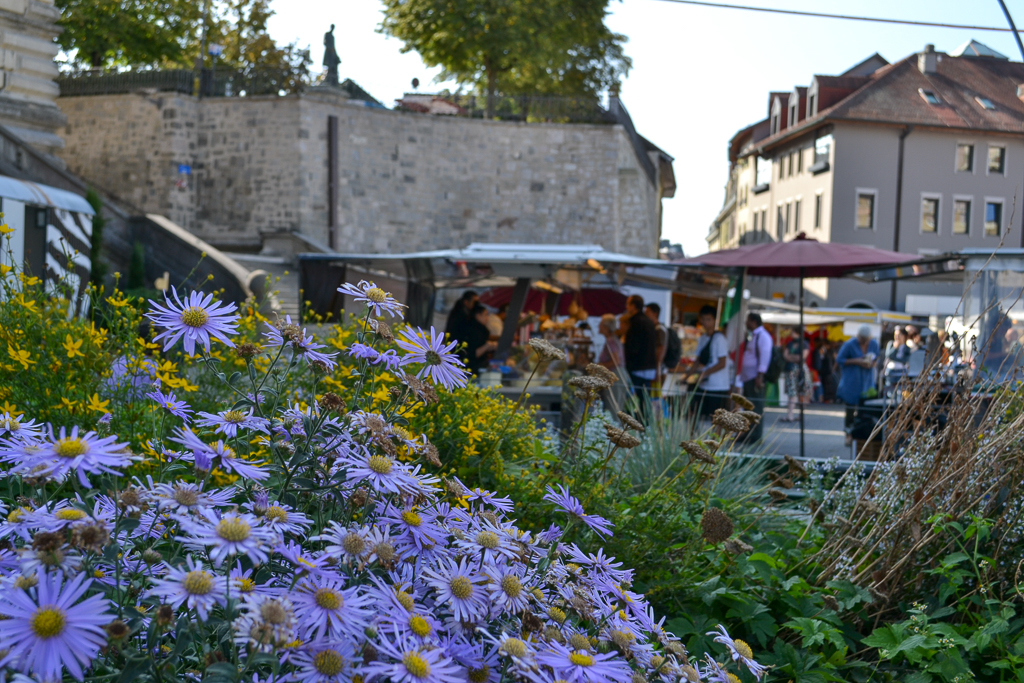 A few tips if you are visiting the market:
-Grab a carrier or a big bag which is easy to carry around as groceries might get quite heavy.
-If it's summer, think of returning home after the market (wherever you are staying at) to leave any dairy products you might have bought.
-Have cash with you.
-If you don't know which product(s) to select (for example, which type of cheese), ask for some guidance or check what everyone else is buying. Sometimes you will spot a best-selling product after just a few minutes of spying.
-Be patient. Queuing properly is not really a thing here.
-Come early. It goes without saying that the best products are found early on at the markets. Of course, going early is not something I am particularly good at, but well, you have been warned. Also, the market closes around 14.30 so keep in mind that you don't have all day to do your shopping.
-Be adventurous. Try out new things. That violet vegetable you have never seen before? Well, go on, pick it up. There will be countless YouTube videos and recipes on how to cook it. And it might even become your next favourite ingredient. Who knows?
Have you visited Lausanne's Open Market yet? Which are your favourite producers/stands and the products you love to buy? Leave a comment down below and let me know!
For more tips on where to eat and drink in Lausanne, check out my ebook – The Curated Foodie Guide to Lausanne!
[tco_subscribe form="8040″]