Ice cream is always a good idea, especially when it's artisanal. I have become addicted to this version of ice cream since we moved to Lausanne. This is partly due to the LOOM artisanal gelateria and the superb ice cream it offers. François Lador, the manager and head of the production, always creates new flavours and experiments with new products, which keeps the loyal customers -like me- coming back for more.
When the weather is nice, the queue can spill out on the road and there is a good reason for that. It's where we love to stop by after or before we visit the nearby Park Milan – a great place for families with kids, for friends having a picnic or just for a leisure walk.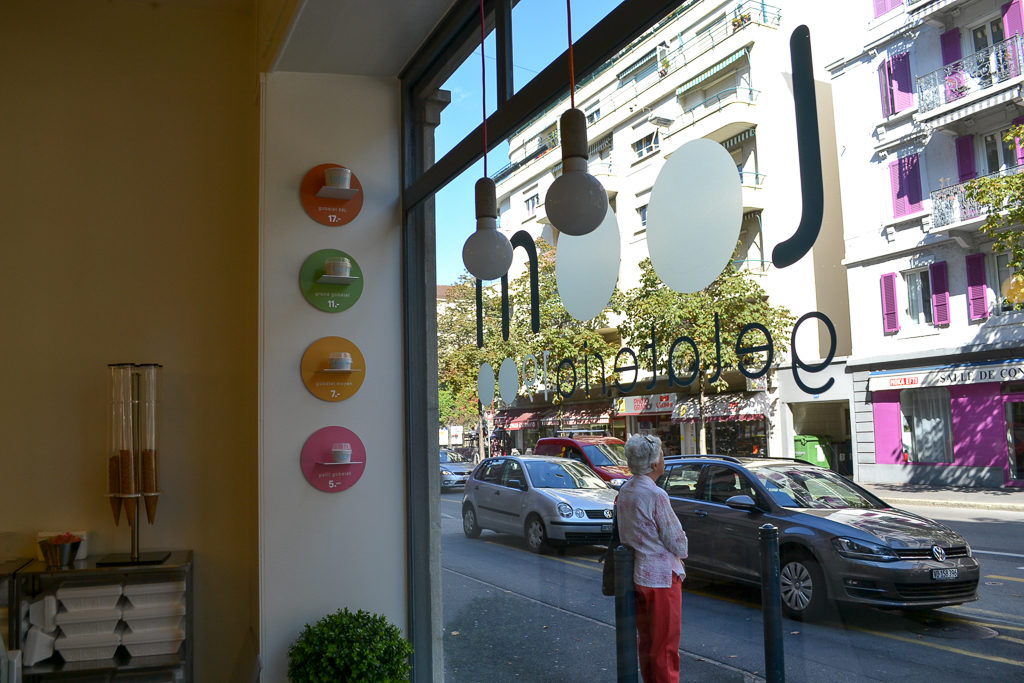 My favourite is a combination of red fruits sorbet (fruits de bois), stracciatella or even better the gianduja when available and mocha or a chocolate one. On a cone, preferably.
Interested to know some more background information about this artisanal gelateria in Lausanne? Keep on reading.
What's on offer
Homemade ice creams, sorbets and also desserts, both classic and modern.
There are more than 60 different flavours all over the year, all 100% natural (except for one which contains a mint-chocolate colouring). "We work with very high-quality ingredients such as vanilla from Madagascar and Mexico, raw cacao powder, passion fruits from Thailand, pistachios from Sicily, hazelnuts from Piedmont to name but a few. We work as much as possible with local and seasonal fruits (apples, pears, strawberries, apricots, prunes, grapes, quince) and use exclusively Swiss milk and Swiss sugar" François tells me.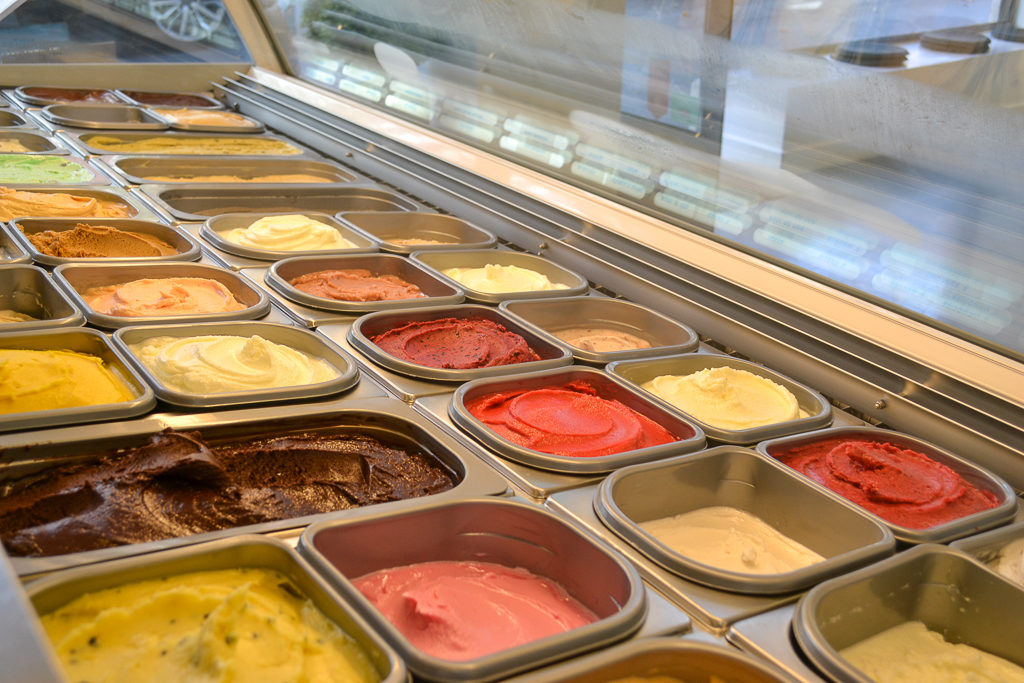 Their best sellers are without a doubt the chocolate, both ice cream and sorbet, the black sesame and the matcha (Japanese green tea).
And what about François' favourites? I wonder. "I'm very proud of my hibiscus flower sorbet, my ice cream à la farina bona (a Swiss specialty), and I love my pistachio ice cream," he tells me.
Last time I visited, I tried the hibiscus flower sorbet and it's indeed delicious.
I love the fact that François is always experimenting with new flavours and collaborations. In his words "Last year I created the ice cream à la farina bona, ice cream with tonka bean, a hibiscus sorbet, an old apple sorbet (in collaboration with Aubonne Arboretum)." Can't wait to taste François' novelties for the new season.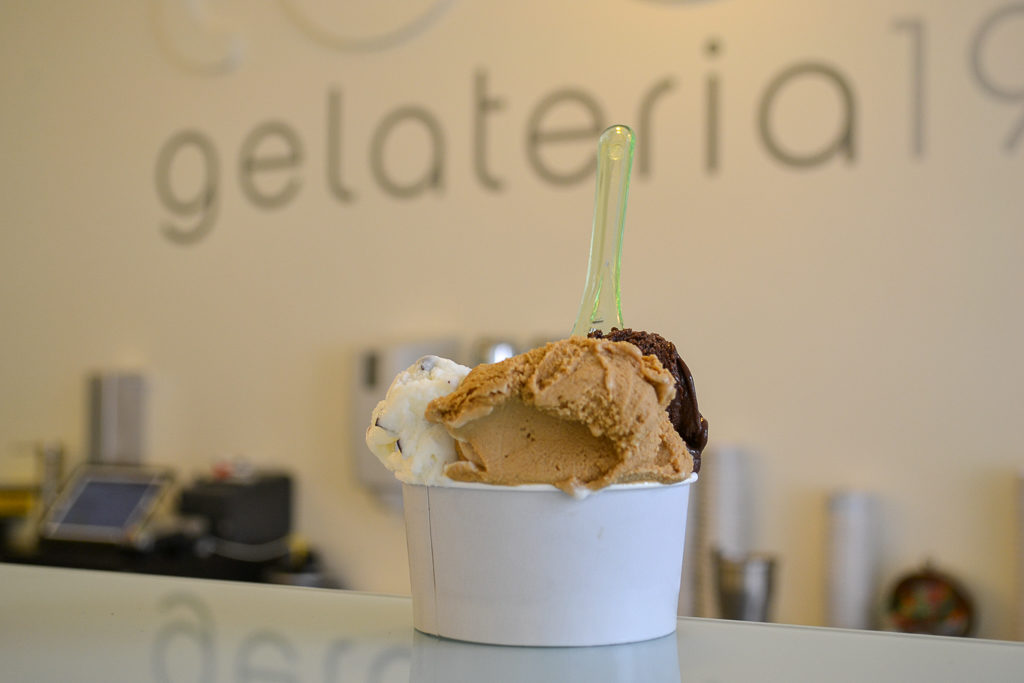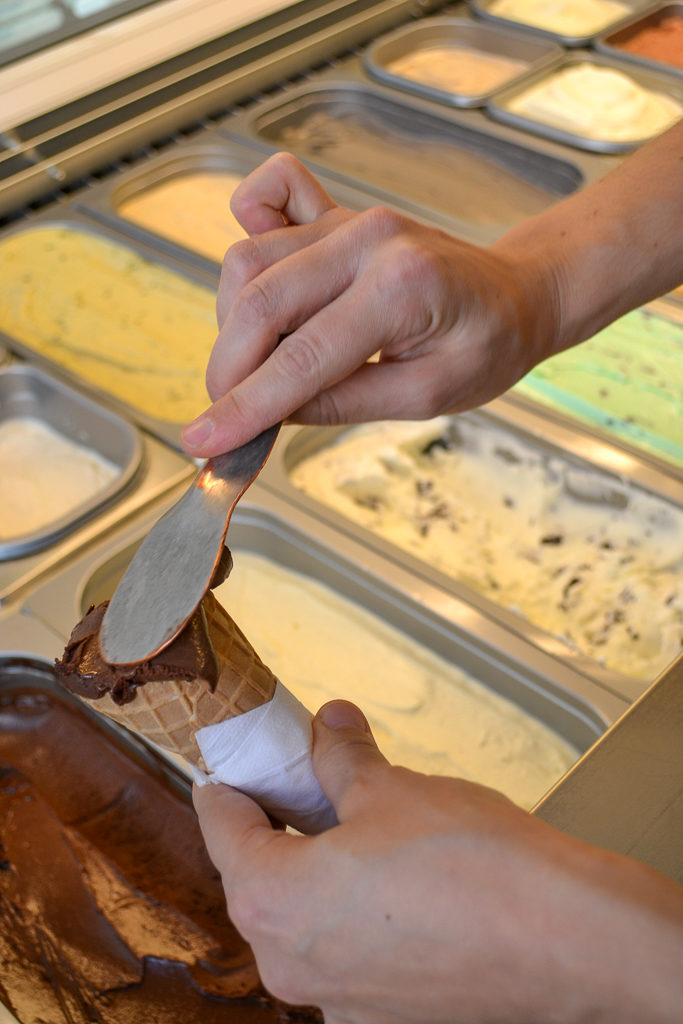 LOOM also has an ice cream cart for outdoor events like weddings, birthdays, or corporate parties. They are regularly present in markets or during events such as music festivals and others.
During the Christmas holiday season, they also offer frozen log cakes, frozen mandarins and lemons. In December, they offer homemade hot chocolate to accompany their ice cream and warm up their customers! What a lovely idea.
This year, there were several novelties introduced at LOOM which proved quite popular: for example, the Eskimos (ice cream on a stick coated with chocolate) and the ice cream cookies (in collaboration with  Cuppin's, a lovely tea and pastry shop in Lausanne).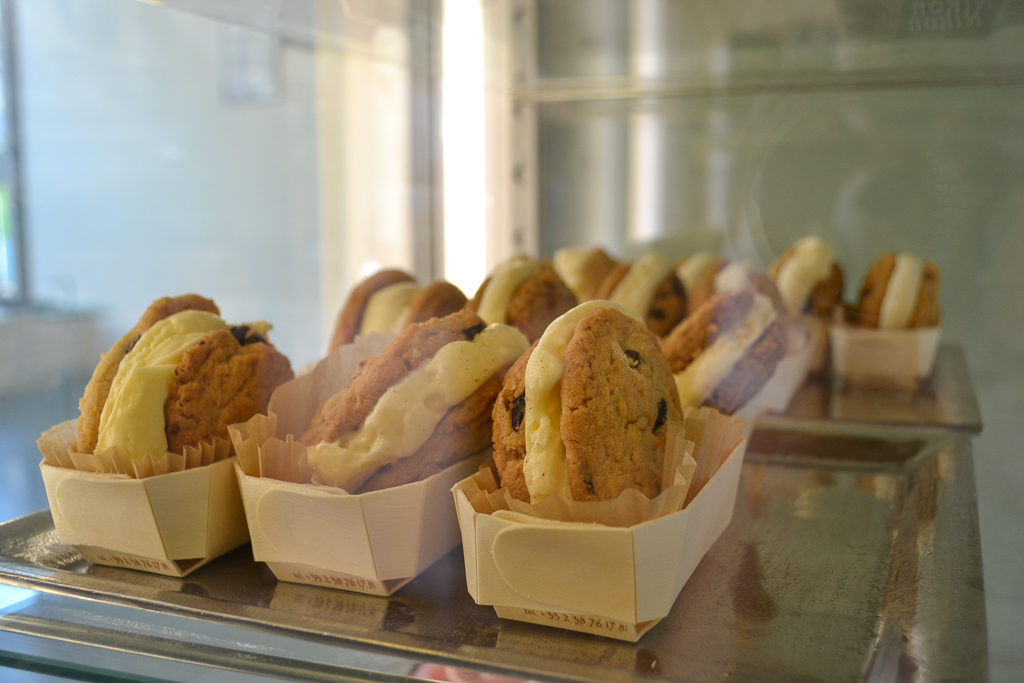 And some others which still need time in order to find their audience such as the Norwegian omelette, also known as Alaska bomb which is different layers of ice-cream on a soft home-made cake, wrapped with Italian meringue. Or the frozen vacherin, made with two layers of ice-cream with Swiss, crusty meringue cooked in an oven between the layers (Swiss meringue is traditionally served as a dessert with red fruits and crème double from Gruyère village) and wrapped with whipped cream.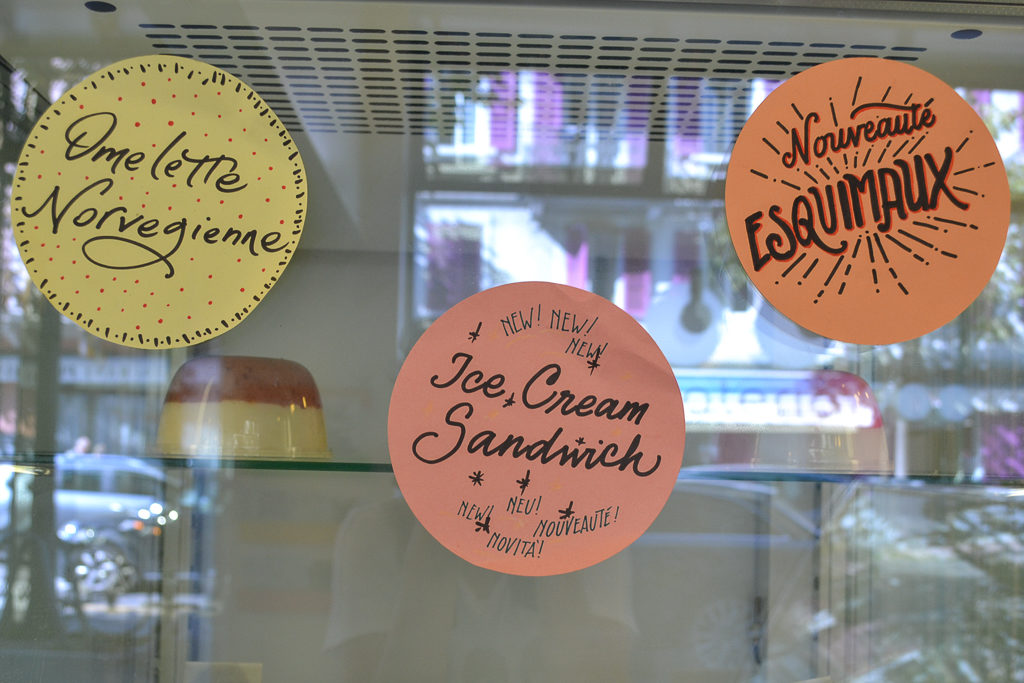 The team
Initially, the creation of LOOM was the project of François' mother, Maryse and a former friend of hers. "In 2012, my family bought the company "Gelateria 1900" which was one of the first gelaterias of Lausanne, located in the Quartier de la Borde. The owners, Mr and Mrs Pedrazzi, had "Gelateria 1900" for more than 25 years and had gained a solid reputation in the production of ice cream and artisanal sorbets. At the time, they were looking for buyers because they were about 70 years old and wanted to retire.
We found a new place at Boulevard de Grancy where we established our laboratory and shop. We got the recipes, customers and machines to make ice creams and sorbets from Mr Pedrazzi and created Loom Sàrl in spring 2013." François says.
After two years that his parents were in charge of the company, François decided to take the torch and undertake the production, the operational management and the development, in an attempt to modernize the company. "So, I became the company's manager in July 2015 while my father is responsible for all the administrative part. You can say that it's a family business." François adds.
His background is relevant as he has always been passionate about cooking (his father is a professional cook) and good food. After studying hospitality management (EHL – École hôtelière de Lausanne and EHG -École hôtelière de Genève), he worked as a receptionist, operational management assistant for several restaurants, in human resources and as an assistant manager in a hotel.
"However, I always felt a lack of purpose because I did not create anything with my hands. I found this purpose with the creation of ice creams and sorbets and other desserts while being able to decide where to direct the company and to apply my own decisions" he says.
The team evolves a lot during the year because the ice cream business is strongly linked to the seasons. For example, in low season (October-March) it's only François and a full-time sales employee. But gradually the team expands and in high season there are up to 12 people in the company. "It's mostly sales employees who are mainly university students, some of whom have been working with me for the past three years. I also have an assistant in the kitchen to support me during the busiest months," François says.
When I went to snap some photos, a few months ago, I also met Stefania, a lovely Italian girl who works at LOOM as a sales employee. In fact, Stefania's husband is Greek and before moving to Lausanne they were living in Athens. What a small world this is.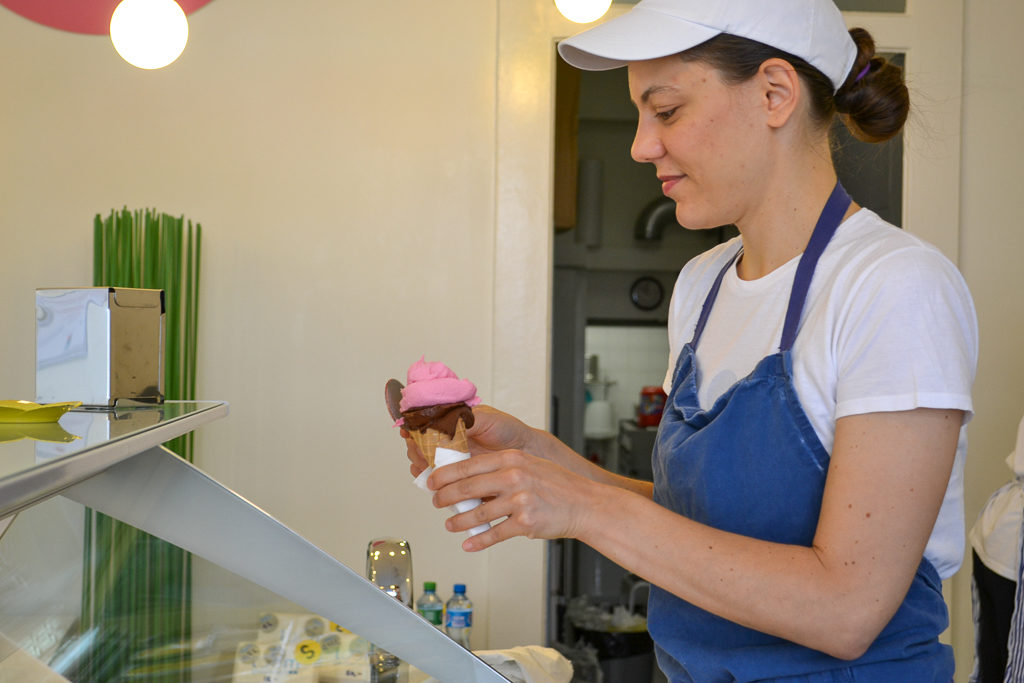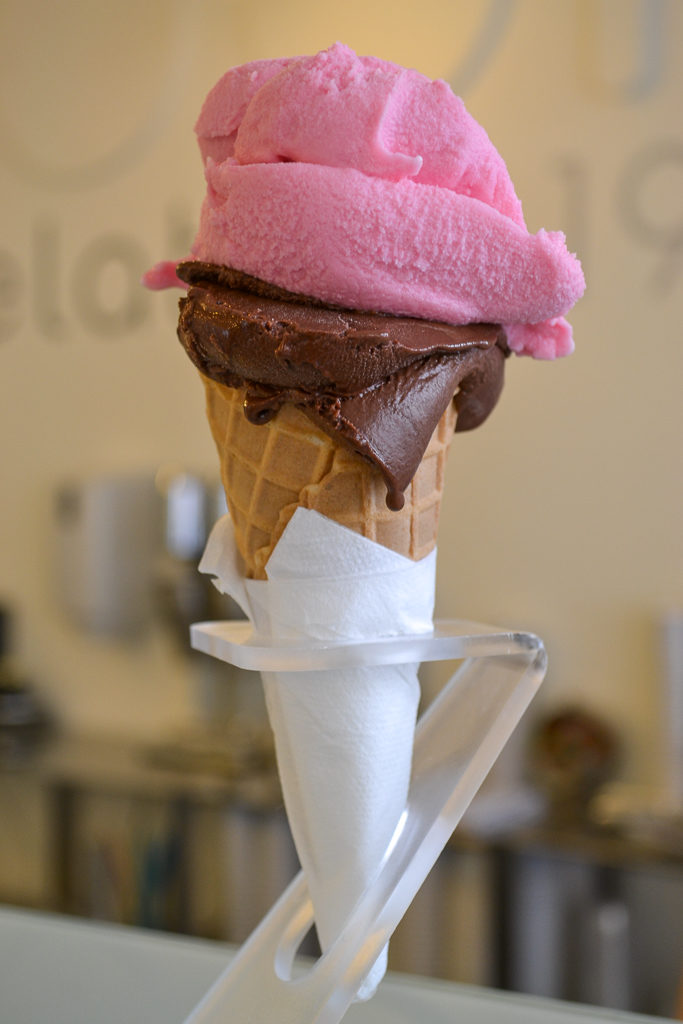 The Philosophy
In François' words "LOOM is first and foremost an artisanal business which for me means that I have total control over the products that I sell and how I sell them.
I think that nowadays, it is very important to respect the customers and the environment by being honest about how you work (homemade), the quality and the origin of the ingredients used to make the ice cream. As a customer, I cannot bear feeling cheated and I do not want to do that to my clients either."
For François, the artisanal element is directly related to the size of a company and subsequently to the control that one can have over the production. In his opinion, it's not possible to multiply the production premises, to always grow and delegate without losing control, at least regarding the quality of the products, the contact with the suppliers and the customers, and so on.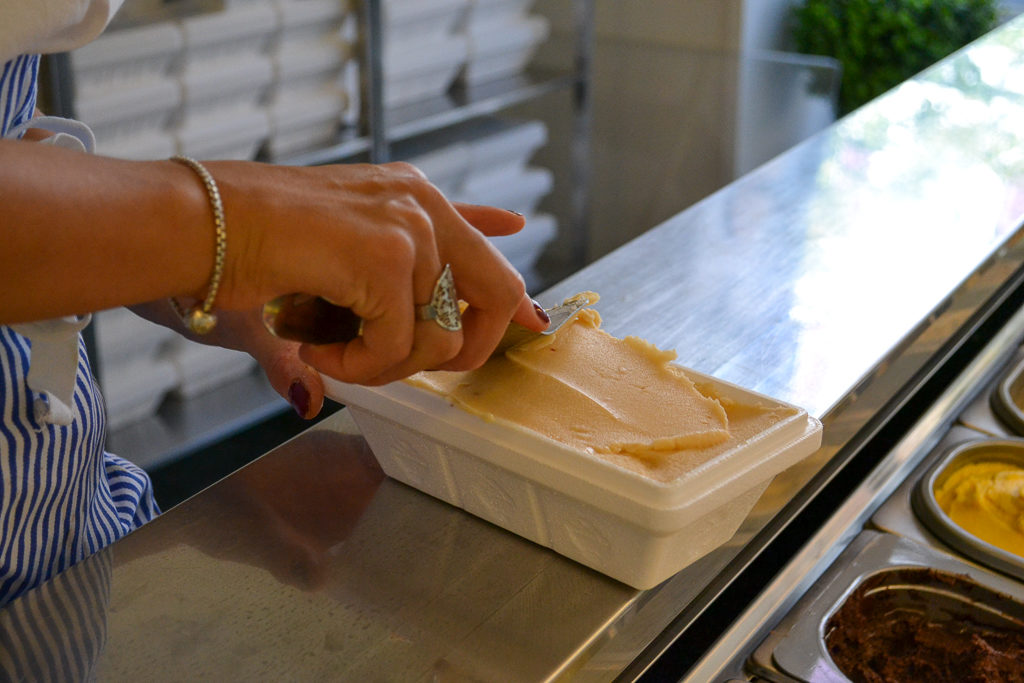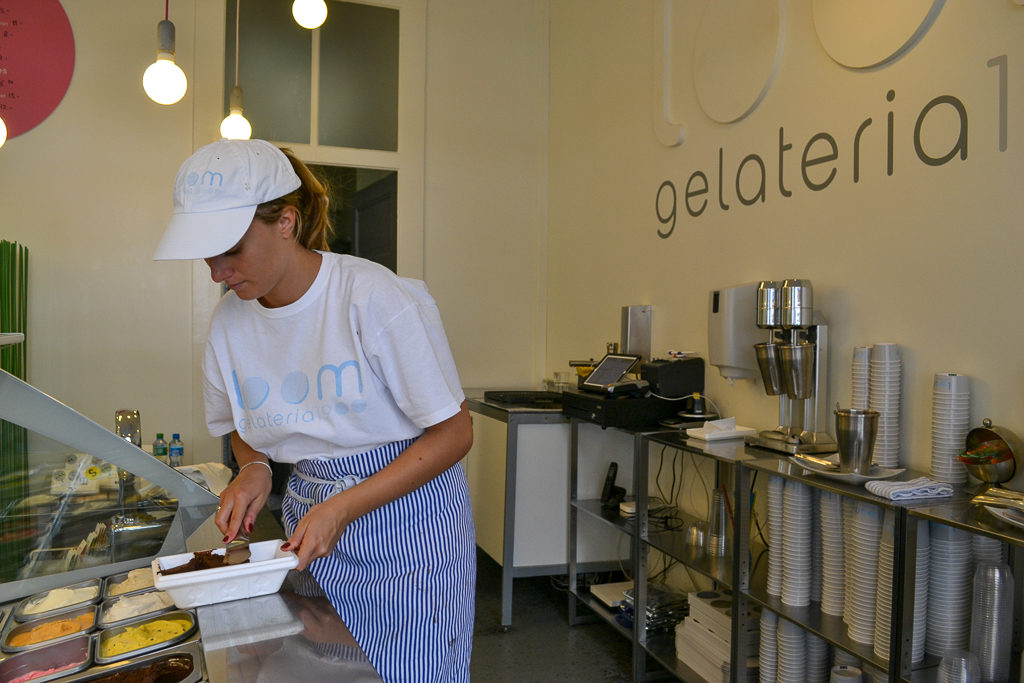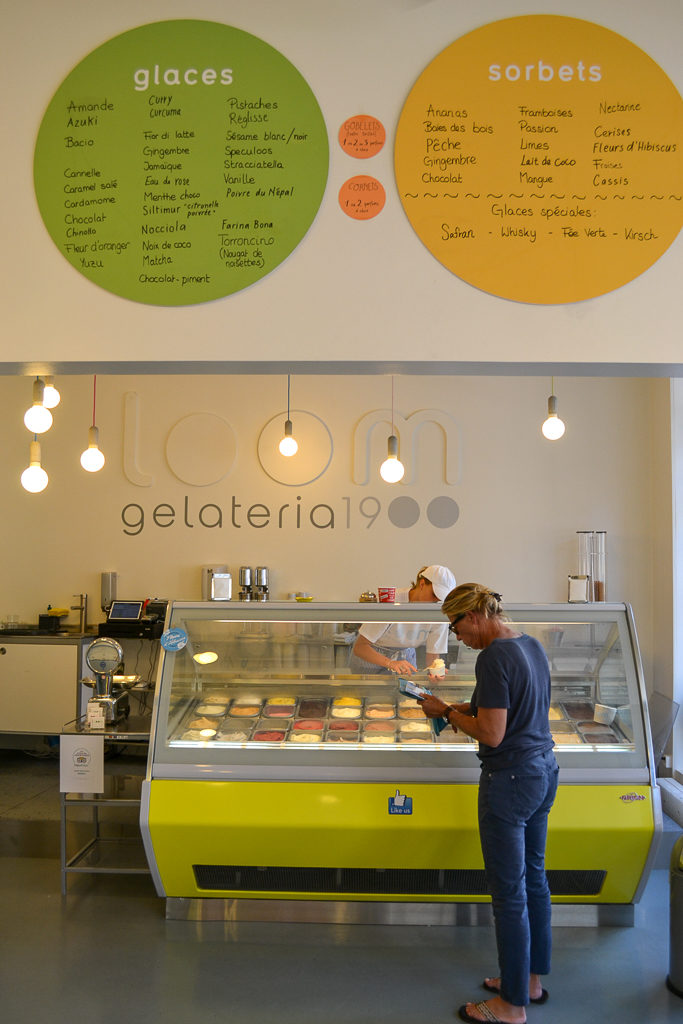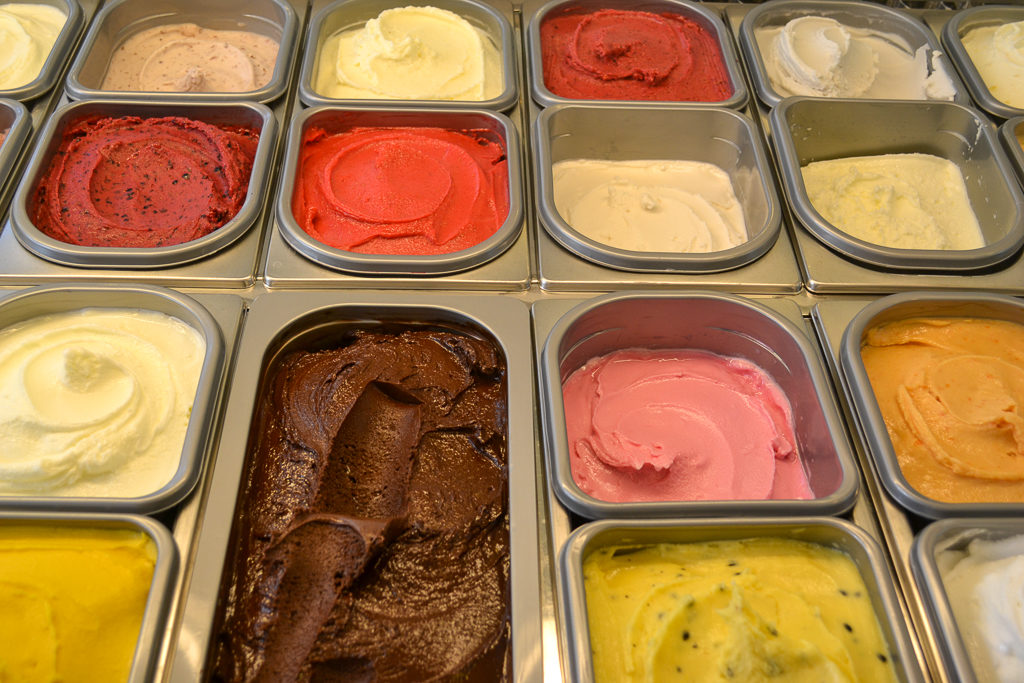 Having a gelateria might initially sound like an easy job but after taking a closer look at a typical day of François, you would probably change your mind:
"The days are very busy, especially in high season. In order to be efficient, I am constantly multitasking.
Here is what yesterday looked like:
Started working around 7:30 – 8:00. Reassembly of the machines which I cleaned the night before, pasteurization of 40lt of milk to make the base that I will use to make ice cream for the next day, preparation of the stracciatella ice cream, verification of emails and orders, production of vanilla ice cream prepared the day before (40kg), centrifugation of fresh ginger that I will use for the ginger ice cream and sorbet, preparation for the coconut milk sorbet, pasteurization of 20lt of milk to make the vanilla base that I will use for the ice creams of the next day, preparation of the hibiscus infusion, production of the ginger sorbet prepared the day before, preparation of the black sesame, pistachio and cinnamon ice creams, transfer the stracciatella ice cream which I prepared in the morning to the counter, calls from suppliers, response to customers' demands, going to the bank, calling customers for invoice reminders. End of the day at about 18:00."
Grab a pen and paper to keep a note of François' favourite foodie experiences in Lausanne and the region:
"I have recently discovered the store "Bread store" which is in the district of Boveresse: the best breakfast I have had for a very long time.
I am a huge fan of the incredible creations of Moutarlier at Place de La Palud.
The coffees of my "roommates" at Boulevard de Grancy, Ça Passe Crème, are to die for, especially their iced latte.
Otherwise, I am a great lover of salty food and I find my happiness at the market of Lausanne in the stalls selling cheese, dried meat or at my friend who sells black garlic from Bilom … yummy!"
So now tell me, have you been to LOOM gelateria already? Are you a classic flavour person or an "I will try whatever sounds and looks more bizarre one please" person? I feel I am in the middle and depending on the day I will either play it safe or just take a risk and try out something new. Leave a comment and let me know down below!
LOOM
Boulevard de Grancy 45, 1006 Lausanne
For more tips on where to eat and drink in Lausanne, check out my ebook – The Curated Foodie Guide to Lausanne!