The newest addition to the emerging specialty coffee in Lausanne, is a tiny little jewel based in one of the city's most charming neighborhoods under the train station, locally known as "sous gare", very close to Park Milan.
"Ça Passe Créme" means "it's all good" and how could it not be when places like this brighten up your day? Their coffee is of great quality, the blend changes regularly so you get to taste new flavours and it's served in a lovely little tray with a glass of water and a delicious sable cookie; the décor is minimal and very stylish; the service is extremely friendly and every single product offered has an interesting story behind it. They even have some fantastic editions about coffee to read while there.
And, they are open on a Sunday. Could someone pinch me, please?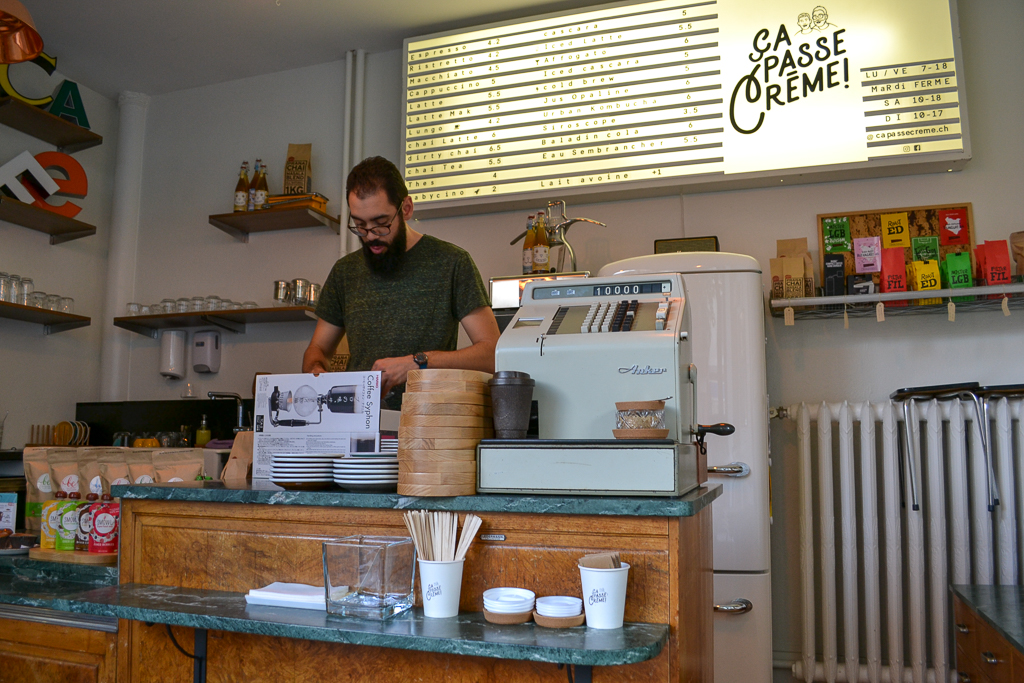 What's on offer
The founders, Davide and Steeve, only work with recipes based in double espresso shots. From espresso, ristretto, macchiato, cappuccino, flat white and lungo to iced latte and cold brew (in summer) and mocha (during winter), all the usual suspects are on the menu.
My own favourite, a flat white, was simply delicious but I am also very eager to go back and try out their affogato, which is vanilla ice cream from next-door LOOM gelateria with a double shot of espresso and a little bit of biscuit on top to give a bit of texture, an Italian recipe slightly changed. As Davide tells me "It's more like a dessert, people come here around 4 in the afternoon or just after lunch to have their affogato." They also offer dirty chai which is a chai latte with double espresso, babyccino for the little ones, a glass of hot milk sprinkled with cinnamon, Opaline juice from Valais and Urban Kombucha.
Recently, they worked together with Magalie, founder of the culinary blog Nawaï Li about holistic, healthy and nutritious vegetarian cuisine- and created their own version of a Pumpkin Spice Latte available only until the end of November (which is tomorrow so you've got just one day more!). Haven't been able to try it yet but it certainly looks delicious and hope that it's coming back on their menu, maybe next year. However, you can get the recipe anytime on Magalie's blog.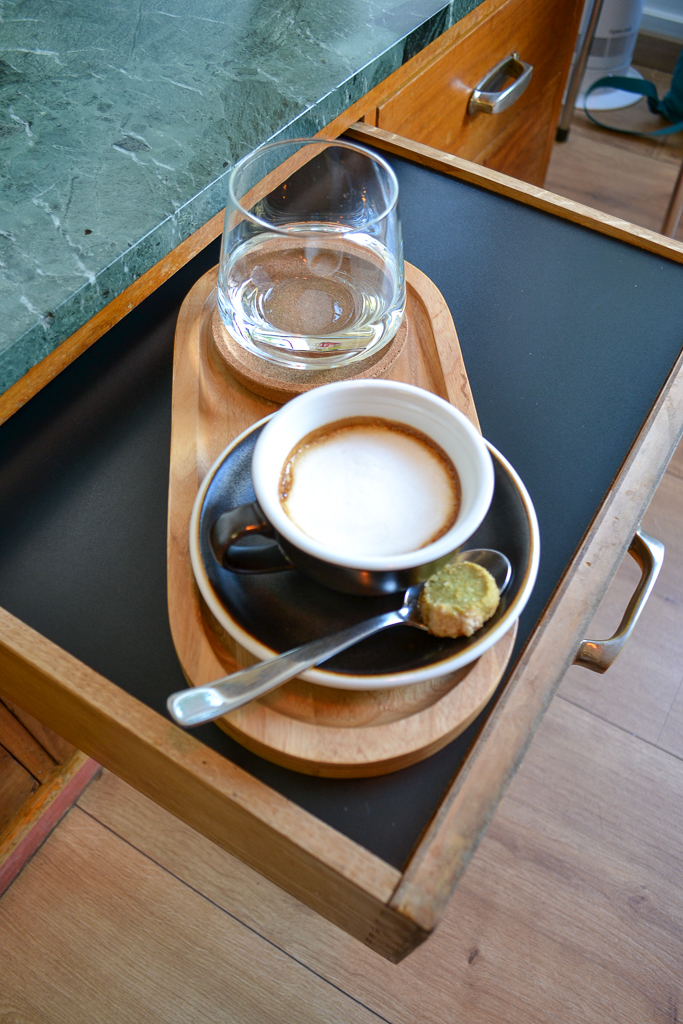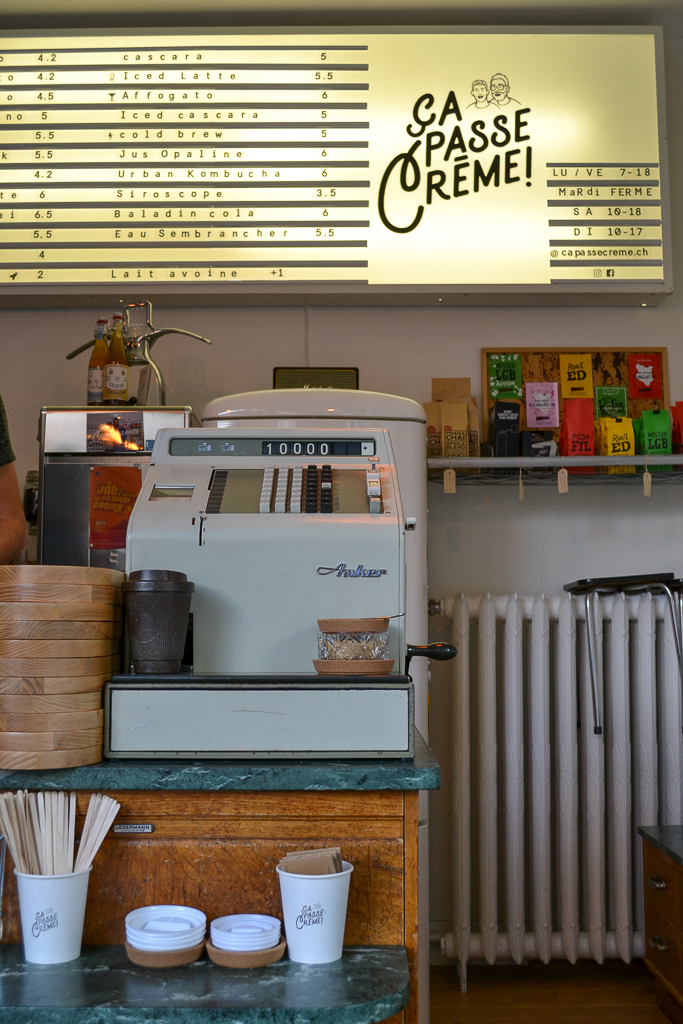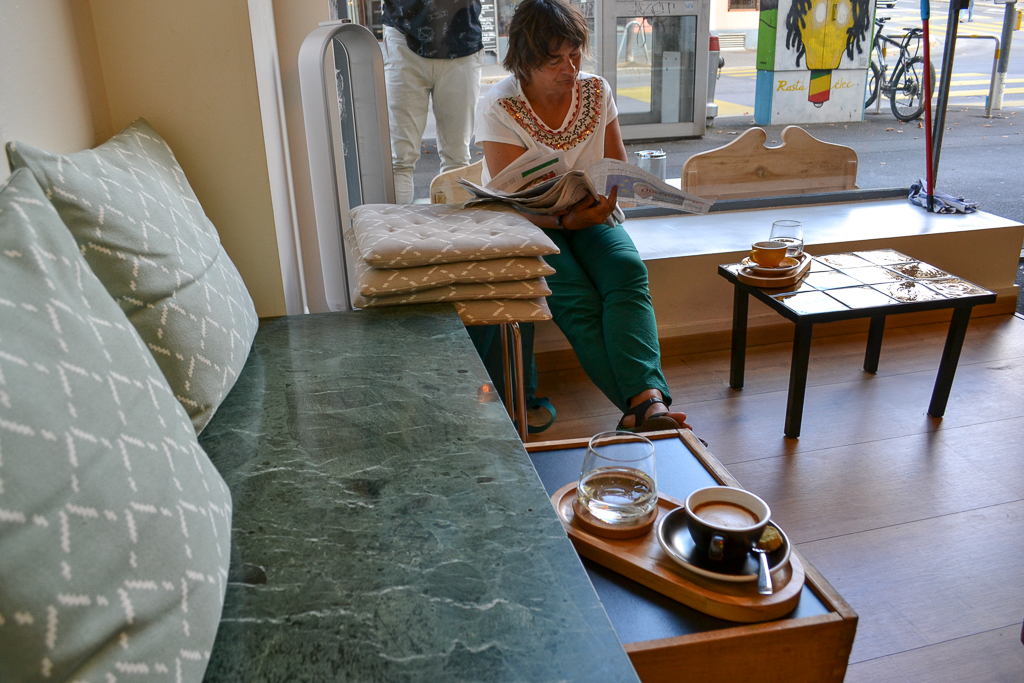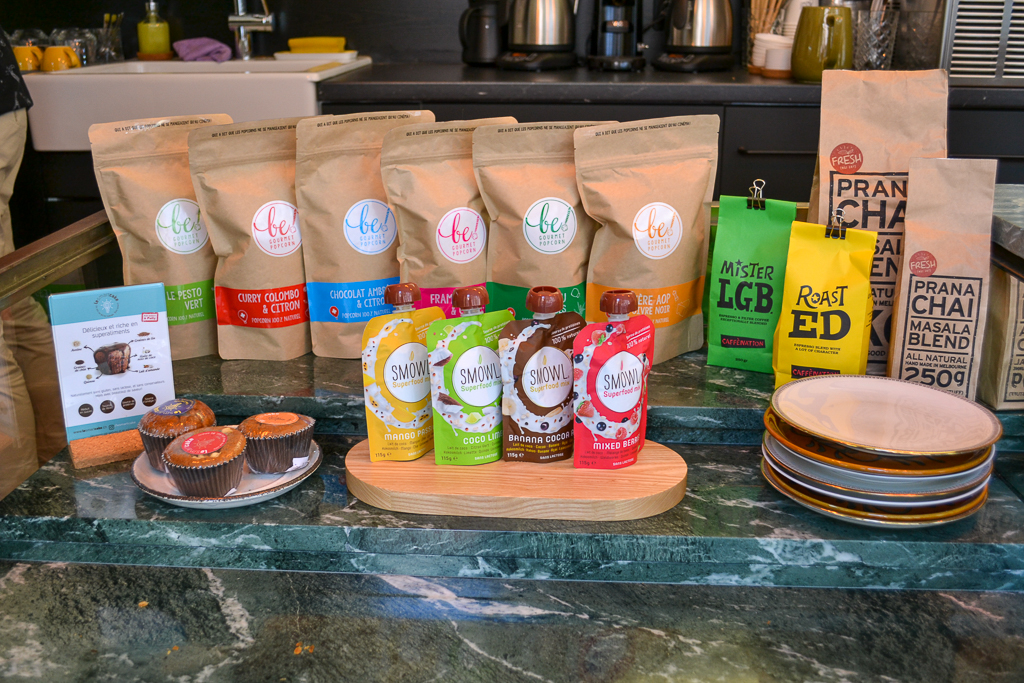 The coffee roaster
Caffenation, the coffee roaster they work with is based in Belgium and offers both blends and single origins for espresso and filter coffee. At the moment, they have two different blends available at their coffee shop: "Mister L.G.B." is a blend ideal for milky recipes and "Roast ED" is a strong and rough espresso blend which gives "a rounder cup of coffee and it's better for countries like Switzerland where people are not yet very used to specialty coffee" as Davide explains.
Both blends change every 2-4 weeks and it's nice to be able to offer people new types of coffee to try. They also have a 100% Kenya single origin for their cold brew while at the same time they are planning to get a new grinder and offer a single origin coffee to their customers soon.
But it's not only coffee that is of great quality here. I feel that they have carefully selected every single product and little detail. For example, the sable biscuits offered come from the bakery Jean Francois Martin in Cully and the pain au chocolat comes from Maison Buet in Lausanne.
They even offer a glass of water with every coffee, which is not something you find everywhere in Switzerland. In Davide's words "For us, water is for everyone. The water we serve for free with our coffee is filtered so it's also good quality water. On top of that, we have a good quality sparkling water from a mineral source from Saint Roche in Switzerland – we love the story behind it and that's why we offer it in our shop."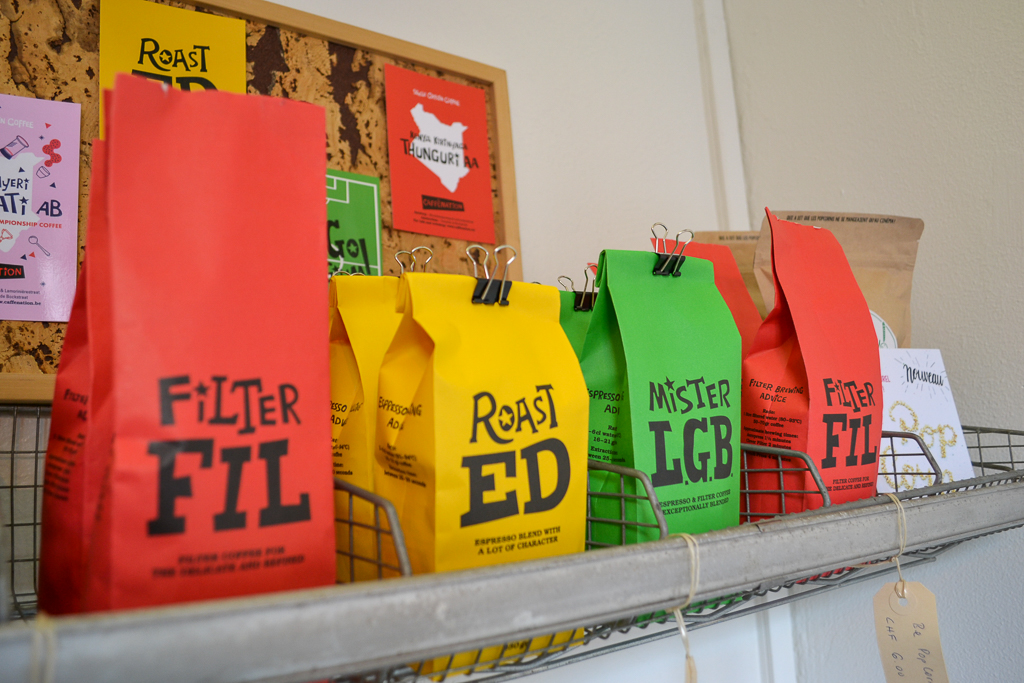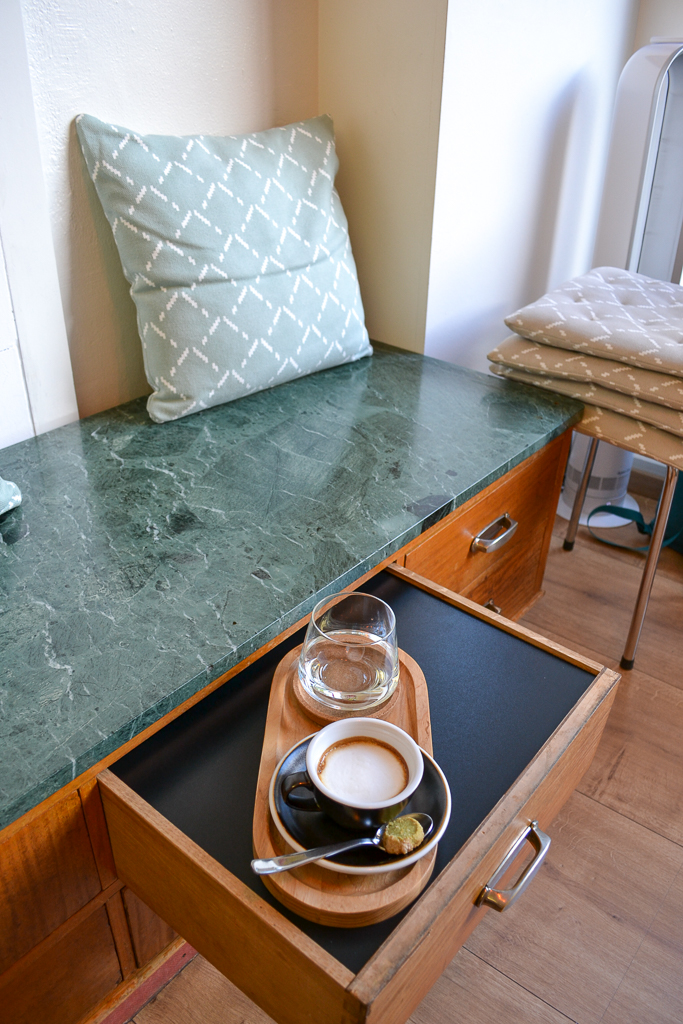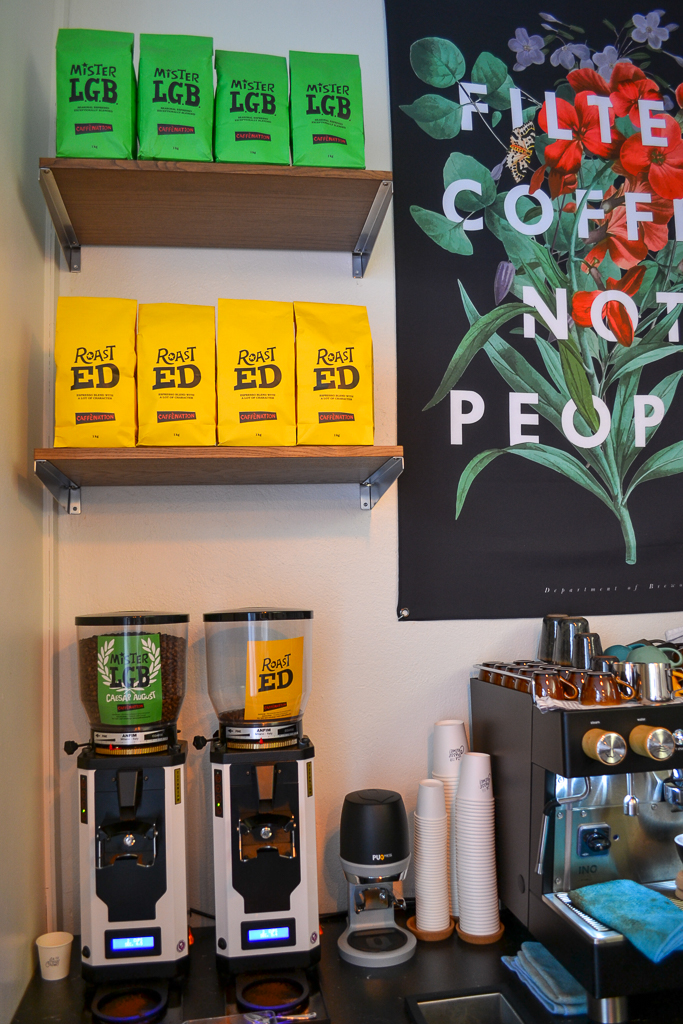 What's unique about them
To be honest I liked everything about their coffee shop. Even the fact that it is tiny, urges you to meet the person who sits next to you and engage in a conversation.
Most importantly, I like their friendly welcome and service but also the attention to product quality on every level. "When people come in at our coffee shop it's as if we welcome them to our house," Davide tells me and adds "Our parents are Italian and we have hospitality in our blood. It's a reward for us to see people coming back day after day. We even have customers inviting us to dinner at their own house, something we would never have imagined."
How cool is that?
The team & their story
Davide and Steeve are best friends from when they studied at Ecole Hoteliere de Lausanne about 8 years ago. Since graduating, they were always discussing doing business together. In the meantime, Steeve travelled around in Asia and Africa before heading to London where Davide also was for work, not coffee-related. "We were both coffee lovers – our parents are Italian- but we hadn't yet dived into the world of specialty coffee," Davide tells me over a cup of flat white.
In London, Davide gave the London Coffee Guide as a welcome gift to Steve when he arrived. "As a joke we said, let's try to do all of them. Specialty coffee was very new to us, you have more tastes, more flavours, more aromas. So, one day we realized that we didn't have to look too far. Since we like that kind of coffee we thought that we should go back home and open a specialty coffee shop there, to give the chance to the people living in Lausanne to discover new things. Just as we did in London. That's why we came back and worked together to open this shop" Davide tells me.
Today, at their coffee shop, the London Coffee Guide stands on a prominent spot inside a glass case and I absolutely love how they chose to honor the way it all started.
While in London, Steeve and Davide started the Instagram account "London Coffee Lovers" – https://www.instagram.com/londoncoffeelovers/  where they were posting photos of the coffee shops they were visiting. Through this account, they met a lot of people from the coffee industry in London.
"Actually, the first coffee shop we visited in London was Host coffee shop which is located in a church and the manager was from Belgium so when I was looking to train myself I called him. I had heard that he opened a coffee shop in Belgium so I asked him if I could go there to train for a month and he agreed to help me with pleasure. He gave me a room in his house and taught me everything he could about coffee" Davide recounts.
It was during his time in Belgium that Davide also met their current coffee roaster, Rob from Caffénation, based in Antwerp. "I met him, we discussed, I liked the way he did coffee and how he became an entrepreneur as well 15 years ago and we decided to work together. A lot of things in our journey happened like this, by an unexpected meeting and by following our feeling a lot" Davide adds.
Steeve and Davide have also completed together an intermediate barista course certified in Geneva, at Académie du Café Suisse, led by the founder Ennio Cantergiani.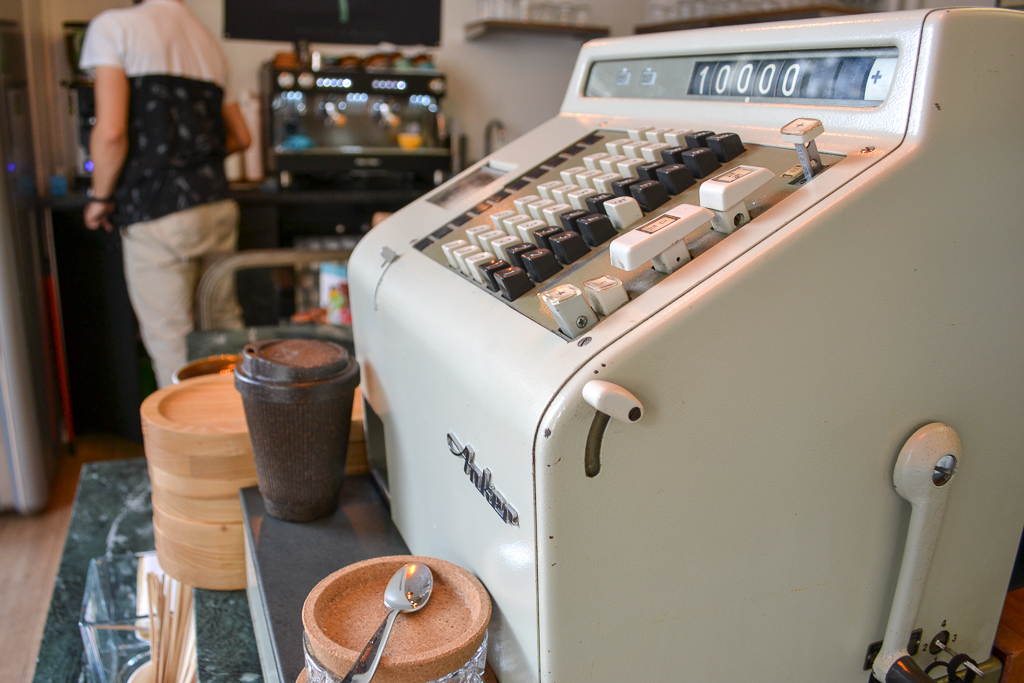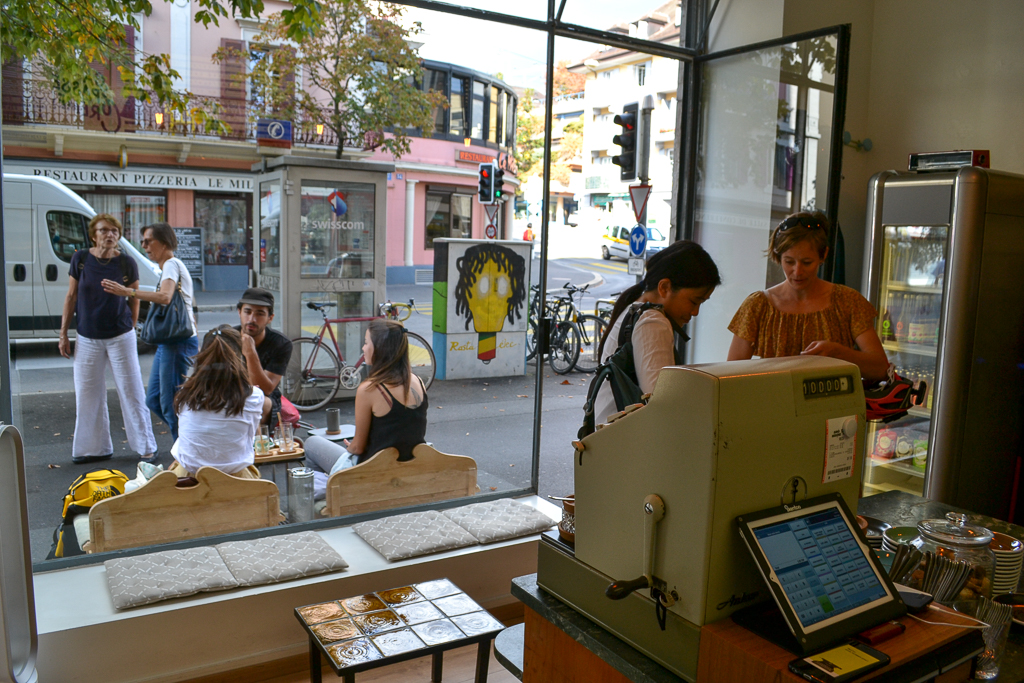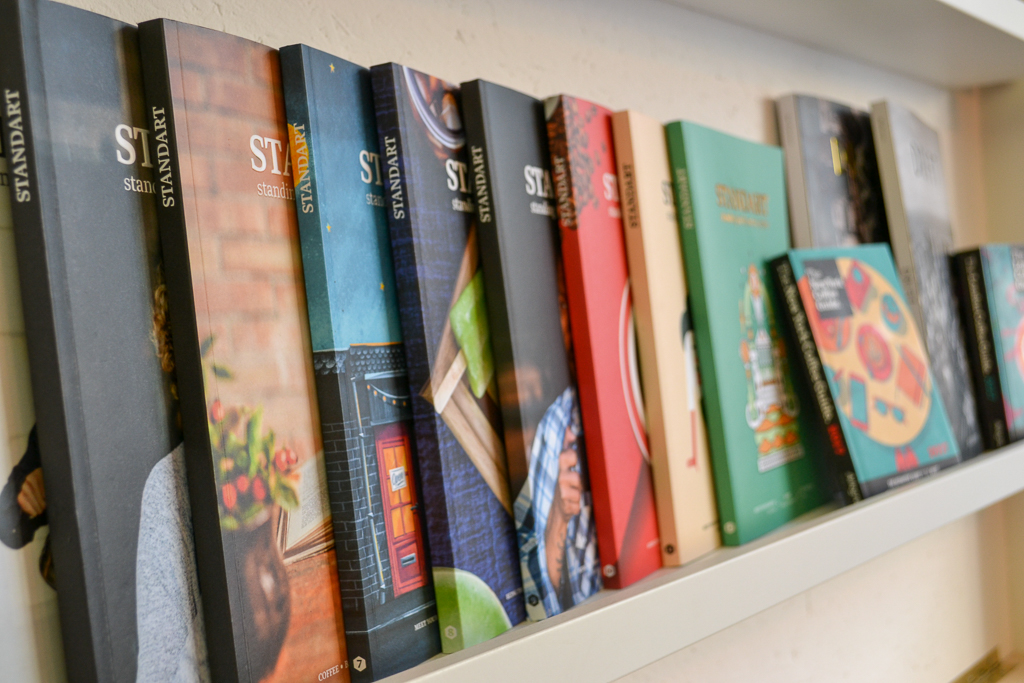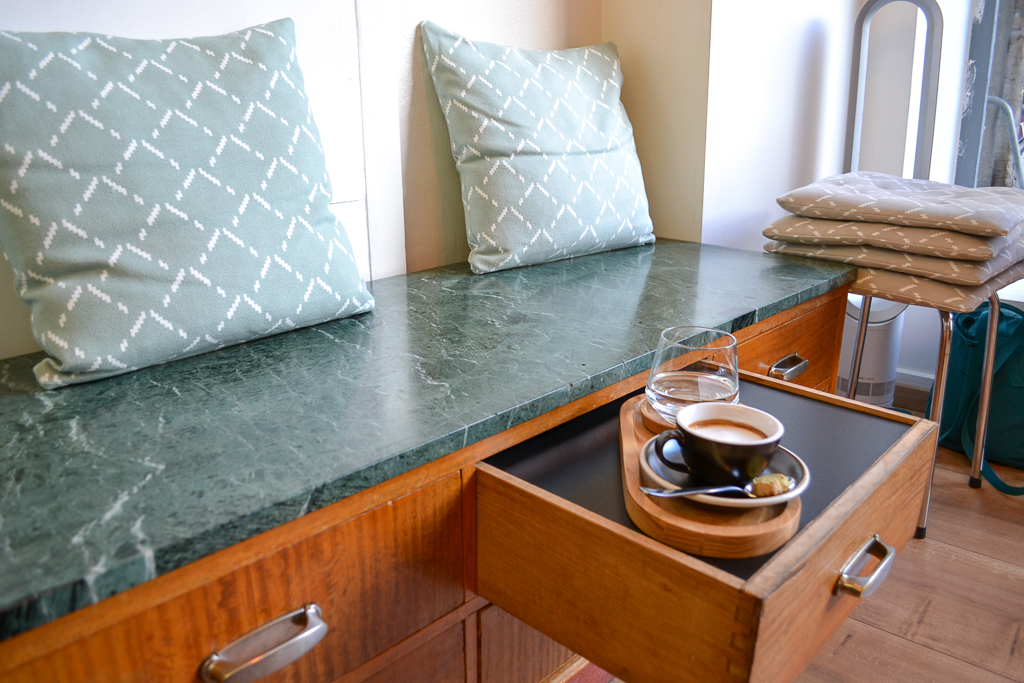 The location
Finding a spot to open their coffee shop wasn't easy. They were searching for about 1.5 years before knocking on LOOM's door -the artisanal gelateria right next door- who agreed in helping them out and offered their current space. Following one month of preparation, the two friends opened for business on 1st June 2018.
The experience
I was also curious to know what do they like most so far about their experience with their coffee shop.
"People come and sometimes they say I don't drink coffee but after 2-3 weeks they come back and they drink coffee! We are happy that people are not rejecting it entirely. It's interesting that they come back, it's as if they want to learn something new and taste more. That makes us really happy." Davide tells me.
They already have regular clients which means they are definitely doing something right; among them, many expats who know and search for specialty coffee but also locals from the area who come here every morning for their coffee.
Davide's favorite cup of coffee: "I will always go for espresso, it's the purest so you have all the taste there. I also love filter coffee because you feel all the taste but it is really smooth."
Steeve's favorite cup of coffee: "I always prefer espresso or filter coffee depending on the terroir. I like mostly the coffees originating from Africa, Ethiopia and Kenya, mainly because of the complexity that they can provide.
Coffee Tip from Davide and Steeve: a good cup of coffee is the one where you can detect the aromas and that is well balanced. You have to remember to be careful how you store your specialty coffee at home and make sure to consume the coffee as fast as possible.
As always, I asked for their favorite foodie experiences in Lausanne and the region and here is what they told me. Take a note!
"Without any doubt Amici in Lausanne for their quality food and the service and hospitality, Luigia for their pizza, Chez Mama Elisa for her homemade Italian dishes."
So now tell me, have you discovered this new specialty coffee shop in Lausanne yet? What's your favourite coffee? Leave a comment down below and let me know!
Ça Passe Créme
Boulevard de Grancy 45, 1006 Lausanne
For more tips on where to eat and drink in Lausanne, check out my ebook – The Curated Foodie Guide to Lausanne!