It's this time of the year when I am truly craving for chocolate. Not any chocolate though. Dark, artisanal chocolate is what I am opting for lately combined with pistachio, coffee, lemon, salt or caramelised almonds. And one of the best places to find this kind of chocolate is, of course, Switzerland.
Since we moved in Lausanne, exactly 7 years ago this month, I have been told that Blondel Chocolatier is not only a historical shop but also one of the best in town. To be honest, I was intimidated at first to enter the shop. Maybe because I didn't really know which kind of chocolate to select. But this has changed since last February when I visited not only the shop but also the workshop and got an amazing "behind the scenes" tour from Blondel's Chef chocolatier, Mr Bastien Thibault.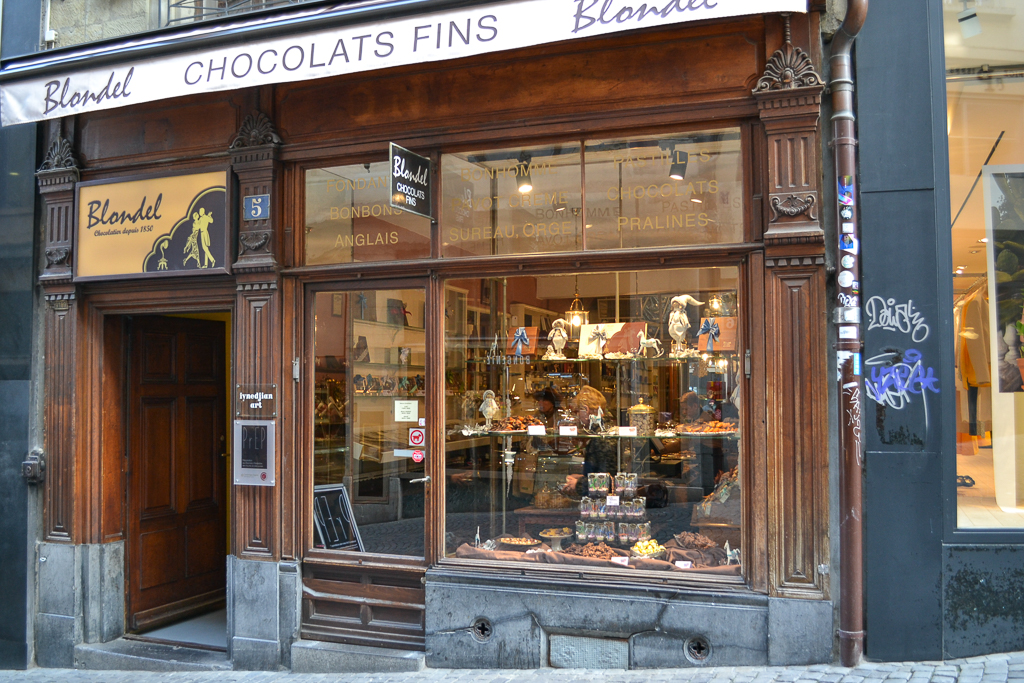 Mr Thibault, born and raised in Morges a lovely city next to Lausanne, did his apprenticeship in Morges in 1984 at Richard Maier, worked as a chocolatier in Bienne (Progin) and then returned at French-speaking Switzerland to work in Lausanne. At Blondel, he has been the Chef chocolatier since 2001 leading a team of 10 persons (4 more people in the production and 6 people at sales).
As the Chef chocolatier of such a historical place, his main philosophy consists in having always the same excellent quality for their customers.
For Mr Thibault, chocolate is a magical product with which you can work, shape and assemble endless recipes and see how people react to them.
What's on offer: "Our know-how, freshly made products and a lot of passion for chocolate" says Mr Thibault who is a "hazelnut milk chocolate bar" kind of guy.
As you enter the shop, on your left-hand side you will find a big variety of their chocolate bars: dark, milk and white chocolate ones perfectly combined with pistachio, apricot, basil, ginger, mint and many more.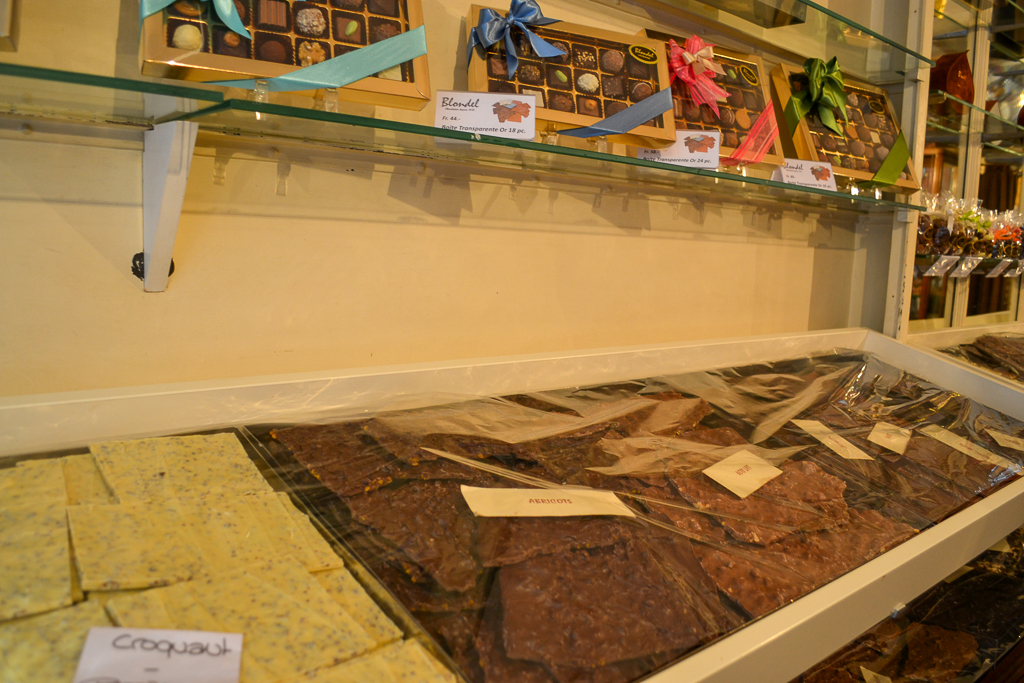 On your right though, there is a whole other beast to tame with several different kinds of truffles and pralines available. The truffles rolled by hand are among their best sellers so you should definitely check out their "truffes rustiques". Personally, I would ask for help while selecting; I like asking for help in every shop that I don't know well. Ask for their signature products and then also select depending on the ingredients you like the most. At Blondel, they also have pre-filled chocolate boxes available in case selecting on your own feels too risky.
My own personal favorites are the dark chocolate bars, especially the ones with pistachio, coffee, caramelised almonds and fleur de sel. They are divine. Plus, they make for a great little present on their own the way they wrap it here.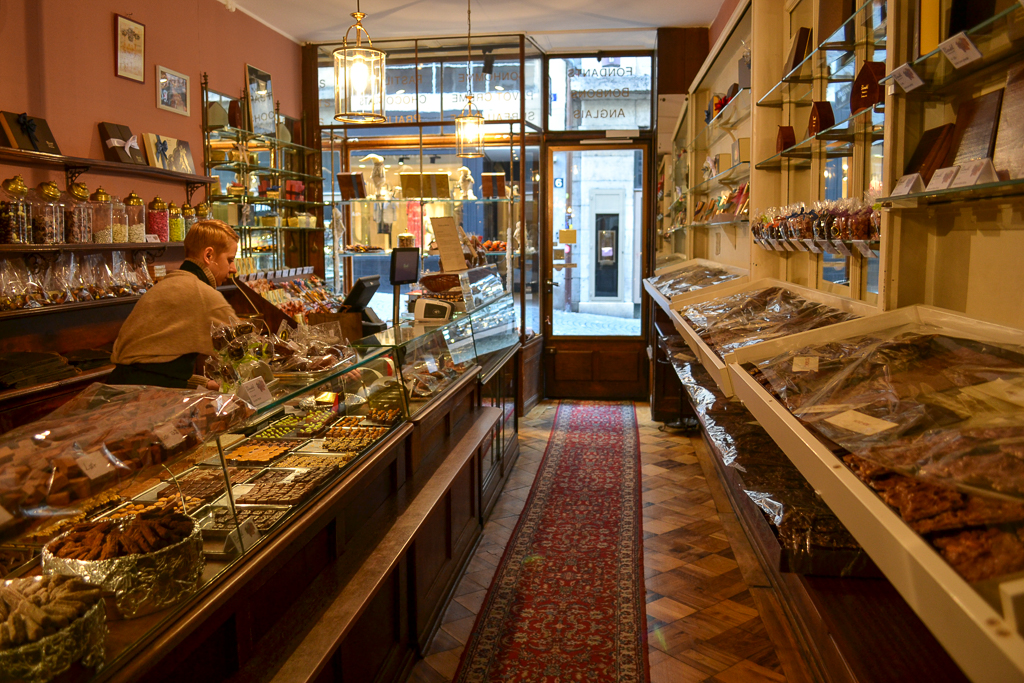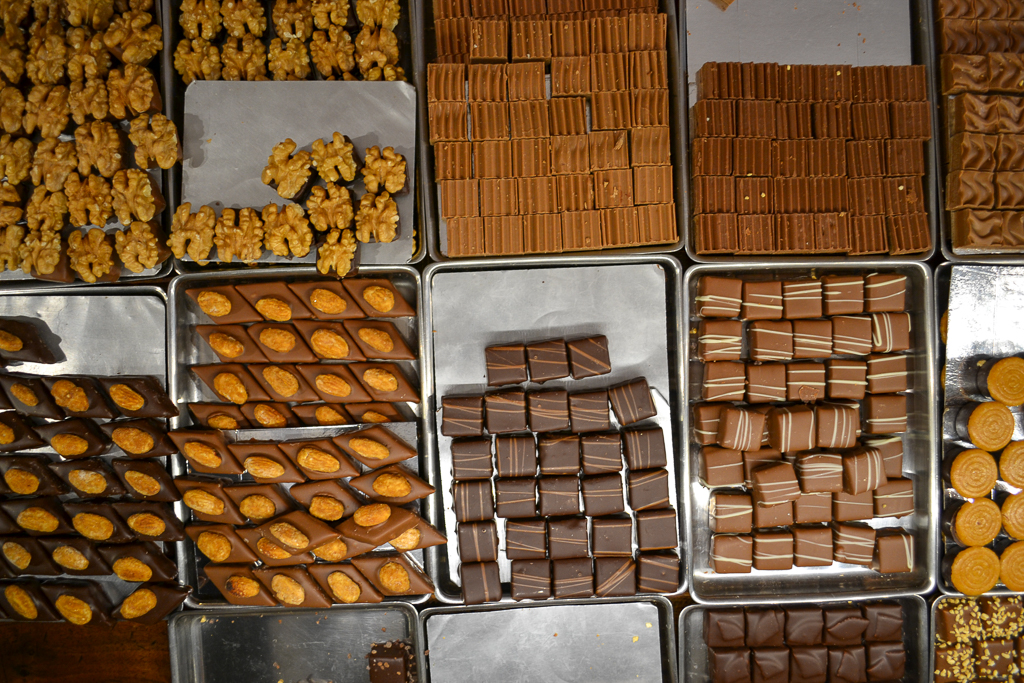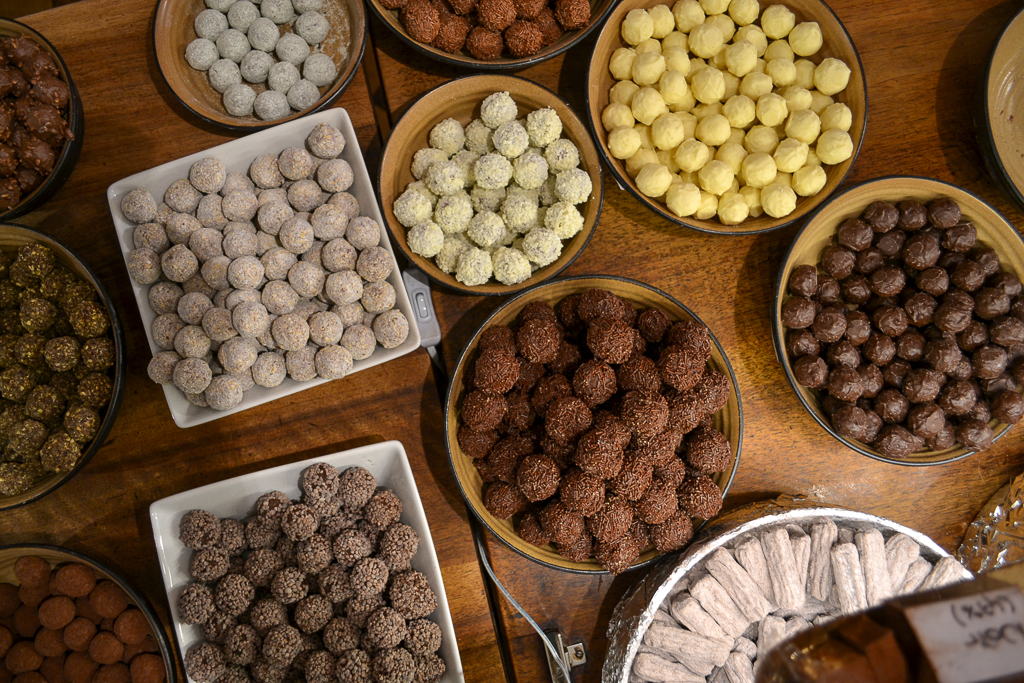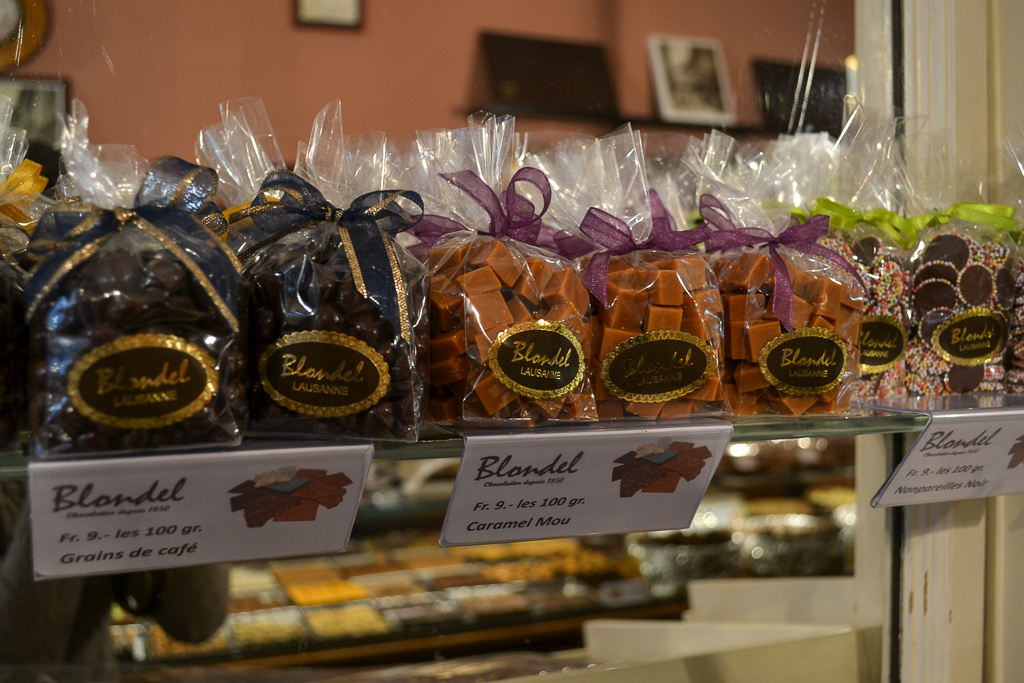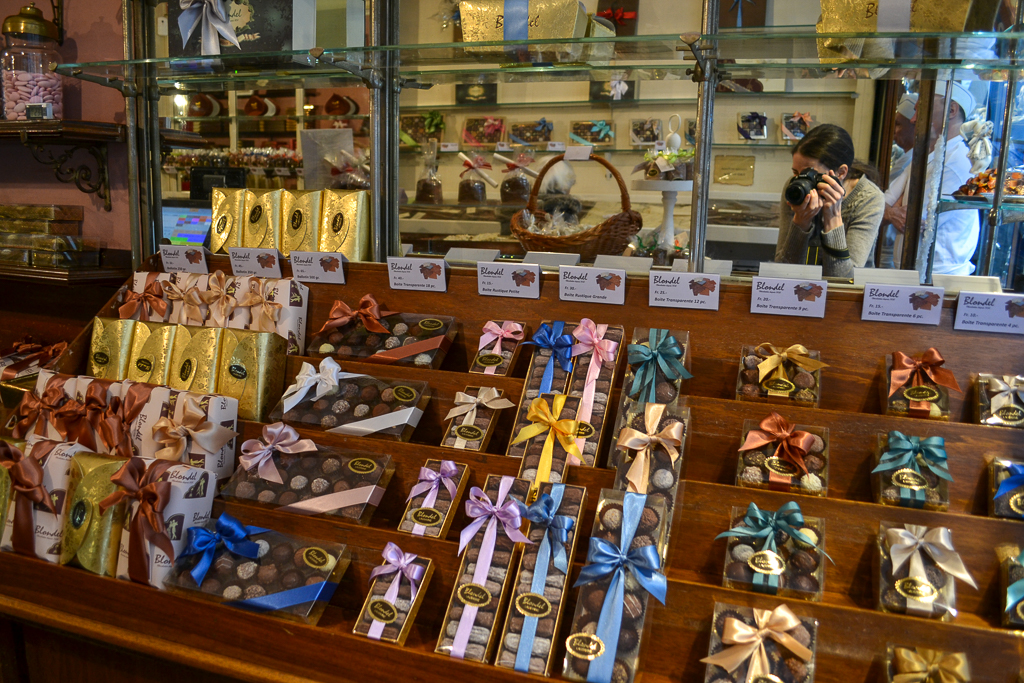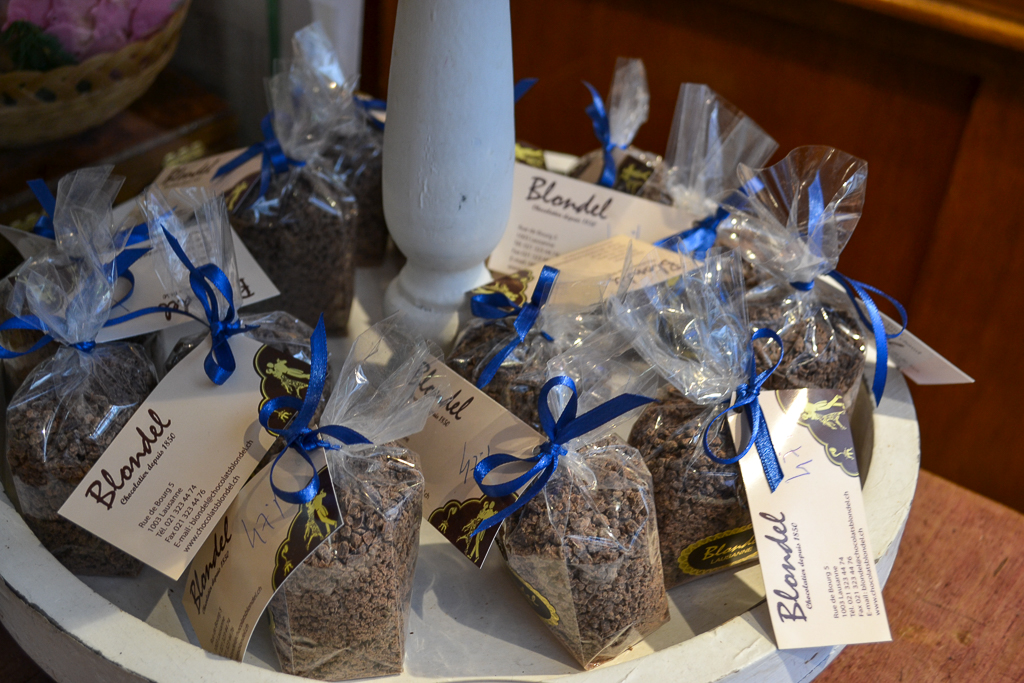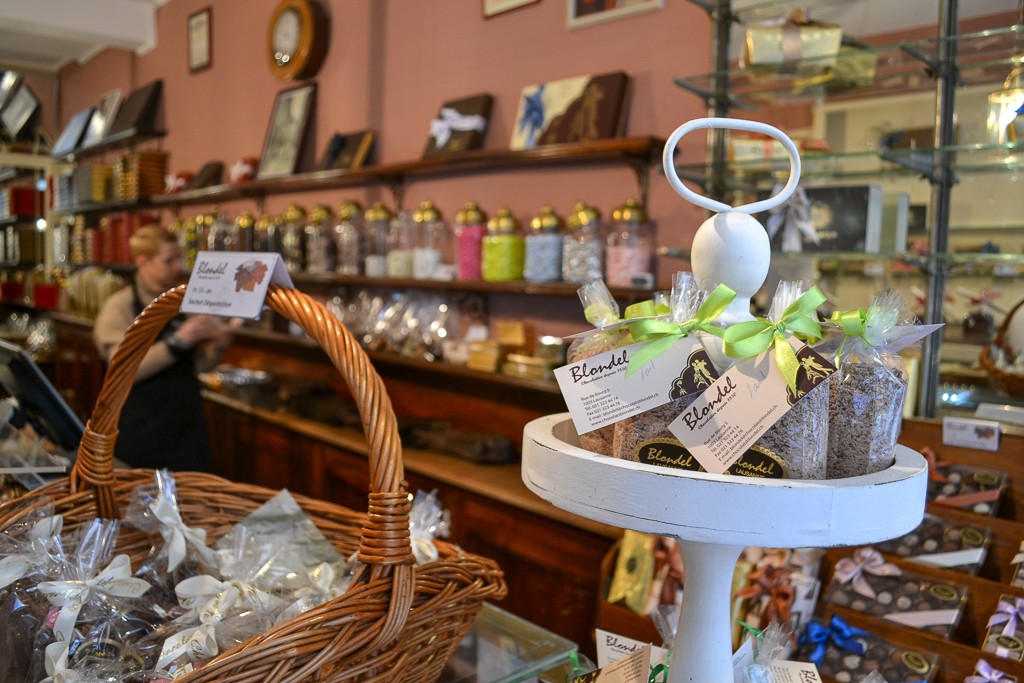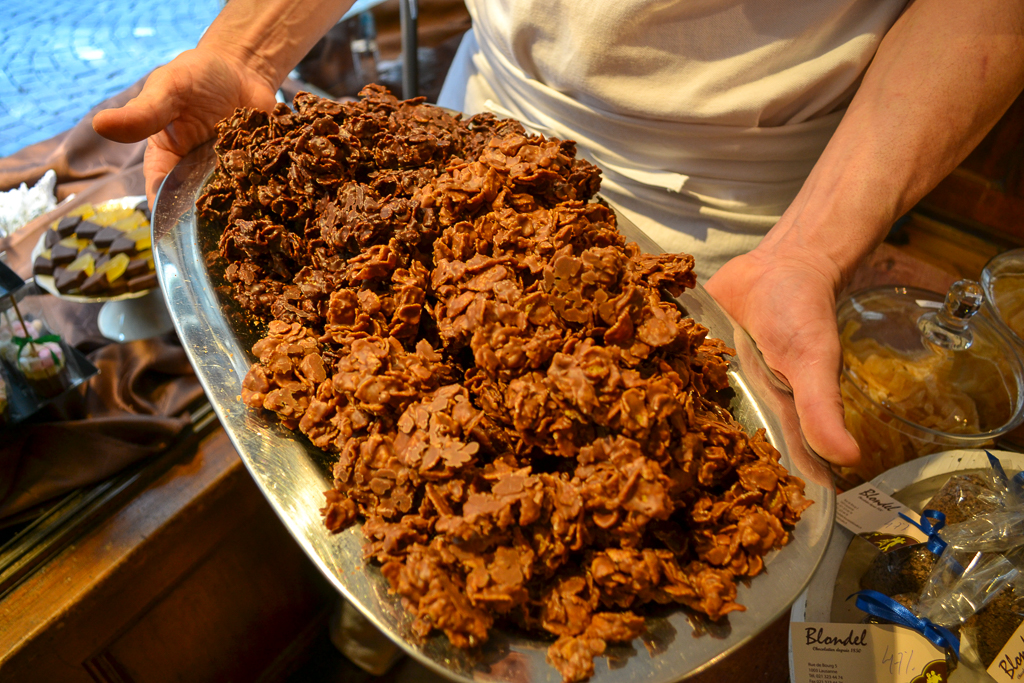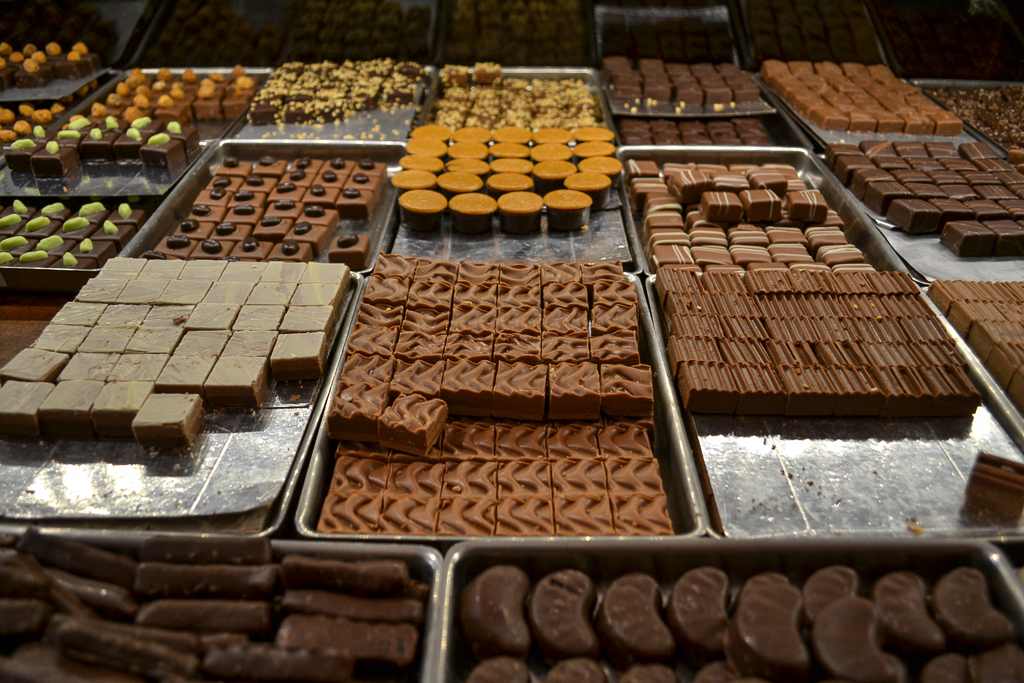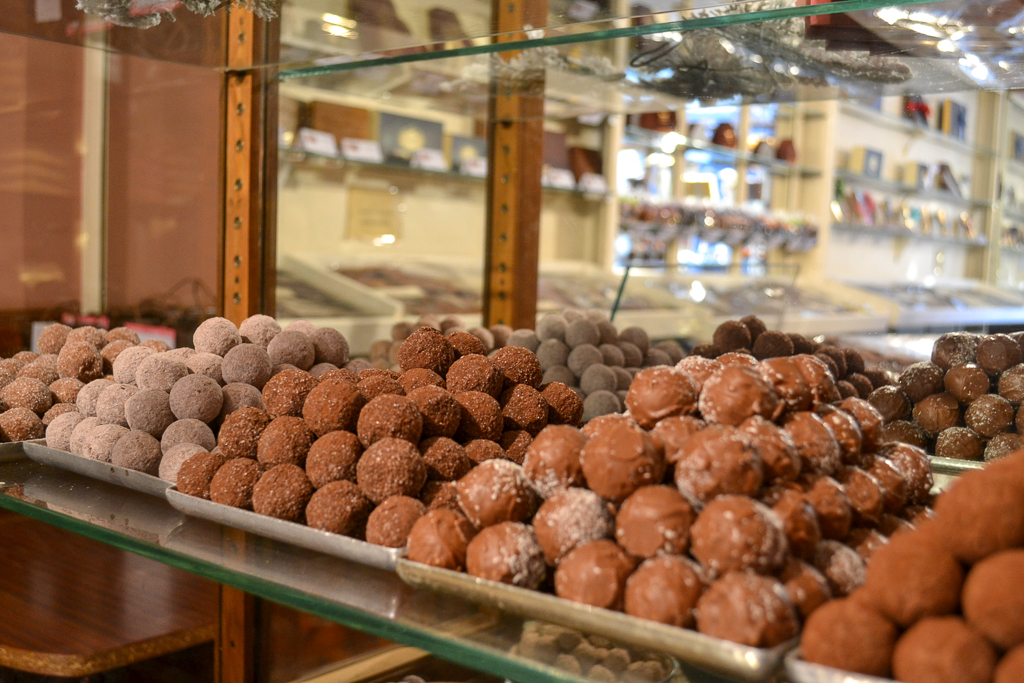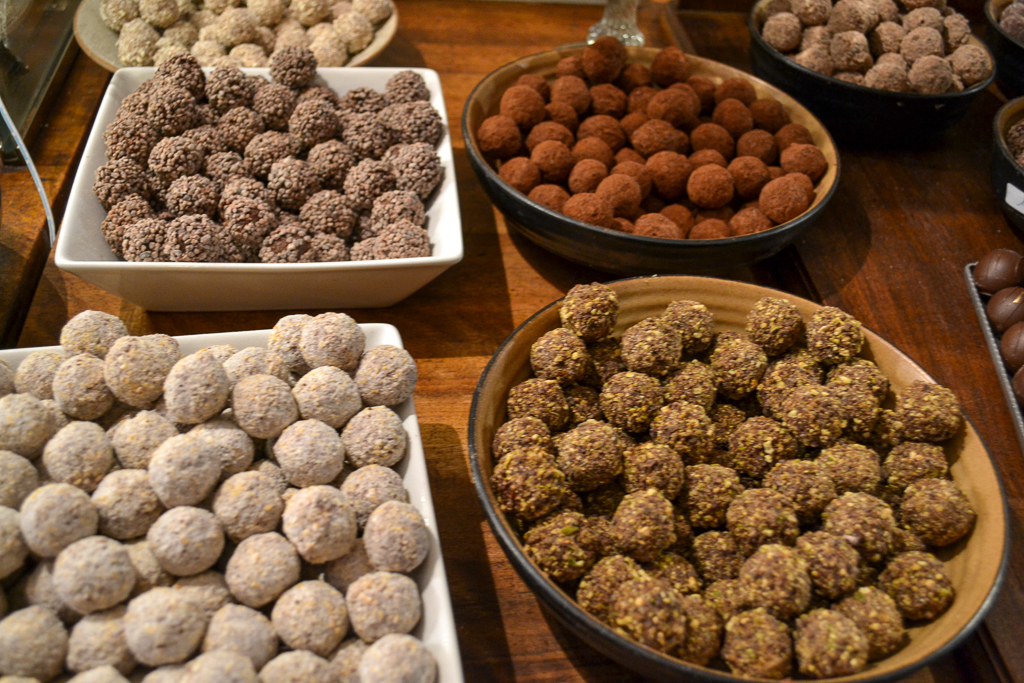 Behind the scenes: the workshop
When I visited, the workshop was in full mode as they were preparing countless chocolate bunnies for the Easter period. But the atmosphere was relaxed, everyone was cheerful and made me feel welcome immediately; I felt that this positive energy was also transferred to the end product which made me appreciate their chocolates even more. Mr Thibault took the time to show me around while explaining how they create from scratch their sweet creations. Trays of pralines and truffles and the strong aroma of melted dark chocolate are all it takes to feel sublime. I even got to see the secret cave where the bunnies get all dressed up for the showcase!
A bit of history
At 1850 Adrien Blondel had a shop a few meters away from Place Saint François and then he moved to Rue de Bourg. Blondel, with a new proprietor since 2001 (Mr Luc Polli is currently the director), has opened a shop in Tokyo in 2012 and one more in Shanghai in 2016. Laetitia Casta, Jean Pierre Coffe, Stéphane Lambiel, John Kerry and Rania Al-Yassin are among Blondel's famous clientele.
Guess what. No matter if you are famous or not, Blondel is definitely one of the places you should visit to taste their chocolate while in Lausanne. Remember, this is also a great place for special gifts.
Take note: Some of Mr Thibault's favorite gourmet experiences in Lausanne and the region are the perch fillets in Perroy and the pastries by Romain C. in Lausanne.
So now tell me, what kind of chocolate type are you? Do you prefer dark, milk or white chocolate? Have you ever visited an artisan chocolatier? What was your experience like?
Blondel Chocolatier
Rue de Bourg 5
Lausanne
For more tips on where to eat and drink in Lausanne, check out my ebook – The Curated Foodie Guide to Lausanne!