Here I am again with last month's favorite moments, experiences, inspiration and flavors!
Personal Development
"The conscious parent: transforming ourselves, empowering our children" by Shefali Tsabary – Audible book
I read (or rather heard, to be precise!) this book back in November but I think it's a great parenting book and I wanted to share it with you. It's one of those books that make you have numerous "a-ha" moments and want to read time and time again.
Inspiration
Hand lettering Workshop
Think countless colouring pens, white paper, a cupcake tower, tea, and a girly atmosphere ready to rock. That was pretty much how I spent 2 hours on a Friday evening and let me tell you, I truly enjoyed it. It was an initiation workshop to the hand lettering technique which completely fascinated me and now I have to find the time to practice a bit more because, at the beginning, it feels as if you are learning to write all over again, from zero. Fun, right?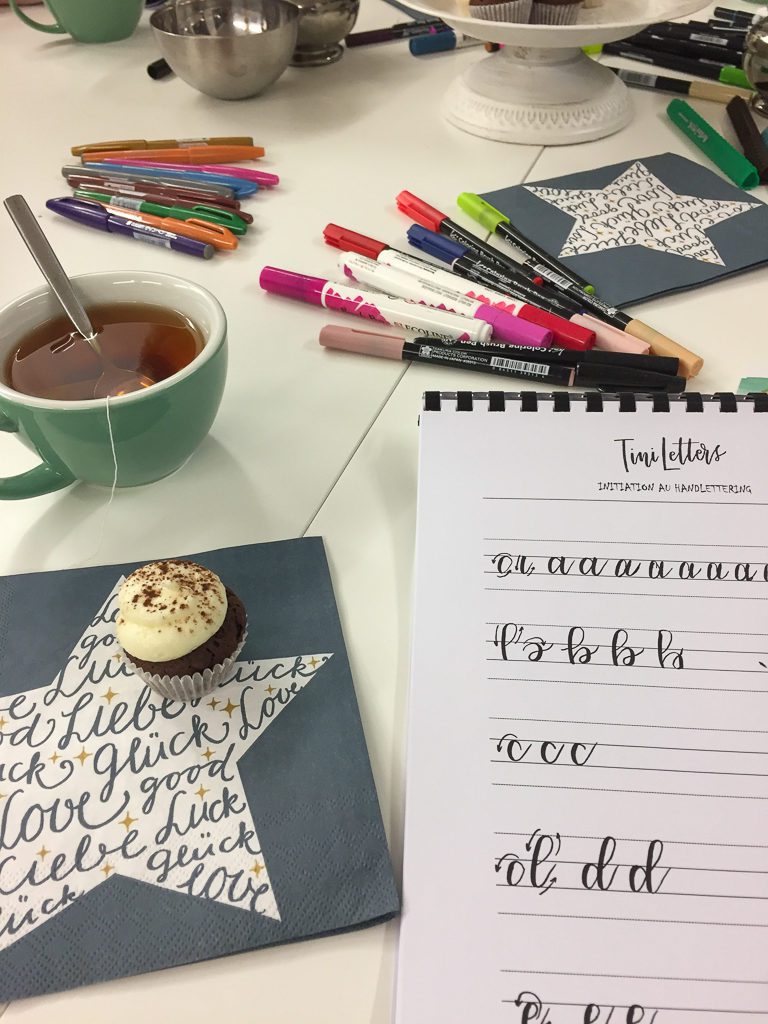 Wellbeing
The Bam and Boo (Bamboo) Toothbrush
I was looking for a bamboo toothbrush and then this advertisement came up on my Pinterest, their website seemed cool and the shipping was free so I tried them out. When their package arrived, there was a handwritten note reading "Thank you Ourania! Hope you like it" with 2 smileys and 2 hearts, just like the way I would write to a friend! Plus, they have a cool option of subscribing to get your new toothbrush so they make your life even easier. Loved it.
Taste
Maillardos Costa Rica coffee
The coffee flavor of the month definitely goes to Maillardos Coffee & Roastery, which we found accidentally when we travelled for the day to Rheineck.
We were so surprised to find this great coffee shop in such a small town and its super friendly owners are a reason alone to visit.
Their coffee, which is roasted on the spot in front of your eyes –can you just imagine?- is seriously good and we took a small packet of their Costa Rica variety with us at home. Yum!
Romain C. tearoom is located a bit off the centre of Lausanne but it's so worth the small detour up to this pastry heaven. Romain is a young, talented pastry chef who prepares everything on site and he offers a small but very satisfying selection of divine, seasonal pastries to taste on the beautifully decorated tearoom or for taking away.
I tried the chocolate éclair, which has almost no sugar; possibly my favorite éclair so far. Stay tuned because there will be much more info & photos about this divine place soon on the blog.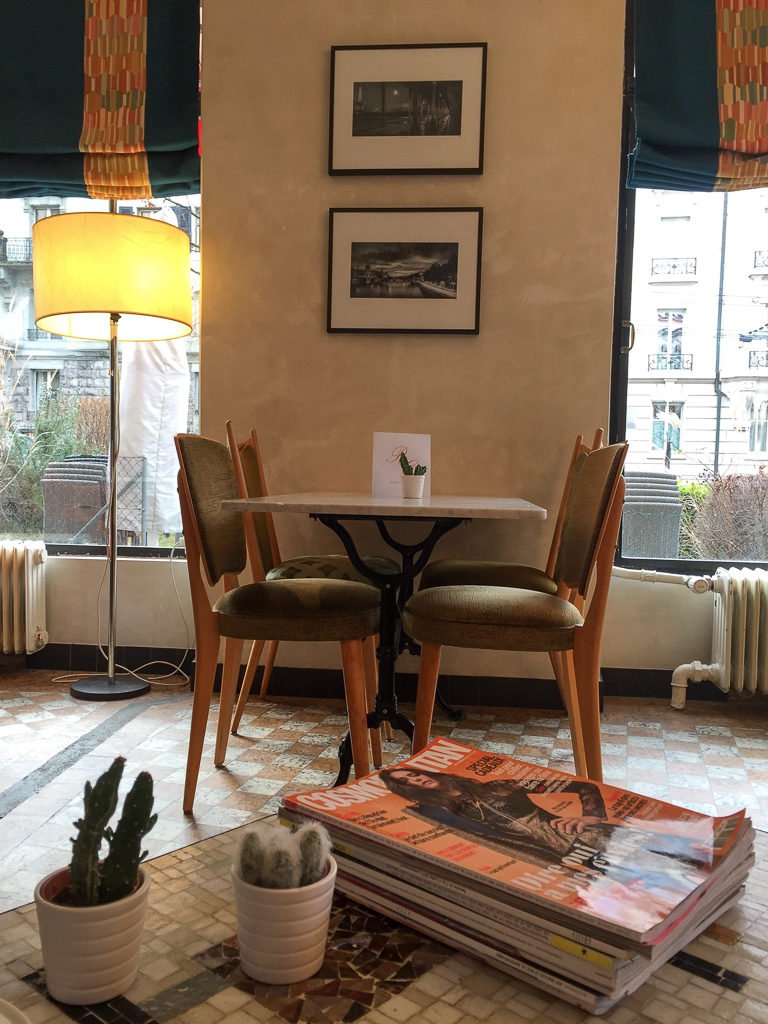 Lunch from Confiserie de l'Etoile Blanche
This cute Confiserie recently moved close to our home and I tried one of their lunch offerings which was this delicious puff pastry with goat cheese, tomatoes, basil and honey. Yes, I am going back for more soon.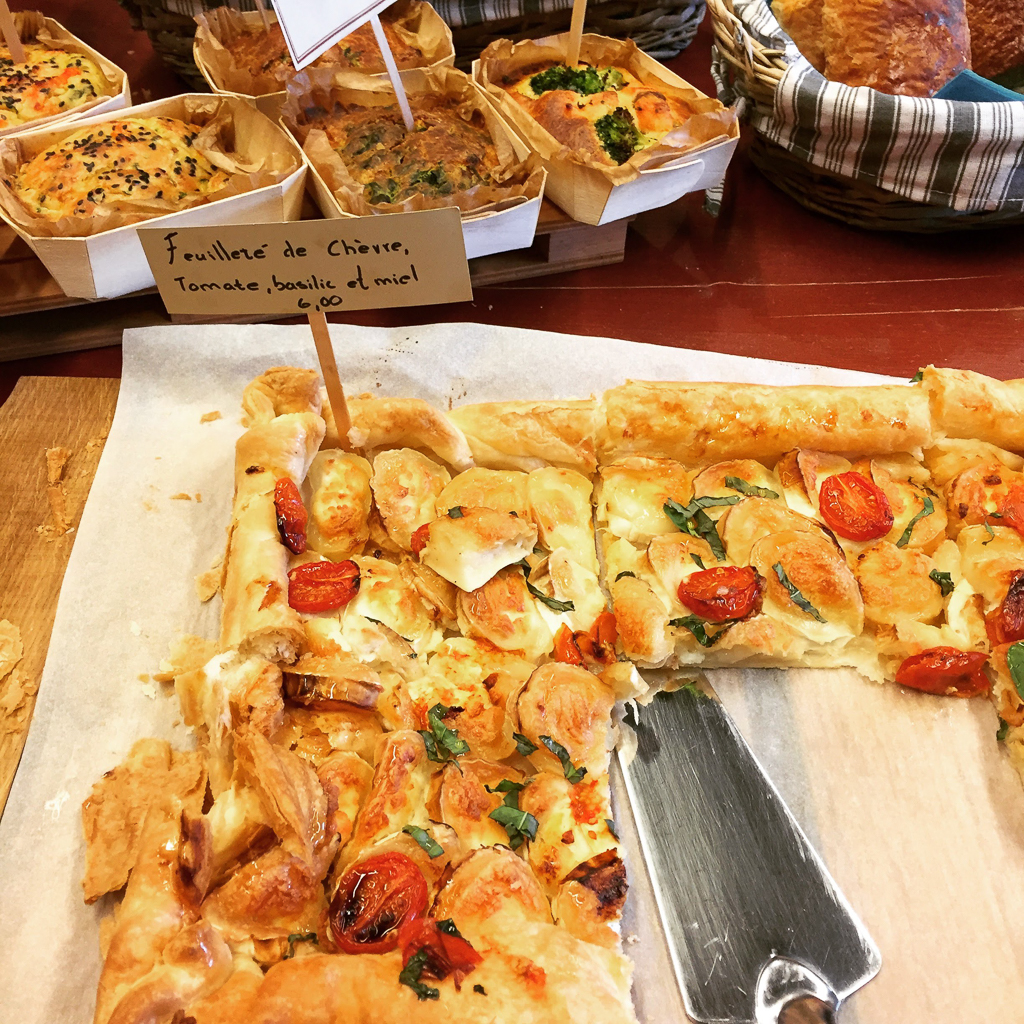 Sydney Coffee Truck's sandwiches
Monday is the day when Sydney Coffee Truck makes Riponne Square happier and a good excuse to pass by, say hello and grab one of their yummy sandwiches along with a flat white. This month I got to try their latest hit, "Mon petit roti' which has roasted pork, pickled onion, daikon, carrot and a mustard and honey sauce on a crunchy baguette. Even Marios approved it, what more can I say?
You can read more on the dream team behind this delicious coffee truck in this blog post.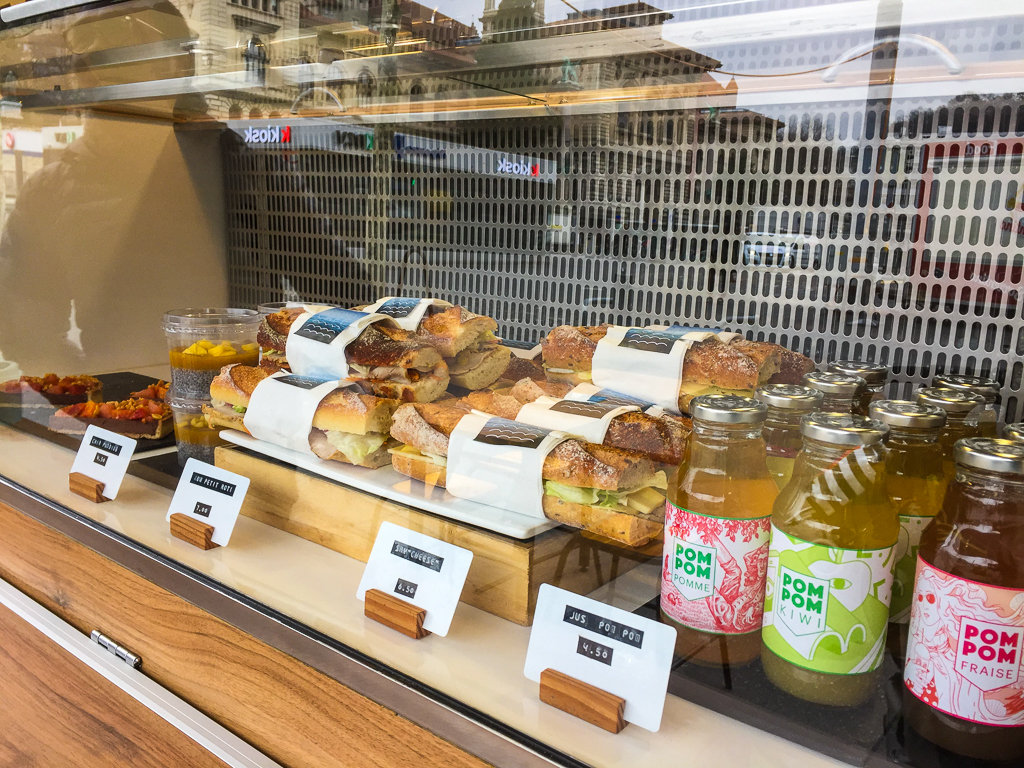 Pancs– the new entry
Pancakes and crepes at Bel Air: I really love all the new places that open up regularly in Lausanne and the area, it makes me constantly be on the lookout and searching for my next favourite spot. Pancs opened just a few weeks ago and offers quick, affordable –for Swiss standards – and absolutely delicious crepes and pancakes, both salty and sweet. We visited with my sister and Marios on a Sunday early in the morning when it was quiet, and we were happily surprised by the friendly service. Pancakes with salmon and egg, crepe with haloumi and roasted vegetables are the two options we tried and they were both really tasty. Next time around I am definitely ordering their pancake with red fruits and yoghurt.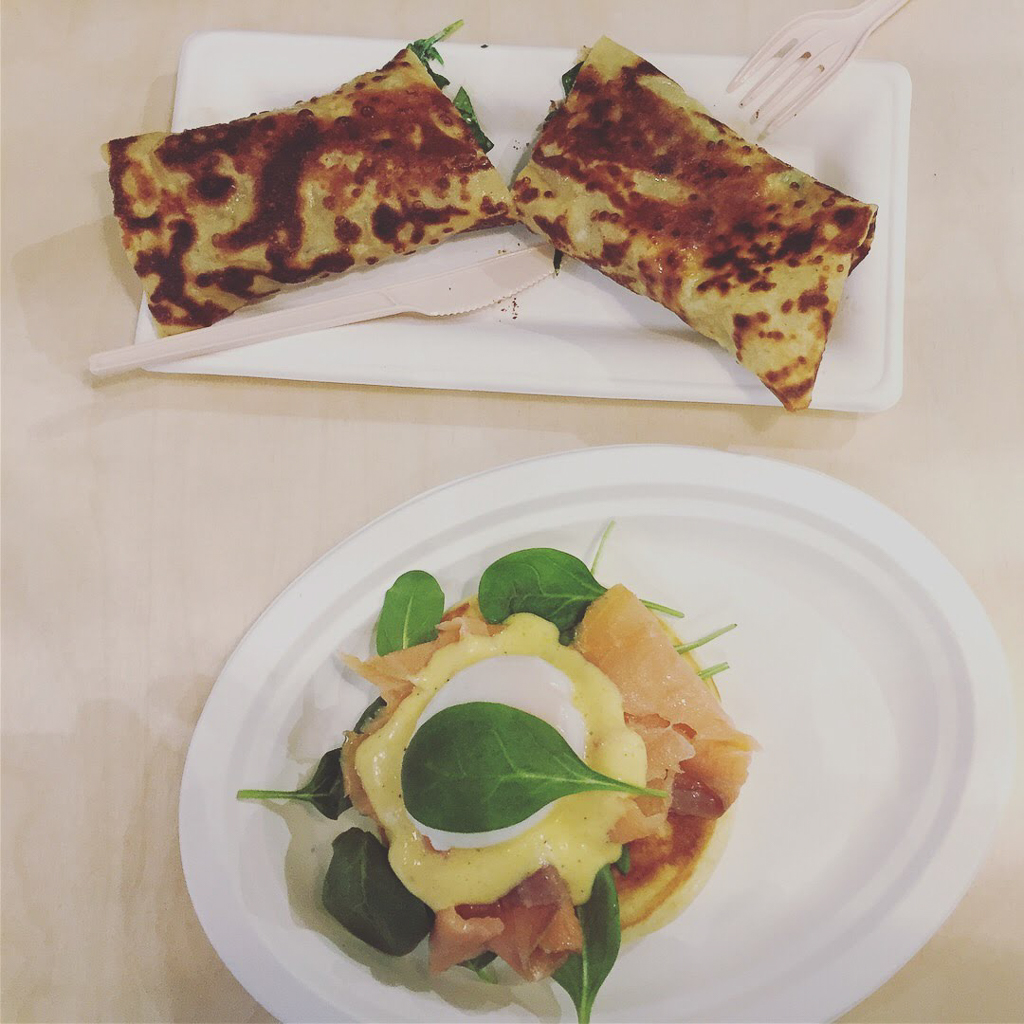 Travel/Family
Sunday walk at Ouchy and the Olympic museum with a trottinette
A trottinette is the must-have accessory for every Lausannoise no matter the age, I feel. Everyone seems to have one, but my hubby and me. Though this might change quickly as Marios already has his own and soon we will need to be able to catch up with him!
One of my favorites of the month was definitely our walk by the lake at Ouchy and our visit at the Olympic museum, which has a fantastic outdoor green area and is totally kids friendly inside as well. TOMS café with its stunning view is a nice place to hang out for a while if you have already seen the main exhibitions a couple of times, as is the case with us.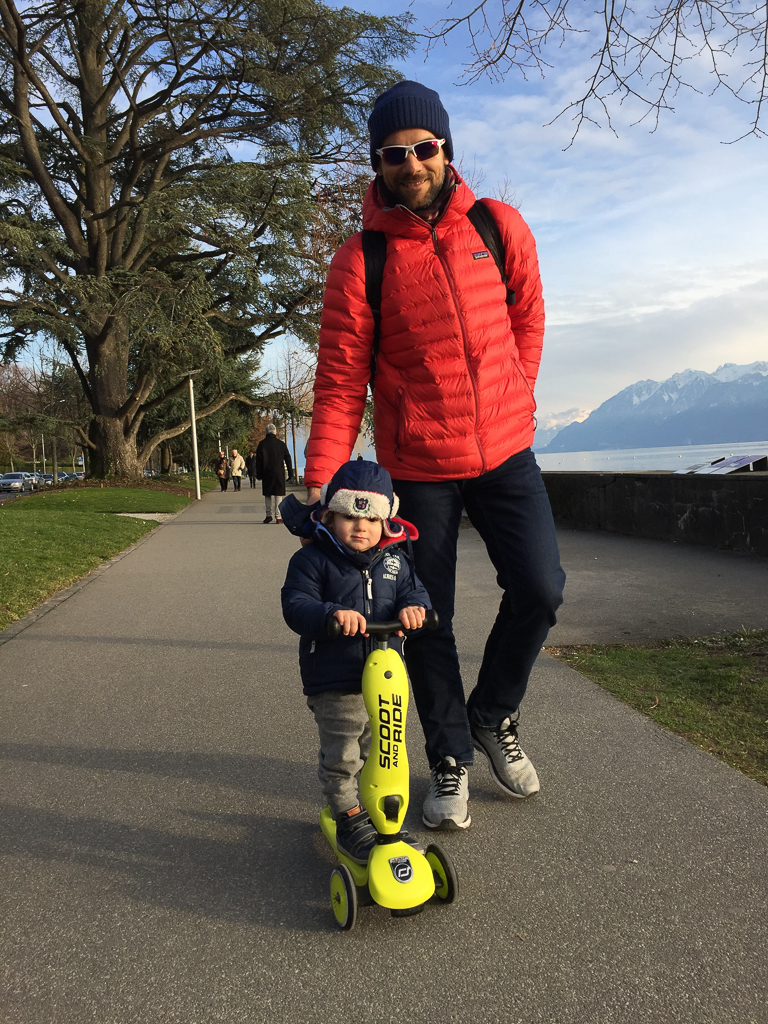 Culture Café: coffee, bananas and reading books
Inside the FNAC, this is my go-to place ever since it opened. It was my number 1 option when I wanted to go somewhere outside the house to work; it's still my number 1 when I want to go somewhere with my toddler to spend some time indoors. It combines a cosy atmosphere with good coffee, homemade cakes, tasty and healthy food and also one of the best kids corner in the entire city.
Bonus this time around: we got to spend some quality time with my sister who was visiting us.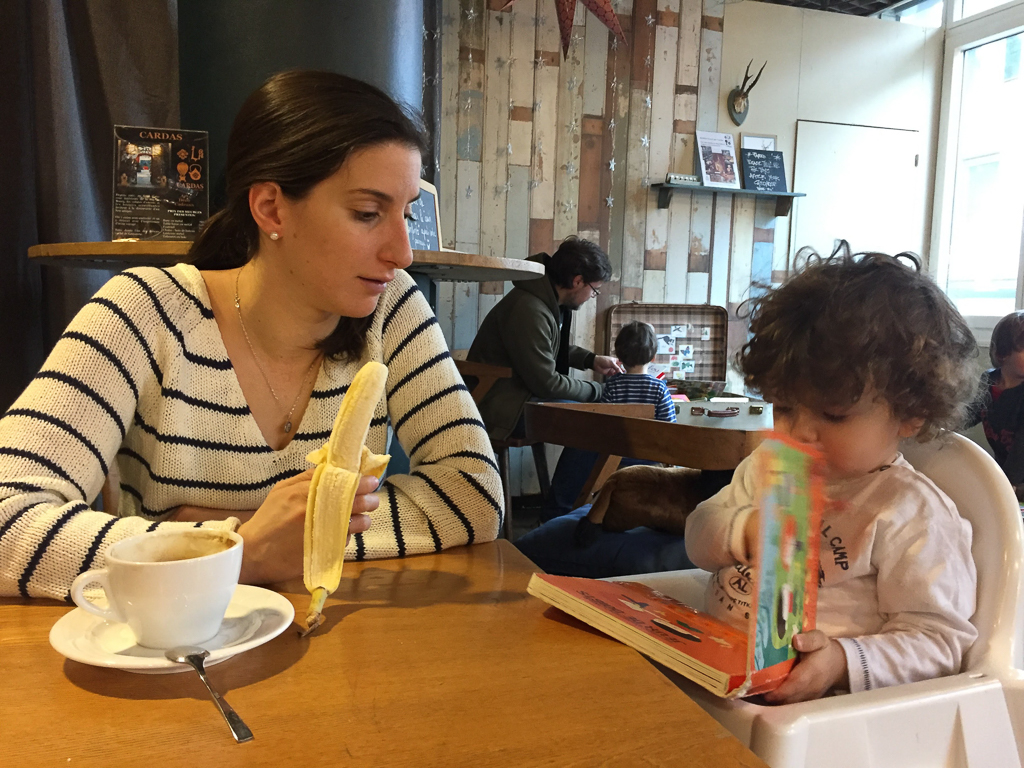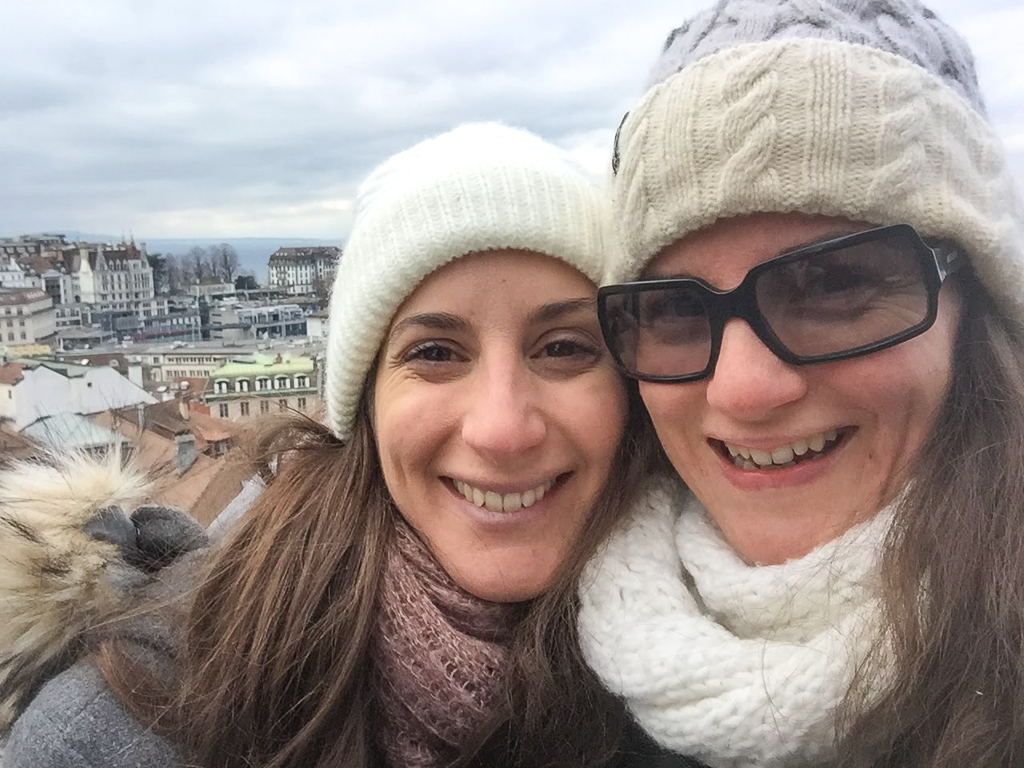 Sunday Walk in the snow around Chalet des Enfants
The reason that we got to appreciate fondue, one of Swiss cuisine's classic, was Chalet des Enfants. This out-of-the-town traditional restaurant serves one of the best fondues around the region, we think. Plus, it's in the middle of the woods, which makes it a great destination for a Sunday outing with your family to walk around in nature and then go have a proper Sunday lunch. In February we really enjoyed our walk in the snow around the Chalet, with Marios who wouldn't stop singing on Thanos' back.