I have met Ester only once, while visiting Ithaki for the very first time in July 2011. While looking for activities to do on the island, I came across her walking tours and together with Thanos, we followed her "Homer's walk" tour. Once the tour was finished we went to Polifimos tavern in Stavros, sat on its verdant and relaxing courtyard, drank lemonade and discussed life in Ithaki and what brought her and her husband on this tiny island where they have been living for many years now.
Her story and her words deeply inspired me that day. Oftentimes I catch myself thinking a phrase she told us "We don't earn as much money here as we did in the Netherlands, but that's not what matters".
I wrote an article about Ester for the in-flight magazine of the Olympic Airlines.
But that was not the end of our relationship. We kept in touch, exchanging emails and news about our lives; she even sent us a handmade Christmas card, which totally blew my mind! Even though we met only once, we became friends and can't wait to go back to the island and introduce our new family member, Marios, to her.
Until then though, I wanted to introduce my friend Ester to all of you.
Would you suggest a song to hear while reading your interview?
I would suggest "Little Star" an instrumental piece composed for me by my husband.
How would you introduce yourself in a paragraph?
I'm a gardener, walker, artist.  I like to use my hands and my feet. My practical side I inherited from my mother's family, Dutch farmers, and fishermen. My spiritual and artistic side from my father's family who are from the island of Java, Indonesia. My parents taught me love for music and travel. My early childhood was unsettled but I got the chance at a young age to live in several different countries and that has influenced my life and work.
How long have you been living in Ithaki and what brought you to this Greek island?

We have lived on Ithaki for 13 years. Initially, we came to visit friends and ever since that first time we planned and schemed how we could live there. The island had an instant appeal for us, which we couldn't resist.
Were you able to engage/become part of the local community easily? What were the difficulties?
Although the people we met were very hospitable and helpful it was a totally different culture so we had plenty of difficulties, as can be expected.  Some had to do with the remoteness of living on an island. Others with the Greek system, or the language.
You have been leading guided walks around Ithaki for many years now. How did you start? What's your favourite walking route on the island and why?
When I came to Ithaki in 2004 there was a Dutch travel company that chose the island as a new destination. They usually offered a walking program in their brochures. So I contacted them and asked if they needed a walking guide. They did, and they asked me to describe some routes. I worked with Rossholidays for 7 years until I decided to become independent.
One of my favorite walks starts in the mountain village of Exogi. You climb above the village and the views around are out of this world. Another one is across the plateau close to Anogi.
It's full of ancient olive trees and huge rocks.  You can see old walls and cisterns from the time this area was used for cultivation.
Apart from being a walking guide, you are also an art teacher, painter, and sculptor. Where do you draw inspiration from? Are you still offering art workshops?
My inspiration is nature, but also symbols and folk art. I like to play around with materials I find during my walks. Especially the driftwood and pebbles from the beaches. In the Greek light, the colours and structures can be clear and bright, or ancient and mysterious.
I'm not offering art workshops at the moment but perhaps I will again.
Which book and/or movie would you recommend reading/watching to get inspired?
Last year I saw the adventure documentary Down to Earth, by Renata Heinen and Rolf Winters. A family goes on a 5-year journey to live with tribal communities around the world.
It confirmed my belief that there is only one country and that's the earth. Another great film is Koyaanisqatsi by Godfrey Reggio. It means "life out of balance".  The soundtrack is stunning.
How is everyday life in Ithaki? What does a typical day of yours look like?
Everyday life, in general, is pretty calm, but there is a big difference between summer and winter.
This is because in summer it can get very busy and hot. Then the afternoon is usually resting time. I 'm always the first one up, I awake early at first light.
I feed the 3 cats and the dog and step outside for a stroll around the garden. Then a walk with the dog, for some bread from the village bakery.  In the season when there is a guided walking tour on the program I leave the house after breakfast. Otherwise, I will do some gardening or housework, and maybe spend some time in my studio. Most days I cook and read. In winter we spend long evenings by the fire with the animals and sometimes with friends. In summer I often go swimming in the afternoon.
What does travel mean to you?
It's exciting. Especially going to places I've never been before. You look at everything with new eyes. The magic has gone from air travel, but I like trains and I don't mind buses or boats. Wherever I go, I like to visit markets and museums and do some hiking.
What was your favorite travel experience so far and why?
The first time I went to Indonesia. I went alone and discovered a totally new world. I wanted to see with my own eyes what my family was always talking about. I felt very fortunate and free, compared to women there.
When family and friends are visiting you in Ithaki, what's the itinerary you prepare for them? Which are your favorite places that you want them to see and activities you want them to experience?
I always urge them to come walking with me.  Along goat racks, up mountains. To see the views, the ruggedness, the plants. Of course, there are the wonderful seaside restaurants (Frikes, Kioni) and idyllic beaches I like to show them. (Ag. Yiannis, Gidaki).  But to experience village life, the way people interact and sit and watch for hours at a kafeneio is also something  I'd like them to experience.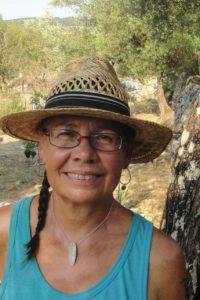 What is happiness for you?
Very simple things. Sitting by the fire with my tribe on a winter evening, when everyone is fed and warm and safe. Reading a good book or listening to music. Seeing old friends after a long time, eating and drinking together. Making something out of nothing:  food, art, handicrafts or growing plants. Travel, or the anticipation of travel. To love, and to be loved. Coming home.
You can see more about Ester's walks here
www.islandwalks.com
www.facebook.com/ester.van.zuylen
and you can contact her directly here ester@islandwalks.com
(c) All photographs of this post are kindly provided by Ester van Zuylen.